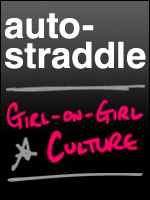 "i love everybody! today is the day i understand the internet! i feel like that girl in mean girls who just wants to bake a cake with rainbows for everybody, but she doesn't go to their school, but i actually do go to this school."
-Carlytron, August 5th, 2009

HELLO
Hi weirdos! Happy New Year! Welcome to a letter from the m*therf*cking CEO of Ideas. So many things have changed since the beginning (March 9th 2009); right? I mean … we've come a long way, babies! The world around us has exhausted itself into apocalyptic catastrophe (punctuated by occasional bursts of brilliance from Lady Gaga), which blows. BUT meanwhile Autostraddle has been spinning madly on as best we can. Perhaps I've even been too busy to remind myself what a surprise every minute's been– while also being unmistakably familiar, like deja vù on purpose. Since excitement & emotion (rather than financial gain) is what's still running this train right now, sometimes it's easy to take excitement for granted. So let's take a moment to say: WE WOULD LIKE TO TAKE THIS OPPORTUNITY TO BE EXCITED — to thank you for reading & supporting us, and to tell you what to expect in that future we speak so highly of.
See, we're GIANT DORKS and we're totally genuine when we say that if you're reading this, even if you're someone who never comments or you're only reading it to go bitch about it, we like the fact that you exist out there in the internet. We feel privileged to witness your existence.
Firstly: we're so honored to tell you that SistersTalk Radio has named us the "Best Lesbian Website of the Year!" Here's what they said about us:
"We don't just pull this stuff out of our asses. We really try to gauge what our fans and our listeners and what other website readers are talking about. The websites that were MOST VALUABLE to us as far as providing us with great information and resources. Sisters Talk Best Lesbian Website of 2009 was Autostraddle.com."
The Ladies of the Lesbian Lounge also gifted Autostraddle.com with a Golden Kitty Award for Best Lesbian Website along with our fly web-friends at SheWired, who have a list of all the winners here.

Annnd our future vlogstar Nat Garcia won for best LGBT Youth Awareness Advocate.
And although we didn't win the Mashable Contest for Best Online Magazine, it honestly was an honor just to be nominated — we were up against four well-established magazines with literally MILLIONS of readers — it was like Baby David vs. Goliath Google Plex. So thank you for the nomination.
Also, we have a serious chance to win the shorty awards. So go nominate @autostraddle for #lgbt in the Shorty Awards please, now, tomorrow every day this month.
Secondly: You know what's awesome? We got 120,000 unique visitors in the month of December and nearly half a million page views. The growth rate over the past few months has been OOC and getting moreso every day … in the first ten days of January we have already garnered more unique visitors than we did during the entire month of September!
This is 350% growth since August, 450% since May — and this is without any advertising, PR, marketing department, understanding of how the internet works, background in SEO, or any kind of press-savvy promotional techniques or major press plugs. In other words — this growth is thanks to YOU!, us (obvs), and the support of others in the community. And also, magic we learned from The Craft and The Indian in the Cupboard.
It's also very special to us 'cause we're still running mostly on blood, sweat, tears, reader support & personal debt. It's flattering to be compared to professional websites with support staffs, marketing experts, years of experience, corporate funding and usability experts, but we're still just a bunch of punks trying to build something sweet during the worst economic recession of our lifetime, literally learning as we go along. Remember when we had really long titles that were actually song lyrics? That's not good for SEO. The more  you know! Ding-ding-ding!
On the upside; so many of us have lost our jobs this year so we've had lots more time to devote to poverty/web-building. Sometimes we just click our shoes together and chant "a recession is a perfect time to build a start-up" over and over. Then we eat our Kraft Dinner. The longer this goes on the more our story of strife will make a good Logo docudrama, like Pirates of Silicon Valley. 'Cause seriously we've got some major smoke & mirrors going on.
We had no idea it would grow this fast or that so many people would get involved — initially I just thought I'd make autostraddle (my l word recap blog which was on the l word online) a little more dynamic and see what happened. But omg; now we have me, two lead editors, five sub-editors, two assistant editors, six regular contributing writers, six more blog-specific writers, a Photoblogger, a Web Developer, Chief Operating Officer, Design Director, Vlogstar, a video assistant and 12 regular interns. Despite this incredible support staff I just keep getting busier, but I guess that's 'cause we keep adding more and more special things to the site.
Since launching on March 9th, 2009, we have …
…done interviews AND photoshoots with Julie Goldman, Kim Stolz, Kate McKinnon, Nicole Pacent & Rachael Hip-Flores, The Cliks, the Candy Slice girls and rugby star Phaidra Knight.
…and interviewed Tegan Quin of Tegan & Sara, Tila Tequila, Kate Clinton, Sandra Bernhard, Jill Bennett & Cathy DuBuono, Nicol Paone, Erin Foley, Dan Choi, Cynthia Nixon, the girls of Sister Spit, Haviland Stillwell, Susan Miller, DeAnne Smith, An Horse, the makers of Fish out of Water, Kaki King, Girl in a Coma, Hunter Valentine, DADT discharge Lissa Young, stellastarr*, Charlene from Gimme Sugar, Meghan O'Malley, Emma Dean, Sick of Sarah, Carissa Halston, Hesta Prynn from Northern State, Skyler James and Rachel Cantu. Also we have like five interviews in wordpress drafts right now.
We've written 405 Daily Fixes, 37 Televisionaries, and 15 Autostraddle Roundtables on topics including What Does a Lesbian Look Like?, What We Talk About When We Talk About Healthcare, "When I Knew" I Was a Gaymo in Parts One, Two & Three and Is There a Lesbian Generation Gap?.
We've constructed 22 Girl Galleries and brought you the Autostraddle Hot 100, 55 Reasons Recapping The L Word Episode 608 Was Driving Riese Crazy, The Top 15 L Word Sex Scenes, 7 Hot Openly Lesbian Actresses, 19 Holiday Gift Ideas for Geeks, 14 Lesbian & GenderQueer Tumblrs to Watch, 5 Etsy Shops for Unique Letterpress Cards and 20 Autostraddle Icons as well as Top Tens including Queer Movies That Don't Suck (in two parts), Lesbian Fashion Icons, Feats of Lesbian TV Storyline Endurance, Awesome '00s Books by Queer Women, Reasons Crystal is in Love With Bi Musician Sia, Reasons Vashti Wants Lady Gaga's Bad Romance, Best & Worst Gay Happenings of the Decade and Best & Worst Gay Happenings of 2009.
Robin has posted 27 Autofocus blogs including photo-shoots with Adam Lambert, Peaches & Fischerspooner, The Sounds, Tegan & Sara, Fanny Pak & La Roux; trips to Ithaca, Palm Springs, Provincetown and Buenos Aires. and a really awesome Halloween party.
Our music writers have recapped concerts including Lady Gaga, Britney Spears, Pink, The Vivian Girls, Brody Dale, Metric (in Berlin AND in Australia), Hunter Valentine, the START, Amanda Palmer, and constructed a cartoon retrospective on the greatest moments in tAtU history. They've reviewed El Perro Del Mar, Tori Amos, Gossip's Music for Men, Rachel Cantu, Lady Gaga's Fame Monster, Twilight: New Moon (the soundtrack), Jay-Z's Empire State of Mind (the single), Tegan & Sara's Sainthood track-by-track & overall,
You've learned how to make a f*cking look book, snow globes, clay refrigerator magnets, and a sleeve for your Mix CD. Guest writers have pitched in with stories on the Michigan Womyn's Music Festival and The Lesbian Avengers, to name a few.
We've had a lot of feelings about Gay Marriage Passing in Maine, Bluehost, Google Wave, The Lawless Netherworlds of Gay Relationships, #uknowhowiknowurgay, Yahoo! Finance, The American Music Awards, The Death of Print, Jean Gray, Why Evangelicals Commit Sins While Judging Gays, Obama's Speech at the HRC Dinner, people who think lesbians can't have actual sex, Brittany Murphy, the Victoria's Secret Fashion Show, Adam Lambert's "For Your Entertainment" Album Cover, the Dockers MAN-ifesto, the Ex-Gays, the gynecologist, Avatar, Alison Bechdel's influence on The L Word and Two and a Half Men.
We've marched in two parades (NYC Pride and the National Equality March), taken one Sweet Sweet Cruise, and provided first-person reporting from the NYC GLAAD Awards, Logo's NewNowNext Awards, the Ilene Chaiken/Jennifer Beals Times Talks Panel, the Anti-Equality Protest in NYC, Dinah Shore Weekend '09, and  South by Southwest in Austin Texas.
We've live-blogged the Los Angeles GLAAD Awards, the GLEE premiere, election day for Maine's Question 1 and Washington's Referendum 17, New Jersey's same-sex marriage bill at the committee level and later at the state senate and New York State's same-sex marriage bill. We've open-threaded Family Tech Fails, Nerd Nostalgia, Thanksgiving and Christmakwanza.
We've rounded up the best Music of 2009, Best Albums of 2009, Lesbian Sexy Moments, the Hottest Girls on TV, Fall 2009's Terrible/Awesome Events, Fall Music 2009, Fall Style of 2009,  Best Boyshorts for Successful Lesbian Underpants and The Hottest Geeks.
And that's only like 50% of what we've done!
So what's next?
1. More Redesign! As we grow & learn together like the special snowflakes we are, we'll also be redesigning a lot of things and tweaking the layout and fixing usability issues. If there's anything in particular you'd like our Design Director to keep in mind, hit up alex [at] autostraddle dot com. Also if you're an amazing ridiculously spectacular designer and want to work with the best & the brightest, hit her up!
2. Staff Shuffle: Many of our people are shifting from one unpaid thankless position to another unpaid thankless position. Let's share:
Laneia (formerly known as Green & formerly not known as well as we do now!) is gonna be our Executive Editor, my second-in-command. She has promised not to leave me ever. In all caps!
Intern Sarah Palmer is now Associate Editor Sarah Palmer which will last until I drive her crazy.
Australia-based Crystal stepped in as a temp Music Editor 'cause Stef had to go follow her rock n' roll dreams (but is still a contributing writer!) in July, while we planned to find a U.S-based replacement. But then Crystal did such a good job that we decided it doesn't matter that she literally thinks it's Tuesday right now and that Ohio is a city. So she is our permanent Music Editor from all the way across the world.

Internicane Katrina was a terrible intern, so we promoted her to being a real-live writer/editor, which has enabled Katrina to share wisdom on topics including How to Pick Up Chicks, Lesbian Bromance, and Lesbian Life in the Philippines.
Actually a lot of our interns have moved up in the world, like "assistant editor" Jess, new TV Editor Lola and regular columnists like Lily with her College Lesbianage.
The core intern army remains strong and fierce and will kick your ass and I love them more than words can say. Honestly, we are blessed because our interns are really Good People with some of the kindest hearts on earth.
And also, almost all of the interns have at least one article wholly their own and many are now writing on the reg —  because you know, I never get tired of emails like this one:

3. New People!
We've got some new blood: we'll be bringing you a teaser for Nat's new vlog series later this month. We're also bringing on an NYC-based video assistant, Kelsey, and HAI we're still looking for an L.A. video intern who can help Nat & potentially one other video series project out there on the West Coast. More details to come, but you know, just throwin' that out there.
We have a new Style Editor, Becky, who will be writing about fashion & style for grrrls on the reg.
We launched a Tech Blog called Technostraddle with our new Editor Taylor. She has also rounded up a few good women (and maybe even one man, one day…) to participate who we will mention when they have paid their dues.
Crystal launched our music blog Audiostraddle and brought on Corey and Isabelle, as well as our L.A based Karmen, , and several other ladies-in-waiting who we will not publicly mention until they have proven their dedication via many articles written.
Our FIERCE INTERN ARMY of Lex, Emily, Laura, Vashti, Lily, Rachel, Elizabeth, Jen, Daphne, Tirna & Nicole will be joined by new Intern Zahra and perhaps some more interns soon!
4. How Did We Get Here? How the Hell?
We launched Autostraddle in March 2009 in my room with me nagging Alex that it was really important she finish that website thingie before The L Word finale b/c that way we could maximize our first day's traffic. We were drunk and laughing and hopeful: basically it was the four of us, then — me, Alex, Carly and Robin — and Tess via interweb, who I'd asked for advice when I was trying to program the website myself and who then took over b/c I was doing a bad job. I solicited my roommate Natalie, my NYC Met-in-Cyberspace-But-Know in 3-D Friends Stef & Crystal, and my internet friend "Green" to write too.
The idea was to somehow re-invent the community spirit we'd admired in Sassy Magazine and the 'zine movement of the 90's and infuse some positive energy into women-targeted web-spaces as it has been done successfully by Jezebel & Feministing. Other influences/inspirations range from Andy Warhol's Factory to Spy Magazine to the Lesbian Avengers. I took what I'd learned from my own blog and also from interning at nerve.com and working in publishing for several years, and being a passionate magazine junkie my whole life. This is the only thing I ever wanted to do.
We brought Brooke on when I met her at a bar in March and told her I ran a lesbian website 'cause I was testing out that information on strangers and she expressed interest in "monetizing" Autostraddle. Now we have a business plan and know what "added value" & "due diligence" means, and all of us met our very first Business Person (we only know Artsy People).
We added interns in May because I needed to get some sleep. Then I stayed up late explaining what a high-res photo was. Some of our interns vanished, and most of them came to Pride, which was one of the best weekends ever and gave us the idea for Web 3D.0 which is when everyone gets off their butts and meets each other and makes change in 3-D too. That's why we have a show-yr-face policy here — all of our writers have to be people, not graphics.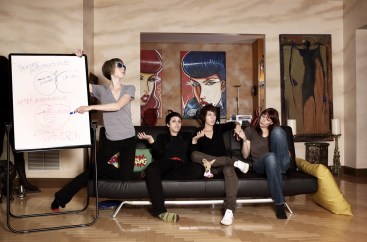 Most of us have significantly less money & time than we used to. More anger sometimes, but MUCH more hope sometimes,  and also there is a sense of moving forward, which is convenient, 'cause that's where we're going to go either way.
—
Also, I wanna quickly thank all the other lesbian webbernauts & celesbians who've been nice to us. Seriously 'cause sometimes people aren't so nice, and we just wanna all be friends. It's not actually that complicated, this isn't a contest, it's a community! We are not here to compete with anyone, we want to do something totally different than what anyone else is doing! Okay thxxx.
SO thanks to Lemondrop, EurOut, The Lesbian Lifestyle, Tracy at SheWired, Susan Miller & everyone involved with Anyone But Me, Project Reveal, Grace Chu, Jonny McGovern & The Gay Pimp Podcast, 410 BC, Jill Bennett & Cathy DeBuono, Up Popped a Fox, Shannon Wentworth & Sweet Lesbian Travel, Courtney Jackson, Wingspan Pictures, Julie Goldman, Haviland Stillwell, Dan Choi, Uh Huh Her, Babeland, Cleis Press, Phaidra Knight, DJ Lady Starlight, DJ Boom Boom, The Lesbian Lounge, UNITE in Fashion, Lipstick & Wildflowers, Sun Kissed Productions, Defamer Australia, Blake from Warner Australia, Sisters Talk, Eurout, Showtime, Time Out Chicago, Logo, Early 2 Bed, Buttonhead, Craftster, RelaxU, Arlan at yourdailylesbianmoment, JoeMyGod, Mason Dixon bar (NYC), anyone who dated Stef as a direct result of Autostraddle,  and everyone who has ever donated to Autostraddle.com. WE LOVE YOU!
Thank you for being you. Yup that's right just the way you are!
[just in case you wanna: amanda palmer will tell you why]