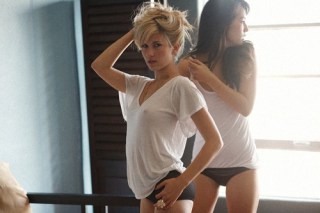 Lesbians Can Have Sex Too, Thank You: You know the deal. A boy and a girl are in a car together. The girl is talking about her girlfriend. The girl mentions having sex with her girlfriend. The boy tells her that "lesbians can't have sex." The girl gets really pissed off. Then the girl writes an article for "The Frisky" (a site we have a serious love/hate relationship with ourselves, but would defo have lesbian sex with, whatever that is, given the chance): "Sex is an intimate and passionate experience. It's an important and emotional part of my relationship. When someone tells me what I experience and feel isn't real just because I don't have a dong, it's demeaning and it makes me sad." (@the frisky)
Oh yes, this again. Also this week on Blowfish's Blog, Greta Christina responds to a recent Dan Savage column where Dan had to describe "what is sex" and asks: Does (X) count as having sex? And does it matter? Christina analyzes the various reasons that categorizing certain sex acts as "sex' or "not sex" is useful or not, and cites her oft-cited 1992 essay: Are We Having Sex Now or What? in which she examines her initial reasons for counting lovers and how difficult it eventually became to do so as her sexual life grew more diversified — especially when she started f*cking girls:
I'd always made my list of sex partners by defining sex as penile-vaginal intercourse. But with women… well, first of all there's no penis, so right from the start the tracking system is defective. And then, there are so many ways women can have sex with each other, touching and licking and grinding and fingering and fisting — with dildoes vegetables or whatever happens to be lying around the house, or with nothing at all except human bodies. Of course, that's true with sex between women and men as well. But between women, no one method has a centuries-old tradition of being the one that counts … So when I started having sex with women, the binary system had to go, in favor of a more inclusive definition.
In 1993, two girls wrote the famous advice column Go Ask Alice! to confess that they were "considering lesbian activity" and have "always been intrigued by lesbians and have been asking the question, How do they do it?" It's a quaint little response.
Then check out "the young lady's guide to muffdiving." Then chck out guru Felice Newman, author of "The Whole Lesbian Sex Book" (you remember that, right? From the photo [below] of Alice getting her gift from Phyllis?)'s website, she has all kinds of ideas about how lesbians have sex, from how to please a butch to how to jerk off like a guy.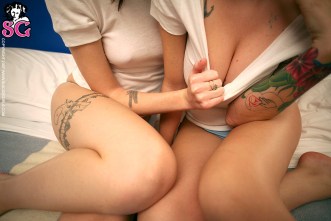 Gallery: Naked Ladies Reading Banned Books: "Pinchbottom Burlesque debuted Naked Girls Reading Banned Books at Madame X on Friday, October 16. It was hosted by Nasty Canasta, with Gal Friday, GiGi La Femme, Jo Boobs, Legs Malone, Sapphire Jones and Naked Girls Reading creator, Michelle L'Amour."
Bitchtapes: For Hot Hot Sexin' it Up – your hot sex mix tape at @bitchblogs, in celebration of Bitch, Bed and Beyond.
College Football Preview: Cheerleader Edition – from this totally misogynistic website that irresistibly offers titilating galleries of hot girls, a reasonably "real" gallery this week. (@coed)
Lindsay Lohan goes shopping, lets you see her fantastic breasts, kinda, dude makes shitty remark about her face, which even at its worst, looks better than most of your faces.  (@egotastic)
Sexy Lesbian Tumblr Alert: Las Vegas Style.
Primetime Panty Pageant Returns To New York Let's all look at pictures from last year's show and remind ourselves how bizarre it is that Victoria's Secret dominates the luxury underwear market in this country. (@fleshbot)
The Lesbian Sex Mafia wins The Village Voice's Best Erotic Bloodletting award. (@villagevoice)
Jezebel takes a f*cking hilarious virtual trip to Loveland: "LoveLand is a South Korean sculpture park dedicated to sex, and is described by the park itself as "a place where sexually-oriented art and eroticism meet." They failed to note that certain portions of the park are actually quite creepy."
"From the pictures I saw, there were few (if any) pictures of same sex couples, though in fairness those statues may not have been shown in the pictures that were available to me."
AFTER SEX: Here's a clip from a movie with Mila Kunis and Zoe Saldana. And it's about girl-on-girl action and I think you'll like it.