Autostraddle thinks you deserve better. In our ongoing campaign to save the world from unnecessary rainbow gradients, carefully organize our content, and talk to you as much as possible, we bring you Autostraddle 2.0: The Redesign.
Alex, our Senior Designer, and Tess, our Web Developer, have been working on this since March 9th, 2009, which coincidentally is also the day Jenny "died" (Jenny is Immortal!) and the day Autostraddle 1.0 launched. Riese told Alex it looked fine, and besides, its notebooky-template would immediately suggest that it's a "draft."
So we launched on March 9th … and ever since, Tess & Alex have been hard at work developing the website we all dreamed of when we were young children in the heartland reading YA Novels in the dark.
The redesign went up on September 20th and everyone's life has gotten a lot better since then, hasn't it?
So though this "things to know about the redesign" is a bit late, we're better late than never!
A Tour of the Redesign Right Now

I. The Regulars
Our "regular" columns are on a sidebar on the homepage [below] and also on the sidebar of their respective subpages. Regulars include Interviews, Carlytron's Televisionary, the Autostraddle Roundtables, Music is Our Hot Hot Fix, and more.
Coming Soon: Autofocus is going to be even better than before, like a real photoblog! But in the meantime, you can still find all the posts featuring Robin's photography here: Autofocus.

II. The Subpages.
Subpages Coming Soon: Events & Video!
On our topical subpages, which you can always access by the Autostraddle header, the latest stuff is always front and center with the most recent articles by date directly below the featured article.
Scroll down to see more articles, divided by category and listed chronologically.

Topics: Television, Music, Film & Theatre, Books, Fashion & Style, Photoblog.
Regulars: Televisionary, Music is Our Hot Hot Fix, Autofocus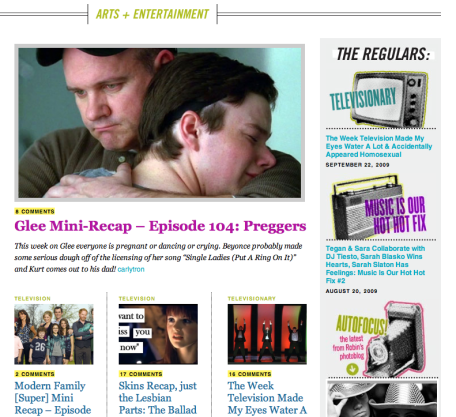 Topics: News & Features,  Business & Technology
Regulars: Autostraddle Roundtable
Coming Soon: Riese's Pieces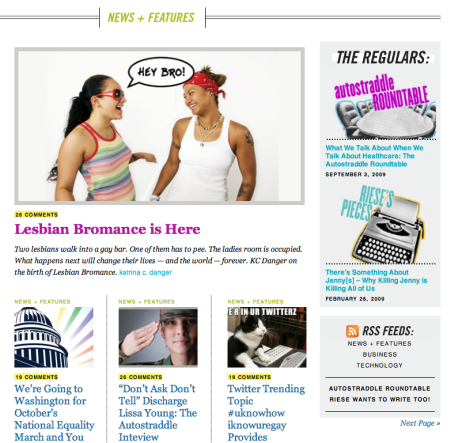 +

Topics: DIY Culture, Herstory, Travel, Personal Essays, Health and Advice
Regulars: DIY Culture, Lily's College Lesbianage, Girl-on-World
Coming Soon: Sex & Relationships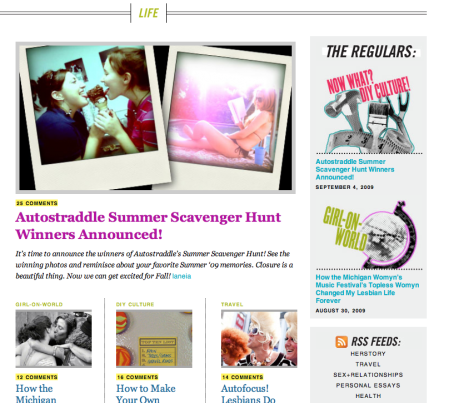 If you'd like to see older posts, scroll down the subpage and it's all there by category. If you're into time travel and wanna go waaay back, just click any category for its entire feed.

III. More Daily Fixes!
We want to have more directed conversations, and to make information easier to navigate. Depending on which "stories we want to tell" that day, we'll be posting Daily Fixes in 2-3 of the following categories: News & Politics, Society & Culture, Arts & Entertainment.  Really the whole idea of Autostraddle is to make everyone talk to us b/c we didn't get enough love as children and were unpopular in high school.

IV. Team Picks & Autostraddler of the Day in New Location
Team Picks are now in the right sidebar on the Daily Fix page. The Autostraddler of the Day is directly below that.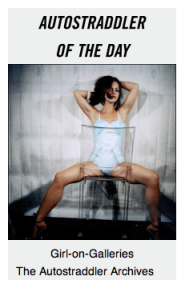 Also, you can choose to subscribe to our RSS feeds without including Team Picks.


V. Alex's Favorite New Feature – Last Ten Comments!
Also check this out, in the left column of the homepage — it's Alex's favorite new feature!

VI. Archives Made Easy!
If you'd like to time-travel to the past, there's many ways to do it. Our archives are organized by topic or by month: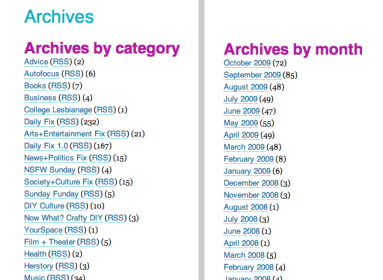 Feeds of the Daily Fix categories are available at the top of the Daily Fix page: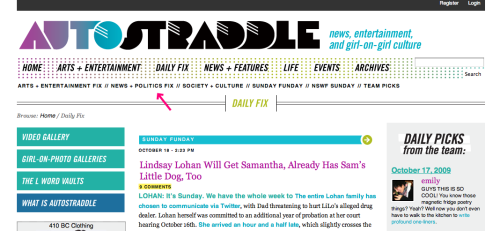 And you can always click "Read More" to see older article: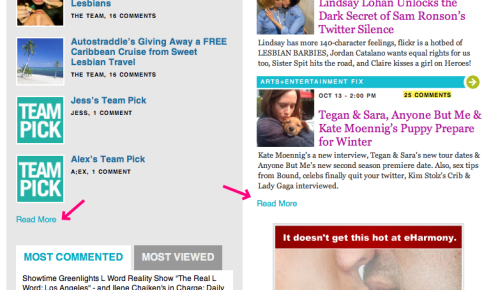 Also if you're looking for our amazing girl galleries of hot chicks, an easy-to-navigate archive of L Word recaps or more info about the team, that's on the front page:
A few more FYIs:
We're Not Done.
In addition to setting up the pages for archives, videos, galleries and events, there are still a lot of kinks being worked out. E.g., sometimes comments disappear and then reappear after a refresh Thank you for your patience!


Read Autostraddle like a magazine [with a blog called "Daily Fix"!] not like a blog.
Check out the pages divided by topic areas (life, arts & entertainment, news & features), and go there to find new content not featured as a headliner, like TV recaps!


I want an avatar!
That's easy. Go to gravatar.com and load one using your email. It will show up on a lot of other sites you visit and comment on as well.


How do I know what happened today on Autostraddle now that it's not at the top of the daily fix?
Everything new and fresh will show up right on the homepage — organized by DATE! (how revolutionary) right there in the middle — and front & center on subtopic pages. If you want to navigate back, click "read more."


A few words on Autostraddle:
In December of 2006, Riese was blogging at This Girl Called Automatic Win and started a blog at theroadbeststraddled.blogspot.com, named after the working title of a book she was writing at the time about bisexuality. This side-blog was intended to be home to L Word recaps and other sexuality related discussions.
Below, from the Robert Frost poem, "The Road Not Taken"
I shall be telling this with a sigh
Somewhere ages and ages hence;
two roads diverged in a wood and I —
I took the one less traveled road best straddled
And that has made all the difference
Because her personal blog was called 'Autowin,' we began referring to "the road best straddled" as "Autostraddle."
But we like the idea of having one foot on both directions; of hopping on something and taking a ride (sexually or literally), of having one foot on each side of the Terrible/AWESOME divide. The concept of straddling has grown on us though. It's a beautiful idea, really: declarative, full of intent, confident, prepared. Whether it's seductive or ambitious or athletic … it's both open and full. It's Autostraddle!

Any questions? Ask away!
Keep in touch:
Fan us on Facebook!
+
+