Interested in advertising to a young and trendy lesbian market? You're in the right place.
Autostraddle is the world's leading lesbian website serving over 2 million unique monthly visitors and earning over 4 million total page views a month.
Autostraddle is a revolutionary online destination and powerful brand for lesbian, bisexual and otherwise inclined ladies. We aim to build community, report breaking news, promote talented artists, and support progressive activists.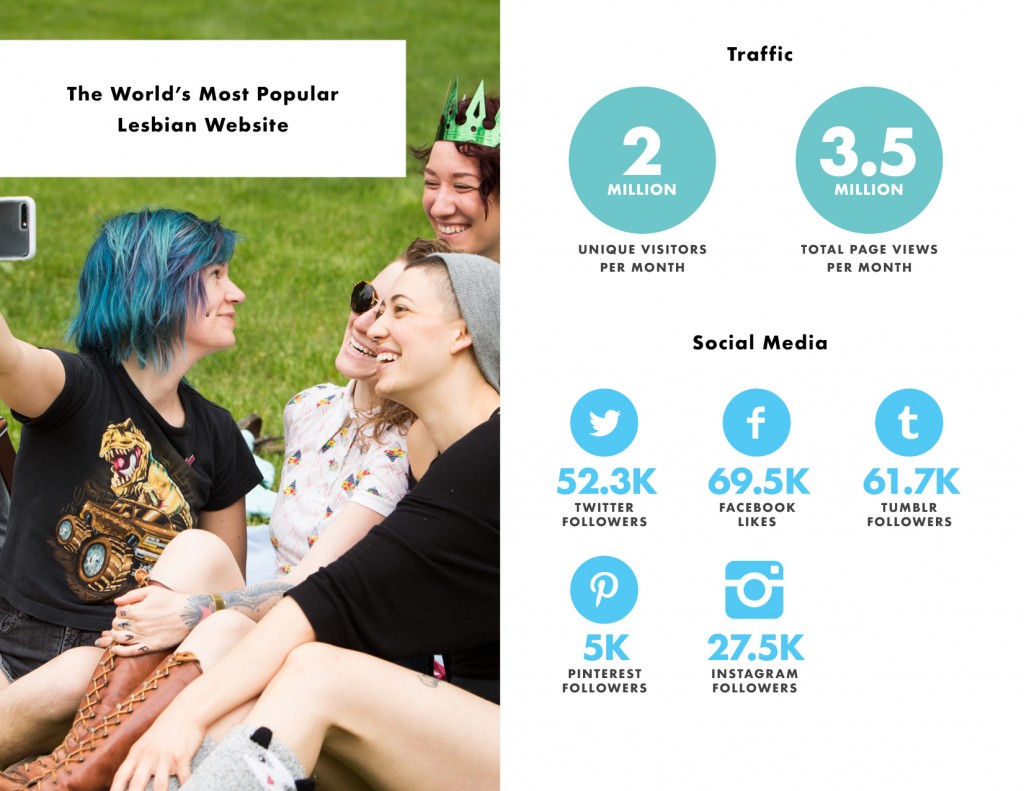 The Average Autostraddler is:
between the ages of 18-34
female
single or dating
college educated
an extremely heavy user of social media
a regular online shopper
We offer advertisers a premiere opportunity to connect with a stylish, intelligent and progressive "recession-proof" community of web-savvy women — 89% of which will seek out brands that are advertised to the LGBT market directly.
Our daily feature articles cover a full spectrum of news, entertainment and "girl on girl culture" — from fashion, music, technology, film and television, art, photography, literature, politics and more — offering advertisers of all sizes valuable opportunities to organically promote their brand to this elusive market segment.
Here are some ways to partner with us:
Display Advertising
Advertising is available on Autostraddle.com on both mobile and desktop in the form of banner graphics, prominently displayed in above-the-fold premium inventory as well as standard in-article ads. If you already have creative, you can use this handy widget to place an order directly with us! If you have something a bit more unique (geotargeting, specific serving dates) reach out to sarah [at] autostraddle [dot] com with information about your display ad campaign.
Editorial Content, Custom Campaigns and More
Our loyal and interactive community is attracted to our edgy and respected reporting, value our opinions, and consider us an authority who only promotes the best. Partnering with us like is like getting an endorsement from the coolest kid in school, and you're supporting an independent media outlet.
An editorial piece for your product or service is a very personal and effective way to reach our audience.
In the past, we've created sponsored posts for: Aqua Girl®, Sweet Lesbian Travel, SheSeek smartphone app, an intricate and integrated campaign for o.b. tampons, and a successful personal essay series for Motrin®.
Brands we've worked with on custom campaigns in the past include:


Becoming an A-Camp Partner
Autostraddle has been hosting A-Camp, an queer adult camp retreat for LGBTQ women since 2012. Drawing inspiration from traditional camps as well as conferences and queer parties, A-Camp has a packed back-to-back schedule of amazing programming (i.e.– Feminist Beer History or 'Bitches Brew', the QTPOC Speakeasy, Queer Astrology 101, Destigmatize Your Size, Hogwarts Trivia, Shibari Rope Bondage, etc.) and evening programming featuring musicians and comedians, including celesbians like Cameron Esposito. It's been a transformative and inspiring experience for the thousands of women who've had a chance to attend one of our eight events.
There are a couple of ways to support A-Camp and become one of our sponsors–
Gifts–Your brand or organization donates products and/or gifts that we pack in our A-Camp gift bags–one for every camper. In exchange we provide some sweet partnership perks that include your ads, products and logo being marketed throughout our A-Camp materials (programs & banners), as well as shoutouts on our social media pages.
Donate a Campership! Want to really connect with our audience? How about sending one lucky human who doesn't have the means to come to A-Camp on behalf of your brand? This is by far the best way to reach and engage with our community. In addition to getting the perks listed above, we'll also have one of our writers create a sponsored contest that asks our community to engage with your brand. More Facebook likes? Feedback on your products? The possibilities are endless. Email sarah [at] autostraddle.com to learn more about sponsoring a Campership.
Contact Us
If you'd like to collaborate with us, contact Sarah Sarwar at sarah [at] autostraddle.com. Please note that all inquiries should include the name of your brand, specific criteria on what you're looking to accomplish, and links to your online presence, including relevant social media pages.
---
We look forward to working with you!
SaveSave