Autostraddle runs on reader support!
(And an FYI that perks for the Fall 2022 fundraiser are closed. Thank you to everyone who gave!!!)
THANK YOU FOR HELPING US REACH OUR FALL 2022 FUNDRAISER GOAL!!!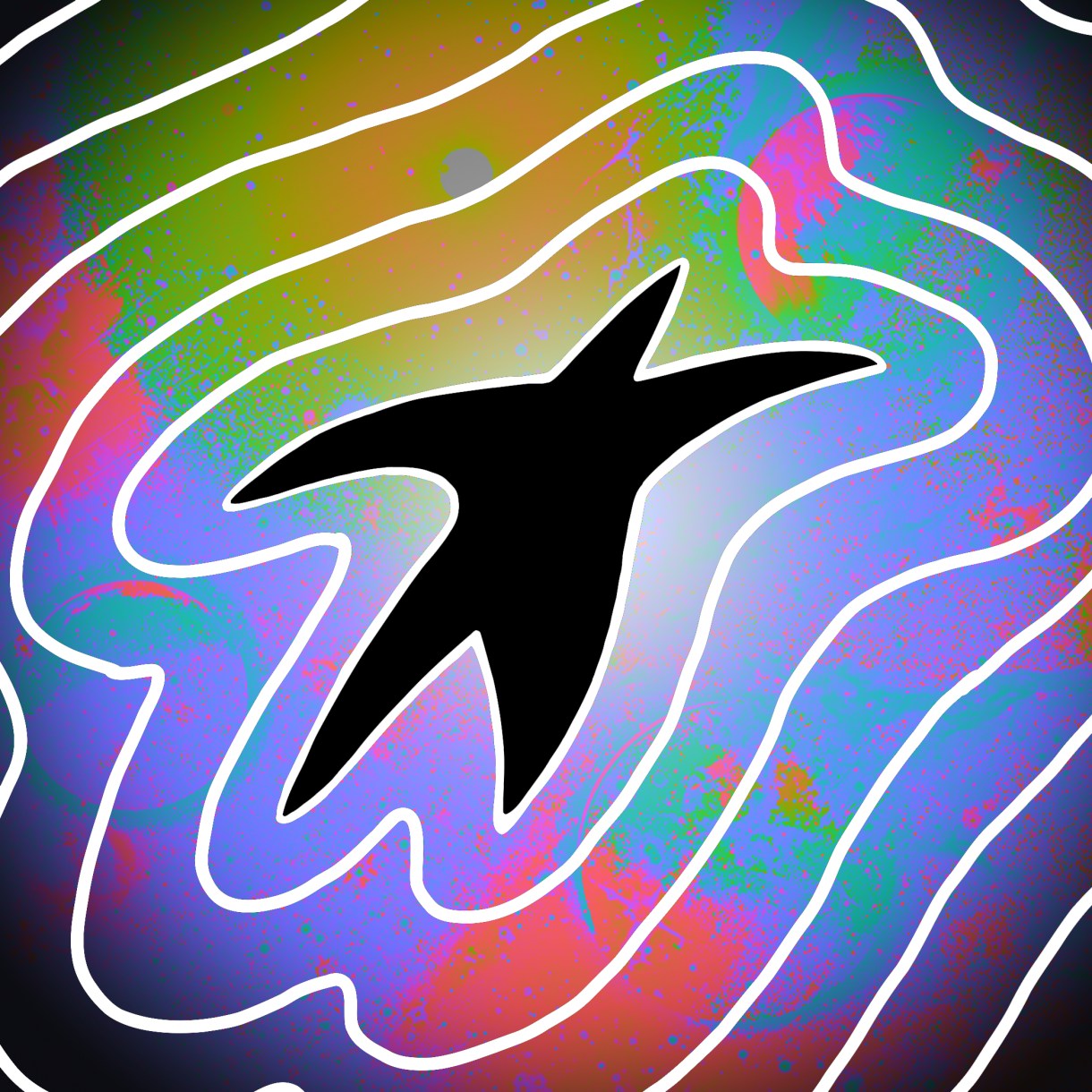 Still here and still queer after all these years. Thank you for helping us reach our $145,000 goal.
It's impossible to keep any type of online media afloat, but especially indie queer media, without a lot of reader support — and we need yours to survive the year. If you think our work is vital, if we've ever given you information or affirmation you couldn't find anywhere else, if you value a site that centers queer voices and isn't subject to the whims of a larger corporation, please consider pitching in. No donation is too small, and our A+ membership program starts at just $4 a month —a price we've kept steady for you despite inflation and rising internal costs.
We've also gotta spend money to make money, and to make incredible things happen that you, our community, have asked for. In that spirit, we've also got some exciting milestones for the fundraiser that we are working on thanks to the support of our community:
$100,000: Puzzle Time! Hitting this goal will give us the money we need to put our plan for queer crosswords (and more!) into play. (Get it?)
$145,000: Events! [And someone to help us!] We simply can't move forward on the return to live events without some expertise in our corner. Once hitting this milestone we'll start the search.
And also!!! In 2023: We're going to be exploring having audio versions of articles available onsite and maybe even in podcast form. This costs money, of course: readers, equipment, branding and production — but we're committed to exploring it in 2023, so long as we're all still here!
We don't need you to do it all, we just need as many people as possible to do something. Most of our members give just $4 a month, and most donations to any of our fundraisers have been $50 or less. Together, we've got this.
Will you help?
[Autostraddle / The Excitant Group, LLC is NOT a non-profit. Your gift is NOT tax-deductible. What we are, however, is an independent and queer-owned media company. Thank you for your support! To learn more about how our finances work, check out our fundraiser announcement post and Yes, Fundraising is Part of Our Business Model!]
Perks FAQ
Are the fundraiser perks still available?

Unfortunately, no, the fundraiser is now closed for perks. However, anyone who signs up for a monthly A+ membership at the $6/month level or higher now through November 12th will get the fundraiser sticker 4-pack!
How will you know if I'm an A+ member?
Use the same email as the one associated with your A+ account and Nico will cross-reference.
In the past, I got to choose which perks I got. Why is it different?
Having a storefront-style situation presented a lot of issues for us actually. It's way easier to have standardized packages than it is to put together custom orders. We're hoping this will make perks fulfillment go much faster so that you can have perks in your gay hands sooner, and you can enjoy them!
When will I get my perks?
Nico, our fundraising director, will start shipping perks out after the close of the fundraiser, starting with folks who donated first and going in chronological order. This can take a number of weeks, but trust us, it will happen! Your patience is greatly appreciated as we're a small team and the person sending the perks still has a full-time job on top of perks fulfillment. We'll email you about any unexpected delays (which we have to say because we've all been through a pandemic and have certainly dealt with our fair share of delays).
Will I receive a tracking number for my perks?
If you're receiving stickers or magnets, likely, no, outside of certain international shipping situations. If you are receiving any of the larger items (bag, puzzle), then, yes! You'll get an email when your perks are sent out with tracking info.
Will I get my perks in time for the holigays?
The sooner you give, the higher up on the list you are, but there are no guarantees that you'll get these in time for the Holigays! Sorry, we just ship them as fast as we can, and we go down the list in chronological order from the first person to give, to the last person.
I'm outside of the US! Is there anything I should know?
If you are in the UK or Europe, your perks will ship out of the UK. All other places will receive perks shipped out from the US. You'll be responsible for any VAT / Customs fees upon receipt.
Why do you need my phone number?
If you're in the US, we don't, really, but we're asking for it in case our shipping carrier requires it (sometimes they do and for international shipping, it's always necessary).
Some Helpful and Gay Charts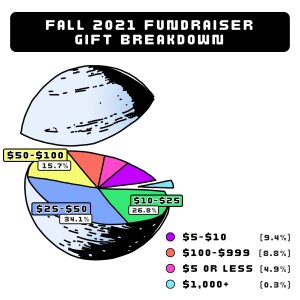 84.6% of gifts to our 2021 fall fundraiser were $50 or less.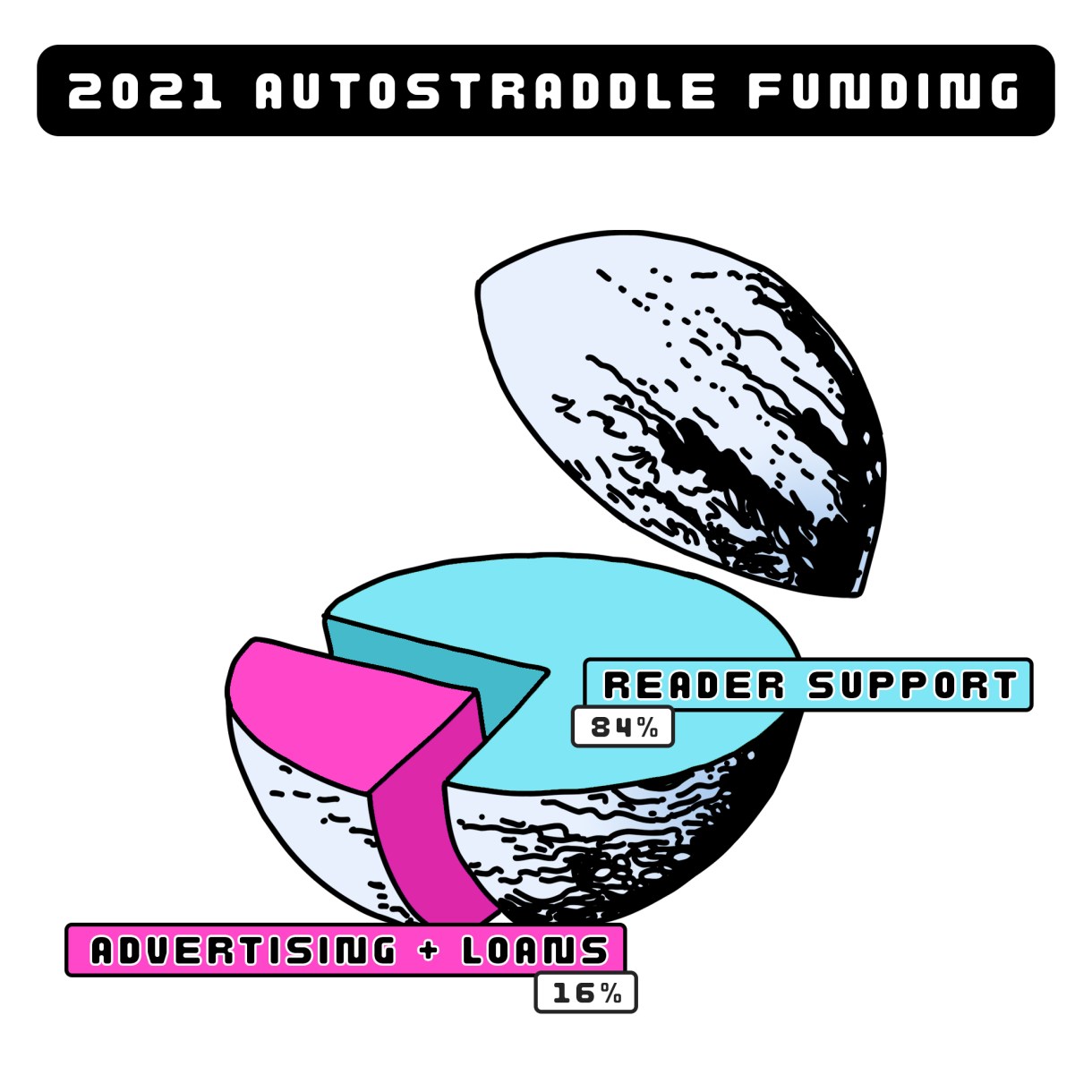 Autostraddle has always been majority reader-supported.
IN THE TIME OF COVID-19
Autostraddle has been working hard to be a safe and inclusive community for you. We aim to be a compassionate and equitable employer who wields the power of our platform responsibly. Below are just some of the steps we've taken since the pandemic spread to the United States.
Covid-19 Response
We hope, as always but also more than ever, that you're safe and well, and we want to be as much of a support and solace to you and to our team as we can right now. Here are some ways we are responding to Covid-19 and the pandemic:
For Our Team
We're not able to offer the highest rates or salaries, but we do everything within our power to make our workplace as comfortable as possible for our workers and to be, above all, dependable and flexible.
What Autostraddle Does For Its Employees:
Full-time employees already have health, dental and vision insurance, 401(k)s, unlimited vacation time and sick days and flexible hours
During the Pandemic:
Freedom to work less/different hours as needed to deal with friends/family and the mental health impact of the pandemic
Ongoing dedication to paid sick days or medical leave needed if sick with COVID-19, in quarantine, or helping a friend or family member who is sick. Several of our team members have utilized this policy.
What Autostraddle Is Doing For Its Team Of 45+ Writers/Illustrators Who Are Part Of Our Office On Slack:
Our Team of Writers/Illustrators Already Have flexible hours — free to work at their own pace and on their own time (we don't give assignments, we accept pitches) and a guarantee that they will be paid for their work within a week of submitting an invoice for payment.
After the fundraiser in August 2020, we were able to raise rates for our team and in January of 2021, we were able to offer new opportunities internally. In 2021, we brought on two new subject editors, Shelli Nicole as Culture Editor and Ro White as Sex & Dating Editor. Learn more on our The Receipts page.
During the Pandemic:
Offering paid sick leave to our team (if sick or helping sick family members, will be paid the default rate for the number of posts they would've written that month.)
We are still offering support to our team through our Writers Relief Fund, for any writers who've lost other work or are otherwise in need during the pandemic, they are able to request a payment from the fund and receive it immediately, no questions asked or strings attached.
Providing as much extra work as possible to writers/illustrators who want it
We raised our rates (which generally range from $50 – $200) by $30-50/post for March and April.
We raised our rates permanently in August 2020.
In 13 (THIRTEEN) years, Autostraddle has never lowered per-post rates, enacted pay cuts, laid anybody off for financial reasons, delayed a payment for financial reasons or halted a hiring process for financial reasons. And with your help, we hope to keep it that way! Whenever our fortunes improve, we give raises and raise rates. We're still not where we want to be, but we're getting there.
For You
The Autostraddle team is also committed to doing our best to provide information, community, and togetherness during this time, as well as actionable ways to care for yourself and others.
The Receipts From Our Fundraisers
The July 2019 fundraiser truly changed everything for us. Working in queer media has often meant settling for so much less. But in 2019, after ten years of just getting by, we finally began building processes and structures to professionalize our little office in the sky. That was hard to do when working here felt more like a personal favor than a job. Your faith in us — your belief that the work we're doing is necessary and important, and your willingness to invest in it — has inspired us to say yes to the things we need to thrive and evolve, knowing you'll continue to have our back when we need it. We told you during the April 2020 fundraiser that we thought of what we were doing at the time as gathering the ingredients we needed to make bread. IT'S READY.
This fundraiser in August 2020 sustained Autostraddle as we pursued our vision and moved toward what's next for Autostraddle with trackable goals, and more transparency and accountability than ever. The February 2021 fundraiser kept us going during one of our tightest times since the pandemic's start. The October 2021 fundraiser allowed us to hire a Director of Brand Partnerships!!! We're grateful for your trust.
We've been able to do what we'd never done before: address areas where we needed help or transformation with real solutions, rather than either ignoring them or finding the cheapest fix possible. We've been putting out fires for years without the resources to just fire-proof the damn house. Below, please find the work that we have been doing internally, in preparation for what comes next — which is what we know will be exciting writing, an electric editorial vision, quality journalism, and the community-building which has brought you here.
Ongoing Internal Work Since July 2019
Training and Healing: Our full-time staff engaged in extensive Team Dynamics / Leadership Coaching (we're now all "Dare to Lead" certified!) and Racial Inclusion and Dismantling White Supremacy In the Workplace Training (with plans for further anti-racist workshops for the team), and Restorative Justice processes were conducted with relevant parties. The white members of Autostraddle's senior leadership team have also established a regularly scheduled meeting and development group around dismantling white supremacy in the workplace, to continue internal cultural growth and unlearning that doesn't rely on the labor of QTPOC staff members.
Company Culture Initiative: Using extensive feedback from writers and staff, we established firm company values, increased transparency around processes and metrics, outlined internal behavior guidelines, set expectations for work-life balance and mental health prioritization, created systems for tracking progress and presented conclusions and initiatives to our team
Hiring Since October 2021
Hired Anya Richkind as full-time Director of Brand Partnerships (ad sales and more!)
Hired Viv Le as full-time Art Director
Hiring + Support + Promotions (With Raises) Since February 2021
Promoted Dr. Carmen Phillips to Editor in Chief
Hired Kayla Kumari Upadhyaya as Managing Editor
Hired two part-time subject editors, Shelli Nicole as Culture Editor and Ro White as Sex & Dating Editor
Promoted Valerie to a more involved role in running our Twitter and Facebook accounts
Began planning and saving for a new full-time ad sales role
Hiring + Support + Promotions (With Raises) Since August 2020
Promoted Dr. Carmen Phillips to Interim Editor in Chief
Began internal hiring process for a new part-time Subject Editor
Raised rates for our entire team
Gave raises to our senior team
Since the pandemic began, we have paid out almost $12k in no-questions-asked no-work-expected relief funds to Autostraddle writers/artists in need of support
Hiring + Support + Promotions (With Raises) Since April 2020
Promoted Kamala Puligandia to Editor in Chief
Promoted Dr. Carmen Phillips to Deputy Editor
Welcomed Xoai Pham as Trans Subject Editor
Moved to a new server with the help of Cee and the Yikes team!
Engaged the Yikes team for part-time web support
Hired an SEO consultant on a contract basis to help fix whatever fresh hell the most recent Google update has wreaked upon our search traffic
FYI all of these people are gay
Improved Benefits + Pay Since July 2019
Added 401(k) for full-time employees who have worked full-time for 6+ months
Increased salaries of full-time employees by 40%
Doubled stipends for part-time subject editor and social media co-director
Increased per-post rates for writers and increased editorial budget
Upgraded pay + work for accountant, podcast editor and podcast guests
We got donuts one day
FYI you guessed it all of these people are gay
Miscellaneous Expenses
Hours for Yikes, Inc. to help us with back-end cleanup of the site and enhanced navigation
Replacing broken/dysfunctional laptops
Enhanced, re-activated or new services including Crowdcast, SurveyMonkey, CanvaPro, Getty Images, Parse.ly and Tableau
SEO Consulting
Welcomed Nico Hall as A+ and Fundraising Director in fall 2019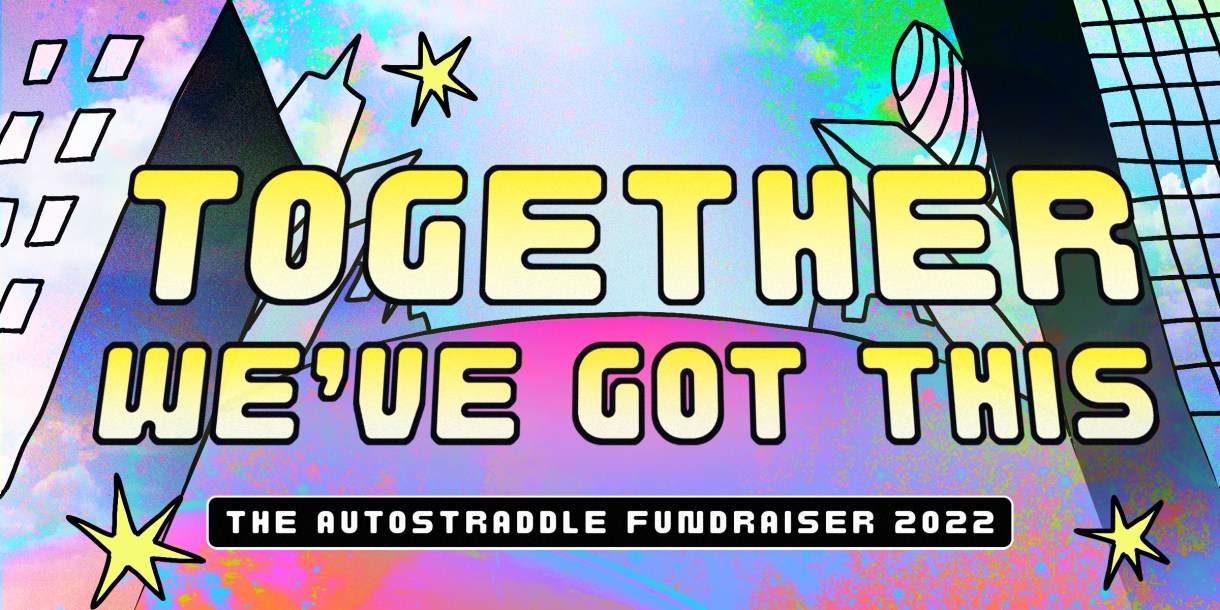 Hear About the Fundraiser from Our Team