Join the A+ Community!
A+ is a shining circle of amazing humans who make Autostraddle possible, help us pay writers and staff fairly, and become our dear friends!
Have an existing Autostraddle account?
Sign in before subscribing to A+!

Your A+ membership will:
Help Autostraddle thrive. A+ memberships go toward paying queer, trans, and BIPOC writers and staff. You'll help Autostraddle pursue ambitious, relevant editorial visions, and bring you content that matters. You'll help us pay our writers and staff fairly, and help to keep queer media independent.
Make sure Autostraddle stays here. The world's a lonely place, but you can make it less so — for you, for us, and for the people who need the vulnerable, important, hilarious writing and queer community on Autostraddle, for the next person who needs a community that is unlike anywhere else in its representation of all the facets of life for queer women and non-binary people.
Welcome you to an insider's club. As an Autostraddle supporter, you'll get closer to the team, breaking A+ member-only e-news and exclusive insider content, from moving personal essays and sex diaries to interviews with exes and staff roundtables!
Give you direct access to the A+ Priority Contact Box! Send us your advice questions, hot tips and anything you just want to share. This is your chance to get advice from the Autostraddle team, and to gush and have feelings together!
And if you join at the Bronze, Silver, or Gold levels you get cool perks! Check them out below! So what are you waiting for? Join A+ today!
---
Monthly A+ Membership Levels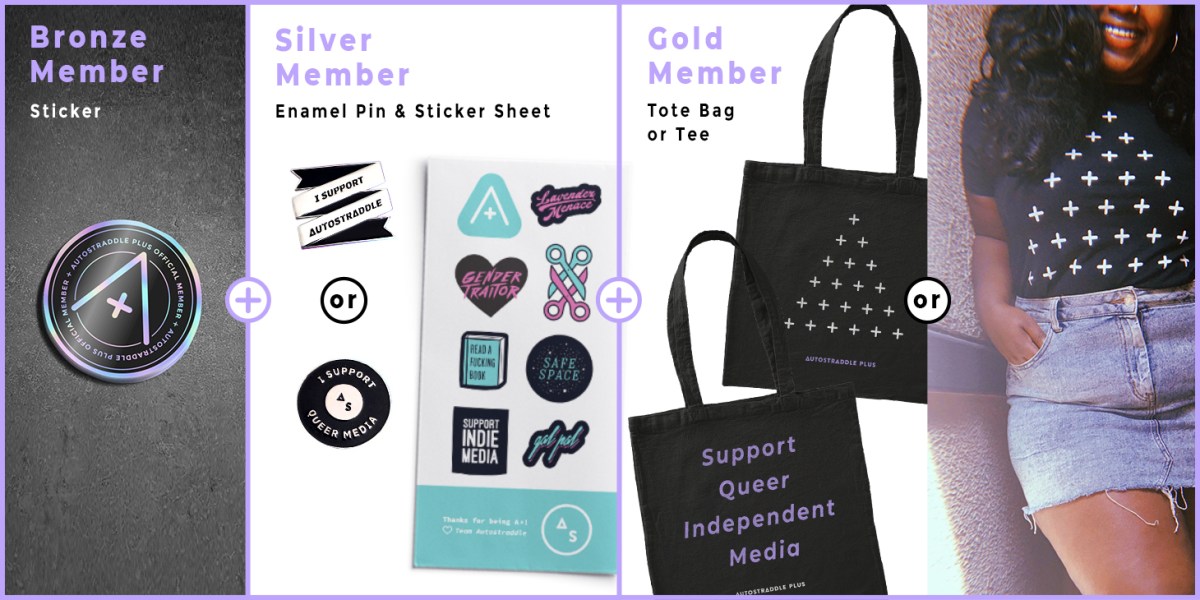 ---
Spend your money on what you believe in.
Your A+ membership will uplift a kind, safe, honest, radical queer community. Your membership keeps us here for you, and for the next person. Every day, there will always be someone reaching Autostraddle for the first time. 81% of Autostraddle's revenue comes directly from readers. We need you. Isn't it worth $1 a week to make sure we can be there, on a daily basis, to share our stories, our news, and our joy?
FAQS
Can I give A+ membership as a gift?
We're currently working on this and will make an announcement when this feature is available.
I can't afford to join now, but I still want to support Autostraddle! What can I do?
Like and share our posts on social media
Comment on our articles — we're one of the very few places left online with an active, interesting, and useful comments section, and we're pretty proud of that. Join the conversation!
Host or attend an Autostraddle Meetup in your area
Add our names to conversations about queer and/or feminist media
Suggest A+ membership or one-time donations to your friends and family
Shop using our Affiliate Marketplace
Follow our writers and editors on social media and support their work outside of Autostraddle
When can I expect to receive my gifts?
Please allow 2-4 weeks for delivery.
Does my membership renew automatically?
Yes! Both monthly and yearly memberships renew automatically, either monthly on the same date or annually on the same date. At this time, we do not offer one-time membership purchases, however, you can always cancel or pause your membership in your account settings.
I'm having difficulties signing up! Help!
Email nicole [at] autostraddle [dot] com! Nicole, your A+ Director, is there to help!