Join the A+ Community!
A+ is a shining circle of amazing humans who make Autostraddle possible, help us pay writers and staff fairly, and become our dear friends!
Have an existing Autostraddle account?
Sign in before subscribing to A+!

A+ Members:
A+ Members are the beating heart of Autostraddle and a huge reason we're still here. A+ Membership does a few simple but powerful things:
Members keep the site paywall free for EVERYONE

. That means the baby gay searching "am I a lesbian?" or "what does it mean to be bisexual" can find the answers they need for free, and that this library of queer community, culture and history is available to everyone, all over the world.

Members keep Autostraddle independent.

That means we can publish talented emerging writers and center voices that reflect the widely varying experiences our community, and that we don't have to cater to cis/het/white/male norms in order to sell ads. It also means that when we do work with advertisers, they're companies that respect our readers, and YOUR reading experience is better! 

Members support us in paying LGBTQ writers, artists and generally awesome humans that make this site go.

We keep your money gay and we pay! On time! Ask any freelancer and you'll find out what a (SADLY) rare thing this is. The more members we have, the more writers we can pay, which leads us to:

Members support Autostraddle's standards for high quality work.

We don't do clickbait. Even if we get into something silly, it's done thoughtfully.. Whether we're writing about serious topics, covering politics or the news, or presenting personal essays, we're able to write directly to you, our core community. A+ Membership is a two-way street, and the most important relationship we have is with YOU.
Monthly A+ Membership Levels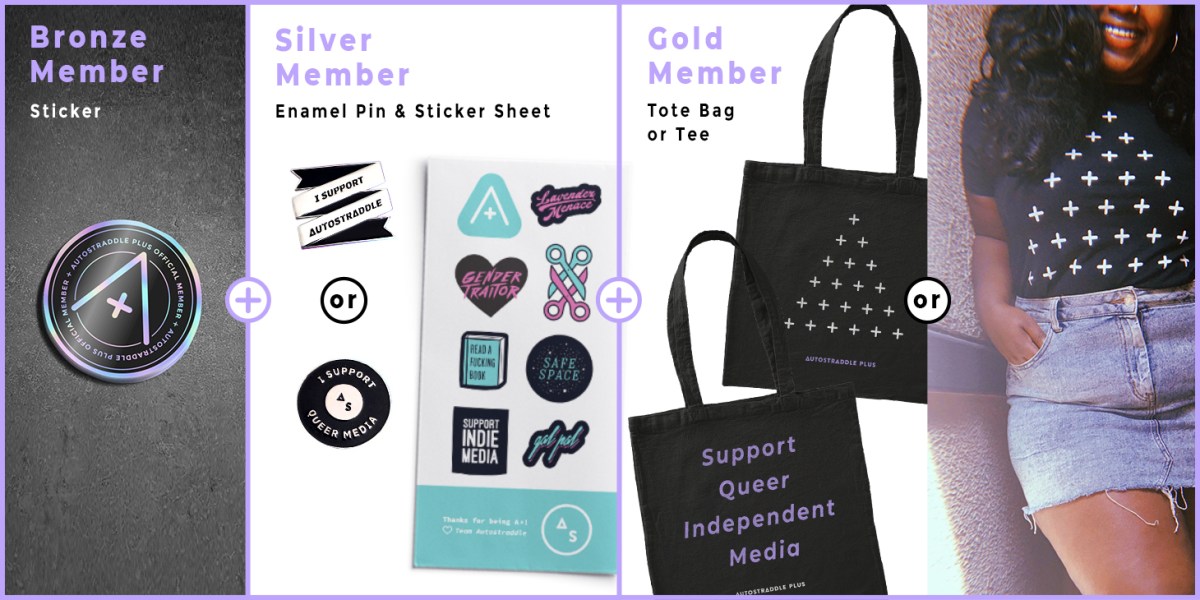 ---
Spend your money on what you believe in.
Your A+ membership will uplift a kind, safe, honest, radical queer community. Your membership keeps us here for you, and for the next person. Every day, there will always be someone reaching Autostraddle for the first time. 81% of Autostraddle's revenue comes directly from readers. We need you. Isn't it worth $1 a week to make sure we can be there, on a daily basis, to share our stories, our news, and our joy?
FAQS
Can I give A+ membership as a gift?
Psst! Yes, you can! We just launched this feature, so if you have trouble email nicole[at]autostraddle[dot]com. To purchase a gift membership scroll on back up and hit that button that says "Give as a Gift!" — you're the best.
I can't afford to join now, but I still want to support Autostraddle! What can I do?
Like and share our posts on social media
Comment on our articles — we're one of the very few places left online with an active, interesting, and useful comments section, and we're pretty proud of that. Join the conversation!
Host or attend an Autostraddle Meetup in your area
Add our names to conversations about queer and/or feminist media
Suggest A+ membership or one-time donations to your friends and family
Shop using our Affiliate Marketplace
Follow our writers and editors on social media and support their work outside of Autostraddle
When can I expect to receive my gifts?
Please allow 4-6 weeks for delivery. For deliveries outside the United States, please allow additional time.
Does my membership renew automatically?
Yes! Both monthly and yearly memberships renew automatically, either monthly on the same date or annually on the same date. At this time, we do not offer one-time membership purchases, however, you can always cancel or pause your membership in your account settings.
I'm having difficulties signing up! Help!
Email nicole [at] autostraddle [dot] com! Nicole, your A+ Director, is there to help!