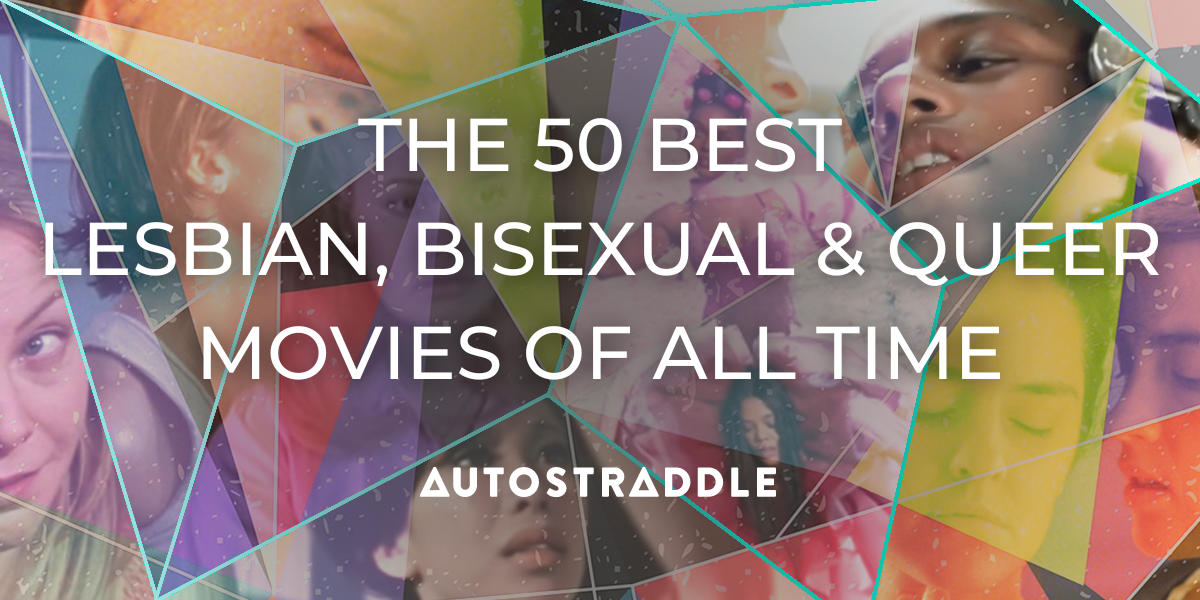 Here at Autostraddle we want every lesbian, every queer woman, and every non-binary person to know that movies should include us and do include us. We want you all to see our lives on screen, through the best lesbian movies, with the variety and quality we deserve.
It's about more than representation. We believe that the best lesbian movies rank among the very best movies, period. Our stories matter and have too long been ignored. This list, voted on by our team, aims to create a canon of the very best lesbian movies of all time. From serious art films to gross-out comedies, this list has it all.
There is a world of cinema and a world of queer cinema. There are films from the last hundred years waiting to be discovered and new films yet to be made. So grab some popcorn and join us. If you're looking for even more lesbian movies to watch, check out the Autostraddle Encyclopedia of Queer Cinema.
---
dir. Jamie Babbit, 1999
Watch It
Jamie Babbit's campy lesbian classic received bad reviews upon its initial release. The largely straight male critics just didn't understand why someone would make a comedy about a subject matter this serious. But this film isn't for them. This is a biting satire that mocks homophobia and the people and institutions that uphold it — all the while featuring relatable gay characters and joyful queer romance. Natasha Lyonne first earned her crown as honorary lesbian with her hilarious performance and Clea DuVall is a total heartthrob as her love interest. The rest of the cast includes Melanie Lynskey, Michelle Williams, Cathy Moriarty, Mink Stole, and RuPaul — each one of them falling into the movie's specific tone with perfection. Camp is often associated with gay men, but this movie is explicitly lesbian camp. This is a queer movie made by queer people about queer experiences through a queer lens for queer audiences. It's the best lesbian movie of all time.
2. Saving Face
dir. Alice Wu, 2004
Watch It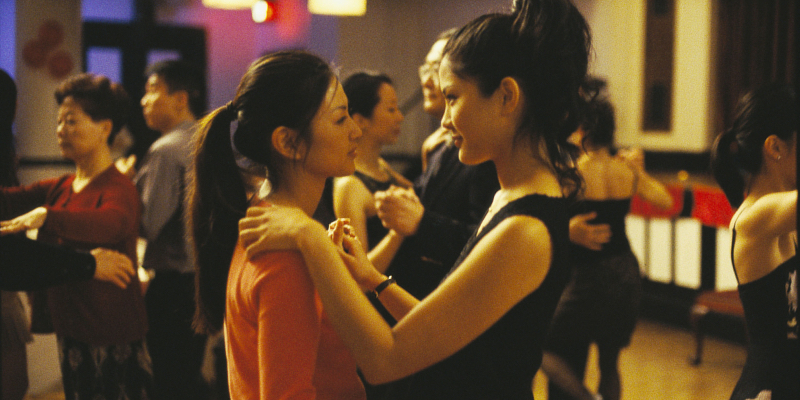 Plenty of gay romcoms attempt to fit queerness into the genre, but Saving Face goes beyond what any of its straight counterparts have ever accomplished. Alice Wu's only film for sixteen years is funny and romantic — it's also a moving tale of family and community. Michelle Krusiec plays Wil, a Chinese American lesbian surgeon forced to house her mysteriously pregnant mother just as she's falling for her boss' daughter played by Lynn Chen. Krusiec and Chen have a timeless chemistry. It's so fun to watch them flirt and fall in love and navigate how their lives could possibly merge. Joan Chen also gives a really special performance as Wil's mom. This movie isn't content to just tell one love story — its ambitions are to show the unpredictable nature of the very concept. Specificity makes for better storytelling and it doesn't get much better than this enchanting film.
3. Pariah
dir. Dee Rees, 2011
Watch It
Dee Rees' debut feature is a stunning cinematic achievement. Her artful direction and poignant, specific writing melts into Bradford Young's remarkable cinematography, the impeccable soundtrack, and a collection of phenomenal actors led by Adepero Oduye. Oduye gives the kind of performance that should be talked about until we stop talking about cinema — finding layers in the realism, lightness in the pain. This is an at times difficult film, but it's far from maudlin. Rees gives us those first moments of love, those first moments of self-discovery and identification — even if they're met with rejection and isolation and difficulties. This is a film explicitly about Black queerness — not a single white person appears on screen — and it's a towering achievement from a Black lesbian filmmaker who's already left her mark and is only just beginning.
dir. Donna Deitch, 1985
Watch It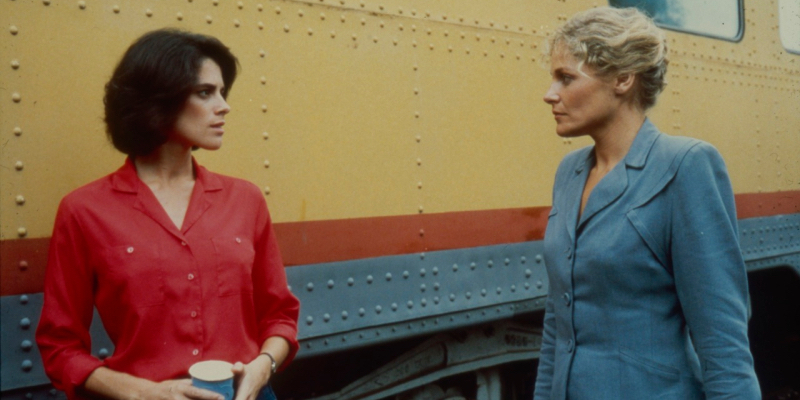 A period piece decades ahead of its time, Donna Deitch's sweeping romance is a classic that earns that word in quality and burns past it with an ever-present spark. Helen Shaver plays Professor Vivian Bell who's staying at a Nevadan ranch while she waits for her divorce to finalize. She has taken the first step towards independence, but isn't sure what's next. The answer? Cay Rivers. Patricia Charbonneau as Cay has so much easy tomboy femme charm, a sexy dedication to self, and wears pants and shorts unlike any other on-screen character. Their romance is fraught, but absent is the melodrama one might expect from a film made in the 80s about the 50s. It's a quieter, more grounded affair — that still finds time for an iconic kiss in the rain. You don't have to believe in love — let one of the best lesbian movies of all time do it for you.
dir. Cheryl Dunye, 1996
Watch It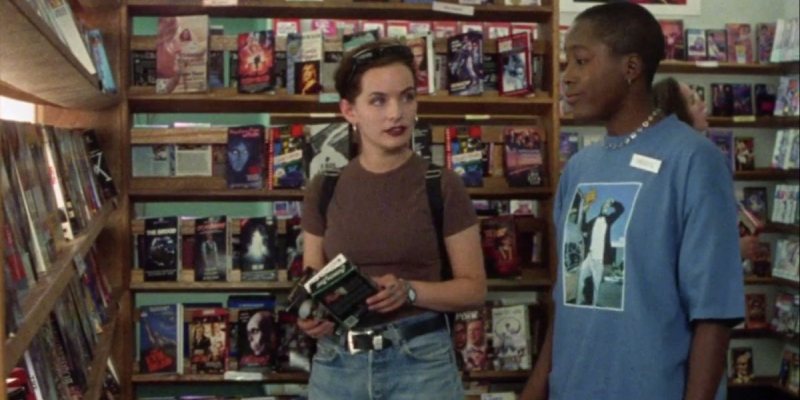 Mockumentary, romcom, buddy comedy, alternate history, Cheryl Dunye's debut feature is a work of Black lesbian cinema highly aware of its place within film history. Dunye is so funny and charming — and sexy with love interest Guinevere Turner — the depth of this singular work of lesbian art is only evident with its final title card. It may have been voted fifth by the team, but, for this author, it's my best lesbian movie of all time. It has jokes, it has a video store meetcute, it has a hot sex scene, but it is also a declaration of an artist's stubborn autonomy. Dunye isn't content just to mock or pay tribute — she understands that being a filmmaker with several marginalized identities doesn't allow her that casual dismissal or easy celebration. She understands the importance of history and that sometimes you have to create your own history. And she's determined to have fun along the way.
dir. Céline Sciamma, 2019
Watch It //Also Available on Hulu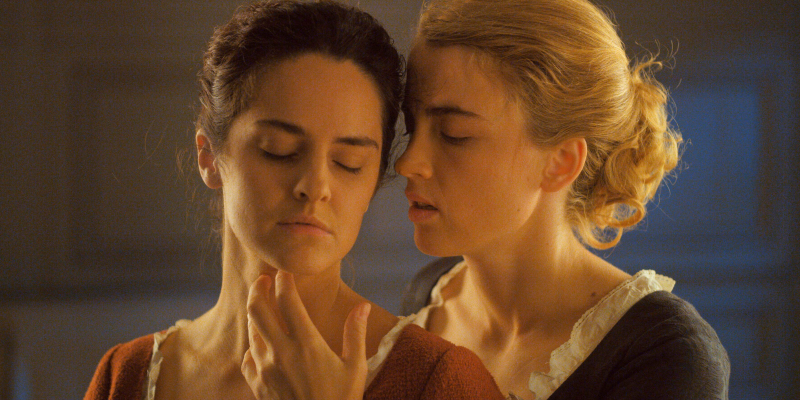 An immediate landmark of lesbian cinema, Céline Sciamma fulfills the promise of her first three features with a gorgeous work of lesbian art that pushes the boundaries of how our gaze appears on screen. This is a movie about love and a movie about creation – specifically about women, specifically about lesbians. Noémie Merlant and Adèle Haenel are exquisite, giving performances that challenge the very notion of audience watching actors. Claire Mathon's cinematography is as beautiful as it is pointed — the stunning images always motivated. There is so much eroticism and love and also a push to view these concepts in a way separate from heteropatriarchal structures. Céline Sciamma wants our cinema to be our cinema and with this monumental work she succeeds.
7. Bound
dir. Lana and Lilly Wachowski, 1996
Watch It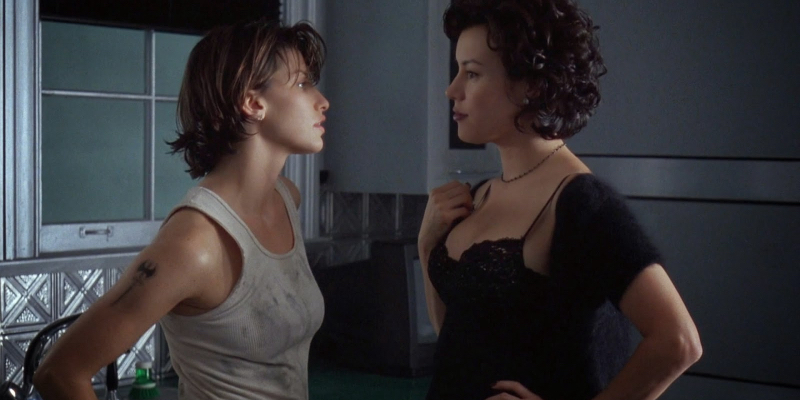 The Wachowskis take a classic film noir story with classic film noir archetypes and queer it in form and content. Gina Gershon plays Corky, the soft butch everyman ready made to get wrapped in things that don't concern her. This, of course, arrives in the form of Jennifer Tilly's femme fatale Violet. There's a deep understanding of the genre that allows them to subvert it — holding onto the excitement and sex appeal, but prioritizing lesbian love and delicious misandry. This is as stylish and exciting as any of the Wachowski's bigger budget fare and it has sex scenes choreographed by Susie Bright. Queer women are still largely absent from genre films, but this stands as one of the most prominent — and masterful — exceptions.
dir. Chantal Akerman, 1974
Available on Criterion
Chantal Akerman's debut narrative feature is when she first established her cinematic language of depression. The first half hour of this movie finds a woman named Julie played by Akerman herself remaining entirely in her room. She moves around her furniture, she eats sugar out of a bag for sustenance, and she writes and rewrites a letter to a mysterious someone in her life. She finally leaves, but her time hitchhiking with a random man does not feel like an escape. She is still trapped in her own isolation even when around others. The only moments of release are when she finally arrives at her ex's apartment — her ex the potential recipient of her letter — and they have sex in an extended ten minute sequence. But they are still exes and these moments can't last. Whether or not Akerman is focusing on queer women characters, there's a present queerness in how she views homosexuality and heterosexuality. She really did make movies for the sad gays and what a rare gift in the canon of arthouse cinema.
dir. Desiree Akhavan, 2014
Watch It //Also Available on Tubi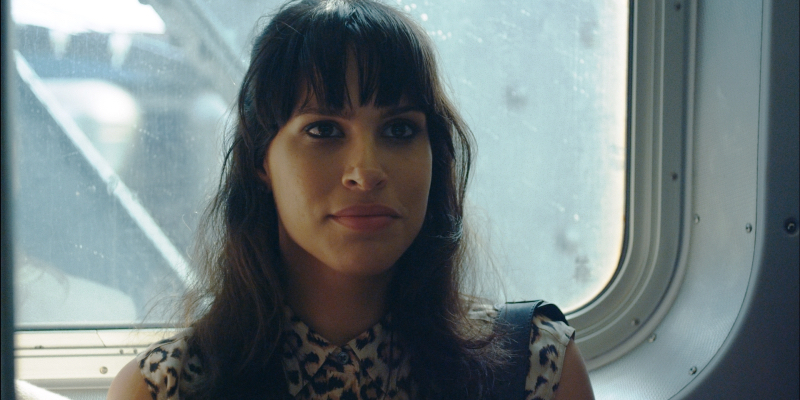 Shirin thought she met the only person in the world as sad and cynical as herself. She thought they were meant to be. Now in the wake of her break up she's spiraling in a flurry of bisexual chaos. Writer/director/star Desiree Akhavan is a once-in-a-generation talent and her humor makes this an easy movie to watch even as Shirin is seeped in melancholy and crisis. Since The Slope, Akhavan has made work that feels deeply grounded in a casual queer perspective. There might be a lot of semi-autobiographical films about people trying to master adulthood, but there's only one Desiree Akhavan and this film is as special as the filmmaker herself.
dir. Leontine Sagan, 1931
Available on Kino Now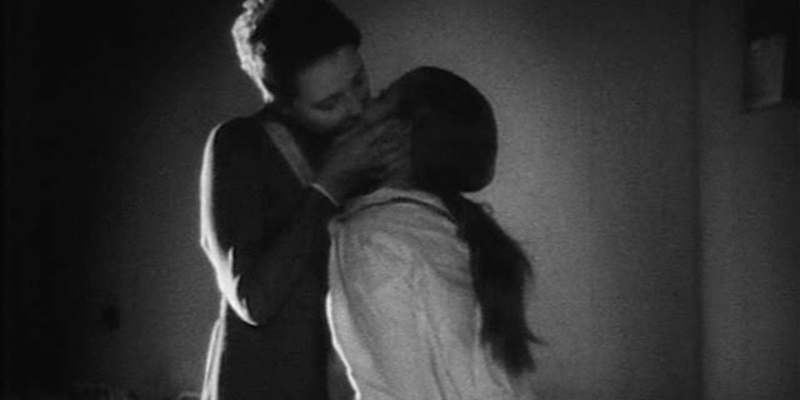 The lesbian movie that started it all. With its boarding school setting, central age difference, and near-suicide ending this first known work of explicit lesbian cinema can be credited with shaping the entire lesbian film canon. But it's more than just a work of history. While its age difference might be too much for some, the film places us squarely in the perspective of new student Manuela. Her love for teacher Fraulein von Bernburg becomes our own adolescent crush as we understand her confused place in gay life. At the dawn of the Holocaust the Nazis tried to burn every copy of this film — they failed. It's a testament to the scope of queer history, a glorious time capsule, and, simply, a stunning work of art.
11. The Handmaiden
dir. Park Chan-Wook, 2016
Watch It
A cinematic miracle pairing two seemingly discordant visions to create one dazzling masterpiece. Park Chan-Wook's adaptation of Sarah Waters' Fingersmith keeps the source material's tight plotting and well drawn characters and combines them with Park's always remarkable style. Kim Min-hee and Kim Tae-ri crackle with chemistry — no matter who is the cat and who is the mouse in any given moment. This is a thrilling, sexy, horrifying, ultimately romantic and hopeful movie and the whole thing is an absolute ride. Like Bound, it's a masterful example of what's possible when queer women are included in genre storytelling.
12. Carol
dir. Todd Haynes, 2015
Watch It //Also Available on Tubi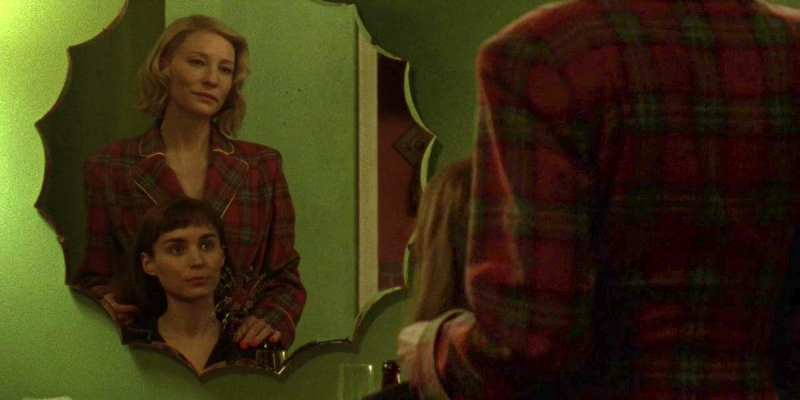 Todd Hayne's gorgeous adaptation of Patricia Highsmith's The Price of Salt is a poignant coming-of-age movie masquerading as a grand period love story — or, possibly, vice-versa. Therese Belevit is working at a department store for the holidays, spending her time with a man she doesn't care much for, and daydreaming about being a photographer. Carol Aird is ten to twenty years her senior, going through a divorce, and worried that as a lesbian she'll lose her daughter. And yet despite all their differences Therese and Carol connect. Therese finds a spark for maturity; Carol finds comfort and an escape. Phyllis Nagy's script, Carter Burwell's score, Ed Lachman's cinematography, and every other technical aspect of the film is just perfect. Rooney Mara as Therese, Cate Blanchett as Carol, and Sarah Paulson as Carol's friend Abby are all alluring and heartbreaking in their own specific ways. You'll never think about a Santa hat, leather gloves, or creamed spinach the same way again.
13. All Over Me
dir. Alex Sichel, 1997
Buy on DVD or VHS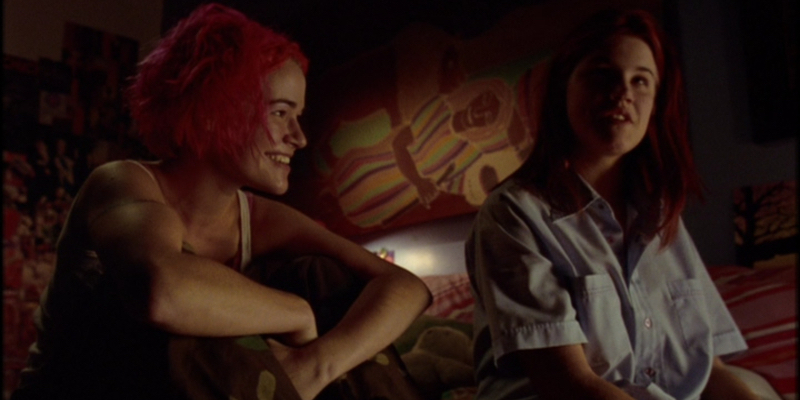 A film doesn't have to be campy to be formally queer. Alex Sichel was given a grant to make a movie about the riot grrrl music scene and instead she made a riot grrrl movie. Even the cinematography and sound design feel dykey. The soundtrack does not disappoint, of course, and this movie has both a painful "in love with my straight(?) friend" storyline and a "first love with a dyke in a band" storyline. And the dyke in the band is played by Leisha Hailey with pink hair! Alex Sichel never got to make another feature, and this film is currently very hard to find, but this was made for dykes and if it's going to finally get the recognition it deserves that has to start with us ranking it among the best lesbian movies of all time.
14. Olivia
dir. Jacqueline Audry, 1951
Buy on DVD or Blu-Ray
Long ignored, this recently restored classic of lesbian cinema deserves all its newfound praise and more. It's one of many films on our best lesbian movies list that involve student/teacher relationships, but it's the only one to treat that dynamic with the level of nuance it deserves. Audry encourages us to enter Olivia's point of view, falling just as hard for her teacher crush, only to emphasize how painful the experience is for the young girl. Sometimes fantasies are meant to remain fantasies.
15. Show Me Love (Fucking Åmål)
dir. Lukas Moodyson, 1998
Buy on Blu-Ray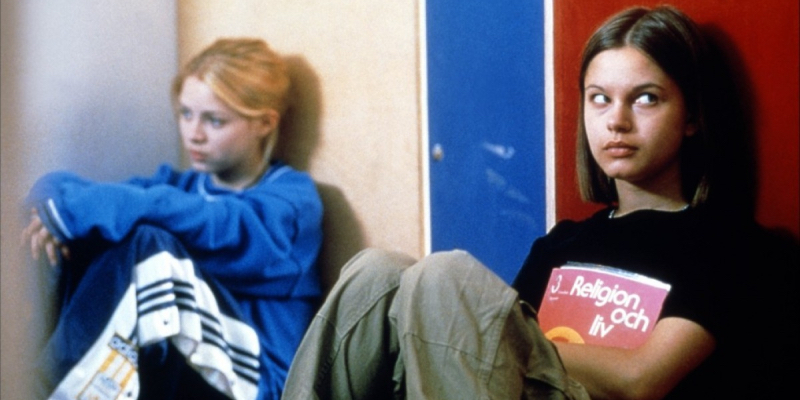 Mean-spirited, angsty, and oh so sweet, Lukas Moodyson's grainy coming-of-age romance captures all the complications of teenagehood. The characters can be cruel — like teenagers tend to be — but it comes from insecurity, awakenings, and romance. Beyond the sour feelings, this is really a triumphant take on love. The moments of joy feel all the more satisfying bursting out of Moodyson's realism.
16. Professor Marston & the Wonder Women
dir. Angela Robinson, 2017
Watch It //Also Available on Hulu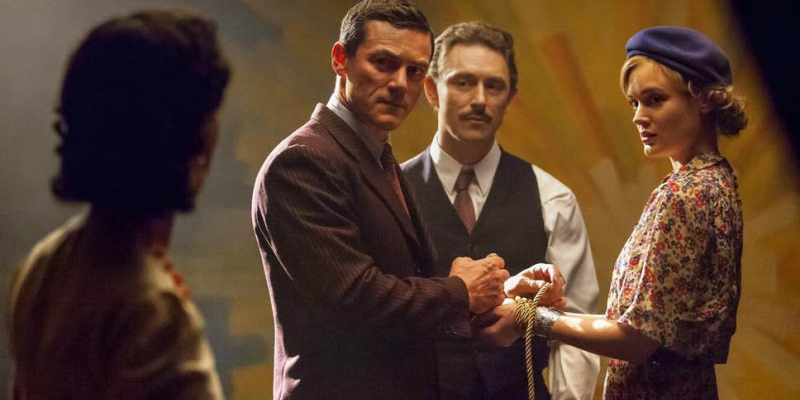 Angela Robinson's career has been defined by injecting revolutionary queerness into film and TV with a casual touch. This is a biopic about the creator of Wonder Woman — as polished and neat as one might expect from the genre. But this is also a story about polyamory, about BDSM, about three individuals fighting to define their own lives and loves. There is power in completely disavowing mainstream forms and there is a different kind of power in mastering them and subverting them from within. Luke Evans and Bella Heathcoate are great as William Marston and the Marstons' new partner, but Rebecca Hall as Elizabeth Marston truly astounds. The movie doesn't ignore the complications of their relationship — the external and the internal — but instead allows the relationship and these characters an understanding they were never granted. There's a reason Wonder Woman is such a popular character: these lives aren't so rare after all — only on our screens.
17. The Half Of It
dir. Alice Wu, 2020
Available on Netflix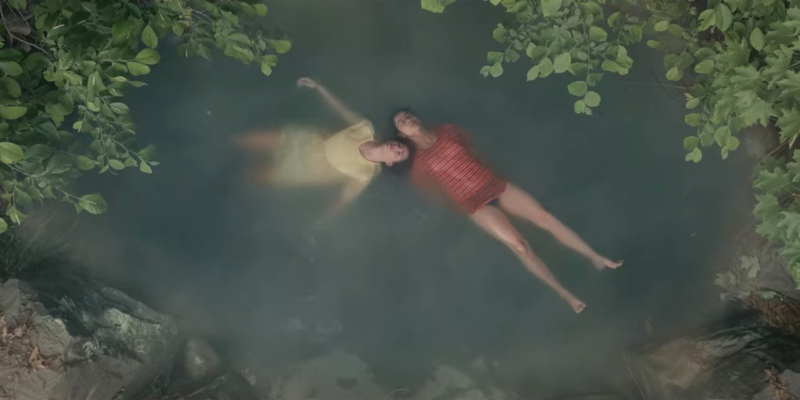 A decade and a half after her landmark debut, writer/director Alice Wu returns with another gay romcom — but this time it's not a love story. This lesbian take on Cyrano de Bergerac focuses on Ellie Chu (Leah Lewis) a shy, Chinese-American 17-year-old who splits her days taking care of her grieving father and writing essays for her peers for extra money. When a sweet and goofy football player hires her to write love letters to his crush she develops feelings of her own — and all three form an unexpected bond. This movie goes beyond the expectations we place on teen comedies, romcoms, and queer movies. It understands the messiness of adolescence, of love, of queerness. It's a perfectly imperfect movie and confirms Wu as one of the most confident voices in lesbian cinema. Hopefully, we won't have to wait as long for her next cinematic treasure.
18. MURDER and murder
dir. Yvonne Rainer, 1996
Available on Kanopy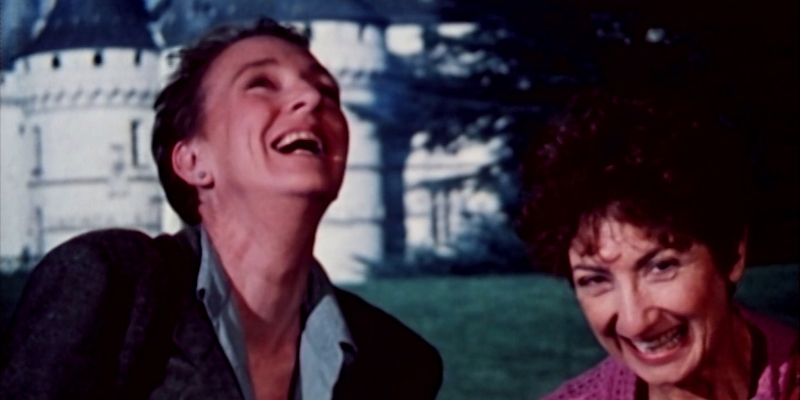 If you're looking for a lesbian movie that begins with a 60-something lesbian saying to her straight friend, "I love eating pussy," then look no further. A celebration of the ups and downs of a partnership, Yvonne Rainer's last feature follows Doris and Mildred as they navigate their relationship — through the mundane and through Doris being diagnosed with breast cancer. They are accompanied by a Greek chorus of Doris' mother, Mildred's younger self, and Yvonne Rainer the filmmaker. It's a complex, experimental, and ever so sweet film. The movie more or less takes the stance that all women can be and should be lesbians, and while that may not be true, Rainer is certainly convincing. Also Congressperson Pete Hoekstra used it as an excuse to cut funding from the NEA which is unfortunately always a good sign.
19. Alice Júnior
dir. Gil Baroni, 2019
Available on Netflix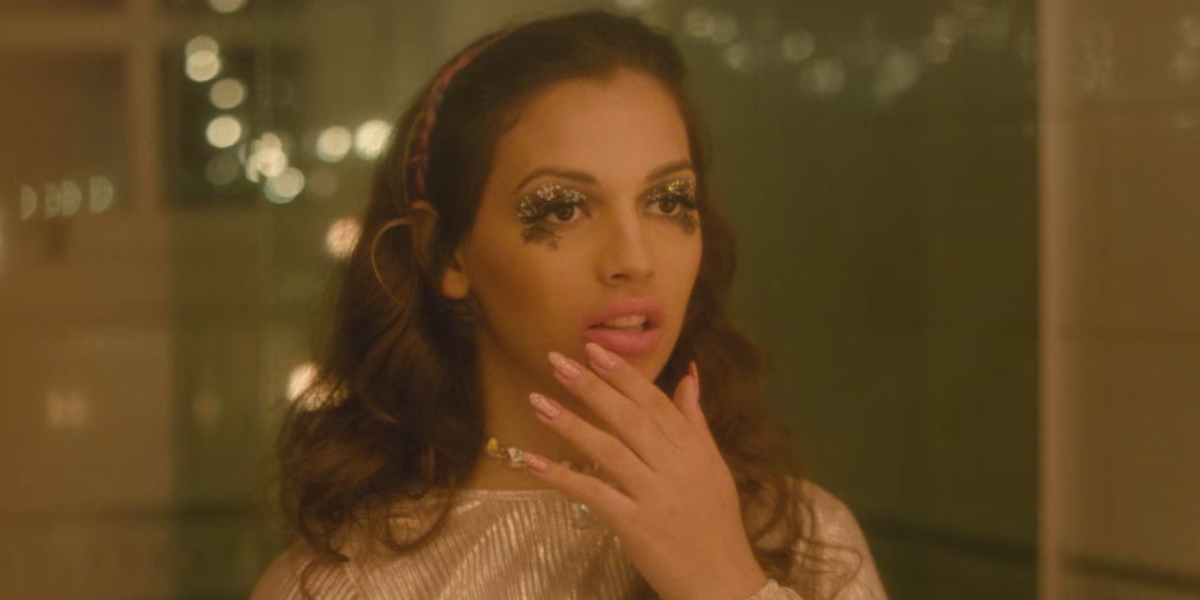 In some ways Alice Júnior hits all the regular beats of the teen movie genre — new student, bullies, quirky friends, mean teachers, nice teachers, a desire for a first kiss. And yet the film is a totally fresh take on the queer girl coming-of-age story. Not only is Alice trans — a detail that is all too rare — but her journey towards queerness is more of a pleasant surprise than an inevitability. In order to survive in the world as a young trans girl, Alice has built up a wall of total self-awareness, total self-confidence, and a delightful stubborn streak. These qualities make her such a fun character to watch. But even the most self-aware teen doesn't know everything. And while she's busy crushing on Bruno, Bruno's girlfriend Taísa is busy crushing on her. The joy and specificity director Gil Baroni and writer Luiz Bertazzo bring to the film makes this a wholly unique work of trans cinema — but its fluidity regarding sexuality make it a unique work of queer women cinema as well.
20. Dirty Computer
dir. Janelle Monáe & others, 2018
Watch It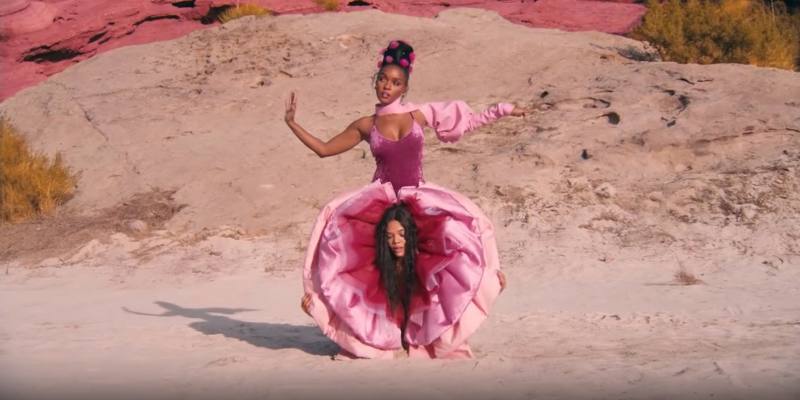 Janelle Monáe has called this unique work of art an "emotion picture" and it's easy to see why. Yes, it's on a movie list, but it doesn't easily fit within the box of feature film or any box really — just like its creator. Monáe and her team created a masterpiece that is at once a sci-fi epic, a visual album, a public coming out, a celebration of queerness/Blackness/femaleness, and an ode to everybody different. It's also so sexy?? We may never know the details of Monáe's relationship with Tessa Thompson, but whatever connection they shared is captured on-screen — the love, the sex, the finding yourself through another. Most of us didn't have to come out under public scrutiny, but we can all use a reminder to be a "free-ass motherfucker."
21. The Miseducation of Cameron Post
dir. Desiree Akhavan, 2018
Watch It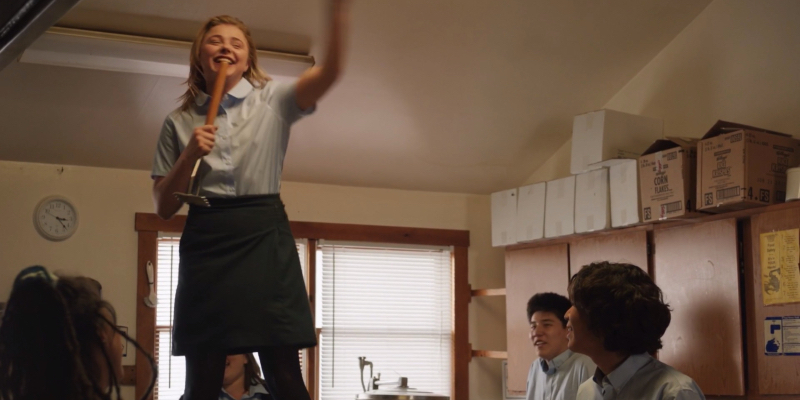 The best adaptations capture the essence of their source material with a new set of tools. That's exactly what Desiree Akhavan's movie of Emily M. Danforth's contemporary classic accomplishes. Akhavan focuses on the second half of the book, changes the ending, and alters lots of details, but at their core both works are about the ways queer people are brainwashed to doubt their identities. Chloë Grace Moretz is perfect as Cameron. She's dykey and angsty and headstrong with that depth of vulnerability always peaking through. This is a quiet movie, Akhavan trusting Ashley Connor's cinematography, Julian Wass' score, and her actors' faces to tell the story. Akhavan never lets the seriousness of the subject matter overwhelm the moments of humor and joy — the suggestion that our best hope for holding onto ourselves is to find community.
22. Manji
dir. Yasuzô Masumura, 1964
Watch on Archive.org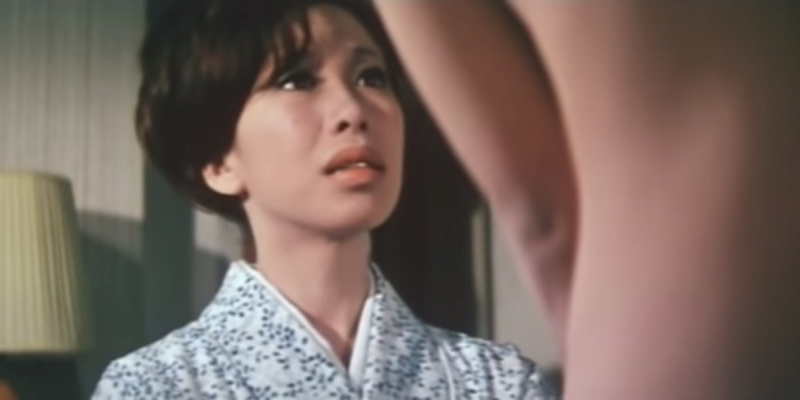 Proof that you can't judge queer cinema by when it was made, Yasuzô Masumura's semi-exploitation classic is absolutely bonkers. Sonoko, played with a delightfully unhinged energy by Kyôko Kishida, is a lonely housewife who falls hard for Mitsuko at their "art school for ladies." Mitsuko is played by Ayako Wakao and she really creates a character worth going crazy for. This is a movie of big gay feelings to an extent that would be troublesome if it wasn't so delicious. Things only get crazier when Sonoko's husband gets involved — and even crazier when the poisoning begins. Nothing will prepare you for this movie, so you just have to watch it.
23. Good Manners
dir. Juliana Rojas, Marco Dutra, 2017
Watch It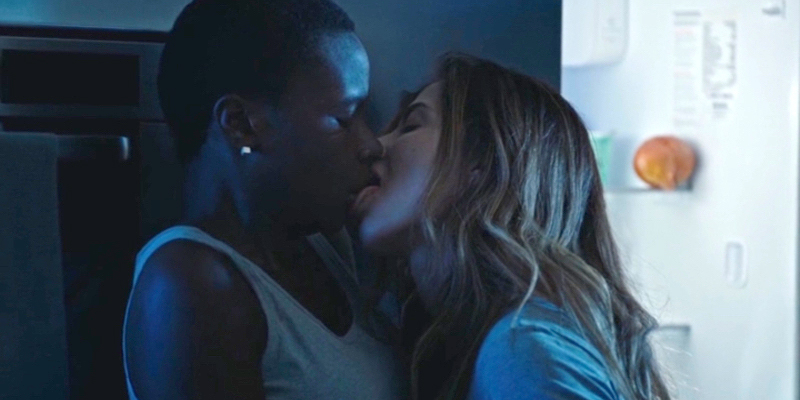 The best werewolf fairy tale horror lesbian movie musical ever made. Yes, this movie is all of those things and it's a commentary on race and class differences in Brazil and a story about the nuances of queer motherhood. There's a lot going on but somehow it all just works. It's a gorgeous, at times terrifying, at times sexy, movie that is unforgettable to say the least. This isn't the first movie to find horror in pregnancy and motherhood, but there's something explicitly queer about this portrayal — and with that a fresh perspective. It deserves as prominent a spot in the canon of horror cinema as it does the canon of lesbian cinema.
24. D.E.B.S.
dir. Angela Robinson, 2004
Watch It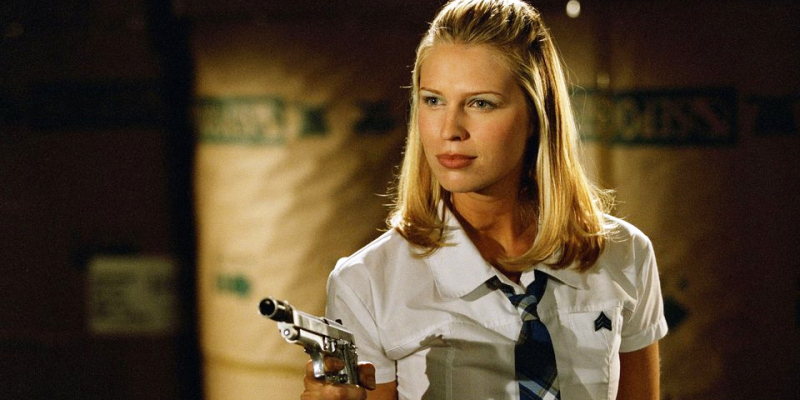 Some movies seem to arrive from an alternate dimension — a homonormative utopia where queer audiences get what we deserve. Angela Robinson's debut is exactly that kind of movie. We can indulge in the subtext of silly action movies all day long, but Robinson makes it the actual story. Why shouldn't a campy movie about a group of girl spies also be a lesbian romcom? There was no movie like this when it came out and there haven't really been any since. There's a casual gayness to the movie that's responsible for turning countless women queer — aided, of course, by Jordana Brewster as supervillain Lucy Diamond.
25. Water Lilies
dir. Céline Sciamma, 2007
Available on Criterion
Céline Sciamma is one of the best filmmakers working today — lesbian or otherwise — and her talents were already clear in this first film. With a color palette of blues and greys and a moving camera that knows just where to land, Sciamma and cinematographer Crystel Fournier create a visual language that's poetic and pointed. This is a film about teenage friendship as much as it is about teenage love — a lesbian film at its core. Synchronized swimming has never looked so beautiful and brutal. Being a teenager has never looked so beautiful and brutal. Sciamma is a brilliant lesbian artist and every film from her is a gift.
26. Hide and Seek
dir. Su Friedrich, 1996
Available on Kanopy
Our best lesbian movies list doesn't include documentaries — this uncategorizable work is the one exception. Mixing real interviews with the tale of a fictional twelve-year-old, Su Friedrich creates a moving masterpiece about lesbian childhoods. Conservative narratives pit queerness against children but Friedrich shows the casual queerness of so many of our younger days. There's an innocent joy to the way she shows the girls interact and a pointed confusion in how being gay makes someone feel different long before they have the right language to understand why. It's a simple yet remarkable film from an all-time great cinema artist.
27. I've Heard the Mermaids Singing
dir. Patricia Rozema, 1987
Available on Kanopy
Bursting with creativity and experimentation, Patricia Rozema's debut is a remarkable film about finding one's artistic voice. Sheila McCarthy's Polly is a strange protagonist — uncertain and passive — but Rozema places us excellently inside her point of view. The movie's queerness is handled casually as if the film is not about queerness per say, but rather the delayed maturity that many queers experience. The movie is so funny and charming that its emotional core sneaks up on you. The whole journey makes for a unique work of queer cinema.
28. Les Rendez-vous d'Anna
dir. Chantal Akerman, 1978
Available on Criterion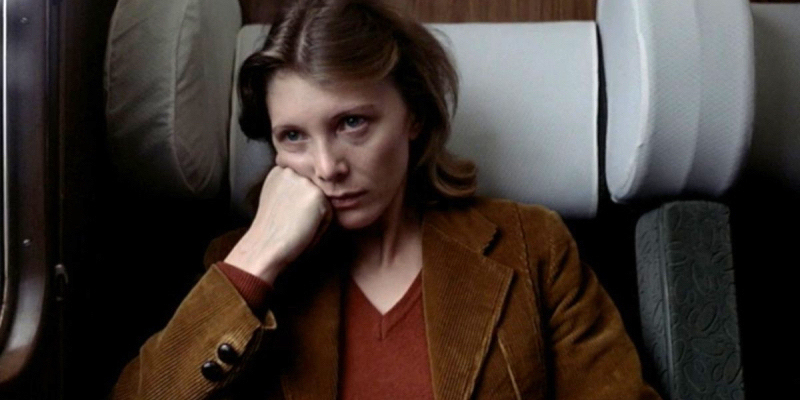 Chantal Akerman's long takes and static camera are formal invention born from character. Here she tells the semi-autobiographical story of a queer woman filmmaker traveling around Europe promoting her latest film. She encounters strangers, former lovers, her mother, all the while filled with a deep ennui. Nothing Anna does can quite cure her depression, but she just keeps going. She continues on her trip, continues with these interactions, her face always revealing her exhaustion with life. It's a sad film, but it isn't tragic. It's a film about how hard it is to live made by one of the greatest filmmakers to ever try. Akerman is now credited with the greatest movie of all time — she deserves credit for some of the greatest lesbian movies as well.
29. Certain Women
dir. Kelly Reichardt, 2016
Watch It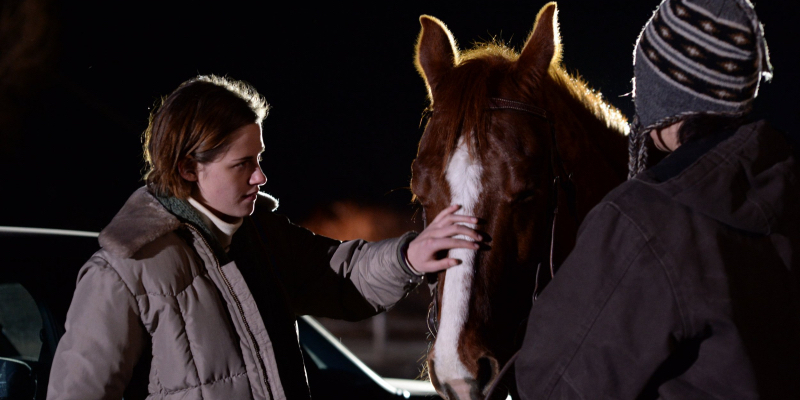 Renowned lesbian auteur Kelly Reichardt brings her famous touch of melancholy from her usual setting of Oregon to the plains of Montana. This triptych of stories about lonely women includes Reichardt's most explicit work about queer women. Lily Gladstone is remarkable as a rancher who falls hard for a law professor played by Kristen Stewart. The infatuation is fairly one-sided, but it's powerful to watch Gladstone's shy character follow her heart and yearn for more. Like most of Reichardt's films, this is a quiet and meditative piece, but its nuance will haunt you long after it ends.
30. Rafiki
dir. Wanuri Kahiu, 2018
Watch It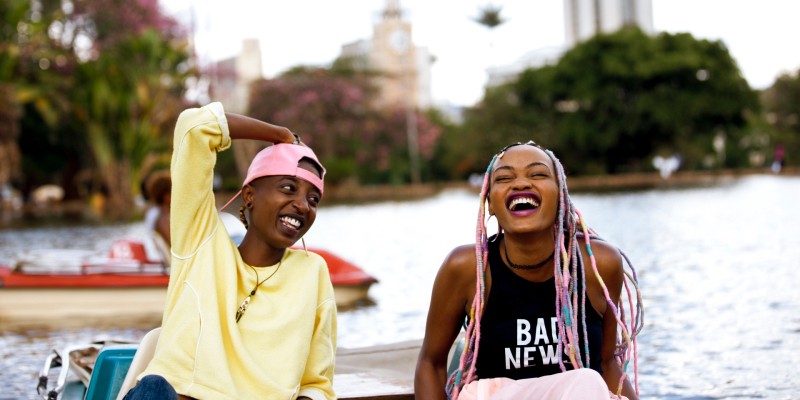 Filmmaker Wanuri Kahiu has committed to a style she describes as Afrobubblegum, presenting a "fun, fierce, and fantastical representation" of Africa. This film — initially banned in its home country of Kenya before Kahiu sued — fulfills this promise. It's a beautiful, colorful celebration of Black queer love. It's honest about harsh realities, but overwhelms them with its moments of joy.
31. Princess Cyd
dir. Stephen Cone, 2017
Watch It //Also Available on Hulu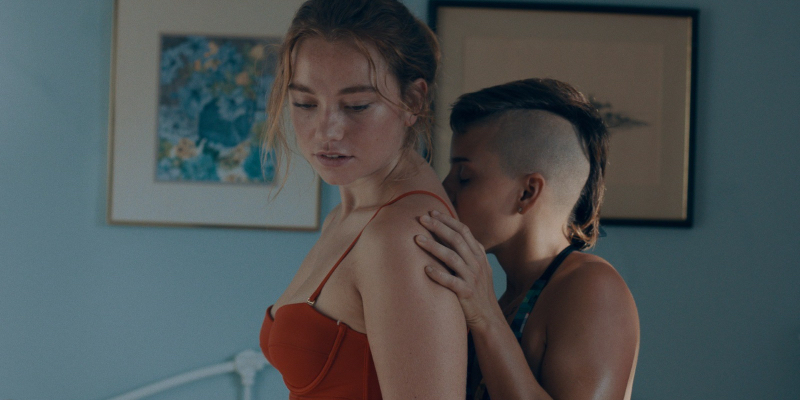 As sensual as its protagonist and as thoughtful as her aunt, Stephen Cone's understated masterpiece finds the balance between pleasures of the flesh and mind. Cyd Loughlin is a teenager freely exploring her pansexual desires who spends a summer with her novelist aunt Miranda who is more preoccupied with intellectual discussion, friendship, and food. As Cyd and Miranda challenge each other's beliefs — and Cyd falls for a hot barista — the film becomes a celebration of the many ways to find enjoyment and connection in life. There's little plot and minimal drama — just sink into this pleasant world and you'll find whatever you needed most.
32. Born in Flames
dir. Lizzie Borden, 1983
Available on Fandor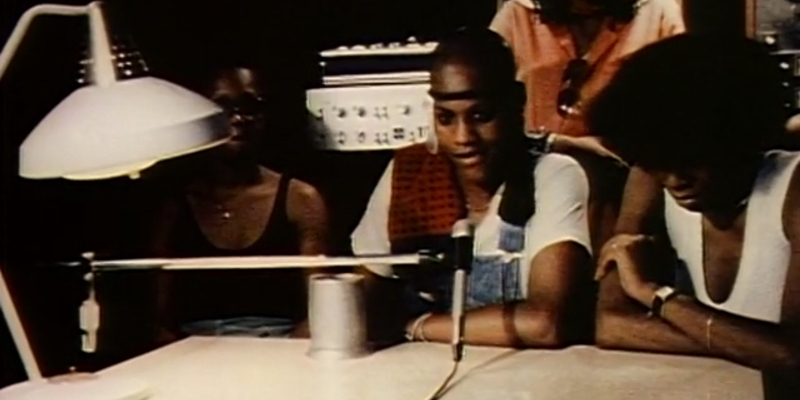 Radical, revolutionary, and still all too relevant, Lizzie Borden's speculative masterpiece deserves its underground reputation and newfound celebration. Taking place ten years after a socialist revolution in America, Borden's film examines the ways in which even leftist political structures leave women, people of color, and queer people behind. This is a complicated film that engages in complicated discussions — never afraid to confront the true nature of the issues we face as we attempt to build a better society. Ultimately, the film shows the power of mutual aid and a suggestion that to create real change communities will have to take care of ourselves. This world contains a multitude of revolutions, but Black queer women are at the center of the ultimate revolution. In Borden's world — our world — change is possible, but the work continues.
dir. Ruth Caudeli, 2019
Watch It
Compared to Frances Ha due to its gorgeous black and white cinematography and messy female protagonist, Ruth Caudeli's second feature is really its own work of specifically queer creativity. Caudeli reunites with Silvia Varón — her ever-talented muse and IRL girlfriend. She plays Emilia, a bisexual struggling actress in a friend group of straight people. Caudeli takes a trope often used in mainstream media to keep queerness to a minimum and instead explores the reality of someone coming to terms with their identity while lacking community. Emilia is easy to root for even as she drinks too much, hurts the people she loves, and remains stuck in a delayed adolescence. Caudeli captures her with a formal inventiveness rarely granted to this sort of queer story — its heightened style illuminating the emotional weight of these day to day moments.
34. Set Me Free
dir. Léa Pool, 1999
Unavailable
Don't you just hate it when the cute girl you made out with starts dating your brother? Being 13 is hard! And it's certainly hard for Hannah who's struggling with a terrible home life, a painful crush on her teacher, and, yes, a potential romance fraternally robbed. Her only respite is the cinema where she admires Anna Karina in Jean-Luc Godard's Vivra sa vie. This is a measured film — far more grounded than Pool's more famous Lost and Delirious — but with that comes an emotional queer reality. This movie is ultimately a superhero origin story — except replace superhero with queer woman filmmaker.
35. All About My Mother
dir. Pedro Almodóvar, 1999
Watch It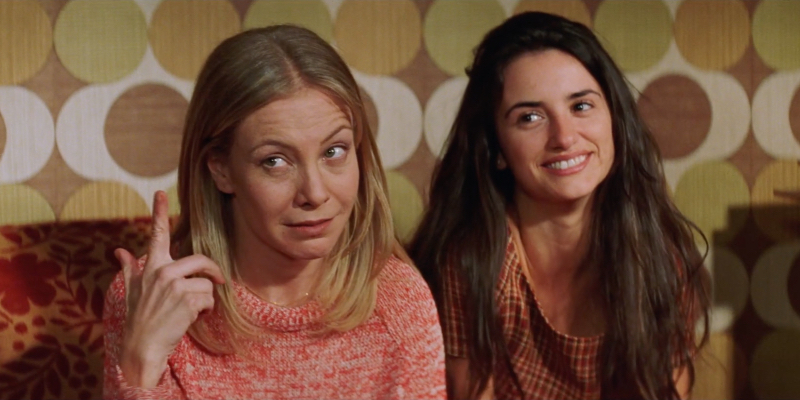 Often considered Pedro Almodóvar's crowning achievement, All About My Mother is a tribute to women — to actresses, to mothers, to trans women, to sex workers, to lesbians. With his trademark style of bright colors, raunchy humor, and gorgeous melodrama, Almodóvar's film is a reminder of the communities we form. The boundaries between family and friendship and lovers are as fluid as the boundaries of sex and gender. Cecilia Roth, Marisa Paredes, Penélope Cruz, and Antonia San Juan lead a cast of women that feel real even as they play in Almodóvar's heightened imagination. This is not usually considered a lesbian film, but probably only because several of its queer women relationships involve trans women. Since its release the film has held a place in the canon of world cinema — it's time it takes its rightful place in the canon of best lesbian movies as well.
36. Suicide Kale
dir. Carly Usdin, 2016
Watch It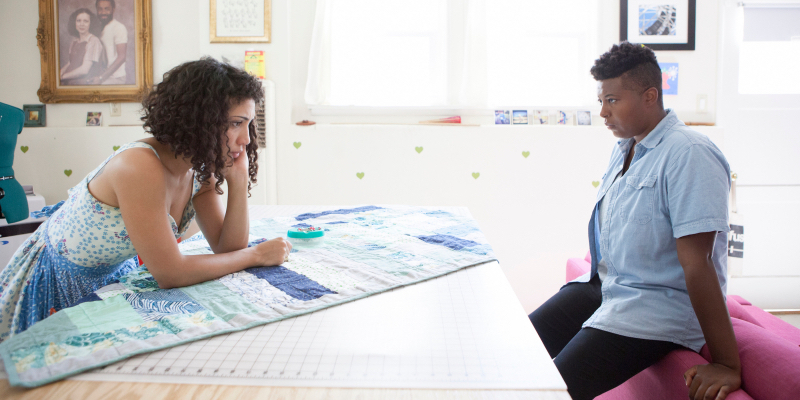 This dramedy farce is anchored by four stellar performances, a natural real-life queerness, and an if-mumblecore-was-well-shot aesthetic. Brittani Nichols' script is astute in its portrayal of queer relationships and sharp in its humor. There's a casual DIY quality to this movie that makes it seem effortless, but if you've watched a lot of low-budget indie films you'll know that's not the case. It takes a level of talent, vision, and specificity to make a movie this good and it should be sought out and celebrated as much as any big budget fare.
37. Bessie
dir. Dee Rees, 2015
Watch It // Also Available on HBO Max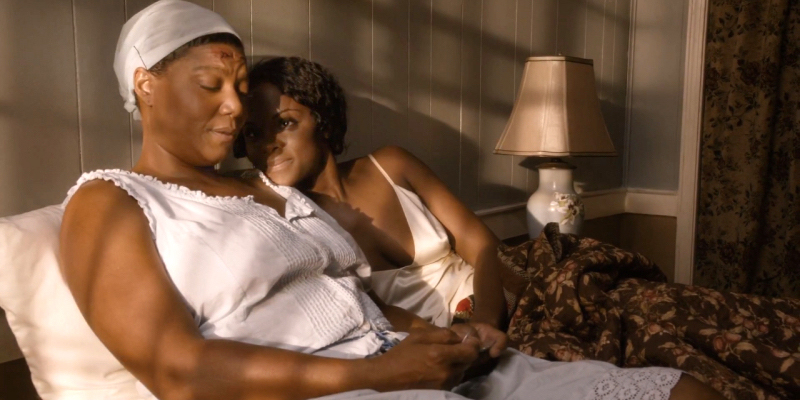 Dee Rees is one of the very best filmmakers around and she elevates her biopic about Bessie Smith beyond the usual HBO movie. The costumes and all the period detail are stunning, but Rees' film is ultimately a tribute to a queer Black woman artist who refused to compromise — refused to cater to white people or any men — made by a queer Black woman artist at the beginning of her career determined to do the same. Rees is aided by what is truly one of Queen Latifah's best performances. It's a perfect combination of material, filmmaker, and star.
38. Imagine Me & You
dir. Ol Parker, 2005
Watch It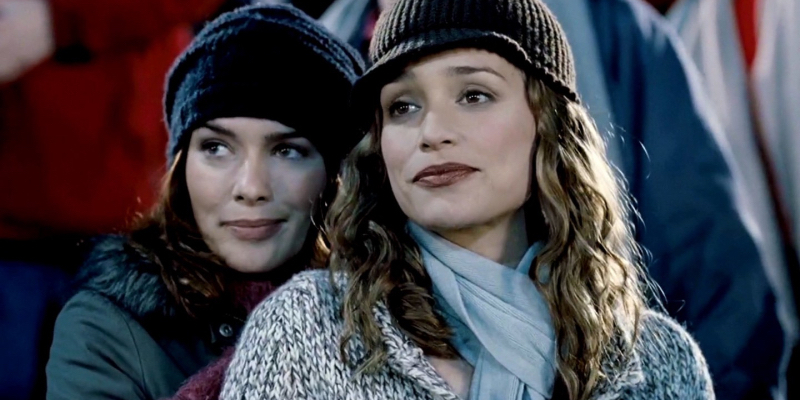 Out of all the lesbian romcoms, this might be the one that most successfully takes your standard hetero romcom and queers it. Not the deepest, not the most interesting, but the truest to the genre with lots of jokes, lots of heart, and all the right story beats. Piper Perabo plays gay once again and once again steals our hearts, but it's Lena Headey's confident gay florist that really makes the movie. Be careful. It just might make you believe in love at first sight.
39. Mommy is Coming
dir. Cheryl Dunye, 2012
Watch It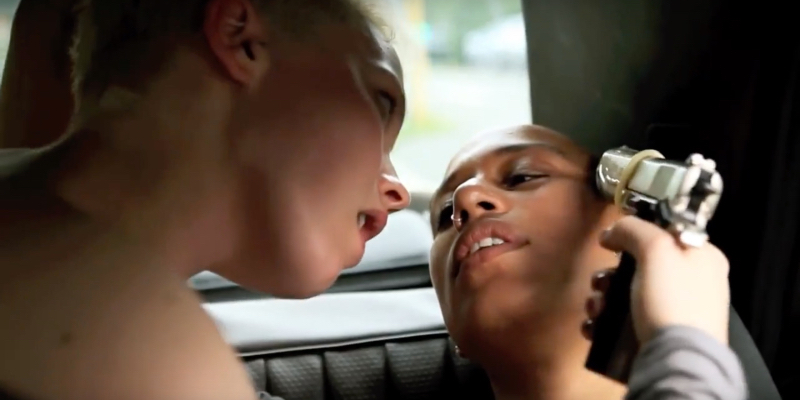 Cheryl Dunye's most recent feature is a sex-filled romp through Berlin. Papi Coxx plays Claudia/Claude, a hotel clerk trying to rediscover the spark with her girlfriend Dylan played by Lil Harlow. They end up on separate sexual odysseys with Claudia genderbending while Dylan has a threesome with her best friend. The silliness and sexiness escalates when Dylan's mother comes to town and some unexpected twists arise. Dunye's film doesn't take itself seriously, but its refusal to bend to respectability politics gives it an air of importance. It's a reminder from Dunye that queer cinema can still be queer and a reminder that she's an icon for a reason.
40. Blockers
dir. Kay Cannon, 2018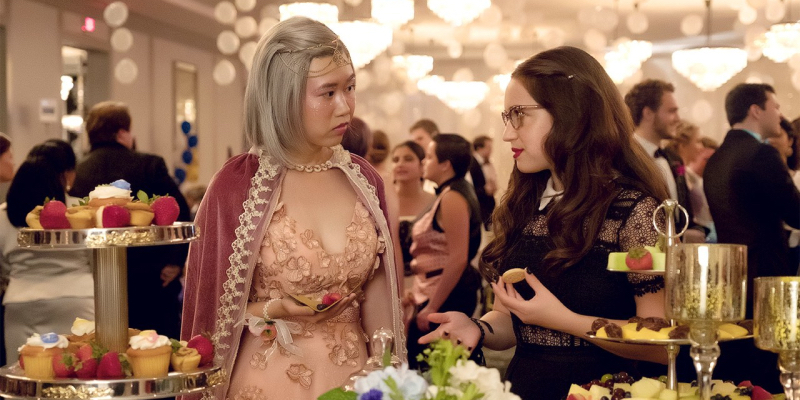 The rare big budget Hollywood comedy that's thoughtful, progressive, emotional, and beyond fucking hilarious. Kay Cannon's first film feels effortless in its perfection — filled with great comic performances from its trio of adults and its trio of teens. Virginity pacts are a staple of teen comedies, but never has one been treated with such intelligence and sex positivity. Gideon Adlon plays Sam's awkward queerness with a funny and sweet authenticity and the movie's inclusion of her is refreshingly casual. She hasn't come to terms with her queerness at the film's beginning but she's given the space to go on a journey of self-exploration — aided by her friends, family, and a massive crush. It may only be a third queer, but that third is great enough to place it among the best lesbian movies. It's certainly one of the funniest.
41. Memento Mori
dir. Min Kyu-Dong, Kim Tae-Yong, 1999
Available on Kanopy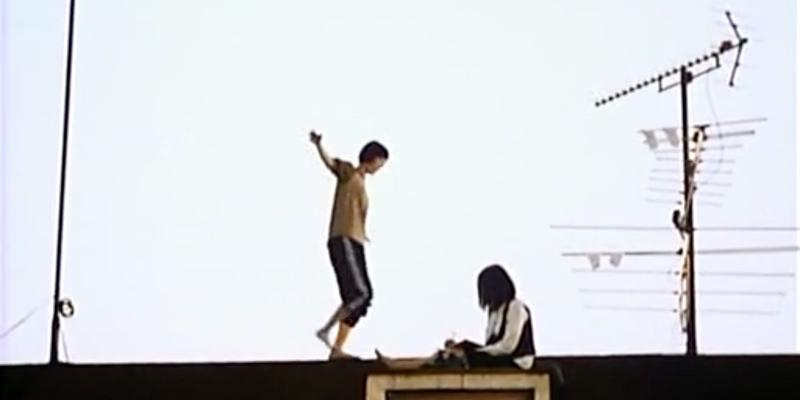 Technically the second film in the Whispering Corridors Korean horror series, this film focuses more on the emotions of its trio of queer teen girls than it does easy scares. But this is still a ghost story. Min-ah discovers the shared journal of her classmates Hyo-shin and Shi-eun filled with gay longing. She becomes obsessed with them — the obsession only increasing when Hyo-shin tragically dies. Haunted by Hyo-shin and drawn towards Shi-eun, Min-ah has to confront her own queerness and find a way forward. It's a melancholy, yet ultimately hopeful film, about adolescence and the possibility of queer futures.
42. Multiple Maniacs
dir. John Waters, 1970
Watch It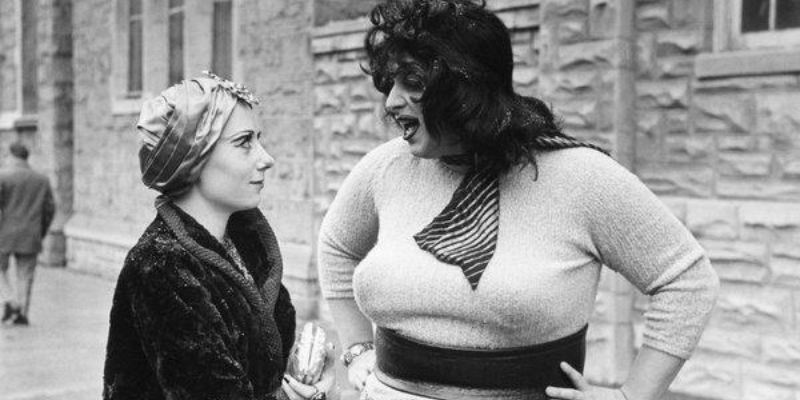 John Waters lives up to his title Pope of Trash with this raucous celebration of counter-culture deviancy. The movie opens with a group of cishet normals making their way through a free exhibit titled The Cavalcade of Perversions — and then Divine robs them at gunpoint. Waters starts his filmography with a statement and never lets up. This is the only movie on this list where a drag queen is fucked with a rosary in a church. It's a remarkable sex scene with a level of queerness rarely seen on screen. And, hey, if straight actresses can appear on a list of best lesbian movies then so can drag queens!
43. Foxfire
dir. Annette Haywood-Carter, 1996
Watch It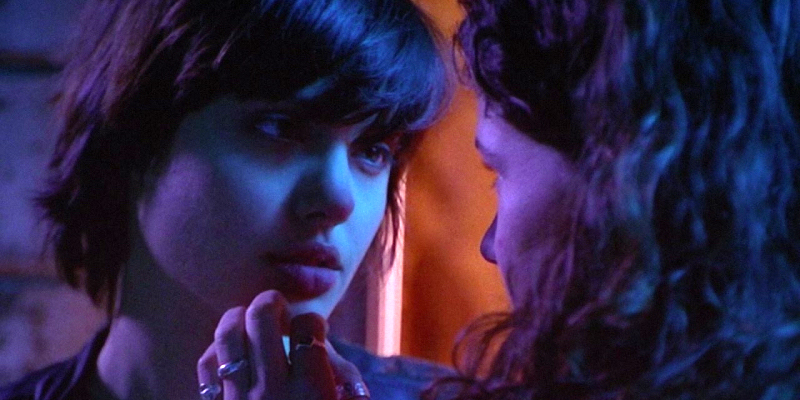 Based on Joyce Carol Oates' novel, Annette Haywood-Carter's coming-of-age tale about a feminist girl gang is great for a lot of reasons, but short-hair leather jacket wearing knife wielding Angelina Jolie is definitely at the top of the list. She's so good and so gay and can do so much with a look. It's no wonder the other girls follow her lead. It's incredibly satisfying to watch them wreak havoc on all the awful men in their lives, even as things start to cross a line. There's a real intimacy between the girls when it's platonic and when it's romantic.
44. A Date for Mad Mary
dir. Darren Thornton, 2016
Watch It
Seána Kerslake makes a difficult character impossible not to love in this unique coming-of-age story. Mary's discovery of her sexuality threads through every aspect of her self-discovery as she grapples with her recent prison sentence, her best friend's upcoming wedding, her contempt for her mother, and her new crush. The film balances its subject matter and its tones due to sharp writing and Kerslake's truly remarkable performance. This is really a gem of a film.
45. Circumstance
dir. Maryam Keshavarz, 2011
Watch It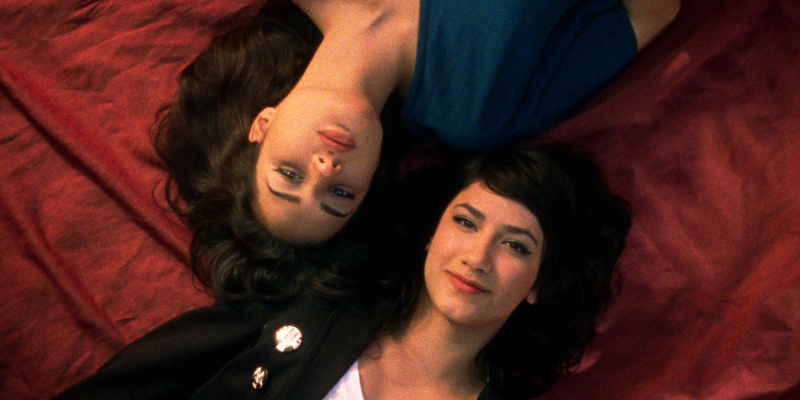 This is a film of stark contrasts, of sensual close-ups and repulsive close-ups, of freedom and restriction, of great joy and tragic horror. Nikohl Boosheri and Sarah Kazemy are incredible as two young women pushing the boundaries of society in Iran. The moments of freedom between them are so joyful, on a beach, in a bed, in the living room singing "Total Eclipse of the Heart." It makes the repression all the more painful. One moment this film is devastatingly sexy, the next it's just devastating.
46. Mosquita y Mari
dir. Aurora Guerrero, 2012
Watch It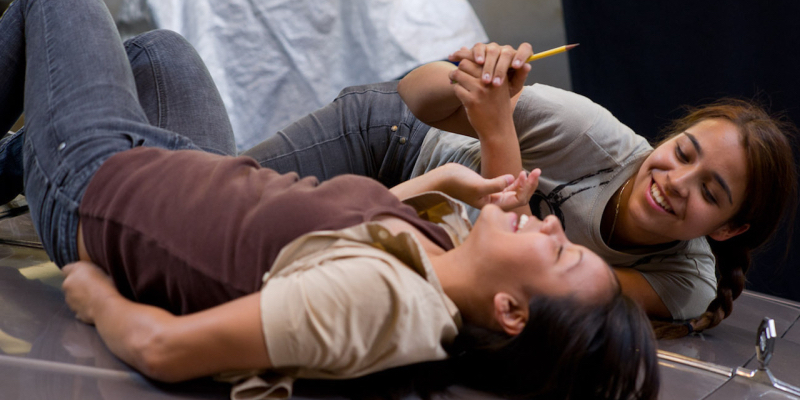 Quiet and big-hearted, Aurora Guerrero beautiful coming-of-age story focuses on straight A student Yolanda and new rebel girl in school Mari. As the two girls navigate their families' expectations, they grow closer, crushes turning to friendship turning to something more. Like many of the best lesbian movies, this film never takes melodramatic turns, instead trusting the grounded truth of its characters. When we're young the smallest moments mean so much — Guerrero gives these moments the weight her young protagonists deserve.
47. House of Hummingbird
dir. Kim Bora, 2018
Watch It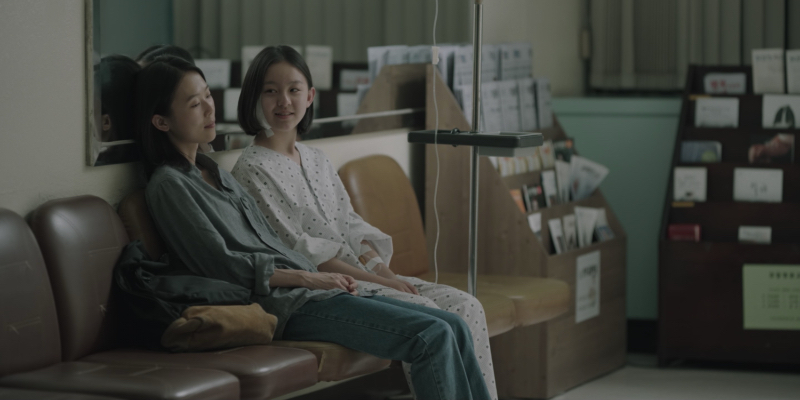 The only thing gayer than karaoke first dates, shitty families, and friend breakups are loving teachers. Well, Kim Bora's remarkable 1994-set coming-of-age debut has all four. Ji-hu Park plays the lonely and sensitive Eun-hee who is stumbling through her adolescence in an abusive home. This is a difficult film that's filled with tragedy and hardship, but it's far from bleak. In fact, an optimism and hopeful spirit runs deep throughout even its toughest moments. Adolescence is challenging — queer adolescence especially — but one person can make such a difference in showing us a way forward. This is a movie for all the queers who ate lunch in a teacher's room, this is a movie for all the queers who wondered if a future was possible and then, one day, stopped wondering and started to believe.
48. Valencia
dir. Clement Hil Goldberg & others, 2013
Watch It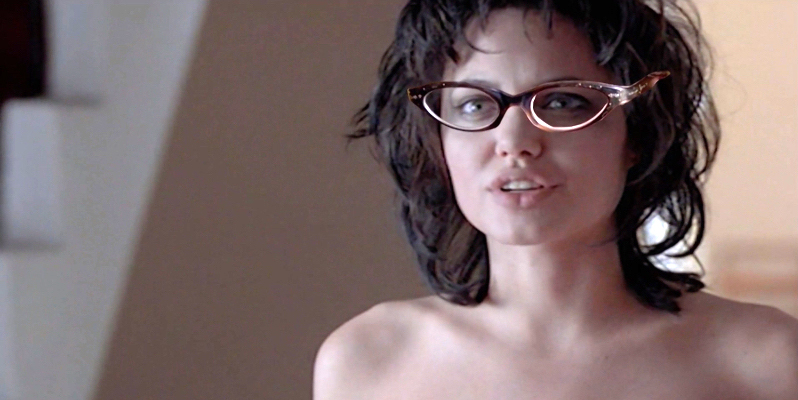 Is there anything queerer than an adaptation of a Michelle Tea book written and directed by a collective of queer filmmakers? Not much! The sections vary drastically in style, casting, and content, but together they create a portrait of a person, a place, and a community — the community of early 90s Mission District San Francisico and the queer community at large. It's an at times silly, at times serious burst of queer creativity. Not only is this one of the best lesbian movies of all time — it's a monument of queer collaboration.
49. Tahara
dir. Olivia Peace, 2020
Watch It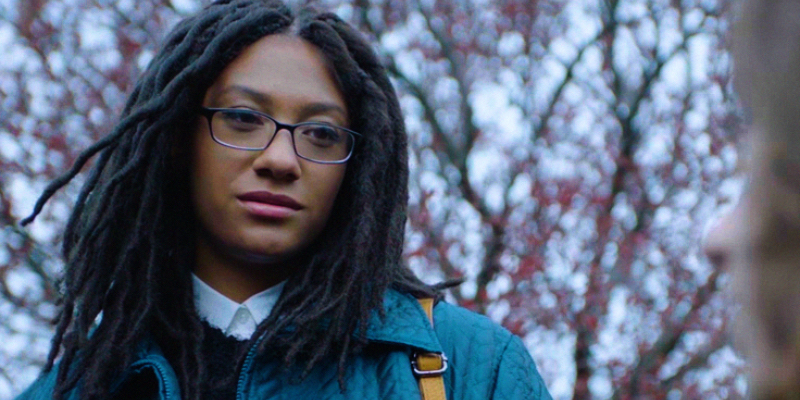 There have been a lot of queer coming-of-age movies about a girl in love with her "straight" best friend, but few capture the depth of that experience like Tahara. With the backdrop of a classmate's suicide and a deliciously awful object of desire, this movie becomes less about the angst of a teenager and more about the search for meaning in a meaningless world. Jess Zeidman's script is hilarious and specific and director Olivia Peace makes bold choice after bold choice each more effective than the last. The film has a claustrophobic Instagram square aspect ratio, heightened animated sequences, and other sharp formal risks that all work to deepen the story. Cinematographer Tehillah De Castro's work is phenomenal in moments both bold and subtle. Madeline Grey DeFreece carries the film with a grounded and charming performance and Rachel Sennott as the crush is a hilarious nightmare. This is a teen comedy, but it's a teen comedy about grief, manipulation, and autonomy. A whiff of horrifying nostalgia gives way to something deeper, something more present.
dir. William Wyler, 1961
Watch It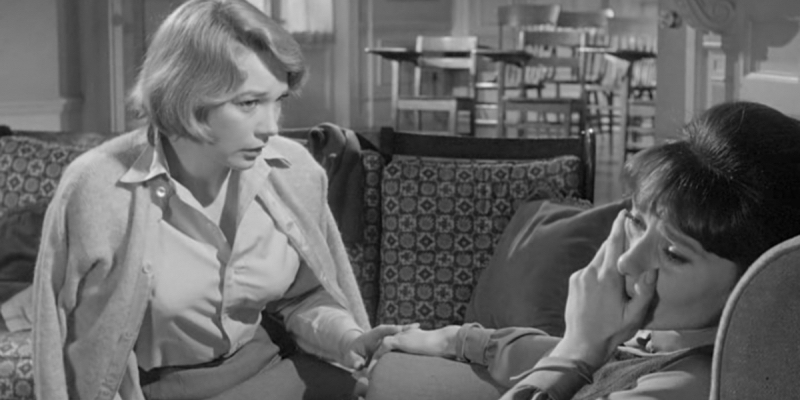 This classic of lesbian cinema has a bad reputation due to its influentially tragic ending. But just because the movie is bleak doesn't mean it isn't still deserving of praise, reexamination, and even enjoyment. Lillian Hellman's play is a tragedy in the American theatre tradition and that results in this kind of ending. But before that we get her beautiful writing, complex characters, and dynamic relationships. We get Shirley MacLaine with her pageboy haircut and Audrey Hepburn as her object of desire. This is a masterpiece that paved the way for so many future masterpieces — for better or worse.
---
For more of the best lesbian movies of all time, check out Autostraddle's Encyclopedia of Cinema.