History is full of women whose brilliance and accomplishments were ignored, annexed, or extinguished by the men around them; while the few women whose legacies survived have often been posthumously striped of autonomy, agency, and authority over even their own stories. In Wild Nights With Emily, writer/director Madeleine Olnek asks us to imagine a world where that's what happened to "reclusive, angsty, nun-like" Emily Dickinson. And to jolt our imaginations into action, she weaves together a hilarious, affectionate, piercing film — sourced directly from Dickinson's own letters and poems, without the unnecessary interpretation of male historians or critics — that's one part epic lesbian love story; one part poetic biopic; and one part relentless, satirical skewering of the patriarchal literary establishment that shaped our impression of Dickinson as a dour, virginal spinster.
Which is to say: if someone found a way to use alien tech to scan my brain and create exactly the movie I've been waiting to see my entire life, this would be it.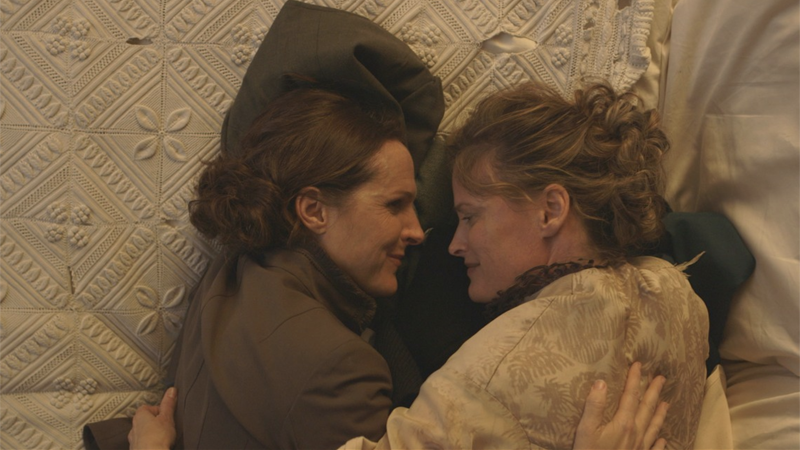 Molly Shannon's Emily Dickinson is brilliant, yes; and a little moody and a little needy, but she's also warm (often dressed in soft white cotton and bathed in sunlight at her desk or in her sitting room) and generous and ambitious and wry and sexy. She's also very much in love with Susan, her childhood best friend and her brother's wife. They kiss on the cheek, peck on the mouth, and then fall to the floor in an open-mouthed kissing embrace in the movie's opening scene. It's funny, but it's also not. "Her breast is fit for pearls," Dickinson once wrote about (and to) Susan (the name "Sue" was discovered to have been erased from the top of the original poem). "Her heart is fit for home / I — a Sparrow — build there / Sweet of twigs and twine / My perennial nest." Their love story is played with lusty, tempestuous familiarity in the present by Shannon and Susan Ziegler, and tender, heartbreaking hope in teenage flashbacks by Dana Melanie and Sasha Frolova.
Susan is Emily's muse and she's also her biggest supporter. She encourages Emily to try to submit her poems to magazines and newspapers, talks her up when The Atlantic Monthly's poetry editor, Thomas Wentworth Higginson, pays her a visit, and talks her down when he's too intimated by her mind and baffled by her cleverness to publish her. In one of the funniest and most furiously feminist scenes in the movie, Higginson asks Emily what poetry is. He leaves the question hanging for just a second, just long enough to dramatically answer it himself (by quoting another man), but Emily doesn't realize he's setting himself up to hear his own voice. She says, "If I feel physically like the top of my head is taken off, I know that is poetry." She pauses, doesn't even glance at Higginson, and continues, "If I feel so cold no fire can ever warm me, I know that is poetry." She stands, paces, ruminates on the difference between "women's authorship" and "authorship"; the way "women's writing" is talked about "like a rescue effort from our troops needs to be sent to its aid"; and the problematic nature of the male experience being understood as universal.
The radiance and timelessness of her wonderings are driven home when Higginson interrupts her to say, "We need to hear intelligent women's voices, but I can hardly find any."
He also tells her to try to rhyme more.
Wild Nights With Emily's narrative structure is a little Brontë-esque — honoring them almost as much as elderly Judge Otis Lord's commentary on Wuthering Heights and Jane Eyre, in which he mangles the novels together but remembers distinctly that it's a story about how plain girls deserve love too — with both past and present Emily's stories being told by Mabel Todd, Emily's brother's mistress, the woman who vanity published Emily's poems after her death and helped shape her image as a recluse.
I expected to laugh watching Olnek's film. The trailer delighted me and I've been eager to see it since it made its way around the festival circuit last year. What I didn't expect was to guffaw until tears were streaming down my cheeks and then just keep crying because I was so moved. I also didn't expect the movie to capture the essence of one of Dickinson's most beloved poems:
Tell all the truth but tell it slant —
Success in Circuit lies
Too bright for our infirm Delight
The Truth's superb surprise
As Lightning to the Children eased
With explanation kind
The Truth must dazzle gradually
Or every man be blind —
During one of their meetings, Higginson tells Emily, "When I read your poetry, Miss Dickinson, I'm left feeling… I'm not sure what." He could be paraphrasing the countless reviews written by male critics about queer and feminist art throughout history. Emily demures, but she could have told him that her poetry, like this film, was written without a man in mind.
---
Wild Nights With Emily opens in NYC this weekend. Catch me at the 7:15 screening on Friday, April 12th at The Landmark at 57 West where I'll be hosting a post-film Q&A with director Madeleine Olnek. In the meantime, please treat yourself to this delectable essay about Emily Dickinson's recipe for black cake from our Birthday Issue.