One fine day, Robin, Hannah, Alley, and KaeLyn got together via our laptops, across multiple timezones, to dish about Appropriate Behavior, Desiree Akhavan's 2014 breakout feature film. You know, that movie everyone is talking about — including us. In lieu of a more official movie review, here are our uncensored (mildly edited for typos and brevity) thoughts on the movie everyone in the queer lady-loving community and indie film universe is buzzing about.
It's off of the film fest circuit finally but may be screened at an indie theatre near you. It's also available to stream on iTunes and Amazon instant video.
---
Robin: Here! Just ordered an iced tea and a giant slab of banana bread from this kinky cafe and I'm READY.
KaeLyn: What is a kinky cafe?
Robin: It's a cafe that is also kink friendly!
KaeLyn: Like you can practice kink while you have a latte?
Robin: Yup.
KaeLyn: It is like a cat cafe but with kink?
Robin: Yuuuup.
Alley: Wow, we don't even have that in Portland…
KaeLyn: I feel like the kink cafe would be in Appropriate Behavior.
Robin: It TOTALLY WOULD
You have the option of taking your (or your sub's) coffee in a dog bowl. It's that kind of place that I think Appropriate Behavior would have featured.
KaeLyn: Are you drinking out of a doggie bowl?
I'm so distracted by your kink cafe.
I wish we were all at the kink cafe.
Alley: Sounds like the right place to discuss Appropriate Behavior.
KaeLyn: So let's start with this: Describe your overall reaction to Appropriate Behavior in one sentence.
Hannah: "Charming."
Alley: "I wanted it to be as brilliant as the preview."
Hannah: Oh, one sentence.
Haha I thought you said one word.
KaeLyn: Haha I guess that can be a sentence, but you're welcome to change your answer.
Hannah: So I gave like one of those theatrical preview pullout quotes, "CHARMING."
Robin: "It feels true to a queer scene that I would never be a part of, but in an endearing way."
KaeLyn: "I felt like I was watching a slightly better and queer version of Girls."
KaeLyn: OK, fantastic. LOL.
What were your favorite parts? What did you react to?
I was really pleased to see a narrative with a bisexual WOC character front and center. I feel like there are so few movies for queer audiences with bi leads. We're always the sidekick character. Or the "will she or won't she date the guy/woman" character.
Alley: Yeah I thought Shirin was a very likeable and nuanced character. Much more so than anyone on Girls.
Robin: Yeah I really liked how casually the film treated Shirin's experiences.
KaeLyn: Yes, and Shirin was just like, "I'm bi. That's it." There was no need to discuss her sexuality deeply or for it to evolve or whatever the typical tropes for bi characters are. It was more about her as a three-dimensional person… with all her flaws.
Robin: Oh yeah, I really really liked how a lot of the development isn't like, Shirin figuring her sexuality or identity out, it's about her flaws in trying to communicate/connect with/unhook from people. Like that's what I got from it.
KaeLyn: On what Alley said about her being a nuanced character, I actually found her kind of annoying. Sweet, but annoying. Which is very real. I feel like that about a lot of people IRL. I'm a little older than Shirin and the other characters, so I found some of her plight a little hard to relate to, but I enjoyed it anyway. If that makes sense.
Alley: Yeah she was occasionally annoying but in a way I can relate with so it made her a little less so. Although I am also older…
Other favorite parts were really specific quotes like:
"You're ruining my birthday."

"You're ruining my 20's."
KaeLyn: Haha, Alley. Yes! The writing was so good throughout.
Alley: But this one was my real fav:
CRYSTAL: No, you know, there are people in this world who go on first dates that are perfectly great, and then they wait a while before they engage in sexual contact.

SHIRIN: That's disgusting.

CRYSTAL: I know. I think it all happens outside of New York.
Robin: What was the line she said when she & Maxine were at her family thing?
"I'm your exotic experience!"
KaeLyn: I saw it in a theatre and I often felt like I was the only one laughing. Like the humor was so dry, but it was so good.
Hannah: Can we talk about the rubber outfit guy? What was that about?
Robin: He had empty eyes.
Alley: He was oddly sweet?
Robin: Ahahaha!
Hannah: Oh, he kind of gave me the creeps.
Robin: Oh, he was kind of sweet and I definitely felt for him. But also, empty eyes.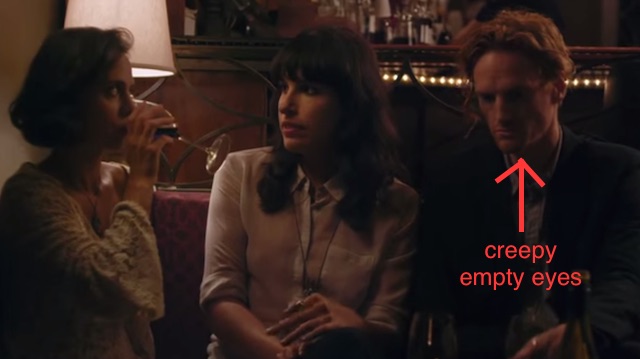 Alley: Ugh, I didn't have a chance to rewatch and I watched it initially in January so I am having trouble remembering specifically.
Hannah: She was totally an asshole to him though.
Robin: Yeah!
Hannah: In a way I related to.
Alley: But the girlfriend was the mean one, is what I'm remembering.
Hannah: Well he did kick her out after her failed attempt to kiss him. It was sort of mutual assholery all around.
Alley: Worst threesome ever
Well not ever but…
Hannah: Yeah, I was gonna say. I've had worse.
Alley: Me too…
Unfortunately
KaeLyn: Hahahaha
I have only had good experiences, I guess
Alley: Like the opposite of Stef's amazing musical story, which is officially my favorite threesome story ever.
KaeLyn: I loved that scene because they told so much through body language. There was very little talking.
Hannah: Yes!
KaeLyn: But you knew exactly what they were all thinking.
Robin: Yes!
Hannah: I love that.
KaeLyn: And that's so true to sex IRL. Like, we should talk about what we want and what we're doing. Oh god, we should do that, but so many people just fumble through it.
Hannah: It just says so much about the actors and the directors and the editors all working so well together.
Alley: Agreed. It was a very well done scene even if it was uncomfortable. I mean that was on purpose and clearly came through.
KaeLyn: It was SO uncomfortable.
Hannah: Ugh when she kisses him on the shoulder!
I wanted to become a puddle
KaeLyn: I thought a lot of Shirin's narrative was about drifting, feeling surrounded by people, but always alone. And this was such a great example of that.
Alley: That's an interesting point and kind of reflects the timeline.
Hannah: I really like that.
KaeLyn: Like she is just so hungry for connection.
Alley: Which I wasn't sure I liked because it seemed so opposite of what I expected from the trailer, but hearing your thoughts kind of makes me think it worked.
Hannah: I don't think it directly relates to the bisexual narrative, but it does reflect a sense of outsiderness.
KaeLyn: And after losing Maxine, she doesn't know how to plug in but she keeps grasping at it.
Robin: Mmmn, I agree. But also can we talk about Maxine?
KaeLyn: I think it does directly relate to the bisexual narrative.
Hannah: Or I guess that it could stand alone? But also strengthens the bisexual narrative? Sorry my head is full of mucous.
KaeLyn: There are usually those stereotypical narratives about bisexuals we chatted about earlier. So there is no "bisexual path" to follow. So how does a real life bisexual navigate the world? Shirin is mired in a world of "otherness." She's got her Persian family and her white ex-girlfriend and being stuck in her mid-20's somewhere between that lawyer she goes on a date with and the idiots she also tries to date that are beneath her. That's the whole movie, right? Like where can she fit in?
Hannah: Yeah, we're agreeing, right KaeLyn?
KaeLyn: Yes, we're totally agreeing. I'm just writing too much. LOL
Sorry, Robin! Yes, let's talk about Maxine!
Robin: Y'all, I am gonna be real. Shirin & Maxine's entire relationship didn't resonate with me. I can't tell if that's the intent.
KaeLyn: I felt the same. Say more. What about it for you?
Robin: The thing that comes most strongly to mind is when they get high together and they say their "I love you's." But it felt… unearned? Like a shortcut to an emotional payoff.
KaeLyn: OMG Refresh my memory. I watched it in October and I'm blanking on this scene.
Robin: I think it was a flashback that starts with Shirin waiting at the window while Maxine picks up weed
Alley: Yeah, I think that was one of the scenes that started my "backwards" feeling of the narrative.
Robin: And then they smoke and Shirin's like, "We're the same kind of stoned person," and that becomes a moment.
Hannah: Ahahaha
KaeLyn: YES. I remember now.
Alley: Agreed, it was kind of unearned.
Robin: And I couldn't tell if it was meant to show how… specious their relationship was? Or I was just being an Old Person and thinking "You're STONED, do you even KNOW WHAT LOVE IS?!"
Hannah: Okay, so maybe this is just because I don't remember how the scene hit me in the moment, but I feel like it was deliberate. Sort of a commentary on the selective memory we have about our relationships? Like maybe she was even looking back on that moment and thinking, "I was stoned. I don't even know what love is"?
KaeLyn: That's an interesting way to think about it, Hannah.
Robin: I dunno, for something that ostensibly kickstarts the narrative of the movie, the relationship felt thin to me.
Alley: Yeah, I can't say I ever really liked Maxine.
KaeLyn: Here's a question: did you think the movie was about the relationship with Maxine? I didn't.
Hannah: No, not at all. Though I did have empathy for Maxine at points.
Alley: Not sure what exactly it was trying to say beyond being funny that they first met/commiserated over hating everything — like hating things is such the cool hipster thing to do…that they hate.
KaeLyn: Yeah, Maxine was just as immature as Shirin. She was more patronizing, though. I felt like Maxine felt Shirin was beneath her intellectually and socially.
Robin: Agree.
Alley: KaeLyn, no, you're right. It wasn't just about that relationship for sure. It was about Shirin finding her way in the world. Which she sort of does by the end and sort of doesn't, which is pretty true to real life. So I appreciated that.
KaeLyn: Yes, I think the audience I was watching it with was expecting a hipster romantic comedy.
Alley: Yeah, it was better than that for sure. Not that a hipster romantic comedy wouldn't be fun to watch, but it went deeper.
KaeLyn: Can we talk about what we didn't like or what didn't work?
Hannah: I don't think I took many issues with it. Other than the aforementioned thin relationship, it wasn't trying to be anything more than what it was.
A little slice of life, of a person just trying to live the life they are meant to live. There was no moral, or high drama. It was just pretty and it felt honest to me.
Robin: I do wish there had been more with her family, but like, that gets into the territory of "I'd have done it differently."
KaeLyn: I feel like it took a queer filmmaker, writer, actor to pull off that level of authenticity. It felt fresh to me. But I have to say I don't love it as much as other people seem to. I enjoyed it very much. Does that make sense?
Hannah: Yeah.
Robin: I think I'm with you, KaeLyn.
KaeLyn: Like some people are over the moon about it and I'm like, "That was a really well written, directed, and acted movie with high production value and it felt really authentic and the narrative thread was strong. And it wasn't my favorite." And I can't put my finger on why I'm not more ecstatic about it.
Alley: Me too KaeLyn.
KaeLyn: I can't even say what I wish was different.
Alley: Like, I can't pinpoint what could have been better but, like, the trailer was SOOOO good I was a tad disappointed.
KaeLyn: I guess that the one way it is cliche is it's another story about a queer person with lots of class privilege interacting almost exclusively with other people with high levels of social and economic status. And maybe that made me feel less snuggly about it.
Alley: The class aspect is a good point.
KaeLyn: It's what I don't like about Girls. SO "white feminist" framework.
Alley: I was about to say that but didn't want to keep bringing that up :wink:
KaeLyn: Haha.
Alley: That show just reminds me of all the women I went to college with that I loathed.
KaeLyn: Yeah, I think that's what kept me at an emotional distance from Appropriate Behavior. Everyone was so privileged and really only had that worldview. And I kind of wanted them all to get over themselves.
Alley: It's that balance of the film making fun of their own privilege but also getting a little mired in it. Tough balance.
KaeLyn: But lawd, there are hundreds of similar movies and books and musicals about "finding yourself" that feature young white men.
Alley: Totally.
KaeLyn: And even if there are problems with that "journey to the self" trope, I'm just so grateful there was a bisexual Persian woman at the center of it this time.
Alley: "Appropriate Behavior: Way less annoying than Igby Goes Down."
KaeLyn: HAHAHAHA
Robin: HAAAAA
Hannah: Hehehe
KaeLyn: OK, so wrap up question: Would you recommend it?
And why?
Hannah: Yeah sure.
Robin: I would!
Alley: Absolutely, even if there are some formulaic portions even taking a "quintessential" or supposedly "universal" story and giving it to a bisexual woman of color is worth it and there are some damn funny lines.
KaeLyn: On a scale of 1 (the worst) to 10 (the best), I'm giving it a 10 as a film and a 7.75 on a personal level.
Robin: Yeah, like I wouldn't be mad if my queer ladies film club wanted to watch it again.
Alley: I fully expect, also, that Desiree Akhavan's next film will be even better.
KaeLyn: I would watch again.
Alley: I loved The Slope.
KaeLyn: I can't wait to see what she comes out with next. Appropriate Behavior is definitely putting her on the map.
Hannah: Also you guys know that Desiree Akhavan was actually on Girls for real, right?
I meant to say that earlier, when you were complaining about Girls.
KaeLyn: Yeah recently right? But I haven't seen those episodes. I mean, I've only seen a few.
Hannah: Yeah it's brief. She plays pretty much the same person.
KaeLyn: She plays a writer?
Hannah: Yes, she does.
KaeLyn: I have no idea because I don't watch Girls. Except that one time when I gave it the ol' three-episode try and it failed.
Hannah: Yeah, I only saw the first couple episodes this season. I could go on about why Marnie is the entire reason the show is terrible but I'd be talking to a wall.
KaeLyn: Haha. Any final thoughts on Appropriate Behavior?
Alley: I would probably give it a similar rating, KaeLyn, but to keep it simple I'll just give it an 8.
KaeLyn: Hahaha
Robin: I would give it a 7. No, amend: 8.
Robin: Just remember the "I'm your exotic experience" line which is the REALEST MOST AWKWARD THING. I cannot find the exact wording but it really stuck with me.
KaeLyn: That was the best! Ok, I'm bumping it up to an 8.
Alley: Hahaha, I like how we are all groupthink convincing each other to up the rating by 1.
KaeLyn: When I mini-reviewed it on Autostraddle in my film fest recap in October, I gave it this: "Rating: Ten sammies from that new Vegan Pork-Dumpling Grilled Cheese food truck with the hot server." I stand by that. No, I amend it to include the kinky coffee shop that Robin is at.
Robin: Oh, KaeLyn, here's the link: Wicked Grounds Kink Cafe & Boutique
Alley: I was just in SF working from coffeeshops. Wish I would have gone there!
KaeLyn: It is so cute and unassuming from the outside. Well, if you don't know what the leather flag looks like… Ooh, they have pizza bagels!!!
Robin: It's really like your average coffeeshop until you start looking at the art on the walls.
KaeLyn: Oh, so no one is doing kinky things around you IRL? I really feel like would be the best.
Robin: Eh, not yet. And the lil knickknacks for sale. It's only 3 PM here.
KaeLyn: OK, fine. That's acceptable. I'm assuming you can only play, right? You can't actually fuck? That seems unsanitary.
Robin: I mean the bathroom is spacious and there's only one key…
Alley: Hahahaha
KaeLyn: Ooooh
Robin: Attached to a heavy chain.
KaeLyn: Well that's fine. I just don't want lube too close to my coffee.
Alley: Would that be like a Bulletproof Coffee spinoff?
Robin: Yesssss
KaeLyn: Alley!!!
Robin: Oh my god. What would the spinoff be called?
KaeLyn: Frictionproof Coffee? Bullet Coffee and it is served with a bullet vibrator?
I dunno. We need Lizz or Ali on this…
---
What do ya'll think? Will you be seeing it? Have you already seen it? How would you rate it and what are your smart and insightful thoughts?
Get to your nearest kink cafe and tell us everything.