For 10 days every year, I clear my evening and weekend schedule for the ImageOut: the Rochester LGBTQ Film Festival. ImageOut is the largest film festival in Rochester, NY and the biggest LGBTQ film festival in New York State. This year there were 39 programs and 65 films, which believe-it-or-not is actually fewer programs than in years past. My spouse and I have been festival-goers since we moved to Rochester in 2007 and have been members since 2008. For a medium-size city like Rochester, ImageOut is a major queer event. There is nothing else like it except maybe Rochester Pride. Thousands of LGBTQ folks and allies come out and gorge themselves on buttered popcorn and independent film. The fest is held at small, local movie theaters. The home base is the Little Theatre, the last standing theater of the "little cinema movement, a network of small independent movie theaters created in response to the mass merchandising of the entertainment industry in the 1920's."
The festival is a commitment in time and dollars, but it is worth it. We get to see the best LGBTQ documentaries, romcoms, and comedies before their theatrical release and many short films and experimental indie films that never get a theatrical release.
So here I am. I survived another fest. I saw 27 programs and 38 films. Popcorn disgusts me. I don't plan to walk into a movie theater again until Hunger Games weekend. I am in an extended food coma from 10 days of eating nothing but fast food and concession stand snacks. But I'm here. To give you the scoop on the best upcoming and current LGBTQ films, many of which will probably show up on Netflix or become available at Wolfe in the nearish future. I'm covering only the films about, by, or relevant to queer ladies, broken up by genre, and in order of best to slightly less best.
Overall themes in 2014: bisexuality is real, beware obsessive creepy lez friendships, trans narratives that are not transition stories are finally a thing, and we are all really mortal and life is short, people.
---
Romantic Comedy a.k.a. BOW CHICKA WOW WOW
http://vimeo.com/95299762
This is easily my favorite film in this genre and one of my favorites in the fest — sexy, funny, affirming, poignant. Ricky Jones (Michelle Hendley, real-life video blogger), is a twenty-something fashion blogger and wannabe fashion designer in Kentucky. She's sharp-tongued, really hot, and flirting with the idea of romancing a girl for the first time. She's transgender and, while there are scenes where this is discussed, it is really not a big deal or the crux of the story. She is out to everyone in her rural town and gets unconditional love and support from her dad and little brother and her childhood best friend, Robby (Michael Welch). The meat/tofu/protein of the story is Ricky's love interest, Francesca (Alexandra Turshen), a rich girl from town who has recently returned from boarding school. Francesca (who is engaged to a Marine with his own issues) and Ricky, who have both otherwise only dated boys, become friends and…well, eventually something more. I won't give away the ending, but what I loved most about this movie is that the story is about Ricky finding her path in love and life on her own terms. There's a real affirmation that bisexuality and sexual fluidity is valid, that gender identity has 0% to do with body parts, and that living your life on your own terms is 100% OK. (P.S. Don't judge this movie by its very brief trailer. IT IS SO GOOD. REALLY. GO.)
Rating: One billion high fives from Beyonce
---
BFFs
The crowd loved BFFs, the Opening Night film of ImageOut and the New York State Premier of the film. It was a laugh riot and we even got to do an Google Hangout audience Q&A with the stars, Andrea Grano and Tara Karsian. It has been reviewed here on AS before, so I will leave you in the capable and lovely hands of Brittani. It was everything Brittani promised it would be: hilarious, fun, complex characters, female-driven comedy.
Rating: Bottomless refills on your mimosa at brunch
---
I'm gonna' be honest with you. I didn't love it. But lots of folks did, including my spousal unit. So, if you like shamelessly corny romance movies — and it's OK if you do — you will probably love this movie. The movie is about Tru (Shauna MacDonald, who also co-wrote and co-directed), a love'em and leave'em lez type who bounces from girl to girl like she's channeling Shane McCutcheon. The movie opens with Tru in bed with a naked woman, whose name she guesses incorrectly during morning pillow talk. Oops. Also like Shane M, Tru finds herself falling for an older woman, her ex's mother, Alice (Kate Trotter). Alice is visiting her daughter, Suzanne (Christine Horne), a high-powered attorney with no time for mother-daughter bonding. As a favor to Suzanne, Tru helps greet and entertain Alice while Suzanne is busy working and things take a turn towards the sexy from there. This could be just another lez romance flick, but the actors really bring it. Trotter makes Alice a fully dimensional character — not a lonely widow so much as a radiant and self-assured woman who was held back by a husband who just didn't get her. The relationship between Tru and Alice is believable and it was nice to see a sexy movie about a younger woman and an older woman that is affirming and where both partners meet on equal footing a.k.a. not a Loving Anabelle situation.
Rating: One open-mouthed kiss on a second date, but no tongue
---
This is a quirky romance drama and I did not hate it. As someone who is kinda' meh on the romance category, I didn't connect with the characters in the way I wanted to. There was a lot of suspension of disbelief in this movie that is one part light-hearted crime drama and one part romance-I-kissed-a-girl sexual exploration. That said, it is definitely worth watching. I thought the bar where one of the main characters, Valerie (Verena Wüstkamp), sings at was kind of L Word-ish. The premise of the film is that Lucca (Sinha Gierke), a girl about the graduate high school and head off to a prestigious law school, get in a little trouble with the law. As a result, she has to do community service and ends up volunteering as a hospice facility, where she meets Valerie. Valerie, who has her own complex past, has developed a very close friendship with one of the residents, Herma. When Herma passes, Valerie finds herself fighting with Herma's buttface of a son. Soon, Lucca and Valeria are off on a road trip adventure to liberate Herma's ashes and…you know…explore some other adventures. The ending surprised me and I'm not about to give it away. You'll have to watch for yourself.
Rating: Two fingers — no more and no less
---
Documentary a.k.a. BRRRIIIIIING! SCHOOL IS IN SESSION
Out in the Night
We were lucky to have three of the New Jersey Four at the screening for a Q&A. As they walked up to the stage, the crowd gave them a standing ovation, still wiping away tears of outrage. Out in the Night tells the story of four black queer women who were prosecuted for defending themselves against a man who threatened and attacked them on the streets of New York City. The mainstream media ran headlines about the "lesbian wolf pack" and "gang of killer lesbians" on a violent rampage. The jury never saw key evidence that was later revealed through the documentary. Renata Hill, Patreece Johnson, Terrain Dandridge, and Venice Brown were convicted by an all-white jury of committing second-degree gang assault, with prison sentences ranging from 3.5 to 11 years. By following the NJ4 and their families, children, and friends, we get a clear picture of the gross inadequacies and institutionalized abuse of the prison industrial complex. The message to queer women of color is clear — you are not safe anywhere and you do not have the right to protect yourself from violence. This is a must-see documentary for every person who cares about justice and especially for those who don't have much of an opinion about the criminal justice system. Criminal justice is a queer issue.
Rating: $100,000,000 in donations to FIERCE in the NJ4's name
---
Kuma Hina (Teacher Hina)
"Kumu" means teacher. Hina Wong-Kalu is a kumu, teaching traditional dance at a Hawaiian charter school that promotes Hawaiian history and culture. Wong-Kalu also identifies as mahu, a third gender person with traditional roles in Tongan culture. Kuma Hina showcases traditional Hawaiian dance and music; Wong-Kalu's new marriage to Hema, a young Tongan man from Fiji; Wong-Kalu's teacher and mentor relationship with Ho'Onani Kama, a young girl who may identify as mahu and longs to dance with the boys; and Wong-Kalu's work in local government as a cultural council member. Kuma Hina is as much about Hina Wong-Kalu as it is about navigating the world between traditional and contemporary culture, masculinity and femininity, and what it means to fully embrace your gifts. All the documentaries I saw were strong, but this was one of my favorites.
Rating: A symphony of flowers budding all at once
---
Born to Fly: Elizabeth Streb v. Gravity
I fully admit that I didn't know about lesbian choreographer and "pop action" innovator, Elizabeth Streb. This is ridiculously shameful because she is a former Rochestarian. I had the great honor of meeting her before the screening of the documentary about her work and influence on experimental choreography. Her work transcends boundaries of race, class, experience. Just watching film footage of her ensemble's performances had my heart pounding. And that is exactly the point. This documentary will take you to new heights, literally, and is yet another documentary in the LGBTQ genre that is really about the art and the person…who just happens to be queer. I'm all for that. Also, I found out that Streb's studio, the STREB LAb has free, open rehearsals during the day. So if you are in or near Brooklyn, check that out. I plan to stop by the next time I'm in NYC. Check out this film if you want to see beautiful bodies doing gravity-defying beautiful things that will actually make you stop breathing for a second. As Streb says, "You have to get beyond the barrier of self-protection before you can really fly."
Rating: A simulated but very realistic plunge to your death
---
Comedy a.k.a. HAR HAR HAR
Life Partners
Ya'll saw the trailer for this film and freaked out. I saw the movie and freaked out. WATCH THIS MOVIE. WATCH IT IMMEDIATELY. It is so funny. This is like, the much lighter and more enjoyable version of Appropriate Behavior (see below). Sasha (Leighton Meester, Gossip Girl) is a lesbian and her best friend, Paige (Gillian Jacobs, Community, Walk of Shame), is straight. Don't worry. No one questions their sexuality or whatever. Not in this movie. Sasha and Paige are who they are, which is bestest buddies who are really codependent and in a loving long-term friend relationship that has usurped every romantic relationship they've ever attempted. They love America's Next Top Model and they love each other. So when Paige meets a man, Tim (Adam Brody), and starts to settle down with him, her friendship with Sasha is put to the test. Watch for cameos from Gabourey Sidibe, Mark Feuerstein, and Kate McKinnon. The dialogue and comedy writing is spot-on. You will love them and kind of dislike them a little and maybe even see yourself in them a little if you've reached that point in your life where half your friends are still living at home and the other half are getting hitched.
Rating: A sleepover with your best friend where you eat cake mix batter and watch trash TV
---
Appropriate Behavior
This is basically HBO's Girls for queer ladies. I mean, it literally kind of is because it was written by, directed by, and stars Desiree Akhavan, the so-called queer Lena Dunham, who recently landed a role on Season Four of Girls. The writing is strong. The film is beautifully shot and edgy in all the right places. I have to say that if you find Girls insufferable, you may find Appropriate Behavior insufferable. The timing and writing and the isn't-life-so-hard-and-stuff-why-me-WAH plotline is very similar. I enjoyed the movie, though. It is a worth seeing, especially if you have a dry sense of humor. Shirin is a bisexual hipster chick from Brooklyn who is just trying to find her way, be a good daughter to her traditional Persian parents, be the "right kind" of bi, and find a job that doesn't suck. She spends the film obsessing over her ex, Maxine, who cut up all her panties and kicked her out of their apartment when they recently broke up. Akhaven is a brilliant writer and actor. Shirin is a character that you all know, the one who is stuck and can't seem to find a way out. There's a little speck of hope at the end of the tunnel, though, for all the characters. I appreciated that Akhaven didn't wrap everything up with a neat bow, letting the audience imagine any number of futures and focusing the attention on the character development instead of simple resolution. Bonus points for a bisexual main character in a feature film.
Rating: Ten sammies from that new Vegan Pork-Dumpling Grilled Cheese food truck with the hot server
---
Cupcakes (Bananot)
This musical comedy falls into the category of kinda lesbian because there are lots of women and a couple queer women. The film is about a group of friends who gather together to watch UniverSong, a show similar to Eurovision. The main characters are Ofer, an elementary school teacher who performs drag for his students; Keren, an introverted blogger with glasses; Dana, an overworked and underappreciated aide to a cabinet minister; Anat, a bakery shop owner; Yael, a dissatisfied corporate lawyer with a beauty pageant past; and Efrat, your token (hot) lesbian singer-songwriter. They gather in Ofer's apartment for a UniverSong viewing party, during which Anat reveals that her husband is leaving her. To cheer her up, they sing her an improvised song. Ofer records the song on his phone and later decides, just for fun, to enter it into UniverSong. Suddenly, they are representing Israel at UniverSong and are thrust into a frenzy of producers, choreographers, stylists, and the question of whether they should put their real lives on hold to enjoy the moment. This is an infectiously silly and campy and charming with a big dose of heart. The refrain from "Song for Anat"may get stuck in your head for days. I'm just warning you.
Rating: 100 rainbow jazz hands and a sparkly gown
---
Drama a.k.a. DUN DUN DUN
52 Tuesdays
One of the most creative and fresh films this year was 52 Tuesdays, a film about a teenage girl, Billie (Tilda Cobham-Hervey), and her journey in grappling with the news that one of her parents is transitioning to live full-time as James (Del Herbet-Jane). Part of the transition process is asking Billie to move out of the house for a while, one year or 52 weeks, to be exact. Billie and James agree to meet every Tuesday, a drastic change from living together for most of Billie's life and from their former relationship as mother/daughter. The story is told from Billie's point of view as she struggles with supporting James through the transition, moving past feelings of abandonment, navigating their new lives, and coming into her own skin by pushing boundaries with her own sexuality. This film depicts graphic sexuality between teens, which feels very honest while also making some uncomfortable. The film is not perfect. It is, in many ways, the typical transition story. Like the Amazon Prime show Transparent, the transitioning character's story is told mainly through the eyes of his child, focusing on what the transition means for Billie more than for James. However, there is something different about this story — the juxtaposition of Billie's own transition into a sexual (and somewhat bisexual) being with James' transition is poignant and painful and deeply personal. I also appreciate that James is played by self-identified genderqueer actor, Del Herbet-Jane, a continuation of the theme of trans actors playing trans characters in this year's festival line-up.
Rating: That box of stuff from high school that you just can't throw out
---
Violette
Violette Leduc (Emmanuelle Devos) was a feminist writer known for her sexually explicit and painfully honest confessional writing in 20th century London. This historical narrative chronicles Leduc's life and work, starting with her faux marriage to gay author, Maurice Sachs, to survive World War II. The film turns on the friendship between Leduc and Simone de Beauvoir (Sandrine Kiberlain), her mentor and idol and patron and unrequited love interest. Leduc is crushed when de Beauvoir does not accept her advances, though de Beauvoir comes to regard Leduc as a close friend. Devos and Kiberlain are perfect together, with a strangely sensual and desperate chemistry. Devos plays Leduc, a highly unsympathetic character, with such honesty that you can't help but like her, even in her worst moments. If Appropriate Behavior is Girls for queer women, Violette is Girls for queer women in post-war France. Also, the sets and the COSTUMES. Oh, my. Everyone and everything is so gorgeous.
Rating: 10,000 hot, flaky croissants and a flask of red wine
---
Open Up to Me (Kerron sinulle kaiken)
Leea Klemola plays Meerit, a transgender woman who is both completely secure in her self and very lonely. The film opens on Meerit's last day of therapy, during which her therapist tells her she should put herself out there more and take an active role in finding the relationships she desires. Meerit is estranged from her daughter and wife, working for a cleaning company after she was fired from her social work job. She is doing alright day-to-day, but she misses her old life and her daughter, Pinja. While she is cleaning a therapist's office, in walks Sami, a married man who mistakes Meerit for a therapist. After coming out to Sami, both about not being a therapist and about being a transgender woman, Meerit begins an affair with him. On top of this, rumours about Meerit are flying around the grade school where she used to work and Pinja is getting caught up in the drama. Suddenly, Meerit is navigating a labyrinth of complex human relationships, trying to find a path back to herself in her new life. Once again, what made this movie work for me is that it is another transgender narrative that has very little to do with the trans character's transition. Meerit is very happy with who she is and is decidedly open and unapologetic about her identity. The role could just as readily have been anyone struggling with divorce, relationships, loneliness, and the desire for connection. Of course, it would be even better if Meerit was cast with a trans actor, but I'm going to give this film a few gold stars. For a beautiful narrative and for Klemola, who plays Meerit in such a way that you can empathize with her vulnerability without making her a victim.
Rating: 24 hours of uninterrupted meditation
---
Horror/Thriller a.k.a. AHHHHHHHHH! REAL LESBIANS!
In Hiding (W ukryciu)
HOLY SHIT YA'LL!!! This movie was the greatest. Yes, it's a Holocaust drama. But, more than anything else, it's an intense psychothriller about lust, obsession, desperation, and deceit. In 1944 Nazi-occupied Poland, Janka (Magdalena Boczarska) has just come back from a trip to the home she shares with her father, a local photographer. She learns that her father is hiding Ester (Julia Pogrebinska), the daughter of his Jewish neighbor, in a tiny room underneath their parlor floor. Skeptical at first, Janka eventually agrees to help hide Ester. When Janka's father is captured by the Nazi's, Janka becomes the sole caretaker for Ester. With no one but each other, Janka and Ester become friends. As the stakes raise, fear and isolation drawing them closer, and a dark secret binding them together, their care for each other turns to erotic exploration. After the war ends, Janka is desperate to keep her lover close, even as Ester falls into deep depression. Janka goes to extreme lengths as her innocent friendship and love grows into a violent and dangerous obsession. This film gets my highest marks. It is beautifully shot. The sex scenes between Janka and Ester are some of the hottest I've seen in a while and, quite frankly, this film is a masterpiece of psychosexual horror.
Rating: It puts the lotion on it's skin…
---
Crazy Bitches
I really wanted to like this one, but I just didn't love it as much as I wanted to. That said, a horror flick is an oddity at an LGBTQ film fest and it is worth mentioning that this film exists. The film is set off by an excellent cast including celesbian, Guuinever Turner and Cathy DeBuono (And Then Came Lola). The film is pretty typical for a horror movie. Seven former college friends and one stereotypical gay guy head off for a birthday celebration at a remote cabin in the woods. Before they have time to properly kiki, the body count begins. This is a campy, fun film. Honestly, I could have done with fewer rape references and I was not loving the big reveal, and the lesbian sexiness was scarce. There was only one lesbian character and she mostly was just kind of rapey with one other girl and almost earned a toaster oven with another straight girl who wanted to "keep it a secret." All said and done, this over-the-top film would be good for a cheesy movie night with a big communal bowl of popcorn. I won't judge you if you love it. Maybe I'm just a big feminist killjoy who can't enjoy fun things. You decide.
Rating: 100 manic love notes to Guinevere Turner
---
Short Films
I'm not going to review/recap all of these because that is just too much. I have given you so many words and videos already! Just check them out for yourself at a fest near you or when/if they come out online! These are in no particular order or rank. I've included brief descriptions from the ImageOut program:
Jellyfish
Danica, a fourteen-year-old fisherwoman and breadwinner for her family, tastes first love with Riya – an alluring transgender woman who arrives in the village one day.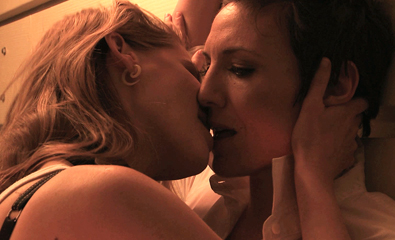 What's Your Sign?
The language of love (or lust) is universal.
The Other Woman (L'autre femme)
In Senegal, polygamy is legal, so a man can be married to more than one woman. But The Other Woman reveals the unexpected risks of bringing home a second wife.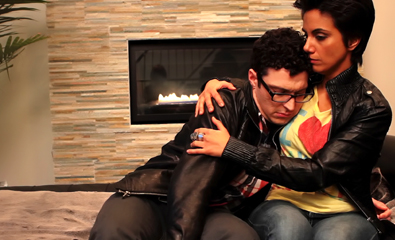 One Night Stand
The morning after hooking up takes a hilarious turn for two women.
Wandering Butterflies (Mga Ligaw Na Paru-paro)
Miriam unexpectedly faces the prospect of spending the night alone on her birthday after a rift with her jealous husband, caused by a flirty text message of someone named Alex.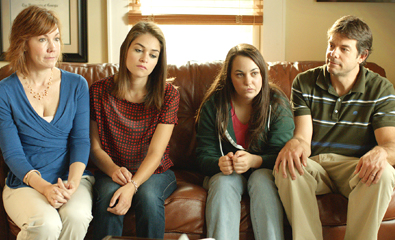 Alone with People
Growing up gay in the South, a high-school girl seeks the help of a therapist to accept who she is and share that with her family and friends in this funny yet poignant coming-of-age and coming-out story.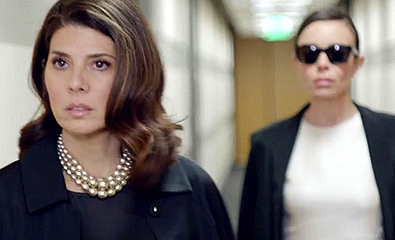 She Said, She Said
Oscar-winning actress Marisa Tomei and Elodie Bouchez play a lesbian couple on the brink of a nasty divorce and trying to split their properties through mediation. Parks and Recreation's Aubrey Plaza also does a hilarious cameo.
Dream Date
Two women meet in a hotel for a night of fun and to fulfill a wild desire.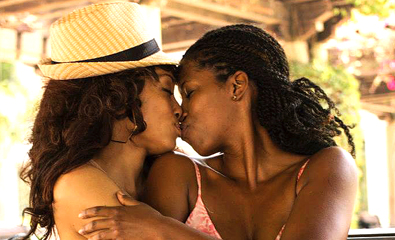 Secrets and Toys
What happens when a mother and daughter discover each other's secret through a comedy of errors?
Happy Birthday Cindy Wei
Everything is about to change in the life of an awkward and insecure 15-year-old girl when she discovers the secret life of her older cousin, Michael.
---
Not Necessarily Lez/Bi, But Really Worth Checking Out
Lilting
The Way He Looks
Pride
Already reviewed on AS by Kaitlyn
---
Now, it's time for me to go nap because that was a lot of movies to tell ya' about and it wasn't even all we saw! Have you seen any of these films at other fests or screenings? I'd love to hear your thoughts on what you have seen or want to see ASAP! Many of these films will likely be released on Wolfe video and/or Netflix soon, so make a mental note now!