It's been a while since I've seen a not straight film I've really enjoyed and I think it's been even longer since it's been a comedy. So after I watched BFFs, I was very excited to share this film with y'all. It's half buddy comedy, half romcom written by and starring actual best friends Andrea Grano and Tara Karsian. The film is about two besties that pretend to be a couple so they can take advantage of the amenities at a couples retreat one of them was gifted for their birthday despite the fact that they broke up with the guy it was meant to be used with. Once at the Closer to Closeness retreat, the lines between friendship and romance blur and they have to confront the feelings that have surfaced over the weekend all while keeping up the charade of being an actual couple. Shenanigans.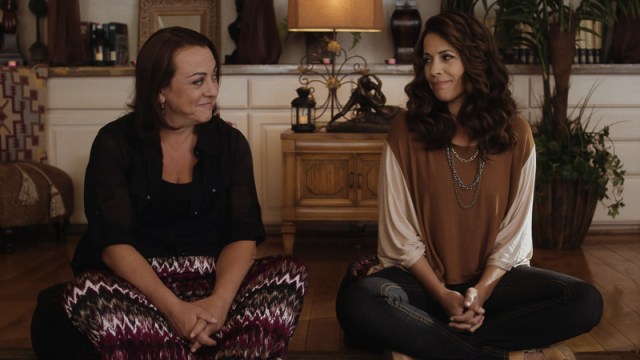 The camaraderie between the two leads is fun and playful and gives the film a lot of heart that I think indies have been missing lately. Now you might be thinking 'oh, this is another coming out story who cares,' but it's not. It's a narrative that opens the doors for the discussion of sexual fluidity without making it corny or annoying and the best part of all is it's funny. Like all romcoms, the realization that maybe their best friend feelings are a bit complicated doesn't really become anyone's number one feeling until the third act which allows the film to walk the line between gay and female-driven. Therefore, I've taken to calling this film VERY female-driven. I really like when the thing that's causing the conflict is supposed to be this wacky situation but what's really stirring everything up are the complexities of human relationships because that's where the most humor lies and that's what's truly beautiful about comedy. Anyway, you should check out this film if it's coming to a city near you.
September 6th – Memphis, TN – Outflix Festival
September 11th – Austin, TX – Austin Gay and Lesbian Festival
September 18th-21st – Breckenridge, CO – Breckenridge Film Festival
September 18th-25th – Chicago, IL – Reeling LGBT Festival
September 19th-24th – Norway – Oslo Skeive Filmer Film Festival
September 25th-28th – Bay City, MI – Hells Half Mile Film and Music Festival
September 26th – Eau Claire, WI – Eau Queer Film Festival
October 3rd-11th – Tampa, FL – Tampa Gay and Lesbian Film Festival
October 9th-12th – Fort Worth, TX – Q Cinema Gay and Lesbian International Film Festival
October 10th – Rochester, NY – ImageOut Rochester LGBT Film & Video Festival
October 10th-12th – Pittsburgh, PA – Reel Q Pittsburgh International LGBT Festival
All images via Sneaky Pete Productions
---
Before you go!
It takes funding to keep this publication by and for queer women and trans people of all genders running every day. We will never put our site behind a paywall because we know how important it is to keep Autostraddle free. But that means we rely on the support of our A+ Members.
Still, 99.9% of our readers are not members.
A+ membership starts at just $4/month.
If you're able to, will you join A+ and keep Autostraddle here and working for everyone?
Join A+