feature image via shutterstock
---
Previously: How to Have Lesbian Sex For The First Time, How To Have Lesbian Sex 102: Cunnilingus Edition.
---
Plenty of barriers exist between me, my girlfriend and our anal sex. But the only barriers I want between my asshole and my partner are the safer-sex kind.
Get Behind Your Behind
First, butts are rich in pleasurable nerve endings. Getting over the anal sex taboo is naughty/hot, and simultaneous penetration can push on our sexy bits oh so nicely.
Second, shit happens, but it doesn't happen often when it comes to anal sex. Play involves your rectum, while waste lives in your intestines. Unless your body is giving you the nudge or you ate far too many strawberries last night, your rectum should be clear. If you're worried, it's safe to slip a soapy finger up there in the shower to feel squeaky clean.
Third, go steady, go slow, and anal sex should never hurt. Put the numbing cream down — you're having sex to feel good, and you won't feel good if you can't feel anything. Pain also tells your body that something is wrong, and you want to feel that warning or you'll be feeling it in the morning. The majority of anal sex injuries are temporary fissures resulting from over enthusiasm, not never-sit-again horror stories.
Treat Your Butt With Lube And Affection
Before you start your play, make sure you have a ton of lube on hand. Unlike the vagina, the anus doesn't self-lubricate. Thicker, water-based lubes like Sliquid Sassy Booty Formula or Good Clean Love are ideal for anal play as they don't run, are latex- and silicone-compatible and will cushion your sensitive booty bits. Silicone-based lubes have a larger molecular make-up than their water-based counterparts, which makes them essentially everlasting as they sit on top of the skin instead of being absorbed into it. Some anal players find that this makes silicone lube perfect for them; however, its thin consistency lacks padding. More importantly, silicone lube will ruin your silicone toys by bonding to and damaging the surface, rendering them unsafe to use.
Once you're sufficiently slick, begin your anal exploration with fingers. Femme-bots gotta ditch those acrylics and everyone should use gloves for sexual safety and smoothness. Whether you're starting on your anal adventure solo or with a partner, one finger is the perfect introduction. Apply lube liberally to your opening and finger and start with an external anal massage. Use this time both to get acquainted with your asshole and to mentally relax.
When it comes to beginner's anal, your mind can be your biggest barrier. When you're feeling nervous or afraid that anal sex is going to be weird, painful or otherwise scary, your body's natural tendency is to tense up, especially in the asshole department — not helpful for the current mission. A little finger massage gives you time to get in the zone and relax your body, brain and booty. Someone else's tongue — using dental dams for safety — or a vibrator on your clit can also work nicely here.
Once you're mentally warmed up, take a deep breath, consciously relax and, using a slightly curved, rocking motion and gently bearing down with your asshole, slowly insert your first finger. Whether playing with fingers or toys, initial insertion can be the hardest part. Hold still for a minute to get acclimated. The sensation might make you feel like you need to poop, but this is rarely actually the case and is usually just the unsettling, familiar feeling of having something sitting in the lower part of your rectum. Relaxation and breathing can coax this feeling away.
Whether playing alone or with a friend, note that all objects and motions feel bigger and more dramatic than they do vaginally. Take it slow, reapply lube more than you think you need and don't forget about the rest of the body. Stimulating your other favorite areas will help you focus on feeling good — not just conducting a new scientific experiment. Once you and/or your partner are digitally comfortable you can graduate to more enthusiastic digital simulation or anal toys.
Take The Plunge
As the old saying goes, be selective about what to put up your butt. Your anus contains butt-specific bacteria and HIV and other STIs can be transmitted anally, so use similar safer-sex precautions as you would vaginally (cue latex barriers). Your anal toys should be made from non-porous material like silicone, stainless steel or glass that can be disinfected with soap and water. If a toy or body part was just in your ass, you need to wash it or change its condom before putting it elsewhere. And that includes back into that box under your bed where it'll just roll all over your other (presumably clean) sex toys. And that definitely includes your vagina who's going to be bacterial-infection-kind-of-pissed about that maneuver.
Pick your tool of the anal trade depending on what you want to do with it. Graduated beads are anally inserted one-by-one so first-timers can insert as many as they'd like, starting with the smallest and working up. They don't stay put very well but really work their magic when slowly removed during orgasm.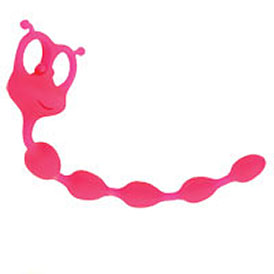 Plugs are excellent multi-taskers and my personal fave. They're designed to stay inserted, giving you continuous, low-friction, pleasurable pressure while you're busy doing other things — vaginal penetration, oral sex, wearing a harness, grocery shopping, etc. The narrower the plug's neck, the stronger the grip your anus will have. The longer, heavier and more dramatic the plug's curve, the better it can push against a prostate. Start with smaller, flexible, silicone plugs like the Bootie.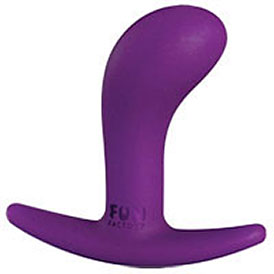 Dildos are for ol' fashioned intercourse. Many anal players find heavy stroking and movement to be overstimulating and/or challenging. But if you're pumped for pumping, start with a smaller, smooth, slightly curved dildo. Inserting the dildo with the curve pointing towards the receiver's belly button will comfortably reflect the rectum's natural shape and/or focus stimulation on the prostate (or anal G-spot) for those who have them.
No matter the style, all anal toys should be non-textured and have a flange (flared base) that's at least three inches in diameter to prevent them from being "lost." This means plugs, dildos and beads have a round, rectangular or looped flange that sits perpendicular to the toy's shaft that's big enough and firm enough not to get accidentally pushed or pulled into your rectum. Your inner sphincter reacts to insertion by sucking in: great for your partner's sensation, not so great when your toy gets trip-to-the-ER kind of lost. It doesn't matter how good your grip on a toy is: your anus's grip is better. I promise.
Back It Up
Your anal sex will only be as good as your sexual partnership and communication. As the receiver, always say "Ouch!" when you gotta. Give positive feedback (especially fun given via dirty talk) and lead a post-wrap review so your partner can repeat successes and work on flops. As the giver, always practice active consent, explain what you're doing before you do it, and instead of asking, "What do you want?," ask "this? or that?" questions to provide guidance.
Finally, the power of knowledge is real. Read up on female-bodied anal-loving in The Ultimate Guide to Anal Sex for Women by Tristan Taormino and study, real, real hard with Crash Pad's plentiful, hot, queer, anal sex scenes and you'll be knockin' the booty in no time.