Y'all probs read The Giver in middle school and have strong affectionate feelings for it, and perhaps you were even eagerly anticipating the long-awaited cinematic adaptation of this tender tale. Perhaps you re-read The Giver last week so that you'd be fresh and prepared for the movie, as I did, and then perhaps you saw the movie, as I did, and then perhaps you were like THAT WAS THE WORST! As I did.
You know in school how sometimes you'd watch these movie adaptations of a book you were reading, but it wasn't like a big-screen adaptation and instead it was a low-budget production with shitty sets and unknown actors produced far far away from Hollywood? At times, this felt like that, which was confusing 'cause the trailer got me really excited!
This post is CHOCK-FULL OF SPOILERS, but trust me, I'm doing you a favor by making the movie less appealing.
---
1. Stop Trying To Make Jonas and Fiona Happen, It's Not Gonna Happen
In the book, Jonas is a 12-year-old kid who has a tender dream about his friend Fiona, who's the only female character his age in the book with more than five lines. That's when Jonas gets put on special pills to stop the "Stirrings," which is YA code for "boners." Somehow the producers of the film, undoubtedly influenced by the Katniss-Peeta-Gale love triangle and pandering to a hypothetical audience who can't handle a film void of teen-on-teen love, decided to make Jonas 18 years old and make Fiona a legit love interest, a thing she wasn't at all in the book. She also becomes a key figure in his decision to take a stand against The Elders! But the actors playing Jonas and Fiona have about as much chemistry as a cardboard box and another cardboard box. Plus this kid doesn't need a girl to motivate him to want to CHANGE THE WORLD. He wants to change the world because the world he lives in kills babies and doesn't believe in love!
Plus, the actor playing Jonas is 25! 25! The kid was supposed to be 12, y'all. 12. It makes way more sense as a movie when the guy is 12, especially since you read it when you were 12 and probably related. It was supposed to be like this:
---
 2. Why Was Asher Such a Butthole
In the book, Asher's a cocky and hilarious troublemaker sidekick you imagine being something like Rider Strong in Boy Meets World, but the guy they picked for the movie seems like he's gonna be Ted from Queer as Folk when he grows up. Also now he's a drone pilot? What?
---
3. Was That Actual Stock Footage?
Jonas's reception of all the world's memories was another part of the book I was curious to see translated to film 'cause it had serious Cheese potential, and overcoming that potential would undoubtedly require imagination and innovation and would definitely be really powerful and awesome. I mean, the kid literally remembers babies crying and sledding down a hill on a snowy day and shit. They'd have to get really creative to not make those parts feel like a Kodak commercial and guess what THOSE PARTS FELT EXACTLY LIKE A KODAK COMMERCIAL. Mother washing a baby in a bucket! Children laughing in the grass! Animals playing in nature! Another baby being born! A joyous wedding in India full of Love and Laughter! More birthing of babies! None of it felt authentic, like actual human life, it felt like a performance of human life interspliced with a bunch of news footage. (It was also curious that whereas the humans in his flashbacks were mostly of color, there was only one person of color in the entire Community?)
If you saw the movie, please share your favorite flashback memory in the comments. Don't pick "cheetah," that's too easy.
Y'all, by the time they got The Berlin Wall and Tianemen Square up in there, our entire theater was in stitches FOR ALL THE WRONG REASONS.
---
4. Seriously It Got So Bad It Was Funny
Speaking of the entire theater laughing — this happened a lot. This happened when Jeff Bridges gave speeches about love, this happened when Jonas approached some nature situation in which the mountains in the background appeared to have been lifted from the The Giver diorama you made in seventh grade. Then Taylor Swift showed up as a piano-playing hologram with a bad wig and it officially became a comedy.
---
5. Pop Goes The Color
*** This seems to be one thing about the movie that I hated but most book fans actually liked a lot, so what do I know***
There's no color in The Community because it's post-racial. Just kidding! "Post-racial" isn't a real thing, kiddos, but you know what is a real thing**? THE SAMENESS. And The Sameness is one of many techniques employed by The Community to avoid conflict and envy. Everybody is the same and everything is the same and so there is no color, which we learn when Jonas is GIVEN THE MEMORY OF COLOR. Like eating a Starburst backwards.
How would the movie make this work? I imagined all sets and costumes being the same color, perhaps, or some other imaginative movie wizardry that enables complicated dystopian sci-fi you can barely visualize in your own brain come to life in a NEW and THRILLING way. But dude just pressed "convert to grayscale."
I realize I'm in the minority for decrying the choice to represent the Sameness with black and white — fans freaked out when the first trailer aired because even the black-and-white film parts were in color for the trailer. Fans felt that black and white was the only way to do it. But the many shades of grey used in "black and white" film are also colors, so in my opinion they needed to really think outside of the box to figure out what a world truly without color would look like and how to convey that onscreen.
Anyhow, as Jonas slowly begins to see color, we see the little color spots here and there, a la Pleasantville, but it actually didn't remind me of Pleasantville at all, it reminded me of those terrible posters on the ceiling at my dentists' office featuring dalmatians with neon spots imploring me to Dare To Be Different.
---
6. Droning
The SUSPENSEFUL CHASE SCENE at the end felt stupid, as did The Chief Elder's entire situation, really. Why did you leave poor Eric Northman there with his Death Needle thinking the longest thoughts in the history of thinking, like this was the second-to-last scene of Criminal Minds? (You know, the one where they inevitably interrupt the serial killer's next kill.) Why was there no transition from climate to climate for Jonas? How did that baby become such a trooper? Why hadn't Meryl Streep bothered to watch all that footage of Jonas scampering around breaking the rules until that day when she seems to have little else going on besides making weird allusions to past dalliances with The Giver? The story stayed faithful to its own world, at least, pretty much up until the end. Then he was chased by a talking drone and everybody died inside.
---
7. WHY DID YOU WASTE MERYL STREEP'S TIME?
This movie spoils everything it touches, even Meryl Streep, who does her damndest with really terrible material. At times I suspected that she literally phoned it in — like maybe was never actually on a set with any of the other actors. Plus she had the worst bangs in the history of bangs. It was so weird. Jeff Bridges, who apparently spent 18 years trying to get this film to the screen, gave a pretty solid performance, but sometimes he was just bungling around being grumpy like his first stop after getting booted from Middle Earth was the caftan sale and they didn't have his favorite caftan on sale.
---
8. Who are the people on this poster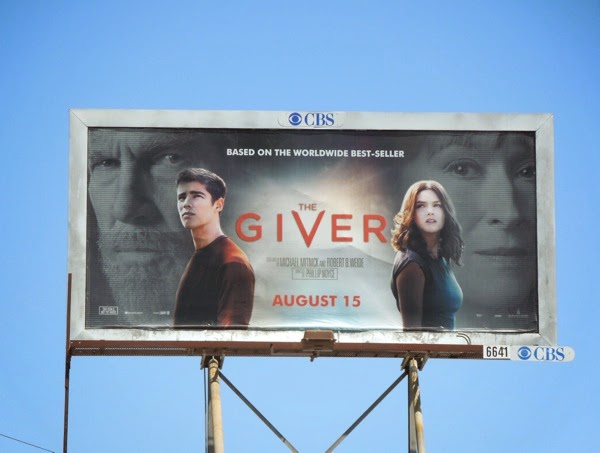 I've been driving by this billboard for what feels like my entire life and now that I've seen the film I'm even more confused why an Off-Brand Anna Kendrick seems to be standing in for whatever actress played Fiona and why The Giver looks like Stephen Dunn. Seriously he looks exactly like Stephen Dunn!
---
9. Two Thumbs Up For Gabe The Babe, Though
The baby who played the baby was the best baby I've ever seen since the E-Trade Baby. That kid was on point, I hope he gets nominated for an Oscar.
---
10. Also: Nice Work, Alexander Skarsgård
My boyfriend Eric Northman gave a solid and appropriate performance as a naive baby-killer married to Joey Potter!
---
In conclusion, The Giver was kinda crummy. If you saw it I'm sure you have a million additional complaints about things that were better in the book than in the movie (as do I, my friends, as do I), and boy would I love to talk about them! Let's chat.