"I am failing as a woman. I am failing as a feminist. To freely accept the feminist label would not be fair to good feminists. If I am, indeed, a feminist, I am a rather bad one."
Roxane Gay makes a variety of amazing points in her newly published book, Bad Feminist, not one of which makes me think she's "doing it wrong." (There were times where I bristled at her apprehension to embrace "professional feminism," seeing as that's my entire life, but I knew in my heart that Roxane Gay and I could definitely be seated next to each other at a feminist brunch and get along.) We have a lot in common. You probably will, too.
Ba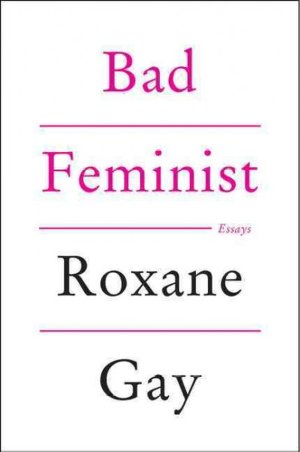 d Feminist is a collection of essays, both previously unreleased and formerly published on the web, that take on race, gender, politics, and sexuality with a calming sensibility and a cuttingly refreshing perspective rooted in personal experience and significant research. The short pieces, covering everything from Tyler Perry to rape culture to Gay's childhood to body image to police violence to (of course) Orange is the New Black, are smart, sassy, and poetic. Whereas academically minded feminist literature is often a challenge to consume, full of pontifications and heavy jargon, Gay's book walks the reader through elegant and succinct challenges to popular culture, political plays, and even the feminist community itself. Throughout the book, Gay is unafraid to assert unique positions into popular debates that might put her at odds with the Feminist Internet that churns out and consumes her work, reminding us of the title and why we've come to her. Roxane Gay is a "bad feminist" because she is unwilling to fall in line with dominant feminist discourse, and we are better for it.
As feminism has evolved and changed over time, so has the elusive idea of the "good feminist." Gay delves into the misconceptions people have about feminism and social justice throughout the book, but approaches it head-on in the last two essays. In them, you watch as she attempts to reconcile what can only be said to be the sum of her humanity with a movement said to stand for it, and many times — like me, like you, like everyone — she fails. Many times, we will all fail to reconcile our images of ourselves with our actualized belief systems. We are all bad feminists.
I'm coming out. I'm a bad feminist. I think you probably are, too. In a world that problematizes so much of the culture we consume, live within, and fight against, it can be hard to spotlight any one person who has, without doubt, never erred in their social justice work. It's hard to find one person, one entity, even one branch of the entire feminist movement that has had the good grace, good luck, and good mind to always be on the right side of history, always be on the right side of an argument, or always be on the right side of of tweet. Now, in a world built on a bedrock of personal essays and social media accounts, it's even harder for self-proclaimed feminists to grow, evolve, and expand their minds free from criticism. In fact, it's impossible. That's a quandary of a new sort, seeing as being a "good feminist" will also always be impossible. We are all human, and, as Gay reminds us throughout a book rife with empathy, sympathy, and compassion, we are as able to forgive and ally with one another as we are able to point fingers and shame our sisters for their failures. She also reminds us to forgive ourselves as we navigate a world that can only be described as treacherous and still incomplete, as we wander through the journeys of our own humanities wanting more for ourselves and our friends and our families and even our enemies.
In honor of the bad feminists out there hungry for a discourse that fits their brain and their frame of mind, today's Rebel Girls will be about the things Bad Feminist teaches us about feminism — modern feminism, a human feminism, one that isn't based in theories but in the realities of our lives, one that isn't built on rules and guidelines but on challenging the rules and guidelines that make the movement feel safe. I don't want to reteach it, because I can't. I don't want to paraphrase it, because I shouldn't.
This is bad feminism, straight from Roxane Gay.
---
On Privilege
Too many people have become self-appointed privilege police, patrolling the halls of discourse, ready to remind people of their privilege whether those people have denied that privilege or not. In online discourse, in particular, the specter of privilege is always looking darkly. When someone writes from experience, there is often someone else, at the ready, pointing a trembling finger, accusing that writer of having various kinds of privilege. How dare someone speak to a personal experience without accounting for every possible configuration of privilege or the lack thereof? We would live in a world of silence if the only people who were allowed to write or speak from experience or about difference were those absolutely without privilege.
---
On Likeability
This is what is so rarely said about unlikeable women in fiction — that they aren't pretending, that they won't or can't pretend to be someone they are not. They have neither the energy for it nor the desire… They are, instead, themselves. They accept the consequences of their choices, and those consequences become stories worth reading.
---
On the Patriarchy (Not) Being Dead
Some women being empowered does not prove the patriarchy is dead. It proves that some of us are lucky.
---
On Trigger Warnings
When I see the phrase "trigger warning," I am far more inclined to read whatever follows. I myself enjoy the taste of forbidden fruit.

I also know trigger warnings cannot save me from myself.
---
On Celebrity Outings
We are willing — anxious even — to see prominent figures in a state of helplessness as they sacrifice their privacy for the greater good. How helpless are we willing to be for the greater good? That question interests me most.
---
On The Solutions
The time for outrage over things we already know is over. The call-and-response of this debate has grown tightly choreographed and tedious. A woman dares to acknowledge the gender problem. Some people say "Yes, you're right," but do nothing to change the status quo. Some people say, "I'm not part of the problem," and offer up some tired example as to why this is all no big deal, why this is all being blown out of proportion. Some people offer up submission queue rations and other excuses as if that absolves responsibility. Some people say, "Give me more proof," or "I want more numbers," or "Things are so much better," or "You are wrong." Some people say, "Stop complaining." Some people say, "Enough talking about the problem. Let's talk about solutions." Another woman dares to acknowledge this gender problem. Rinse. Repeat.

The solutions are obvious. Stop making excuses.
---
On Rape Jokes
Rape humor is designed to remind women that they are still not quite equal. Just as their bodies and reproductive freedom are open to legislation and public discourse, so are their other issues.
---
On Respectability Politics
It's a nice idea that we could simply follow a prescribed set of rules and make the world a better place for all. It's a nice idea that racism is a finite problem for which there is a finite solution, and that respectability, perhaps, could have saved all the people who have lost their lives to the effects of racism.

But we don't live in that world and it's dangerous to suggest that the targets of oppression are wholly responsible for ending that oppression… We can always be better, but will we ever be ideal? Do we even want to be ideal, or is there a way for us to become more comfortably human?
---
On Reproductive Freedom
The politicians and their ilk who are hell-bent on reintroducing reproductive freedom as a "campaign issue" have short memories. Of course they have short memories. They only care about what is politically convenient or expedient.

Women do not have short memories. We cannot afford that luxury as our choices dwindle.
---
On Amy Winehouse
The girl-woman singer died in her flat, alone in bed. Too many people said, "It was to be expected," because we knew this girl who was a woman was really a girl. We knew she had problem, and she did not have the luxury the rest of us do to handle our problems privately, with dignity. She was a mess. So what? We are all stinking messes, every last one of us, or we once were messes and found our way out, or we are trying to find our way out of a mess, scratching, reaching.
---
On An Essential Feminism
The most significant problem with essential feminism is how it doesn't allow for the complexities of human experience or individuality. There seems to be little room for multiple or discordant points of view.
---
On Feminism Being Everything to Everyone
Public women, and feminists in particular, have to be everything to everyone; when they aren't, they are excoriated for their failure. In some ways, this is understandable. We have come far, but we have so much further to go. We need so very much, and we hope women with a significant platform might be everything we need — a desperately untenable position.