Header by Rory Midhani
Feature Image via Slate.
---
Season two of The Unbreakable Kimmy Schmidt is live, dammit, and I have bunkers on the brain. No, I haven't yet managed to binge my way through all 12 new episodes. But ever since the trailer was released last month, I've found myself wondering A.) whether this season will improve on the show's standing hit-or-miss record on race, and B.) what are the logistics involved in keeping an apocalyptic underground bunker operational for 15 years? While the outcome of the first remains to be seen, I do have some thoughts on bunker logistics in the meantime.
Did you know that there's an entire doomsday bunker industry? From multi-acre, mountain-esconced government fortresses, to small, abandoned backyard bunkers with walls as bright as Kimmy's sweaters, YouTube is a treasure trove of information for anyone with a whit or curiosity about reinforced emergency shelters. As far as I can tell, bunker owners on the internet mainly consist of annoying white men with an excess of money and seemingly boundless enthusiasm for gun stockpiling, but there are offputting "prepper" women out there, too! And even some homesteader types I found moderately relatable. Alaska Granny's carefully labeled stockpile of tea and brown sugar actually had me daydreaming about living in the woods with all you weirdos:
Obviously I would never condone kidnapping 8th graders or forcing captives to live underground, as Durnsville's worst wedding DJ did. I don't believe in paranoia as a virtue, and I find most prepper rhetoric to be alarmist and rebarbative. But the idea of someday saying "fuck it" to society and living off-the-grid? Sure. Who doesn't occasionally daydream about that?
When I think about life underground, I find myself nerdily enthralled with the idea of handling the logistics for such a huge endeavor. In my first engineering job out of college, I worked as a simulation analyst for a military contractor. I built mathematical models of tanks and helicopters, ran them through a variety of scenarios, and gave recommendations to the U.S. Marine Corps and Army on how to optimize their inventory. How many spare tires do 15 Cougar style MRAPs need to remain fully operational at a low combat desert location for 30 days? How many wiper blades? These are the type of questions my team and I advised on.
In Reverend Richard Wayne Gary Wayne's bunker on Unbreakable Kimmy Schmidt, we know the wannabe cult leader had access to the outside world — enough to become a fan of The Apprentice, at the very least. Considering that he, Kimmy, and three other captive women were in the bunker for 15 years, I have to assume the Reverend also had access to some sort of supply chain. Can you imagine how much food five people would need over 15 years? How much toilet paper? More than would fit inside the bunker we saw.
In my job as a military contractor, we plotted out historical failure data so that we could describe the patterns we saw using probability distributions such as Weibull curves to predict future performance. None of that will be necessary here! For one thing, this is a fictional bunker with no historical data available. But for another thing, an isolated, underground bunker is built precisely to maintain a stable environment. Conditions won't be changing all that much. So for the most part, simple, back-of-the-napkin estimates will do just fine in this case. And the general process remains the same: research, set a baseline, "sense check" the numbers, and start making adjustments to better match the situation you're trying to model.
For example, in planning for period-related products, a quick internet search tells me that on average, American women purchase 111 maxi pads and 66 tampons per year. I'm #TeamCup, personally, but a quick "sense check" of those numbers (divide by 12 to get 9ish pads and 6ish tampons per month — okay, fine) indicates that number is at least closer to the right answer than that time NASA allocated Sally Ride 100 tampons for a 7 day trip! So let's multiply by 15 (for the number of years in a bunker) and 4 (for Kimmy, Cyndee, Gretchen and Donna). This lands us somewhere in the neighborhood of 6660 pads and 3960 tampons — about eight bulk cases of tampons (59.2 pounds of tampons, taking up ~6.5 cubic feet) and 27 bulk cases of sanitary napkins (318.6 pounds of pads, taking up ~61 cubic feet). If the bunker were to stock these items, it would require either a significant amount of storage space, or (more likely) numerous covert shopping trips by the Reverend.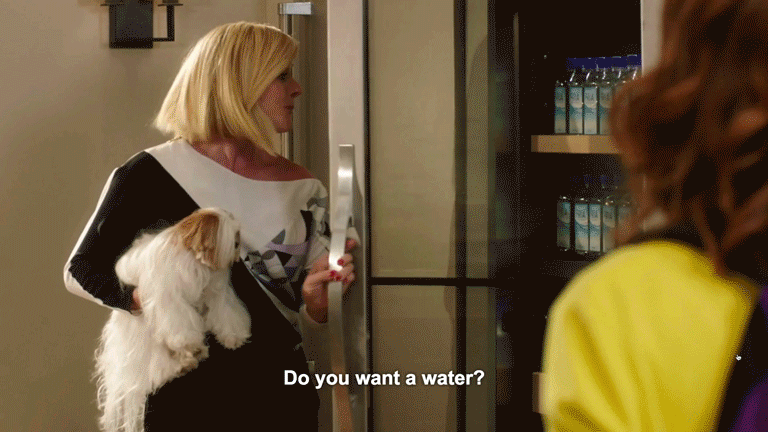 Or let's take a look at water! According to the World Health Organization, an individual needs between 2.5 and 3L of water per day for drinking. Including water needs for basic hygiene practices and basic cooking needs, they estimate 7.5 to 15L per day per person for survival in emergency situations. With five people living in the bunker (including the Reverend), this comes out to 262.5 – 525L of clean water per week. Picturing that water being stored in standard office water coolers, that's between 14 to 28 of the usual blue plastic five gallon tanks each week. Even with some sort of closed-loop water treatment system in place (which there would almost have to be, right?), it's quite the operation!
Okay, last example. In a recent interview, Ellie Kemper (who plays Kimmy Schmidt) said that her "dream bunker food" would be Levain chocolate chip cookies with nuts. How many would she need to last 15 years? Well, those cookies come in at 563 calories each, so to get up around 2000 calories, let's say she has her cookie with a glass of whole milk for breakfast, again at lunch, and to mix things up at dinner, she has the milk, half a cookie, and a banana. Over one week, she would consume seven bananas, 21 cups of milk, and 17 and a half cookies; over the course of 15 years, she would consume 5475 bananas, 16425 cups of milk, and 13687 and a half cookies. Which is too many cookies. I do not recommend this. (But that doesn't mean it's not possible to survive. After all, females are strong as hell.)
---
Notes From A Queer Engineer is a recurring column with an expected periodicity of 14 days. The subject matter may not be explicitly queer, but the industrial engineer writing it sure is. This is a peek at the notes she's been doodling in the margins.