Ahh, Peacock — the last in a long line of streaming services to appear and make us all wonder, "do we need this?" Well, you should know that surprisingly enough, Peacock's slate of original content is extremely lesbian-inclusive — Peacock has queer characters in nearly all of its original and co-produced tv shows and movies. However, these shows rarely get a second or third season pickup. Anyhow, let's dig into the best Peacock shows with lesbian, bisexual or queer women characters or trans people!
---
Dramedy, 2022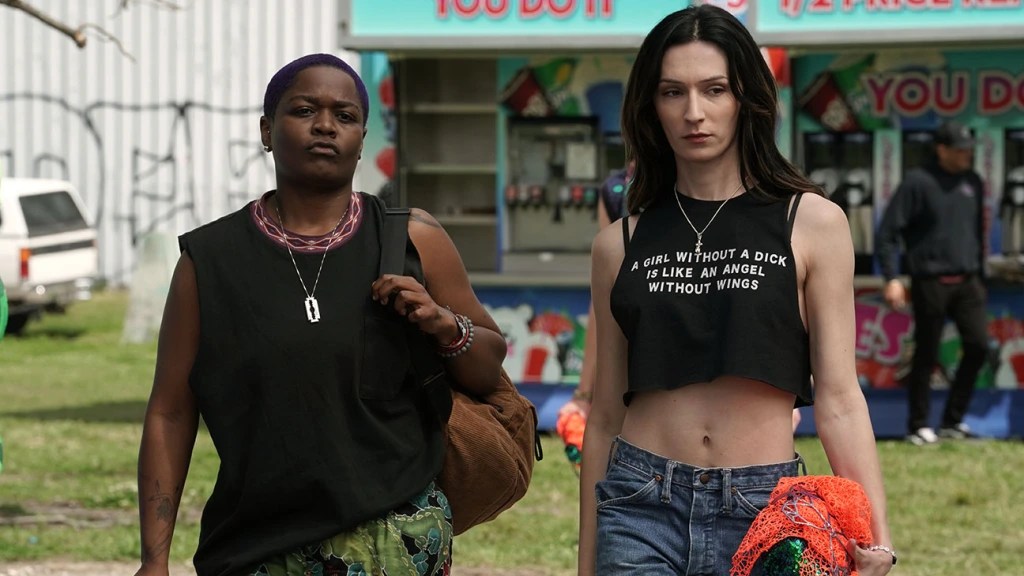 Unlike the deeply white, cis and able-bodied original characters, all of the new QAF's mains are people of color or trans or disabled or all of the above, including Char, a non-binary Black masculine-presenting person and their partner, Ruthie, a trans woman who'd grown up with the series' star, gay party boy Brodie. Queer as Folk gave us groundbreaking and incredibly hot sex, a Craft-inspired drag show, a sex party catered towards people with disabilities and a joyful portrait of chosen family coming together in the face of shared trauma. Stream Queer As Folk.
---
Drama, 2020-
This re-imagining of The Fresh Prince of Bel-Air as a drama was Peacock's biggest initial investment, and it's delivered some mixed results while also leaning hard on the charisma of its lead. But we love it! The new Ashley Banks, a pre-teen when the show begins, has a gradual discovery of her queerness that begins in Season One, and it's really cute! Stream Bel-Air.
---
Comedy, 2020
"The storylines of We Are Lady Parts echo stories that we've told about ourselves. They fill an often undervalued aspect of representation: offering a reminder that inside each of us, is all of us." writes Natalie of this critically acclaimed series that finds geeky biochemical engineering Ph.D. student Amina Hussein as the unlikely lead guitarist of Lady Parts, an all-female Muslim punk band. Ayesha is a queer Muslim woman and the band's drummer. Stream We Are Lady Parts.
---
Comedy, 2021-2022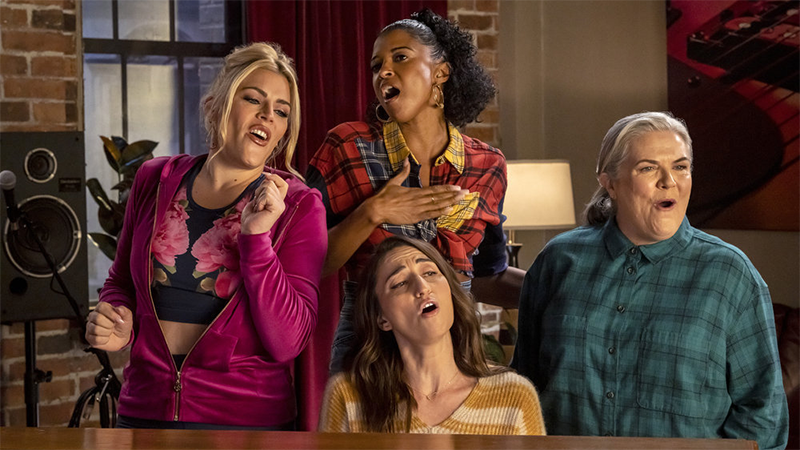 A one-hit-wonder girl group from the 1990s reunites to give their pop star dreams another shot, but this time they've gotta balance spouses, kids, jobs, debt, aging parents, and shoulder pain too. Lesbian comic Paula Pell is a freshly divorced lesbian dentist in this delightful comedy that also stars Sara Bareilles, Busy Philipps and Renée Elise Goldsberry. Stream Girls 5Eva on Peacock.
---
One of Us is Lying
Thriller, 2020-2022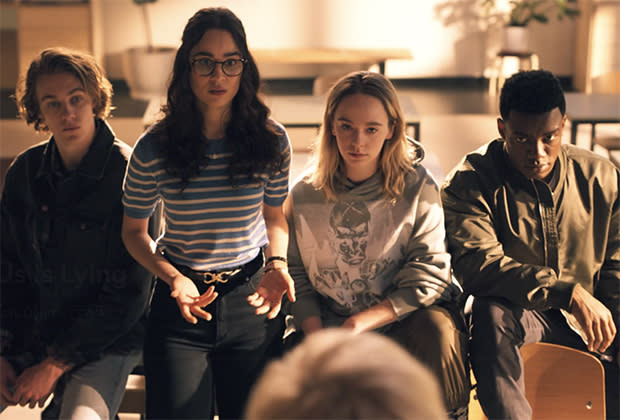 Based on a buzzy YA thriller, a disparate group of students find themselves under suspicion after online gossip scourge Simon suddenly dies while they're all in detention. Simon's best friend, Janae Matthews, is the unlikely outsider who finds her way into this clique, and who comes into her own as queer and non-binary. Stream One of Us Is Lying on Peacock.
---
Drama, 2016
When Her Story debuted in 2016 there was nothing else like it. Starring Jen Richards, Angelica Ross and Laura Zak, this understated webseries follows two trans women dating in Los Angeles, confronting transphobia and a trans misogynistic lesbian culture. "This isn't just a new frontier, this is a bright and wonderful one. This is the kind of trans TV show that we've been waiting for," wrote Mey. Stream Her Story.
---
Reality TV, 2023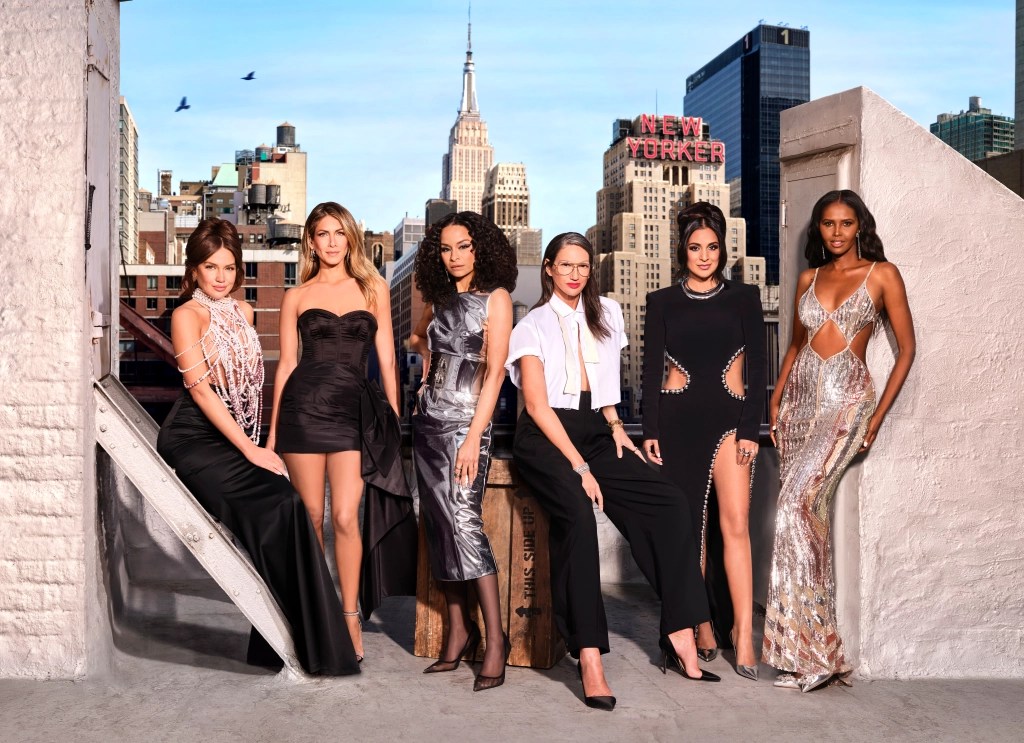 Fashion genius Jenna Lyons joins the series for this reboot of the New York franchise, wherein we have the opportunity to relate deeply to the experience of being the only lesbian in a group of straight women who are always yelling at each other about cheese and cell phones and airplane flights. All Jenna wanted to do was get a tan, you know?
---
Comedy, 2020-2022
This underrated gem of a reboot featuring a new, diverse Bayside where the original students are grown up administrators and parents features Alycia Pascual-Peña as Aisha, football team quarterback and budding wrestling champion who comes into her bisexuality. Trans actress Josie Totah plays trans character Lexie, the queen bee of Bayside. Carmen wrote that the reboot "ultimately drives home the importance of trans and queer communities, and our joy, especially for teens." Stream Saved by the Bell.
---
Limited Series Drama, 2022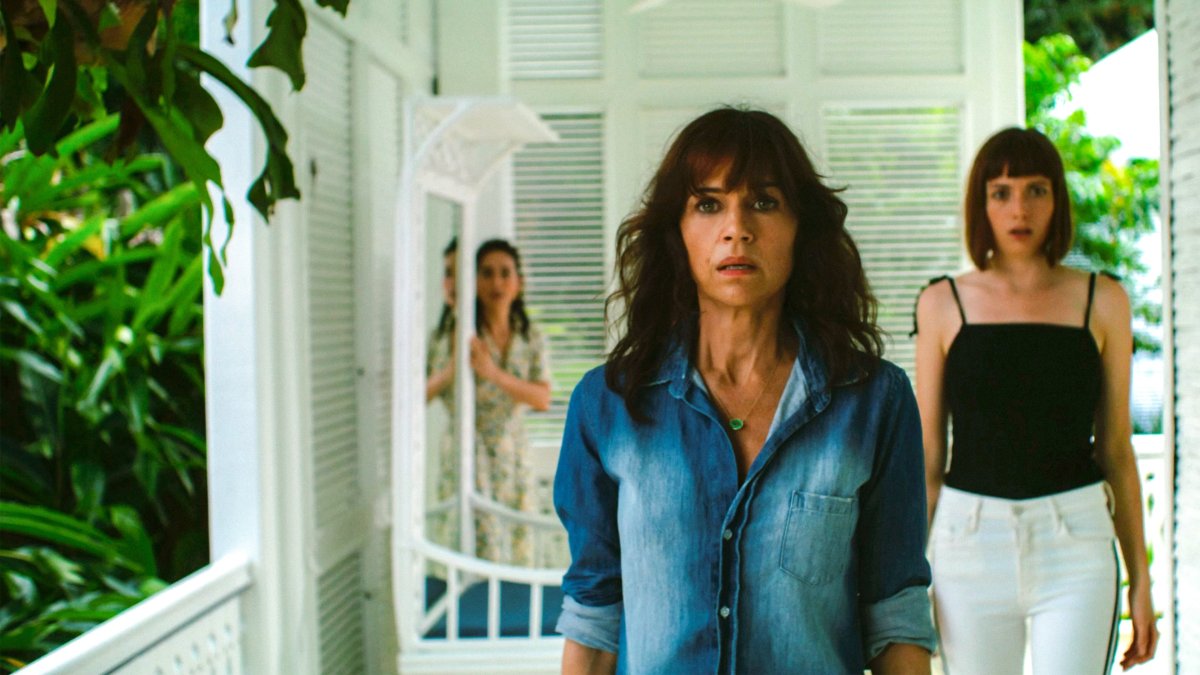 A botched heist is the entry point to a messy, lurid, bizarre and atmospheric journey that never quite manages to make sense, but does include some compelling sexual antics and Carla Gugino as a Mean Queer Psychic Domme. It's hard to say no to that. I couldn't tear myself away to be honest. Stream Leopard Skin.
---
Drama, 2018-2023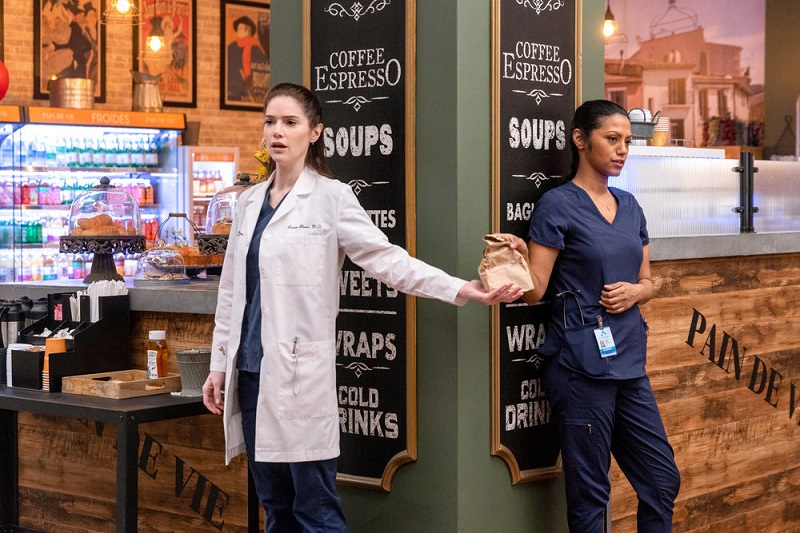 As medical dramas go, New Amsterdam doesn't necessarily have anything extraordinarily new to offer, but it's got heart and some endearing characters and some progressive ideals about the value of public hospitals and innovative ways to make medical care accessible.  Also: Lauren Bloom as a messy genius bisexual head of the Emergency Medicine ward. Stream New Amsterdam on Peacock.
---
Limited Series Suspense, 2022
It's 2024 and Saara Parvan is a student getting work experience in the malware department of GCHQ in the run-up to the British general election when a security breach on her first day thrusts her into the middle of a data war with Russia with worldwide implications. She has a  romance with an American from the NSA brought in to consult with the case, Kathy Freeman (queer actor Maisie Richardson-Sellers), which is a highlight of this surprisingly compelling thriller. Watch The Undeclared War on Peacock.
---
Limited Series Thriller, 2021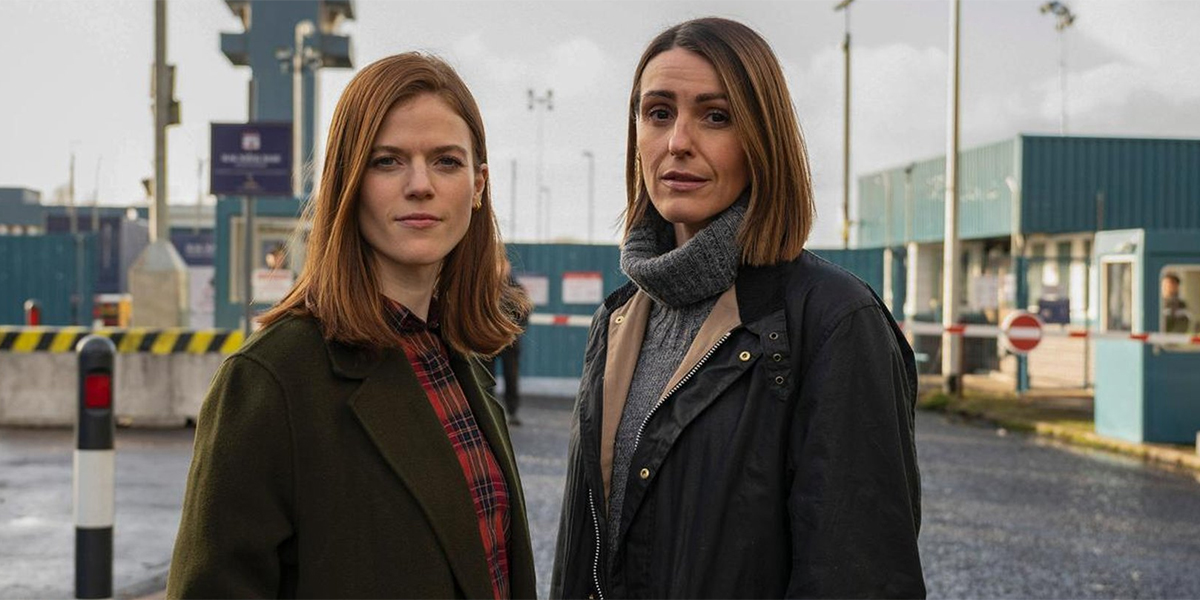 A crew member is found dead on the nuclear submarine HMS Vigil and the Scottish police send Detective Amy Silva (Surrane Jones) onto the ship to blend in with the crew on board and investigate, while her girlfriend Kristen Longacre (Rose Leslie) pursues leads on land. You want to see these two women kiss, right? Of course you do! Stream Vigil on Peacock.
---
Comedy, 2013 – 2021
A comedy packed with talent, set in a New York City police department, following the exploits of Det. Jake Peralta and "his diverse and lovable colleagues." Most relevant to us here, of course, is Stephanie Beatriz as Rosa Diaz, who comes out as bisexual in Season Five. Watch Brooklyn 99 on Peacock
---
Thriller, 2019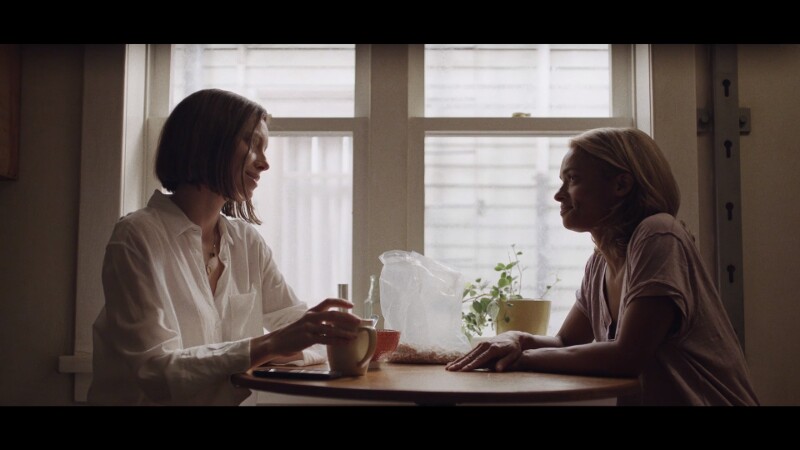 What do you get when you combine Rehka Sharma, Jessica Biel, Sherri Saum, Marlee Matlin and Kandyse McClure with the mysterious disappearance of hundreds of people at a neuroscience research facility in Tennessee, besides a really weird sex dream? LIMETOWN. Biel stars as Lia Haddock, a lesbian journalist and podcast host whose uncle was amongst the 326 who disappeared from a Utopian experiment fifteen years ago. Stream Limetown.
---
Mystery, 2023-
Poker Face, a "delightfully absurdist Murder Show with the best guest stars," is not the queerest show on Peacock, although its protagonist Charlie (Natasha Lyonne) doesn't really seem straight, either. It follows the inverted detective story format popularized by Columbo, but Charlie's not a cop, she's just a person with a supernatural ability to detect liars. Each week is a new case with a new cast, and the guest stars are just delightful (Cherry Jones, Chloe Sevigny, Stephanie Hsu, Clea Duvall, etc). The episode with the most explicitly queer women was a frustrating one, but trust me, you'll love this show! Stream Poker Face.
---
Thriller, 2021
The Girl in the Woods mashes together dystopian YA and supernatural-horror tropes in a story about a small town disrupted by monsters and the powerful teen girl who teams up with a couple weirdos to stop them. There's also a queer love triangle, a queer and messy backstory between our titular girl in the woods and her ex, and grief and trauma and friendship and love, infusing a familiar supernatural story with some freshness. Read more in Kayla Kumari's The Girl In The Woods" Delivers a Complex, Queer Horror Hero and stream The Girl in The Woods.
---
Rutherford Falls
Comedy, 2021 – 2022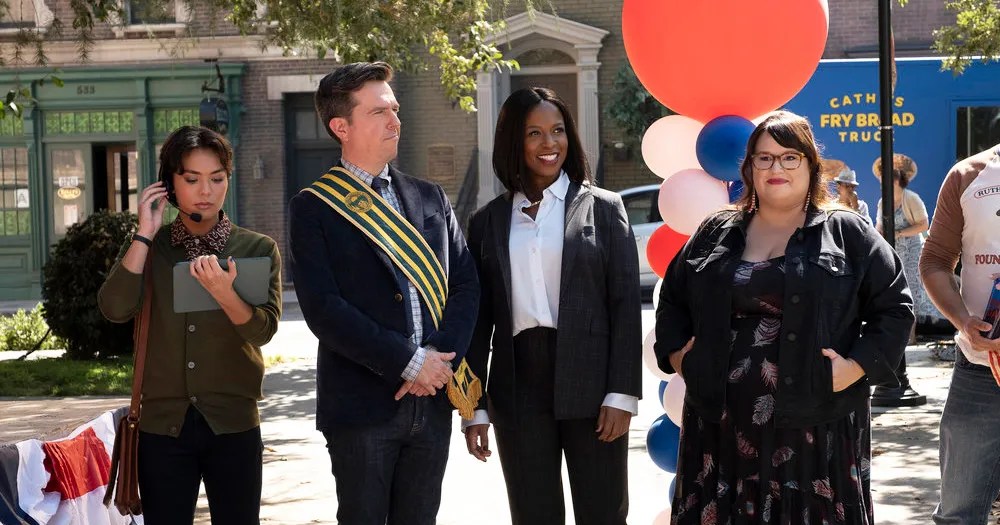 Two lifelong friends, Nathan Rutherford (Ed Helms) and Reagan Wells (Jana Schmieding) find their friendship tested when a conflict begins in their small town over its colonial legacy and the indigenous community native to the area. Non-binary actor Jesse Leigh is non-binary character Bobbie Yang, a high school student and Nathan's personal assistant. Vulture wrote that the show "skillfully braids discussions of serious sociocultural issues with character-based comedy in ways that seem neither forced nor overly didactic." Stream Rutherford Falls on Peacock
---
Intergalactic
Sci-Fi, 2021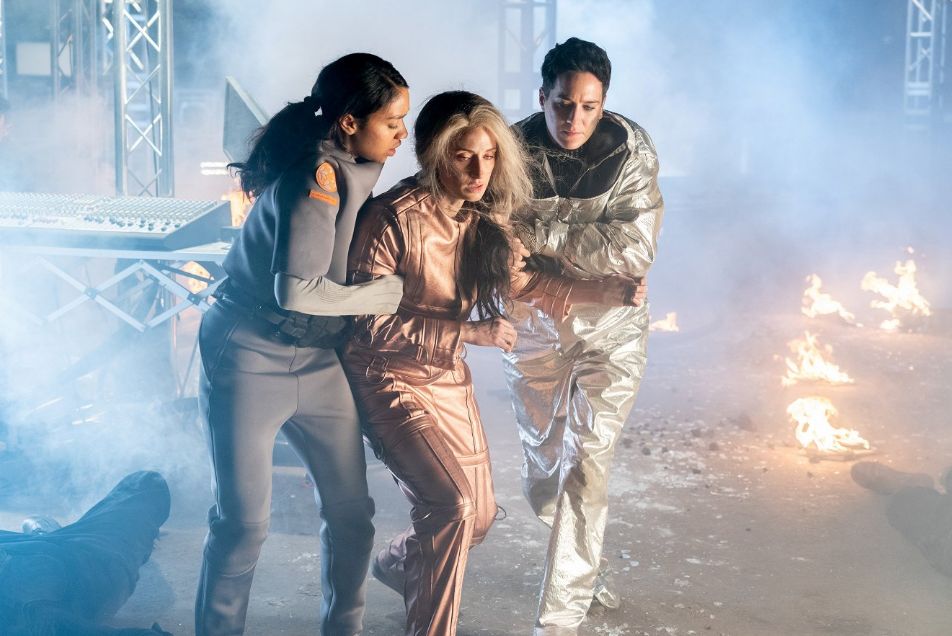 It's 2143. Climate change has destroyed most of the planet and most humans are now living in structured cities controlled by a pseudo-democratic government called the "Commonworld." Harper (Savannah Steyn) is a "sky cop" who ends up onboard a prison ship during a mutiny when she's framed for a crime she didn't commit, and well, things get very wild from there. There's a bit of a slow-burn queer romance involving a butch lesbian lead character, Verona (Imogen Daines) that has its ups and downs! Stream Intergalactic.
---
Chucky
Horror, 2021 –
A 14-year-old gay teenager purchases an iconic Chucky doll at a garage sale only to find the doll is possessed by the soul of a serial killer who is ready to start murdering people in Hackensack, New Jersey. There's lots of queer stuff in here — Tiffany Valentine (Jennifer Tilly) is pansexual and we also get Chucky's nonbinary child Glen/Glenda, played by nonbinary actor Lachlan Watson. Stream Chucky on Peacock.
---
Punky Brewster
Comedy, 2020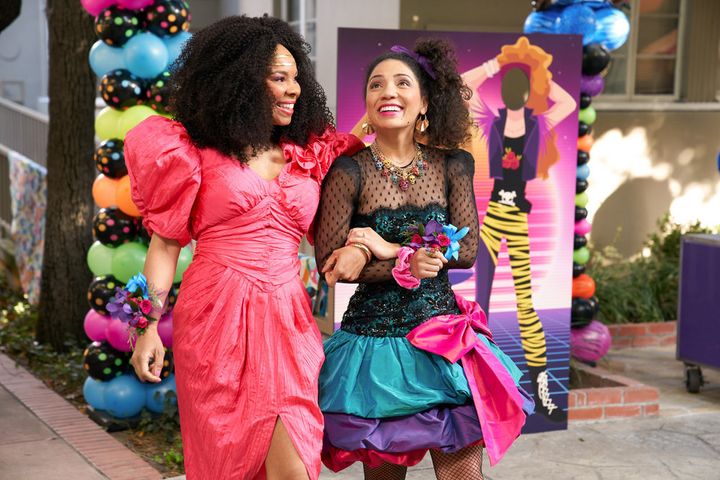 In this reboot, Punky's a freshly divorced photographer with three kids. Her best friend, Cherie, is a social worker who convinces Punky to foster a kid and now they've got four kids and an ex-husband and a dog and most importantly, Cherie is queer now, and her girlfriend is played by our very own deeply deeply beloved queer actress Jasika Nicole. Stream Punky Brewster
---
The Best Man: The Final Chapters
Drama, 2022
The Best Man: The Final Chapters is an eight-episode conclusion to the beloved Black rom-com film series The Best Man, now expanding into its third decade.  In The Final Chapters we get to know LJ (Eric Scott Ways), the eldest child of football superstar Lance Sullivan (Morris Chestnut), now in his late teens. Lance always hoped that LJ would follow in his cleats, but the smart, fashion obsessed teen has other plans. They come out as nonbinary and watching the adults of The Best Man crew adjust is a little paint-by-numbers, but it's also so rare to see a Black family embrace their trans kid on television, which ultimately makes it sweet and worthwhile. — Carmen, Stream The Best Man: The Final Chapters
---
The Traitors
Reality TV Show Competition, 2023-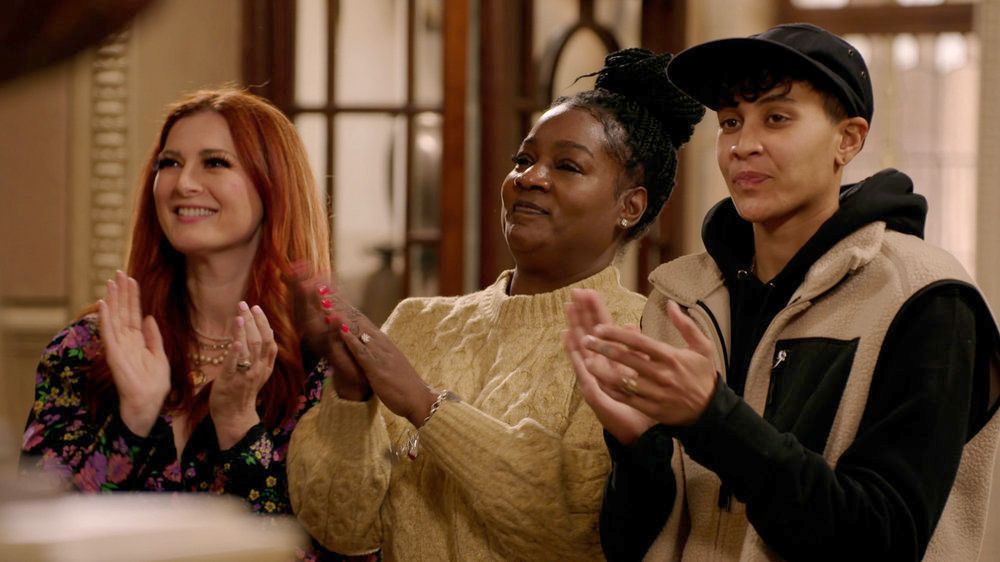 Queer icon Alan Cumming hosts this unscripted competition series described as "a nail-biting psychological adventure in which treachery and deceit are the name of the game" in which 20 contestants compete in a series of challenges to earn a cash prize — but three contestants coined "the traitors" are devising a plan to steal the prize. Amongst these contestants is Andie Thurmond, a non-binary Director of Music Services from Reno, Nevada!