One of the biggest problems with TV and film reboots is they often jam a wrench into Hollywood's already slow trudge toward progress. Sure, sometimes you get lucky with a Charmed or a Party of Five casting characters of color, hiring writers of color, and telling fresh stories — but often it's just the same old white-led shows casting the same old white characters. Worse, it fuels the toxic myth of the "good old days," the lie in which all of the United States' worst propaganda and political policy is rooted.
When NBC announced its Saved by the Bell reboot, I assumed it would fall into the former category, especially because it was heading straight for Peacock, the network's over-the-top streaming service which is aimed at affluent Gen Xers who grew up on the original series. I was shocked — and delighted! — to discover that the new Saved by the Bell exists to both lovingly clown on the original and also skewer so many of the tropes of privilege that define most high school series. It's also queer!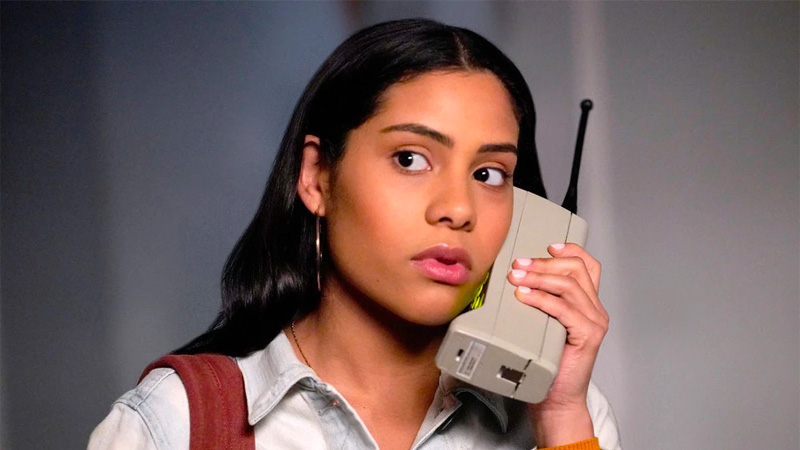 The premise of Peacock's Saved by the Bell goes like this: Zack Morris is the Governor of California, a job he accidentally landed because he was trying to get out of paying a parking fine. He's married to Kelly Kapowski and they have a son named Mack (Mitchell Hoog) who attends Bayside High. Well, Governor Morris slashes the state's public school budget, which causes schools in low-income neighborhoods, like Douglas High, to close down. The Douglas High kids end up get bussed into Bayside, where, by the way, Slater works as a PE teacher and Jessie works as a counselor. Mack is an entitled jackass, and the show doesn't try to paint him as anything other than that. He's also not the main character. The time-stopping, fourth-wall-breaking central figure of the new series is one of the new kids, activist Daisy (Haskiri Velazquez), who sports a phone like Zack's iconic and enormous '90s classic, but as commentary on how there are lots of students without smartphones, who can't access all the resources high-tech schools and libraries offer.
The new class is also made up of former Douglas High students: Aisha (Alycia Pascual-Pena), a standout football player, and super talented musician DeVante (Dexter Darden). And Bayside students: queen bee Lexi (Josie Totah), and Jessica Spano's not-brilliant son Jamie (Belmont Cameli).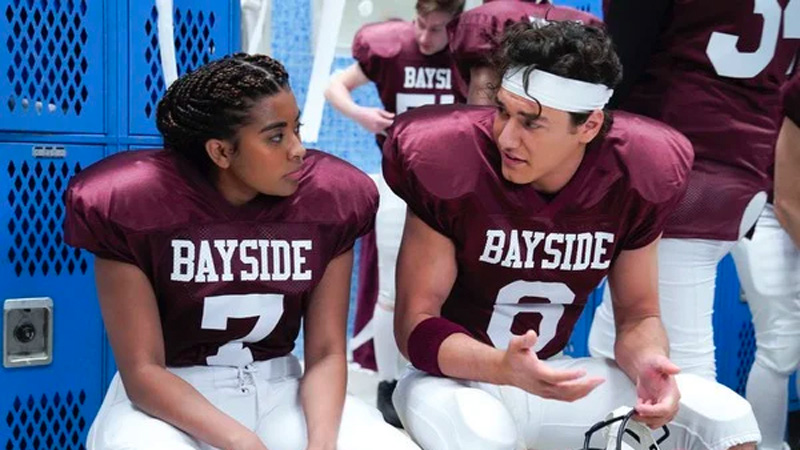 Lexi, like Totah, is trans. She spends some time struggling with self-confidence, but that's true of all teenagers; and, unlike, say, Glee, she's never a lightning rod for anyone's transphobia, nor is she used to teach the audience a lesson. Totah talked to People about it, and my favorite part of the interview is that she said she's channeling her "inner Catherine O'Hara from Schitt's Creek" to play a mean girl. And then there's the fact that childhood best friends Mack, Jamie, and Lexi are all kind of in love with each other? Mack has made Jamie fall in love with him in the past, he says, and tells Lexi that they should be the ones kissing him, and not new girl Aisha. It is a VERY queer dynamic.
Saved by the Bell's reboot works because it's self-aware and because it mocks the lack of self-awareness of the original, but it also works because it's legitimately funny and good-hearted in a time that's rife with cynicism. The tone is pitch-perfect for the moment, and it strikes a solid balance between telling stories about the characters we loved as kids and the new characters new kids will love. And yes, there's more Lisa Turtle.