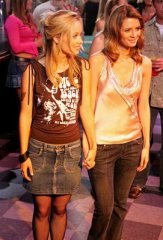 We are often such scavengers when it comes to lesbians on television. We'll forage desperately and hungrily through minutes upon minutes of storylines we don't care about on shows we've never seen before — aliens! Junior high schoolers! Telenovelas! Big Brother 10: Gomorrah! — to reach the two-minute morsel we care about so much more than we probably should:  the holy grail of promised homosexual content.
Is there a bisexual secretary? Turn it up! A lesbian kiss at 35:54? DVR it! Mischa Barton? Has a lesbian sneezed? Did she sneeze on a bisexual? Was it Jessica Capshaw?  Is she pretty, does her Mom know? How many episodes will her story arc last? Will there be tongue? Was this news given an entire post and three gigantic photographs on AfterEllen?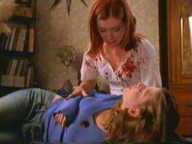 Well, you bet we'll be there, twitter-fingers ready to witness and sound off. However, sometimes we can cheat the system by watching a YouTube lesbian storyline compilation (e.g., Mistresses) but that's getting harder with their copyrighted content crackdown [and just when you think you've found it … it turns out to be a montage of Kim/Sugar screenshots set to a Jason Mraz lullaby]. Let's not forget once upon a time the only way to watch a TV show was on the TV when it actually aired or on DVD several months later.
Which is just to say that more often than not we've had to get our kicks the hard way — by watching the entire freaking show. What pain we must endure for three minutes of pleasure inevitably ending with the sweeps bisexual going back to her ex-boyfriend and the hot lesbian/bisexual guest-star departing blithely into the distance!
So today we'll round up some of the B.S. we've sat through and tell you all about it! I had to recruit some interns to fill in the gaps on this one, and of course Crystal from Australia to give you the scoop on the negligable homosexual conduct down under.

10. Greek, ABC Family, Robin & Rebecca '09
Riese: I actually came up with this Top Ten topic while enduring the ABC Family hour-long collegiate comedy/drama Greek online. Every five minutes of this three-episode arc, the show online is interjected by the same 20-second Sims 3 advertisement, forcing me to not only suffer through some random pledge/brotherhood/hoo-ha PLOT to get to the buried "lesbian storyline" but also through a somewhat misogynistic computer game commercial about twenty times. Luckily I discovered a gay boy in the first episode of this arc and I specifically enjoyed his parts way more than the "lesbian" storyline that wrapped up in about three episodes. The gay guy is the black guy, so just a heads-up for when you're fast-forwarding through freshman rush and bromantic hijinks, stop for that.

9. House, Fox, Thirteen '08
Intern Lola: House always diagnoses the mystery illness of the week the same way: via a series of failed attempts that nearly kill the patient while acting like a jerk to everyone around him. Then there's the smug satisfaction of his eventual diagnosis. There's an approximately 15:1 ratio of wisecracks about bisexuality to actual girl-on-girl action. We witness the simultaneously boring yet exasperating heterosexual romance between the only queer doctor and the doctor you care least about. Also, there's various other boring heterosexual relationships and a slightly gay bro-mance between House and Wilson. It makes The O.C look like The Olivia Wilde Special.

8. Once & Again, ABC, Jessie & Katie '02
Riese: I know better than to fall for this now, but back in '06 my BFF Haviland cndorsed Once & Again 'cause she loved it, which I assumed meant she'd watched the entire show's run and … well … "loved it." Apparently; by "it" she meant "Sela Ward." As an expert on bisexual sweeps storylines, I knew pre-Haviland-endorsement that if I were to watch the entire series, I'd eventually be rewarded with a lesbian storyline starring professional lesbians Evan Rachel Wood & Mischa Barton. So I cued up my Netflix and began to plow through, waiting for: 1) the stuff Haviland liked, 2) The lesbians! I think I gave up mid-Season Two, when I tried to engage Haviland in conversation about the show and was met with a blank stare.
Don't get me wrong — it's a great show. Very well done.  Bbbbbbbut if I wanted to experience an attractive middle-aged couple navigate rocky post-divorce waters in a new relationship while their children come of age and struggle with various high school-aged people dilemmas in the suburbs, I would've paid more attention to my own childhood.
I never even made it to the lesbian part (or the anorexic part, which I was also excited about) and ultimately resorted to scratching my lesbian reveal endurance exercise and just watching the lesbian parts on YouTube. That being said, the lesbian parts were really tastefully done! And coincidentally just got started when the show was unceremoniously axed! Bravo, people-who-made-My-So-Called-Life!

7. One Tree Hill, The WB, Anna & Peyton '05
Intern Katrina: The lesbian episode of One Tree Hill opens with some good old-fashioned heterosexual makin' out between a generic brunette couple while main character Lucas lurks around in the doorway, with an unbearable voice-over reciting a Tennessee Williams quote about loneliness. Meanwhile, Lucas's half-brother Nathan is plagued by the sudden presence of his sister-in-law, who has a penchant for bending over and always finding some excuse to be wet (rain, shower, beach). And if all of this isn't testing your gaytience enough, Peyton, that straight girl that we all fell in love with in high school—I mean, that Anna has feelings for—shares the majority of her scenes with Jake, this guy who mysteriously shows up in her room in the middle of the night to discuss unanswered e-mails.

6. Home and Away, Australia's Seven Network, Charlie & Joey '09
Crystal: I have made up stories about what else happened in Summer Bay – I've used real names of cast members but obvs it's all straight from my imagination. Aside from the lesbian storyline (which I recapped already), um: well, Leah fell in love with Roman, who joined the army and got killed, leaving Leah widowed again.
Irene got sent to rehab after VJ found her stash of hillbilly heroin in his toy chest, Belle joined the Summer Bay convent and Robbo got injured when Xavier discovered lighter fluid and burned down the caravan park. Meanwhile Charlie broke my heart when she had hetero sex with Hugo, Aden and Colleen started the Summer Bay chapter of Fight Club, Alf moves in with Harold Bishop and Ruby found out that Charlie is really her mother. Oh wait, if you believe the forums (and why wouldn't you) then this last one really happens, which means I probably did suffer through at least something irrelevant.

Pages: 1 2See entire article on one page