Today on Autostraddle: The newest girl-on-gallery features hot girls in the Wild West. Also, check out the Top Ten television storylines we've suffered through to get to the lesbian parts with first-hand accounts of TV-endurance trauma from Riese & Crystal as well as Interns Elizabeth, Xandra, Lola, Katrina and Emily. And FYI, the Autostraddle Roundtable which usually drops on Friday will actually drop on Monday.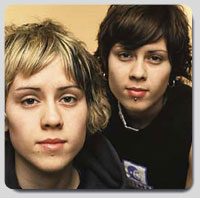 + Tegan Quin has donated an undeveloped disposable camera full of never-before-seen photos that she's taken herself to an auction benefiting  documentary film festival DOXA. Probs Sara is planning to do the same thing for Autostraddle's lesbian lesbian festival. (@ohnotheydidnt)
+ An ode to Roller Disco! (@jezebel)
+NOM finally makes a typo-free ad: "Now if they could only correct their fundamental flaw of requesting a "NO" vote on basic fairness, maybe they correct their reputation as ably as they've altered their typos!" (@good as you)
+Maya Angelou supports marriage equality: "To love someone takes a lot of courage," the 81-year-old said in an interview with the newspaper. "So how much more is one challenged when the love is of the same sex and the laws say, 'I forbid you from loving this person'?" (@the advocate)
+ A Muslim EastEnders character will have a gay romance. Fun fact – a recent survey of 500 British Muslims by research company Gallup showed none were tolerant of homosexuality. So this'll be fun. (@femalefirstuk)
+ Two cute girls can't wait for when the downward spiral towards hellfire begins and we can not only marry someone of the same sex but also have sex with ducks!
+ Knowing someone gay affects individuals' views of LGBT issues: "When controlling for ideology, those who know someone who is gay or lesbian are significantly more supportive of gay marriage than are those of the same political persuasion who do not." (@gallup)
+ Lady GaGa's new video for Paparazzi, which Stef has warned everyone will probs make your head explode and is the best thing she's ever seen.
+ 90's fashion: Blossom v. Clarissa Darling: "Perhaps my annoyance with Blossom comes from the fact that I, at 10, thought Blossom had totally ripped Clarissa's style and tried to pass it off as her own. Now that I am 28, I am pretty sure that's not what happened. (In fact, now that I'm 28, I'm pretty sure both of these ladies owe a great deal of their style to one Penelope "Punky" Brewster, but that's another debate entirely.)" (@jezebel)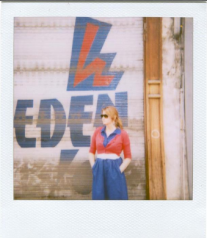 + On Tuesday, in a story about efforts afoot in the Netherlands to re-invent Polaroid film, the New York Times solicited reader polaroids. They got nearly 1,000 submissions, and they're all on display now on the Times' photoblog: Polaroid Gallery. (@nytimes)
+ Adam Lambert will come out on the cover of Rolling Stone. (@the vancouver sun) Riese Rants: Firstly, when does this magazine hit the stands, I must buy five copies and frame them! Secondly, comments regarding this story are makin' me crazy. "I can't believe America is trying so hard to find Adam's orientation. It is NOT RELEVANT to what Adam wants to do," say the fans. I disagree. We live in a heteronormative paprazzi'ed society, and any star who fails to perform gendered behaviors such as dating people of the opposite sex will be asked to explain why not. Therefore in this world; denying gayness is not keeping your private life private. It is, essentially, accepting either 1) straightness (e.g., John Travolta) or 2) an obviously ridculously closeted lifestyle (e.g., Queen Latifah). Lying is bad.
However, Adam hasn't lied, Adam has been open and unashamed, I don't think he needs protection from his fans, he is fine with who he is and comfortable with his sexuality. Why are we so hung up on linguistics? Like people saying Kate Moennig's not out. Yes she is! Once upon a time she talked crazy about boys, but that was centuries ago. What does she need to do, announce it on the cover of Curve or something (I mean obvs Curve'll put any L Word actress on the cover, they'd cream over an actual interview or photoshoot to accompany the alleged coverstory)? Kelly Clarkson, on the other hand, appears to be making all the mistakes Adam isn't making. It's never going to be a non-issue. This "it's not our business" business implies something dirty is being done, something shameful and secretive — and it's not. Being gay is not a dirty secret that needs to be hidden. Adam knows that, he's just clever enough to use this redic system to his advantage and get the RS cover story. Bravo, we love Adam Lambert! Let's all tell the truth. Okay DONE. (@the vancouver sun)
+ TV stars who should be in movies, including Carmen DeLaPica Morales/Sarah Shahi. I might actually go to the movies if her ass was on a very large screen. Maybe. (@cinematical seven)
+ New Hampshire will become the 6th state to legalize same sex marriage! (@queerty)
+ In California at Meet in the Middle For Equality; Michael Ian Black, TR Knight and the girl who played Mel on Queer as Folk, others.

Auto-Straddler of the Day: Disco Straddle