We're all stressed the f*ck out. Maybe it was your normal before the pandemic or maybe it wasn't, but the coronavirus sure isn't helping the situation, especially if you're a person with kids in your self-isolation pod. As I write this, my laptop is balanced on my lap on the couch, Super Why is playing loudly on the TV, and my toddler is flopping around my neck like an enormous housecat shouting, "Catch me!" We're having a slightly more challenging day than usual, on this day 64 of our stay-at-home bonanza. Remi woke up feeling off and I have my period and we're both trying our hardest to be patient and kind.
It's queer parenting during the pandemic and it's a wild ride! If you're a queer parent or guardian or caretaker of children, you probably have a mix of folks who are childfree and folks with kids in your virtual social circles. You may also have straight parents in your network because let's face it, we connect with way more straight people after we have kids (and I have complex feelings about that).
You may be feeling a tad jealous of the childfree folks you know taking long walks, drawing bubble baths for themselves, learning to bake sourdough bread from scratch, taking up cross-stitching, making career moves, or even just having the time to stare at the wall for hours. Too much time? What is that? You may also be feeling a tad jealous of your parent friends with kids who are seemingly killing it at homeschooling, somehow also making sourdough bread from scratch, having spotless houses, and posting pics of their fully-dressed kids doing home science experiments.
Regardless, I hope you know you're doing the very best that you, specifically you, can do, and you're doing great! Here are some tips from my lived experience for fellow queer people with kids in this weird time. If you have your own advice or lessons learned, feel free to add those in the comments, too! This our queer parenting circle, a safe place to share the good and the bad of Covid-19 pandemic parenting.
---
Stop Comparing Yourself to Others.
The first rule of parenting in the pandemic is to stop feeling guilty, jealous, mad, or self-righteous about how other people are making it work right now. There's no point!
Yes, it would be nice to enjoy an hour or two or uninterrupted alone time like your childfree friends. However, many folks are also sheltering in place alone, which I imagine comes with a big dose of missing human connection. You get to wrangle your kids every day and no matter how they're behaving, I'll bet you get at least one hug or "I love you" or meaningful eye contact with them per day.
If you're comparing yourself to other parents posting inspirational pics on Instagram, know that they're most likely also dealing with meltdowns and tears that aren't being snapped for sharing. My Insta is lots of cute pics of social distancing life right now and I very much cried alone in the bathroom last night and was, surprisingly, not inspired to take a picture. Remi cried in that same bathroom this morning and, again, I did not document the moment.
For the few who have enough systemic advantages that they're truly enjoying the parenting during self-isolation or even feel like they're thriving at home, great! You don't need to feel bad if this is you — just pay it forward by supporting folks who aren't having that experience. You also don't need to feel upset if it's not you. It's hard for a lot of us right now, as individuals and as caretakers. Wherever you're at, you're not alone and there's no universal standard to live up to here.
Enjoy the flood of cute kid pics on social media, but don't let yourself get sucked into an anxiety spiral. Most importantly, don't hesitate to ask for help. It's OK to need help!
Feel Your Feelings and Let Your Kids Feel Theirs, Too.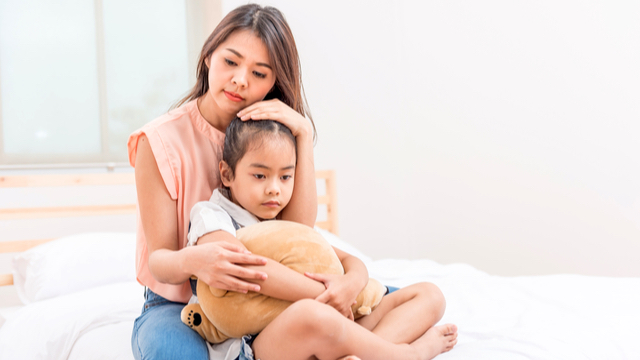 Your kids are aware of what's going on. Even the littlest littles have some sense that things are different and that might make them feel nervous or angry or out of control. Older teens are receiving the same onslaught of headlines and presidential tweets and news coverage that you're navigating (or avoiding). Everyone misses seeing their loved ones IRL. Everyone dislikes being forced to stay home and wear masks and not know when this is going to end. We're all a little (or a lot) afraid.
It's OK to let your kids know that you're worried and anxious, too. You don't always have to put on a brave face. Older kids will appreciate your honesty and ability to be human. Little kids can understand if you tell them you're feeling sad or frustrated (or whatever words you use in your home). Little ones may not remember it for very long or be less demanding of you, but they're capable of empathy. It's healthy for kids of all ages to see trusted adults model talking about their emotions.
Part of being a parent or caretaker is also being reassuring and making space for their feelings, too. Encourage little kids to use their words to tell you how they're feeling. Encourage older ones to check in with you at family meals or social times. Try to be the bigger person if they're a little on edge and pushing the boundaries more than usual. Give extra hugs, if that helps. Give extra space, if that helps.
Just yesterday, Remi and I started the day with a battle of wills that turned into a yelling match. I knew I overstepped when I raised my voice to match hers and she burst into tears. I apologized for yelling at her. She said, "I'm sorry I yell at you, too." We hugged and I apologized again for yelling instead of saying how I felt. Then, she made the choice to listen to me instead of fighting and we proceeded with the day. She's three. I'm thirty-seven. We can both have big feelings and we can both mess up sometimes and we can both choose kindness.
Talk About the Pandemic.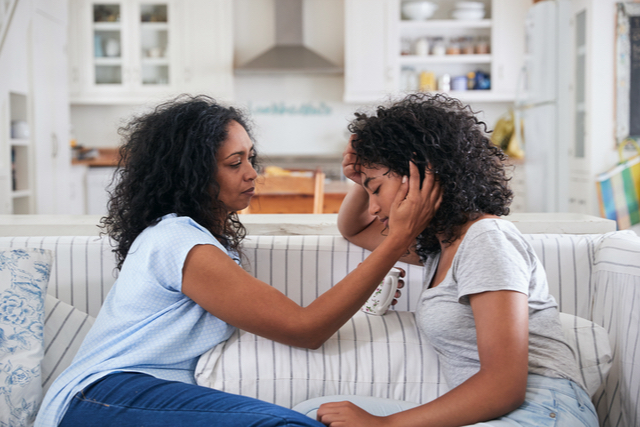 On a related note, talk to your kid about what's happening in the world, even if you think they're too little to understand..
For little kids, talking about it can be as simple as helping them understand that there are germs that are very contagious and make people very sick, so that's why you have to stay in, wear masks, stay home from school, etc. If you're able, engage kids in doing nice things for others like writing notes to essential workers, donating items to folks in need, or sending artwork to family members.
For older teens, check on them. They may not tell you how they're really feeling or if they're scared. Don't assume they're OK just because they're older. They have more complex social networks than younger kids. They're missing their friends and routines, too. If your kid isn't a talker, try to schedule a regular one-on-one activity with them, like cooking dinner or playing a game, to give them opportunities to open up.
Expect that kids of all ages may have questions or fears. The other day I was making breakfast and Remi was sitting at the dining room table with her thinking face on. "What are you thinking about?" I asked her. She told me she was "worried about Daddy." When I pried a little more, she shared that she was worried because she was afraid the germs were going to get Daddy. Waffle is an essential worker who works six days a week at a grocery warehouse. Remi accused him of not staying safe. We talked about how Daddy is taking precautions to be safe and how us staying home is part of keeping us all safe, including Daddy. Then, a few days later, Remi again brought up Waffle's work and said that she didn't want him to die. Ya'll. My heart. It's hard. They understand more than we think, even and especially our smart, sweet little kids.
Let them know it's OK to talk about it. Ask them questions. Listen deeply. Assume they know more than you think they do.
Relax the Rules. Keep the Boundaries.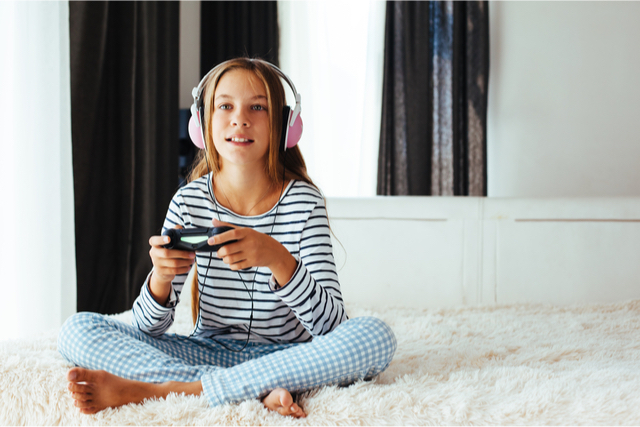 Obviously, most kids are going to have trouble following the rules perfectly right now. They're stressed. Things are different. They're going to try to control what they can. They may test boundaries.
Kids, especially younger kids, also need some semblance of a routine to feel safe. It can be a child-led routine. It can be a slightly fluctuating routine. It definitely shouldn't be very, very, very rigid — unless your kid truly thrives under that kind of strict structure. Most kids need the reassurance of knowing that, like, food is coming at regular intervals and guidance on when to sleep and when and how to transition through their day.
The other beneficial thing a routine can do is give kids something to look forward to, whether that's lunchtime or a Zoom call with their grandparents or going outside, whatever is on your list for the day. You can talk about your routine, write it down and co-create it together, or just keep to roughly the same outline of activities every day. Don't schedule every hour to the minute, but have a general schedule for the morning, afternoon, and evening.
If you're doing school at home, please be generous with yourself and with your kids. It's not going to be the same as going to school. You're (probably) not a teacher. You're both under more stress than usual and living in closer quarters than usual. If coursework, school video meetings, and homework are built into your kid's schedule, make sure you also schedule some relaxation and fun. Help your kid with their work, but also help them unwind and prioritize their mental health.
In general, let kids be kids. More screen time won't hurt them. Playing video games or talking for hours with their friends or having a pajama day won't ruin them. Especially if you're working from home, too. Let them have a little more freedom and a little more fun. Obviously, don't give up all control over everything. But allow a little extra self-care and indulgence for them. They need that right now as much as you do.
Make Working from Home, Work Better.
There are a million articles circulating with tips, so I won't get too into best practice tips here. I recently did an AMA on my Instagram about working from home with kids that you can check out if it interests you. Just know this and repeat it as a mantra: You are doing your best.
It'll be imperfect. If you have younger kids, you've probably already experienced times when you find yourself hiding in the bathroom to make a phone call or muting yourself on a conference call while your darling child has a meltdown or showing up on a video chat with your toddler climbing up into your lap.
No matter what, it will be imbalanced. You won't be able to give your family the attention you want or even need. Guilt will creep in. You'll have days when you feel like a bad parent or a bad worker, or both. You're doing at least two, maybe three jobs. Cut yourself some slack. Cut your kids some slack, too.
Know that you are worth more than your productivity, at work and at home. Know that working is also a parenting decision if you, and I assume you do, need cash to feed and clothe your kid. Know your house will not be clean and your kid will be mad at you sometimes and you'll be overwhelmed sometimes, too. This is all normal. This is all OK. You're getting through it.
Here are my top three tips and you can look up some other practical ones that work for you, too:
Remember the pros of what you're doing for your kids. You're teaching them valuable independence skills by helping them learn to play on their own in a developmentally appropriate way. You're making money that supports the essential needs of your family. You're modeling set boundaries and valuing your time. You get to see them for hours every day and watch them grow more intimately than when they're in school or daycare. You are doing your best.
Take the advice that works for your family and leave the rest. There's so much advice out there. Try some things. Take stock of what works and doesn't. Take your own advice. No one is as much of an expert as you are on what works for you. You are doing your best.
SCREEN TIME IS FINE. Even the American Academy of Pediatrics has relaxed their guidelines on screen time. When I started working from home full-time, I had to let Remi have a ton more screen time, pretty much during the entire work day. I was worried at first but honestly, it's been fine. Great, even! She's super smart. She impresses people with her huge vocabulary and knowledge of literally dozens of undersea creatures and that is very much because of her screen time. So, just know I'm on the extreme end of throwing caution to the wind. If you choose to limit screen time, which is very understandable, don't feel bad if you need to hand your kid a phone or tablet so you can get through a meeting or work task. They're going to be ok. You're not going to ruin their brain. You are doing your best.
Make Time for Self-Care, for You and for Your Kids.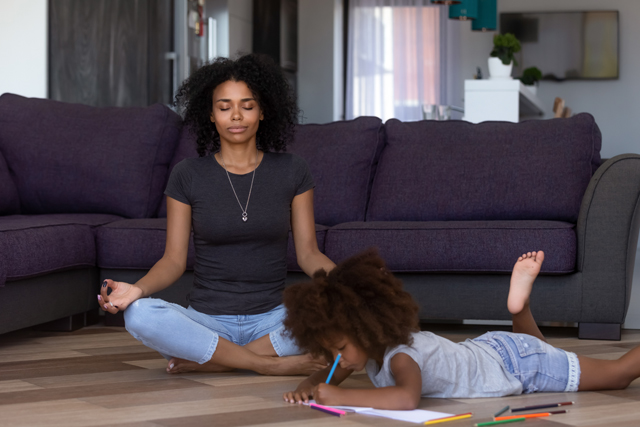 We need to rethink what self-care is and can be. Stop thinking about it as bubble baths and face masks and start thinking about it as investing in the things that help us focus and replenish our souls.
This can be community care like checking in with our loved ones, Zoom social events, volunteering or donating items (safely), anything that fosters connection with other people. It can look like play. Sit down with your kids to draw or paint together, play a board game, do yoga, read books, have a movie night, spend unstructured time doing something that makes you feel a little closer. (Note: This is different than begrudgingly reading Dragons Love Tacos on request for the 17th time in day, which is definitely not self-care.) Self-care can be taking steps to ensure you have your own emotional support system through friends, family, or professionals. Now is a great time to look into online therapy, or try out therapy by text if finding an hour of alone time is outside your reach.
If you're able to get alone time, by all means, take it. Carve it out daily if you can. If you have little kids, nap times are great for either getting focused work done or taking some recharge time. If you have older kids, requesting alone time and closing your bedroom door is perfectly acceptable. Remi doesn't take naps anymore and Waffle is working long days, so I've started getting up very early when Waffle leaves for work at 4:30am. That gives me two hours of uninterrupted time to work or just to drink a large coffee and enjoy the silence. I don't actually succeed in getting up every day. I'm still working on establishing a pattern. On the days I do, I feel way more emotionally prepared to take on the day with Remi than on the days where I awake to Remi scream-running into my room to attack me in bed.
Late nights are also an alone time option if it works for you. I stay up late sometimes to catch an online live event like a drag show or concert or even a queer Zoom nightclub. I don't usually have the energy to look cute, so my video stays off, but I feel better after connecting with queer community in some way, even if I'm lying in bed next to my sleeping spouse with one headphone in.
You're going to be a much better caretaker if you're not a ball of stress and anxiety, so prioritize the things that make you feel connected to yourself.
---
We don't know when this will be over. We do know that it will change the world and how we move in it going forward. Being a person responsible for another person right now is really especially hard. Please, above all else, ask for help if you need it.
How are you coping? What is bringing you joy and what is making your life hard? What tips, advice, or lessons learned do you have to share? Let's keep the conversation going in the comments. And, truly, if you have a toddler and want to have a Zoom playdate, Remi and I are ready!