Whenever I love something, and I mean deeply love it, I have an unspeakable nerdy urge to … tear it apart into bits and learn everything I possibly could on the subject. That's what lead us to our new biweekly series Queer Syllabus, and this week we are diving into histories of queer labor resistance and the Writers and Actors Strike. Join us? 🤝
---
We've now past 110 days of the 2023 Writers Guild of America (WGA) Strike, a milestone that now makes it the third longest running writers' strike in history and has finally brought the Alliance of Motion Picture and Television Producers (AMPTP) back to a negotiating table after months of a near standoff. Meanwhile the Screen Actors Guild and the American Federation of Television and Radio Artists (SGA-AFTRA) has now been on strike for over a month, marking the first time in 63 years that the two guilds have been on strike together.
We've rapidly approached a corner where major studios are cancelling beloved queer shows like A League of Their Own and publicly blaming the strike in the press — despite the fact that there's evidence suggesting the strike had little-to-nothing to do with it. Meanwhile, certain AMPTP members have anonymously said that "the endgame is to allow things to drag on until union members start losing their apartments and losing their houses.wp_postsAnd that cruel goal is proving to be true, we've already seen Emmy-winner Billy Porter have to sell his home due to the work stoppages.
To be clear, everyone at Autostraddle has nothing but gratitude to for the writers and actors who create the stories that we all love. And it is my belief that the quickest way for the strike to end would be for the AMPTP to give a fair deal to SAG and the WGA that reflects the essential, immense, foundational value these union members bring to the work that make billions for the studios.
As Hot Strike Summer (in addition to the writers' and actors' strike, this summer saw educators, hotel staff, and food workers striking in various capacities nationwide, airline pilots and UPS workers both narrowly missed strikes of their own with down-to-the-wire negotiations for better pay and benefits) rapidly turns into Hot Strike Fall (did you hear that the United Auto Workers contract with the Big Three American auto manufacturers will expire soon?) — I've become deeply interested in the trend where the forefront of these labor movements are vocally and visibly, well, gay as hell.
For today's lesson plan, we are going to split the syllabus into three parts: we're going to look at Queerness and the 2023 WGA and SAG-AFTRA Strikes, then we are going to step back, look big picture, and put those strikes into a context of Queer Labor Histories in the United States, and finally we are going to discuss Direct Action to Support Striking WGA/SAG Workers.
---
"You've Already Starved Me Out": Queerness and the 2023 WGA and SAG-AFTRA Strikes
"To hear Bob Iger say that our demands for a living wage are unrealistic? While he makes $78,000 a day?… I don't have any words for it, but: fuck you. That's not useful, so I've kept my mouth shut. I haven't engaged because I'm so enraged… I have to sell my house… Because we're on strike. And I don't know when we're gonna go back. The life of an artist, until you make fuck-you money — which I haven't made yet — is still check-to-check. I was supposed to be in a new movie, and on a new television show starting in September. None of that is happening. So to the person who said 'we're going to starve them out until they have to sell their apartments,' you've already starved me out."
That viral quote comes from Billy Porter to the British newspaper The Evening Standard, and Porter is far from the only LGBT actor or writer who's come forward with words to say during the ongoing strikes.
I haven't acted much as an adult, but I WAS on a recurring character on one of the most critically acclaimed animated shows of all time, as well playing an actual Disney villain.

But thanks to streaming, I have never once made enough to qualify for SAG-AFTRA healthcare.

— Mara Wilson (@MaraWilson) July 13, 2023
Before we dig any further, it's worth remembering exactly why both unions are in the midst of this historic strike to begin with. As I explained earlier this summer when the actors first went on strike: "Both groups want restrictions and protections as it relates AI technology, which can simulate a performer's likeness or writer's style and is setting a stage for unchartered waters in the industry that could be harmful to creatives. Both groups also want a revamped payment structure and business model for their work on streaming networks, which both unions have widely described as currently unfair if not unethical."
These inequities are most acutely felt by writers and actors who are most marginalized, including queer and trans actors. The New Yorker's case study of the perhaps iconically queer show (both in front and behind the cameras) Orange is the New Black best encapsulates this — "Orange Is the New Blackwp_postsSignalled the Rot Inside the Streaming Economy — discussing how talent behind the show makes pennies per episode in residual payment. As writer and actor Jen Richards pointed out last month, the vast majority of both unions are working class gig workers. It's not lost on many folks striking that streaming platforms that have been a foot in the door for many queer, trans, and POC creatives also have some of the least regulated business models. And that's zeroing in on only one issue.
WGA Strike Captain Brittani Nichols gave a longform interview with Out Magazine, Why Queer Fans Should Support the Writer's Strike, on the uniquely queer stakes of these strikes that I sincerely cannot recommend enough:
"I think queer workers, like a lot of marginalized workers, are sometimes told to wait our turn. Workers in this country are constantly facing an existential threat as corporations want to extract as much value for the least amount of money as possible and keep us consumed with figuring out how we're going to pay rent so that we don't have the ability to speak to issues that specifically impact queer people. What queer writers in the guild are saying is that we need to be doing both at the same time. We won't just sit around and hope that eventually our fight will become everyone else's fight, too. We're either all in this together or we aren't. That's what solidarity is."
This predates the strikes by a few years, but in 2019 Autostraddle published a personal essay from a queer person running for office at their regional branch of SAG-AFTRA, and it further echoes many of Nichols' points: "Tired!wp_postsor How I Ran For, and Queered, My Union's Politics by Kylie Sparks (Kylie is also now a strike captain for SAG-AFTRA!)
Them.us put together a list of all the queer projects that have been put on hold by the 2023 strikes thus far. Though — and I cannot emphasize this enough — no one wants to be back at work more than the writers and actors most affected. As with most labor strikes, the onerous here is on the AMPTP to return to good faith negotiations as soon as possible. Joel Kim Booster, the writer and creator of Fire Island, the first Asian-led gay film backed by a major studio in history, said it best to Rolling Stone, "It's frustrating to be in this position in the first place. Obviously, nobody wanted to be striking."
Watch
I found Vox's explainer on the WGA strike to be especially instructive.
And this one is for laughs, but Niecy Nash providing moral support to the writers by doing live karaoke from their picket line is the kind of cross-strike solidarity that we simply love to see!
Listen
Writer and Director Lily Wachowski joined the Deadline podcast Strike Talk for a little imaginative fanfiction about how she'd end solve the strikes if she had the power of the AMPTP.
---
"Race-baiting, Red-baiting, and Queer-Baiting Is Anti-Union": Queer Labor Histories in the United States
As I previously mentioned, the writer and actor strikes are not happening on their own. A returned focus to labor movements and workers' rights has been sweeping across the U.S. in the past few years, and it's looking mighty queer from the bottom-to-the-top (pun not intended).
I was first introduced to this phenomenon in stark terms last month from from The Nation, "Chicago's Labor Movement Is Looking Very Queer These Days,wp_postswhich chronicled the Howard Brown Health Worker Strike, where chants of "queer liberation, not exploitation" could be heard from the picket lines. Obviously, we're also seeing queer strike captains like Brittani Nichols for the WGA or Kylie Sparks for SAG-AFTRA. And in Louisville, KY queer restaurant workers are organizing a first of its kind, city wide, direct-join union.
Those queer organizers of today are standing on the shoulders of a long and storied history. The most-detailed overview of queer labor history that I found as our introduction came from Teen Vogue, How LGBTQ Union Activists Transformed the Labor Movement by Kim Kelly. Autostraddle also has a round-up of first persona accounts and academic texts that serves well as a primer: LGBT Labor History Is All Our History.
Two full length books stood out in my research:
Out in the Union: A Labor History of Queer America by Dr. Miriam Frank. Miriam Frank is as much a part of living queer history as she is a documentarian of it, which is extremely cool. I'll talk more about her in a second, but for now this was my favorite review of Out in the Union. It gets right into all the book's nooks and crannies, including its first person accounts of over 40 years of labor history: "Queer Activism in the Labor Movement" by Dr. Sara Smith for the socialist journal Against the Current.
Love's Next Meeting: The Forgotten History of Homosexuality and the Left in American Culture by Dr. Aaron S. Lecklider. Yes! Magazine published an excerpt of Love's Next Meeting, "On Board with Queer Labor and Racial Solidarity," that you can read for free on their website. The excerpt tells the story of the Marine Cooks and Stewards Association of the Pacific (MCS). By the 1940s the MCS was already known as one of the most progressive unions in the United States, led by values of pro-Black racial solitary and equality for gay workers — and honestly the whole excerpt is a fascinating, satisfying read on its own. Fun fact: this section's title — "Race-baiting, Red-baiting, and Queer-Baiting Is Anti-Union" — comes from the MCS' union banner.
Key People, Organizations, and Moments in U.S. Queer Labor History
This is not a complete history! I am not an expert! But there are some key people, orgs, and events that repeatedly showed up, and I wanted to make sure they get highlighted.
There is of course the Marine Cooks and Stewards Association of the Pacific (MCS) which I just mentioned above, but their work at the intersection of Black and queer organizing in the 1940s cannot be overstated.
Fast forward a few decades, and pretty much everyone who talks about queer labor organizing mentions the infamous Coors Boycott of the 1970s, which brought together the Teamsters, the AFL-CIO, thee Harvey Milk, and gay rights activists to protest Coors beer after the company required workers to take a mandatory polygraph test where they could be asked directly about their sexual orientation. They joined Chicano activists who were already engaging in a similar boycott against Coors over racial discrimination,  creating a coalition across the Midwest, Southwest and West Cost. You can read more from LA Progressive — "The Coors Boycott. Gay Liberation. Betrayal." — as well as the gorgeously illustrated "'Every Can Counts': Boycotting Coors in Colorado, the Castro, and Beyond" for the website Good Beer Hunting (great name, by the way).
You can also listen to a podcast episode of Unsung History about the Coors Boycott:
In 1990, Miriam Frank (I told you we would return to her!) and Desma Holcomb self-published Pride at Work: Organizing for Gay and Lesbian Rights in Unions, a 100-page handbook with advice on organizing for domestic partner benefits and grappling with the AIDS crisis at work. The full booklet is now available online as historical artifact, hosted by LaborNotes in collaboration with Autostraddle! (You can also read a full interview with Frank and Holcomb on Autostraddle.)
Formed in 1994 in response to the AFL-CIO's then-refusal to endorse marriage equality in the 1990s, the organization Pride at Work now serves as a conduit of "mutual support between the organized Labor Movement and the LGBTQ Community to further social and economic justice." You can learn more about their mission and work.
Of course, we cannot talk about queer and feminist labor histories without talking about the great Leslie Feinberg. The late trans activist's thoughts and work around working class solidarity, Marxism, and labor politics have informed generations of queer activists. You can read Feinberg's seminal Stone Butch Blues for free. Also read: Leslie Feinberg's "Lavender and Red" series for Workers World newspaper.
Virtual Exhibits
On of my favorite parts of studying history is that it never happens in a vacuum. Labor and union history overlaps with art, with culture. These exhibits helps make what can otherwise feel like abstract or far away histories into something much more tangible.
Pride at Work: The Movement for Equality. This multimedia history exhibit is hosted by the University of Maryland and includes movement posters, video interviews of organizers, original documents, and photographs from labor protests starting with the 1970s Coors Boycott and continuing through labor actions as late as 2006.
The Work of Love, the Queer of Labor was a 2022 exhibit from Pratt Manhattan Gallery, focused on the art and ephemera of labor movements. The above linked review ("Uncovering the Queer Histories of Workers' Movements") comes from the art magazine Hyperallergic. It includes photography of the exhibit for perusal.
---
Direct Actions to Support the Writers and Actors Strike
OK! So, you've followed along, you've learned some things! But my friend, what is the point of that knowledge if you aren't going to also do something with it? That's what I thought!
Donate to Affected Workers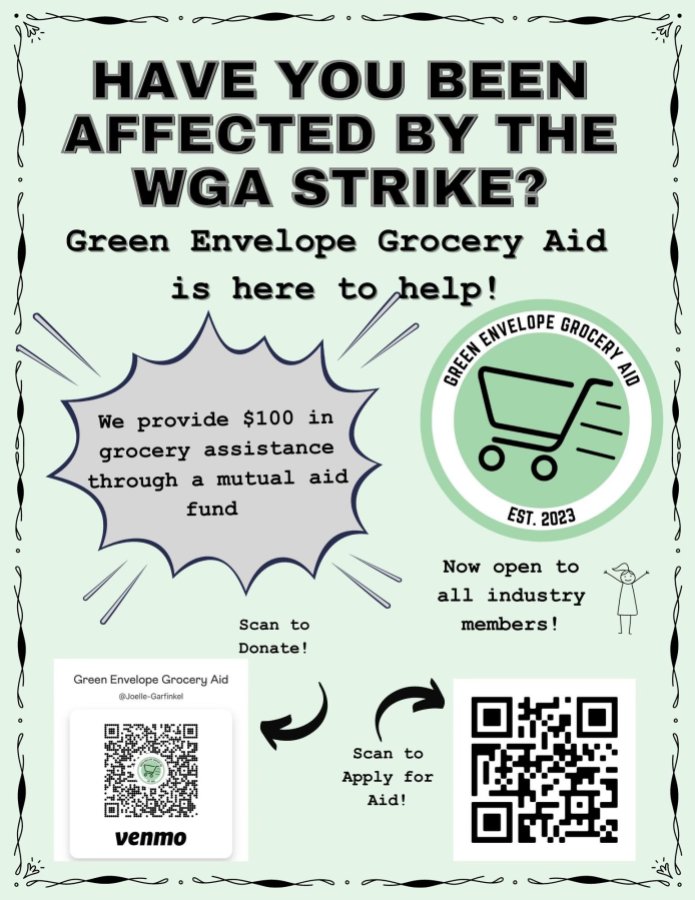 Are you in a New York or LA? You Can Respectfully Join a Picket Line.
Solidarity turnout is essential! Walking a picket line day after day is hard effing work. Showing up to picket lines with some joy and enthusiasm is one way to support folks on strike. Remember though, you are there in support of the strike and should be listening to on location strike captains and other union members in charge. You can also bring along some extra bottles of cold water (it's hot as hell), beverages with electrolytes, and snacks. Here's the WGA picket schedule and the SAG-AFTRA picket schedule. SAG also has FAQ and the WGA has guidelines available.
Share Information!
There is a lot of misinformation about the writers and actors strike, and framing those on strike as being spoiled, selfish, unreasonable, or lazy is a key tactic used to turn public support away from the workers. You can help stop misinformation spread by amplifying messages from union members about the difficult realities of their day-to-day lives. You can also share informational media  that helps bring context to the strike and what workers are up against, like say.. this exact article!
The WGA even has a social media toolkit (including infographics!) for sharing online, and branded merchandise that you can purchase to show support IRL. SAG-AFTRA also has a social media toolkit available.
Last Question! Should You Boycott Streaming Services, Television, or Movies in Solidarity with the WGA and SAG-AFTRA Strikes?
This is important! At this time, neither union has called for boycotting content. Ideally you should wait until we are told by union leadership that a boycott is called for, because a collective action has the greatest impact. And if they decide that a boycott is necessary, you will know! I recommend waiting for their call to action.
That said, if you decide to cancel any of your streaming services, at least be sure that you let your streaming service know in a comment box that you are doing so in solidarity with the strikes. Otherwise it will be seen as a part of normal cancellation cycles and your protest won't have the hard hit that you're hoping for.
---
In conclusion, FAIR CONTRACTS NOW!!!
Class dismissed.