Something weird and wonderful happened to me this week: I was watching season two of Girls5eva, and I started laughing so hard I fell off my couch and rolled around on the floor holding my stomach like I was in Tom & Jerry cartoon for a solid five minutes. I didn't plan to laugh like that. I didn't plan to laugh at all. The world is so on fire right now I don't even know which way to look, and I didn't think anything could distract me from it — but when the Girls have a collective flashback to a concert where they're performing their classic holiday hit, "Oops Christmas is on Jesus' Birthday," and Renée Elise Goldsberry breaks into a solo of "Oh Holy Night" while crushing a Christmas ornament with her bare hand because her gall bladder is rupturing, I could not get it together. And that was only the beginning of my guffawing. Season two of Peacock's aging girl group hit is somehow even sillier than the first one, and gayer too. It also pokes fun at getting older like the Golden Girls writers room got back together and turned out eight scripts while high on Gloria's pain killers.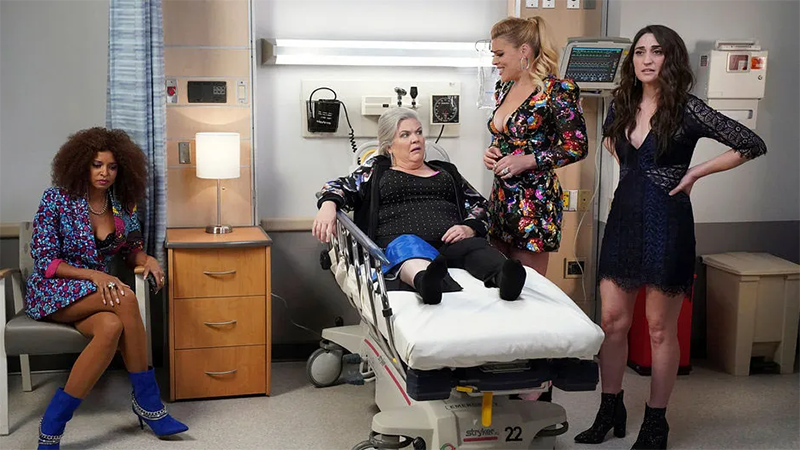 While season one focused on getting the girls back together, season two is all about their deal with Property. As in The Property Brothers. Who own a record label. Because they recorded a smash country album. Yes, Girls5eva still exists inside that surreal, fun house version of pop culture reality, like all the best running gags on 30 Rock.
Gloria's storyline is especially gratifying this season. An ER doctor advises a knee replacement — "You can get a second opinion, but it will signal to me that you don't trust a female doctor" — which will take 12 weeks of recovery and rehab, something the Girls don't have if they want to capitalize on their success from The Jingle Ball and run with the momentum Lil Stinker gave them. She opts for the treatment they give "half-dead NFL players" (cortisone and pain killers) and ends up high and doing a Liam Gallagher impression on a promo podcast. She also decides she's going to win back her wife, Caroline (played by her real-life wife Janine Brito). It's a long shot; they were the first gay couple in the state of New York to get divorced, after all. But Gloria knows what she wants! Season two also pairs Gloria with Wickie most of all, which was an absolute delight for me. Renée Elise Goldsberry deserves an Emmy for her work on this show and season two made me believe it even more.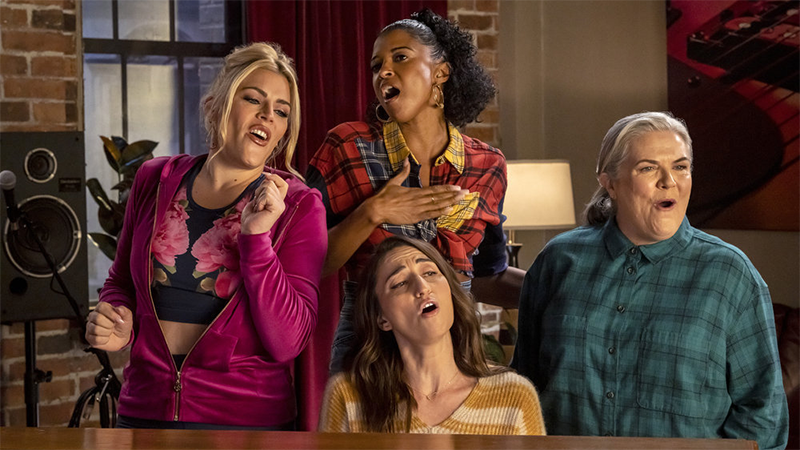 Not all of Girls5eva's jokes work. Like everything Tina Fey does these days, there's a real out-of-touch vibe about things like "cancel culture" and wearing "I dissent" RBG enamel pins as the ultimate sign of Being a Feminist. Luckily every episode is so thick with genuinely hilarious moments, it's easy to just roll your eyes at the SNL-ness of the ones that don't land. And, somehow, the songs are even catchier and stupider this season? I mean both of those things in a good way!
The hilarity and absurdity, the smash-cut pacing, the fact that season two is giving every Girl a solo real-life storyline to pair with their group career storyline — it makes the whole season whiz by. I finished it all in almost one sitting, and am now twiddling my thumbs, humming "4 Stars," and waiting for season three.