Is Girls5Eva gay? Yup! Mild spoilers in the review below!
---
What's the most Tina Fey possible joke about why Girls5Eva, the all-girl group at the center of Peacock's new musical comedy, fell out of public favor? Because the single for their new album, "Quit Flying Planes in My Heart," was released on September 10, 2001, obviously. Girls 5Eva was an early aughts Spice Girls who had one hit, "Famous 5Eva" — gonna be famous 5eva / cause 4ever's too short — before their unceremonious fall from grace. In 2021, however, a hip-hop artist samples their song on a new track and suddenly they're back in the spotlight, with dreams of becoming hit-makers again. Though, as guest star Stephen Colbert notes, "It has been an entire Zendaya since you recorded music!"
Before we get to their journey, we've got to find out where they've been. There's Dawn, played by Sara Bareilles, who currently works at her brother's restaurant (get it? Waitress); Wickie, played with astonishing hilarity by Hamilton's Renée Elise Goldsberry, the seemingly most successful member of the group who is actually broke (despite starring in The Mask-ical: The Musical on Broadway, "a pastiche of the Jim Carrey oeuvre!"); Busy Philipps' Summer, who has tried and failed to be a Real Housewife eight times; and former SNL writer Paula Pell as Gloria, the group's resident lesbian who is now a dentist. Yes, a real live lesbian played by a real life lesbian on a Tina Fey series. Finally!
And actually Girls5Eva's lesbianism is a real surprise. Fey's series and sketch writing have been all over the place with gay women over the years, even acknowledging repeatedly how much of a misanthropic lesbian Liz Lemon was without ever paying that off, but Gloria is a fully realized lesbian character who gets a love story with Pell's IRL wife, Janine Brito, after famously becoming the first gay couple in the state of New York to get divorced; plenty of great jokes; a chance to play at the Y2Gay Pride event; and a storyline wondering why Wickie is the gay icon instead of her, even though she can be open about being gay now. It's a lot easier to feel like you're in on the joke when you're actually represented on-screen.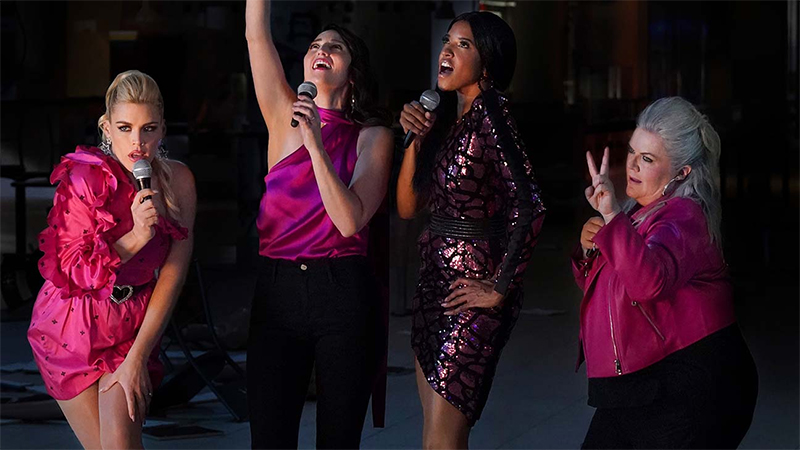 If this whole gag sounds like it would be right at home on 30 Rock or Unbreakable Kimmy Schmidt, that's because, in addition to Fey, series creator Meredith Scardino is a Kimmy alum, and Fey's longtime collaborators Robert Carlock and Jeff Richmond are also along for the ride. But it's not just the irreverence that reveals the series' DNA: there's endless smash cuts, mile-a-minute jokes, scathing cultural critiques (especially about Hollywood), and endless jackassery (and I mean that in a good way).
I've gotta circle back to Goldsberry here because she does play the most 30 Rock of all these characters, the Jenna Maroney of them all, which should make it the hardest sell of the show, but Goldsberry leans in so hard, and in such diametric opposition to the gravity of the roles we've seen her in before, that she is completely astounding. It has been well over a year since I've laughed as hard at anything as I did at her hijinks. And, of course, she gets to sing! Because this is a musical comedy! And while the music isn't as memorable as Tituss Burgess' "Peeno Noir" or the 30 Rock finale's "Rural Juror," there's still some good tunes. "The Strand is his Disneyland" from "New York Lonely Boy" is a particular favorite, largely because I don't think anyone knows it's a Gossip Girl joke.
The best part of Girls5Eva is I know when I watch it again, there will be jokes I missed. It's that fast and clever. And I will watch it again. It's only eight episodes, and they are jam-packed with joy and absurdity.