Time for a brand new season of Glee: The 1-D Television Show! What will happen this year to our hapless heroes and heroines? Will we dive into Brittana's dykey depths, investigate Quinn's complicated psychological baggage or sexify the sanguine sniper sleeping in Rachel Berry's soul? Will we meet Rachel Berry's parents?!!
Nah. Why waste all those trees when we can just recycle the same plot we've already done 44 times!!
You know the one: Glee needs more members because this/that person was eaten by a shark. Mean kids kick Glee kids in the face, someone gets kicked out of Glee, someone quits Glee and Sue Sylvester tries to destroy Will for let's be real, really vague reasons we only accept  at face value 'cause we like Jane Lynch's face.
How about THAT? YES? YES! WE GOT THE BEAT, GAYWADS, WELCOME TO SEASON THREE OF THE GOOD SHIP GLEE!!!


So, we open nostril-to-nostril with Jacob Ben-Israel's Chia-Topped Melon Head, here to interview the Glee folks about their perilous futures, a.k.a recap everything AfterEllen wrote about Glee this past summer.
So, Finn, Mike Chang, Kurt, Rachel and Santana are seniors. Artie and Tina are juniors.
Brittany? Brittany is timeless.
Mercedes and Sam's summer lovin' is history, as is his Trouty Mouth and the body that came with it. Now she's dating a football player who could probably bench-press Chord Overstreet. Because this show is so Diverse and Ground-Breaking, the future plan for these two is to become a famous singer and a famous athlete, respectively, and then make "cocoa babies." At first I thought they meant legit babies made out of cocoa, which would be sweet (!) and then I realized they meant cocoa the color and then I didn't know what to think about anything anymore.
Santana, looking boss as ever in her shiny ponytail and throwback Cheerios get-up, tells Jacob Ben-Phen that she's aiming to be the best "ho" on the Cheerios and emulate her #1 Latina Idol, Paula Abdul.
It'll be a spinoff called Hey Santana.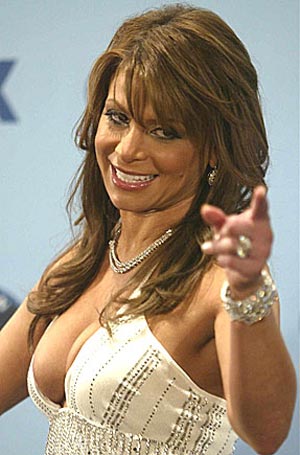 Kurt's doing an imitation of me on the 2009 hit show "Alexi's Closet Goes to the NewNowNext Awards" (skip to 9:50, she saved the best for last) as he and Rachel explicitly explain their mutual future in New York City. Due to the shininess of their stars at McKinley, they'd like to be one of the 12 boys and 12 girls who get into Julliard each year.
By the way this is so, you know… THIS:
When spotlight-jostling to share their BIG plans, Kurt name-drops New York Gay Marriage:
The lemurs running circles in Finn's brain come up empty, so Finn admits in a voiceover that he's not sure what he's doing, and I admit in a voice heard over the program that I don't give a fuck.
Wanna know where Rachel keeps all her plans and secrets? Okay, I'll tell you:

Put down your oatmeal, 'cause shit is about to get raunchy:
JK, I don't have time to recap the adult parts AND the heterosexual parts AND the gay parts. On to the clothed children!

Glee Club meets up to stare at their trophies and discuss how Finn and Rachel ruined their chances at Winning Nationals by playing tonsil hockey onstage.
Glee's first meet-up engenders additional exposition: Zieses, because let's be real she is too fierce for Glee, has hit the road leaving her mohawked manchild behind to cover all the solos she never sang.
Puck: "She's the one that got away. Really, really slowly."
Jesus Christ. Anyhow, Quinn's also gone missing because Finchel is insufferable and everybody knows it, except Artie who randomly says he misses her — is it just me or does Kevin McHale saying his lines like he's amused by how random and stupid his lines are this episode?
The turnover rate at Glee is worse than a meatpacking factory — they've yet to recruit and maintain a single new member since Season One.
Rather than develop character or plots about personal relationships, Glee dives right back into the "how do we get more kids to join Glee?" plot" I HAVE AN IDEA!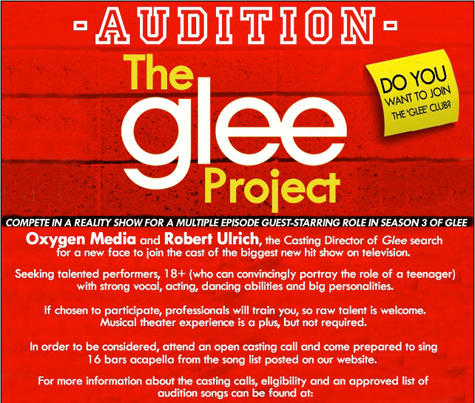 Will's got a better idea: let's put refurbished purple pianos all around the school and, just when everyone least expects it, start randomly signing in the hallway. Yup. Or we could save some time and have Santana wax the pianos with Big Gulp while wearing an Autostraddle This t-shirt and men's underpants.
Will: "These pianos were repossessed from foreclosed homes. They're just like us — used, in need of repairs –"
Tina: "But still capable of making beautiful music!"
After a summer away from saltwater taffy schemes and Holly Holiday, the kids are sort of mega-cute about being into Mr.Shoe's dumbshit idea, which he absolutely came up with while on novocain.

Kurt & Rachel are A-dork-a-ble this week with their plaid and their big big Broadway dreams. I don't know when they stopped being bitter diva-enemies and became best friends, but I like it.
Emma lets Kurt & Rachel in on the secret that Julliard, known for its geniusy genius geniuses, King Lears, severely-haired wire-thin ballerinas and alarmingly studious flautists, has no room for the noisome calamity that is Musical Theater People. Emma suggests Kent State, home of the Kent State Massacre, when our government shot student protesters for being against Vietnam! Weird, right?
Also, this:
Ultimately, instead of suggesting NYU or the nearby U of M or CCM, Emma tells them about some kind of "mixer" going down for prospective students at the New York Master Institute Supreme Academy of Drama and Theater Arts Classworld or something.

Sue is getting into some crazy ass shit:

So Kurt and Blaine are being ultra-cute at The Lima Bean, probably after sharing an ice cream sundae at The Cracker Barrel, but Kurt's being weird and quiet. Blaine, because he's perceptive/perfect, inquires:
Blaine: "You're awfully quiet."
Kurt: "No, I'm being passive-aggressive."
Kurt can't help but notice what Blaine is wearing. Why's Blaine wearing that blazer when he could have slapped a yard of Roseanne Connor's flannel nightie in the middle of a white suit shirt and called it an outfit, like Kurt did?
Because Blaine still goes to Warblerville High for Wayward Boys! That's why!
Kurt: "One final sales pitch and then we can talk about making over Nancy Grace."
Blaine teases that Kurt's gunning for a transfer 'cause he's scared of Blaine beating him, and Kurt is like no no no it's because I'm sixteen and still idealistic about love and relationships to the extent that I am orchestrating excessive together time without any fear of what that will do for our actual tolerance of one another as people. It's this adorable little showchoir gayboy banter that's everything you ever wanted it to be and more.
Just wait 'til Blaine sees the purple pianos, then he'll def transfer.


Quinn's always secretly been a badass. She was a total cunt to everyone for most of Season One, got knocked up sophomore year of high school by a 25-year-old named after a wood nymph passing as a high school junior/senior and now — now.  Now!
WHO'S AT THE DOOR?
It's NEW QUINN! Quinn's pulled an Ash-in-Degrassi and dealt with heartache by going timeless 90s gothpunk, and good lord does she deserve it.
At first I thought this was definitely Strawberry Shortcake inspired, with a side of Molly Ringwald's punky friend in Pretty in Pink.
Natalie Portman in Closer is too dark, Leisha Hailey in All Over Me is too obvs, that manic pixie dreamgirl from Scott Pilgrim is too shiny…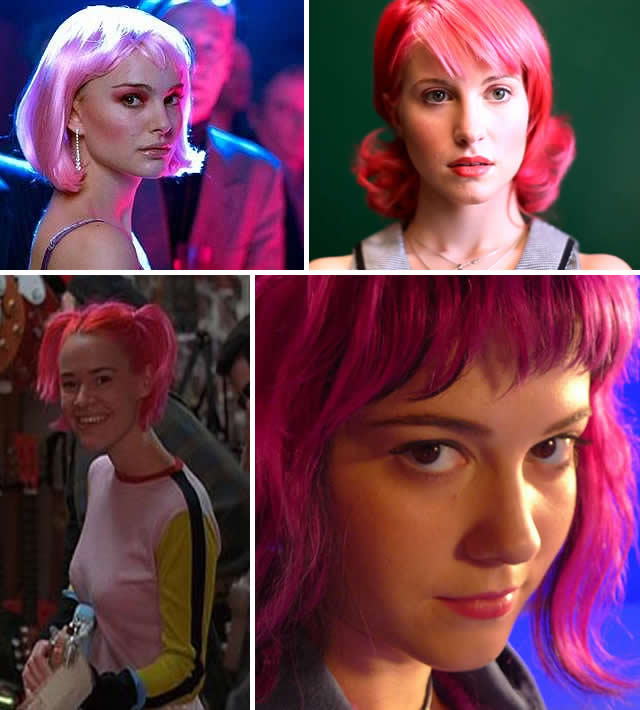 Then, like a bomb blowing up your station wagon, the answer occurred to me: this is one part Samantha Mathis's character in Pump up the Volume, one part Gwen Stefani, two parts Smoky Quinn Voice. That's what this is.
Quinn: "I'm not sure what the tipping point was — dying my hair, the nose rings, my ironic tattoo of Ryan Seacrest — but one thing I know, I'm never going back."
These are Quinn's new friends. They can suck the chrome off a cadillac, wear chains unironically, and totally shoplifted that lipgloss.
It makes sense, though, perfect sense — Finn broke her heart, almost, but she never really loved Finn for Finn anyhow, she loved what he represented. She loved the promise of status and a certain lifestyle and when she lost her lifeline to that side of the tracks, the only thing a person can do at that point is convince oneself that you never wanted that at all. In fact, you want the opposite of that — the opposite of nice, and safe, and clean and Finn. You want to smoke cigarettes underneath the fucking bleachers and when Rachel Berry shows up to beg you back to Glee, you do not consent.
Santana rallies her empathy and puts on her nice-girl pants to beg Quinn to return to Cheerios —
— but ultimately to no avail.
Rachel Berry flops with her enormously earnest and possibly genuine (but c'mon, there's smugness underneath, it's Rachel Fucking Berry) plea for Quinn to return to Glee.
Can't these motherfuckers see that Quinn is busy. She has drugs to do.
Honestly I think Quinn is full-force HOT with that hair and those piercings and that drapey dark shirt thing with no bra and chains on her wrist. It's all the power and beauty of popularity smashed into the glory and horror of rebellion — who does she think she is, Angelina Jolie in the 90's? Yes. Quite Possibly YES. (I mean, no, nobody is, but you know what I mean) I like her now. I've crossed over. For today.

Pages: 1 2See entire article on one page