Well it's time for a new season of all of your favorite sitcoms! As much as I love a show with a good lesbian character (does that exist?) I'm such a sucker for a half-hour of stereotypical goofiness. So, following a new episode, Brittani and I (Lizz) will briefly recap some of the best TV sitcoms. Our aim is to give you (yes, YOU) a place to talk about how funny/awesome/terrible/offensive/enlightening this week's episodes were. Also, fyi, motherfucking spoiler alerts.
+
Modern Family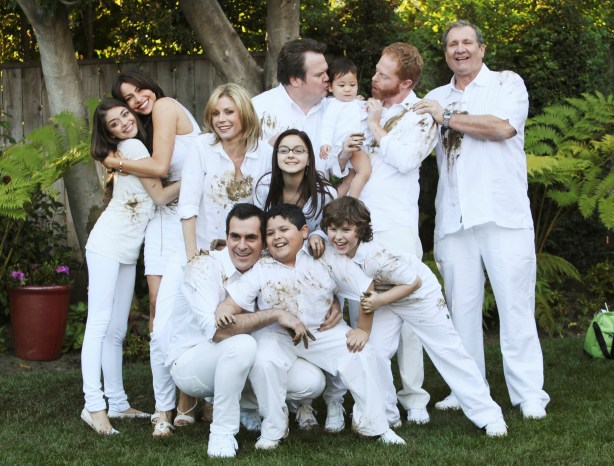 Modern Family, aka the winner of every Emmy ever, had one of those newfangled one hour season premiers this past Wednesday. I was nervous because I thought it was going to be an actual hour long episode and it was going to suck like that time The Officewent to an hour format. Actually it was just two episodes. Phew. The most important thing to know about the new season of Modern Family is that Lilly is three now and has gotten so cute it's unbelievable. The second most important thing to know is that Modern Family just as funny as ever. Maybe even funnier.
301: Dude Ranch
The first episode took the whole family to a ranch in Wyoming where everyone found themselves or something. On the Dunphy side of things, Claire still hates Dylan who proposed to Haley and then got hired as a ranch hand. Also some dumb boy kissed Alex. I'm not just saying that 'cause he's a boy. He really was dumb. Mitchell and Cam discussed adopting a boy, but Mitchell was scared he couldn't raise a boy since he's not great at doing "boy things." You know, like fighting, sports, blowing things up and being a generally aggressive stereotype. It's okay– Mitchell blew up something and got over it.
Quote of the Episode:
Mitchell: "Okay so we haven't told the family yet but we've decided to adopt a baby boy."
Cameron: "From America this time! You might say we're buying domestic."
Mitchell: "In private. You might say that in private."
+
302: When Good Kids go Bad
The second episode for the night didn't disappoint either as Mitchell and Cam prepared to tell their family about their adoption plans. Along the way it becomes apparent that Lilly has a little codependency/sharing issue. Meanwhile, the Dunphys tease Claire for always needing to be right and Manny gets busted for stealing some hottie's locket.
Quote of the Episode:
Luke: "Do you guys have any old furniture? I'm moving in to the attic."
Mitchell: "The attic?!"
Luke: "Hey at least it's big, Grandpa said you used to live in a closet."
+
+
Up All Night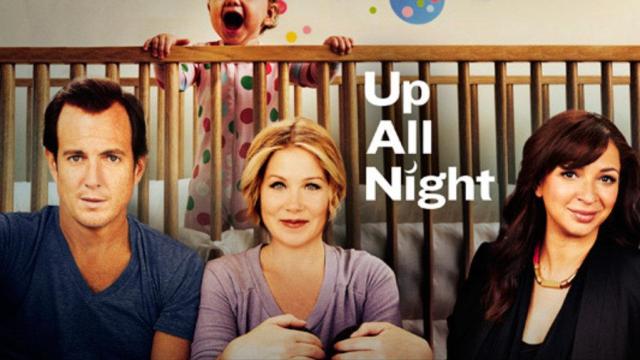 If you read our Fall TV Preview you get the deal about Up All Night: new parents have an actual real life baby to take care of. Up All Night should almost definitely be funny. Will Arnett and Maya Rudolph are wicked wicked funny and Christina Applegate is maybe funny and certainly hot. Plus, between 30 Rock and SNL Lorne Michaels has got some serious producifying under his belt. So it should be funny, right? Right? Right? Oh god, it's so not. Arnett's at his best, goofy, awkward and (for once) not too over the top. Unfortunately the writing for Applegate (the new mom/TV producer) and Ruldoph (an Oprah-esque talk show host) is kind of sort of just a little bit god awful. Up All Night didn't do a one hour season premiere, I just sort of forgot to watch the premiere last week. Oh, did I mention Nick Cannon is in this show? That's right. Nick Cannon.
101: Pilot
Okay so I have to cut them some slack because the pilot is never as good as the rest of the show. Even How I Met Your Mother had a so-so pilot but then went on to be the best ever. The show starts with Reagan (Applegate) and Chris (Arnett) discovering they're having The Baby. Oh shiiiittt this was not their plan. They still like drinking and stuff! Unfortunately there are no abortions in TV land so we flash forward, like, I dunno a year or something to Reagan's return to work as Ava's (Rudolph) producer. Because being a working mom is actually, technically, really hard, Regan struggles with not seeing her baby and stuff. Chris on the other hand is dealing with being a stay at home dad because men like playing video games and not raising babies. In the end they get hammered and hungover.
Chris: "I don't know why, I can't find cheese! I've just been walking around in circles. All I could find was that… fancy cheese over by the salad bar."
101: Cool Neighbors
Some really hot neighbors move in across the street from Chris and Reagan but they are soooo cool that the two crazy kids can't seem to act like normal people around them. The girl-neighbor is wicked hot with great potentially lesbian hair. Ava holds the baby and it cries, but when Nick Cannon (who I wish was just playing himself) holds the baby it doesn't cry! Crazy! Actually, no lie, Nick Cannon might be my favorite part of this show so far. Quote of the Episode: [Chris comes back from dropping off a bottle of tequila for the new neighbors]
Chris: "She caught me off gaurd– I wasn't ready–"
Reagan: "What did you say…?"
Chris: "I said…ta-quee-lah."
So there you have it– looks like Wednesday has the best comedy of the season and the worst. Ouch. At least next week we get to add Happy Endings! See you later this week for the Thursday night shows and Monday when you'll learn all about our new caption contest!