It's fall and you know what that means! Weeks upon weeks of America's Got Talent, Criminal Minds re-runs, Storage Wars and Hoarding: Buried Alive have come to an end. In their place we'll all be watching a bountiful roster of returning programs we love: Modern Family, The Office, Pretty Little Liars, Glee, How I Met Your Mother, Extreme Couponing and so forth.
BUT! In addition to our old favorites, the world is gifting us a massive truckload of brand-spanking-new shows! According to an issue of Glamour I read in a waiting room yesterday, the majority of this year's new programming is female-centric. This is fantastic, because as the lesbian theme of this website implies, we hate men. That being said, it seems like a majority of this year's programming is relying on gender tropes and "men are from mars/women are from venus" cliches to delight and enliven their audience, which I feel negatively about, though I imagine less psychologically burdened people may not feel the same.
So I've chosen a few shows that I think you probably are considering watching — but first, let's answer that question heavy on everybody's mind:
Where Are The Queer Girls?
+
Santana (L) and Brittany (B), Glee
Fox, Sep. 20, 8 pm
+
Kalinda Sharma (B), The Good Wife
CBS, Sep.25, 9 pm
+
Alice (L), The Playboy Club
NBC, Sep.19, 10 pm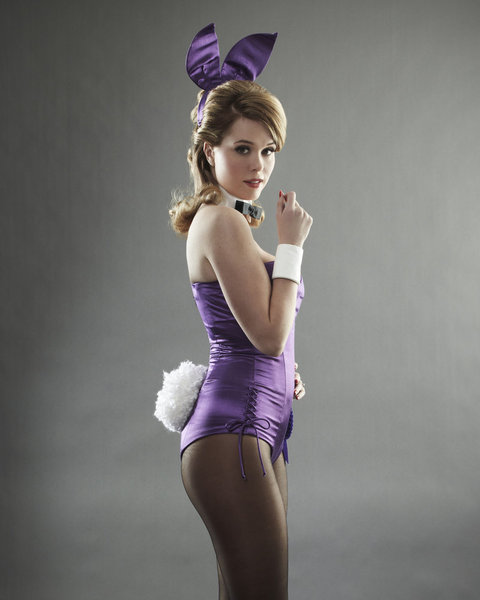 +
Callie (B) and Arizona (L), Grey's Anatomy
ABC, September 22, 9 pm
+
Kayla (L), America's Next Top Model: All-Stars
The CW, Sep 14, 9 pm
+
Emily (L) and Maya (L), Pretty Little Liars
ABC Family, Oct. 12th, 9pm

New Fall Shows Relevant To Your Interests
+
The Secret Circle
Thu. Sep 15, 9 p.m. EST (CW)
The Secret Circle is yet another supernatural thriller about teenagers, my favorite! This time, the topic is Witches. 16-year-old Cassie (Britt Robertson) becomes an orphan when her Mom dies in a fire, and promptly moves to her dead mother's hometown. It is here that she is informed that she's a witch. There are lots of witches, bitches. You should watch this extended trailer (embedding disabled). Oh and — Brian Kinney stars as an evil parent!

Verdict:

Wed. Sept 14, 10 p.m. EST (NBC)
Here's why you're gonna be into this:
+ Gob
+ Maya Rudolph
Christina Applegate is pretty easy on the eyes as well, although she's always Kelly Bundy to me:
So basically Christina Applegate's character Reagan Brinkley has a good career and is the "life of the party." Also, she has a baby! A REAL LIVE BABY PERSON! Luckily, she's got a stay-at-home-husband, played by Gob. If only Gob could find the cheese in the store! What a goof! What will happen as the duo face the challenges of BABY-REARING? Will Reagan have to "compromise her career or cool reputation to the cliches of motherhood?" I'm on the edge of my seat waiting to find out!

Verdict:

Mon. Sept 19, 9:30 p.m. EST (CBS)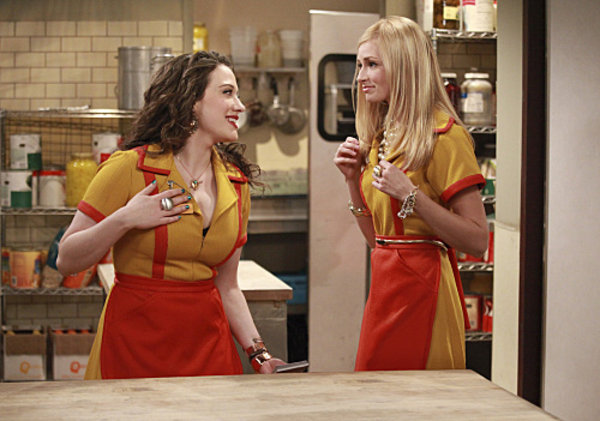 "Sassy, streetwise Max Black works two jobs just to get by, one of which is waiting tables during the night shift at the retro-hip Williamsburg Diner. Sophisticated Caroline Channing is an uptown trust fund princess who's having a run of bad luck that forces her to reluctantly give waitressing a shot. At first, Max sees Caroline as yet another in a long line of inept servers she must cover for, but she's surprised to find that Caroline has as much substance as she does style."
From this four-minute preview and the fact that the title uses the numeral "2" instead of the word "two," I already totally hate this show which is allegedly about waitresses who live in Williamsmburg, Brooklyn. As a former waitress who lived in Williamsburg, Brooklyn, I feel viewing this show would be redundant. Furthermore, it's possibly racist.
Other characters include "Oleg, an overly flirtatious Russian cook," "Earl, a 75-year-old kool-kat cashier," "Han Lee, the new, eager-to-please owner of the diner" and "Abdul Mohammed, the uptight manager of the 7-11 next door." Just kidding about that last one, I made it up. I was just running with the theme.
Verdict:

Next: The Playboy Club, Unforgettable, H8R and MORE!
Pages: 1 2 3See entire article on one page