American Apparel and Dov Charney do not have a  stellar track record in general when it comes to ethical behavior as a corporation.  Dov Charney's record of sexual harassment and the company's unconscionable behavior towards their employees in terms of gender, race, lookism and general is pretty well documented, and can be caught up on pretty quickly by searching "american apparel" on Jezebel. One of American Apparel's more distasteful policies, though, is their long-held refusal to market to fat people or make plus-size products. Their reasoning? Plus-sized women "aren't their demographic." Charming, right? Then, they announced this: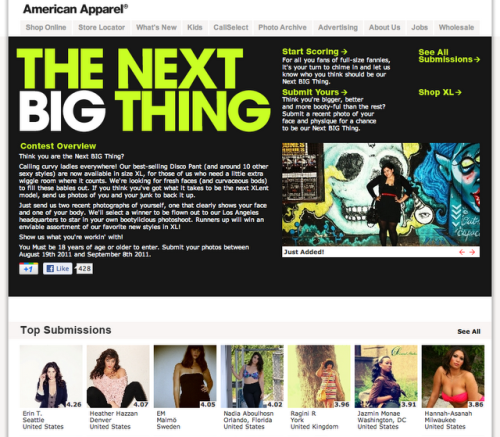 American Apparel has for a long time claimed that their models are all amateurs (although that claim is at this point clearly untrue), so when they began their "Next BIG Thing Contest," which called for new plus-size (also known on the website as "booty-ful" and possessing "full-size fannies") amateur models, the inference seemed to be that women of all sizes were now welcomed into the ranks of people who could be featured on hundreds of websites posing seductively with scrunchies. The contest description went like so:
Think you are the Next BIG Thing?
Calling curvy ladies everywhere! Our best-selling Disco Pant (and around 10 other sexy styles) are now available in size XL, for those of us who need a little extra wiggle room where it counts. We're looking for fresh faces (and curvaceous bods) to fill these babies out. If you think you've got what it takes to be the next XLent model, send us photos of you and your junk to back it up.
Just send us two recent photographs of yourself, one that clearly shows your face and one of your body. We'll select a winner to be flown out to our Los Angeles headquarters to star in your own bootylicious photoshoot. Runners up will win an enviable assortment of our favorite new styles in XL!
Show us what you're workin' with!
The contest, now closed, got almost 1000 entries. You can check out the top entrants on AA's website — surprise, there are plenty of drop-dead gorgeous women (and plenty of professional models, as well) who are over a size 6. (Sidenote: it is very easy to lose your entire afternoon browsing that gallery.) But not everyone was pleased with it — some found the language condescending, and as Jezebel noted, "Maybe we should be excited that another company is acknowledging the existence of (slightly) larger women, but carrying a freakin' 12 just seems long overdue."
Nancy Upton is one of the people who weren't won over by AA's attempt at an olive branch on the issue. She entered the contest, but her photos are a little different than everyone else's. Her bio on the AA contest website reads: "I'm a size 12. I just can't stop eating."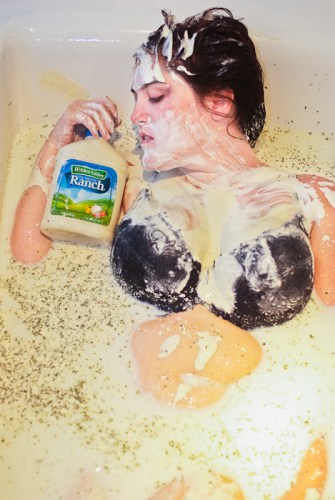 She's currently the number one ranked contestant out of 991.
Upton was recently interviewed on Jezebel on how and why she decided to respond to American Apparel with what's essentially web-based performance art on fat femininity and beauty and how we feel about women and consumption.
I read Margaret's article about the contest on your website and followed the link over. I immediately thought, based on the way it was written, "Wow, they really have zero respect for plus-sized women. They're going to line them up like cattle and make puns about them until they're blue in the face." And then, as corny as it sounds, it just occurred to me that based on their "Hey, come on, fatties, we want you to play, too" tone, wouldn't it be kind of brilliant to respond in a, "Thanks for letting me play, just let me try put down the pizza, first" similar mocking tone. From there, I realized I knew a great photographer, I had a free couple of hours on Sunday and a little extra money in my pocket to drop on some ranch dressing and a chicken.
You can learn more about Upton's project (and see more photos) on her tumblr, Extra Wiggle Room. She says she never expected to get a majority of votes, and hopes that opportunities aren't being taken away from women who were genuinely wanted them. But it's worth noting that the most popular contestant is the one who opposes its premise. And worth checking out the rest of what she has to say, as well!