AMERICAN APPAREL:
Today's "American Apparel is an asshole" story comes via April Flores, a kickass queer adult entertainer who also graces the cover of SEXIS this month along with Buck Angel.
Obviously readers were intrigued by your experience with an American Apparel showroom rep, who told you that the company wasn't into making plus-sizes — because that's not their "demographic." Do you want to expand on that?
We started conceptualizing the idea of creating a [plus-size] clothing line about three years ago. We finally had a complete logo design and we had started looking for T-shirts to use for the line. We had an appointment to look at sizes and clothing samples [at American Apparel]. I became frustrated that the largest size T-shirt they carried was 2x — which ran small. I was frustrated when the rep told me that the men's t-shirts came in larger sizes. I thought it was ridiculous that the only choice I would have with their brand would be to use men's t-shirts. I was truly shocked at the rep's disdain when she told us that plus sizes are not their demographic.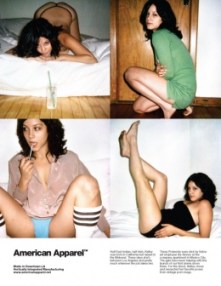 So here we are again. With another reason to dislike American Apparel. It's a long list now, isn't it? Between Dov Charney's sexual harassment lawsuits (and overall really gross track record), admitted masturbation in front of female employees and rapey advertisting campaigns we have plenty of reasons to not buy American Apparel clothing.
Yet we keep on shopping there. Right? I mean, you're not going to do anything. We aren't.The thing is that whereas we pretty much assume that most of the companies we consume products from — Viacom! McDonald's! — are obviously The Evil Empire, American Apparel isn't so obvious. Or is it that it's not so Evil Empire?AA specifically targets a demographic that's supposed to be, by 'definition', socially/politically aware or at least serious about women's rights.  Is their target demographic are the kind of people who pretend to care but don't? Jezebel and Gawker, our primary sources for American Apparel related bad news, openly admit that they take AA as an advertiser. We would, too.
In any event, if you do buy American Apparel — buy your V-Neck via amazon using this link or your boyshorts here and 5% of your ethically questionable purchase comes back to us, right here at Autostraddle. Do you feel weird now? Don't. It's probs an easier compromise than you've made all day! Oh, life.
FREE SPEECH:
The Supreme Court plans to look at Fred Phelps this fall. "Albert Snyder sued Phelps, and Snyder argued at trial that the demonstration invaded his privacy, caused emotional distress and violated his rights to free exercise of religion and peaceful assembly. He said a treatise posted on the church's Web site specifically mentioned Matthew and his family." (@washingtonpost)
PERIODS:
Want to track your period? There's an app for that. Want to know about your friends? Well, you can look that up too. Actually, the FAQ makes it sound a creepy/sexist. "Simply put, Flojuggler is an application designed to track the menstrual cycles of multiple women. Why would you want to do that? Let's say you have two tickets to the big concert and you want to get lucky afterwards because… well… the tickets are $75 each so… you have a list of possible candidates but you're just not sure which one is on her flo."(@flojuggler)

WOMEN AT HOME:
One man does everything his wife tells him to do for a month. "The whole thing could basically have been written in the early 1960s, except for the "twist" ending — instead of finishing the entire experiment at the one-month mark as planned, Jacobs decides to go on changing the loo paper and refilling the soap dispensers whenever he notices they need it. You know, like a normal person. Progress!" If I printed this article out and put it on my fridge, do you think my roommate would think I was being condescending and passive-aggressive or helpful? Because I would love a little help with the dishes, yannow? (@jezebel)
NAME GAME:
How does your name shape you? "Names are becoming increasingly diverse in the United States. Cleveland Evans, former president of The American Name Society, says more parents are seeking distinctive names for all sorts of reasons, from paying tribute to their child's ethnicity to giving the child a unique Google legacy." (@cnn)
ANITA LO:
We did an interview with celesbian chef Anita Lo last year, following the destruction of her restaurant Annisa because of an electrical fire. Annisa is now back up and running, and it looks better than ever. (@nymag)
TRIVIAL PURSUIT:
The co-creator of Trivial Pursuit co-creator has died. This article is amazing because it also includes the history of Trivial Pursuit, which we love (though not as much as Scattergories). (@cbcnews)