I don't know what it is about this woman (and maybe it's the former art student in me) but when Lady Gaga does something, I feel the need to analyze it.
This uber weird 'Alejandro' preview is no exception.
I didn't even care about this thing! I was watching Glee which was even weirder, but I can't even get into that. Well, I can, just briefly, to address the fact that I believe this Lady Gaga preview could've been inserted smack-dab into the middle of Glee, perhaps over the Lamaze Dance Sequence? Gaga has some serious "Alejandro, I just can't Remember the Titans like that with you anymore" shit happening. Swap out Gaga's "Queerty Morning Goods" Model Team for Finn, Puck, and the 20 or so nameless bullies of the Lincoln High Football Team, lay a voiceover'ed motivational speech over the music (probably by Puck since he was the only one who made it through the episode with his balls intact) and we are ready for some FOOTBALL amirite?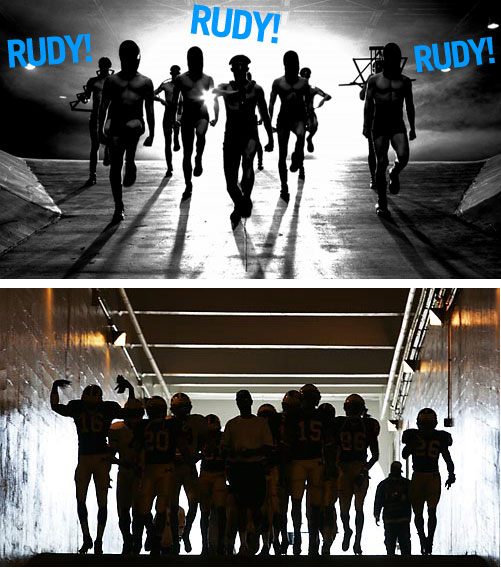 [Editor's Sidenote: In the interest of full disclosure it was Riese and not Alex who wrote that ranty paragraph about Glee, Alex actually just wanted to talk about Brittana being cute when they held pinkies. Okay, everything before it and after it is 100% Alex, thanks for tuning in.]
Anyhoo, so I caught the 18 second clip when it premiered on Larry King and then complained to Sarah F. P*lmer via gchat: "what is this preview shit." Then I went back and watched it on Vevo.
And let me tell you, it's a whole 'notha level of crazy when you sit there and click the "play/pause" button in rapid succession to see this thing happen frame-by-frame. Oh what? Is that crazy? What? Too much work? Don't worry I GOT YOU COVERED, GIRL: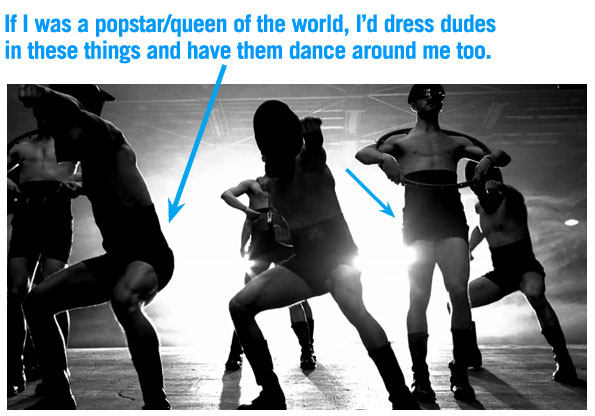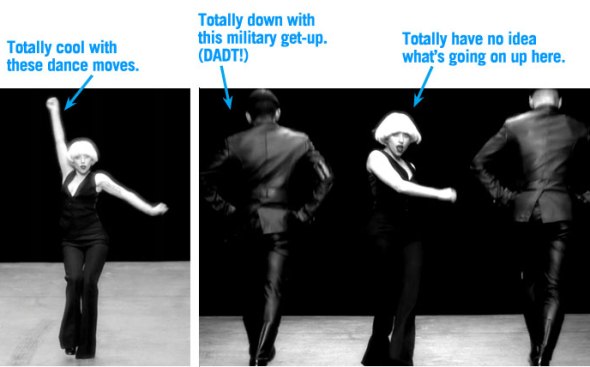 When I imagine making love to Lady Gaga (approx every other night) I imagine it being very dance-like/choregraphed, kind of like this: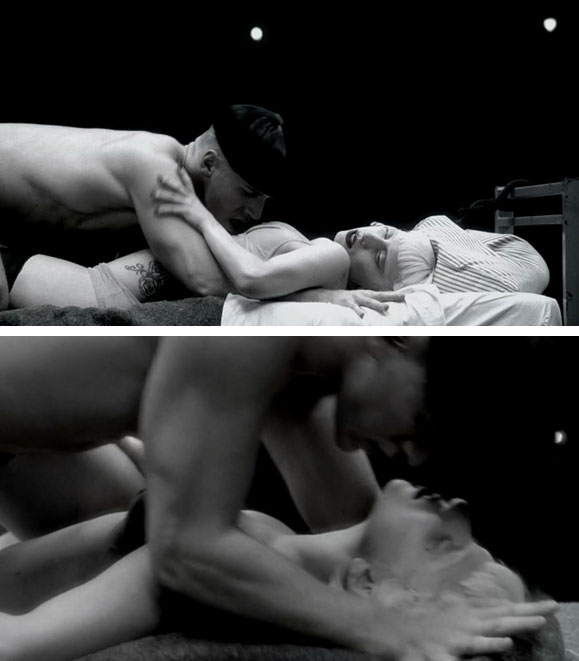 Now last but not least… THIS: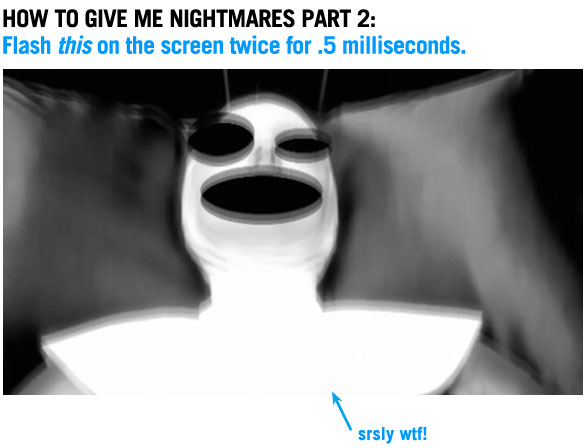 Do you see this? WHAT IS THAT. What!
I don't know you guys, but it flashes on the screen at least twice.
Um, yeah. Yes, like the half-naked men in bikeshorts who surround you in the pre-game motivational speech and then lap impatiently behind your gown of latex popey oddball glory, I do, Lady Gaga, I do.
We must wait until June 7th for the official music video premiere. Until then, Gaga's explanation of the concept behind the song and video should hold you over:
"It's a celebration and an admiration of gay love – it confesses my envy of the courage and bravery they require to be together. I've been unable to find that with a straight man in my life. In the video I'm pining for the love of my gay friends – but they just don't want me."