Amber Dawn is the author of Sub Rosa, the smash-hit novel of ghosts, magic and prostitutes. When I had the opportunity to read and review Dawn's new work, How Poetry Saved My Life, I leapt at the chance. How Poetry Saved My Life: A Hustler's Memoir recounts Dawn's experiences as a poet, sex worker, survivor and queer-identified individual. In short, there are so many intersections in this piece that before I even picked up the book, I wondered how she was going to put the story on the page.
Amber Dawn chose to mix two arts together: poetry and memoir. The poems, all reflective of her experiences, are interspersed with essays. This gives the reader an ethereal, dream-like period of truth mixed with a punch-to-the-gut moment of the real world. It really furthers the explanation of events – you see what really happened, and then you see what really happened. Hint: it's all what really happened, it's all true, it's all how the information is processed into art. The rhythm of it, the pieces closest to the author's heart, and the step-by-step recounting of events. I can't imagine the story being told any other way – poetry and biography have become two sides of the same coin in Dawn's book.
The piece is divided into three sections: Outside, Inside and Inward. Outside contains material about working on the streets and, according to Dawn's introduction, includes "the sort of material I preface with a trigger warning before I read it to audiences." Inside marks the move to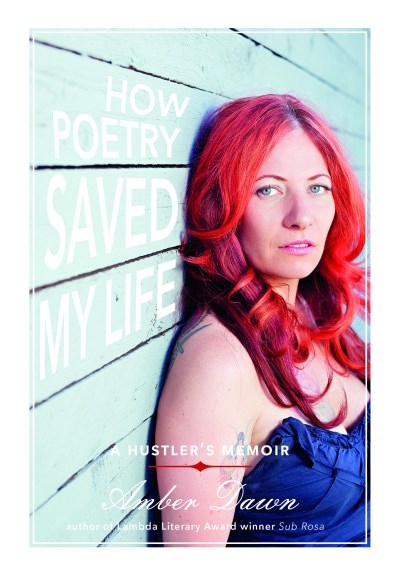 indoor work, a safer environment and higher paid than the outside, the kind of work that paid for Dawn's higher education. The last section, Inward, is very reflective and deals with identity, love and chosen family.
If you twisted my arm and I had to pick a favorite essay, that essay would be in that last section: "The One Thing That Could Have Kept Me In Fort Eerie, Ontario." And then if you went ahead and twisted my other arm and I had to pick a favorite poem, it'd be the title piece, "How Poetry Saved My Life." Then if you were to untwist both my arms, I'd tell you the whole thing is excellent and I can't pick favorites. "How To Bury Your Dead" (essay) is exquisite and moving (I cried, oh yes, I did) and "Before I Found a Lesbian Feminist Doctor" echoes so many stories of the health care establishment, yet it's so specific. So yes, read it all. Read everything. It's all wonderful.
This book is on two of my reading lists – the queer reading list and the sex-positive one. I should mention that these reading lists don't exist in any physical place, only in my heart. Even so, this is a must read for anyone looking for reading material in either the queer reading arena or the sex positive one. It's also a must, must read for anyone looking to see their own life as art, for anyone who needs to process their experiences by writing them down. Memoirists and poets alike.
That's why I originally wanted to contact Amber Dawn — to see if she had any advice for those of us putting our queer experience into words, no matter what shape it's taking. She generously agreed to answer that question and six more, despite her crazy book launch schedule and being a professor in her last week of classes for the semester (thank you so much, Amber Dawn!). Happy National Poetry Month, everyone!
---
This book takes on an unusual structure – a mixture of poetry and memoir. How did you settle on this structure? Was it ever difficult to switch back and forth? How did the art of memoir influence your poetry, and how did the art of poetry influence your non-fiction essays? 
Many memoirs cover a chronological time frame—travelling from the author's "inciting moment," through a sort of character or personal arch, to an ending resolution. I think this popular memoir formula is much too tidy to  capture most of our lives, especially if our lives are under-represented in the mainstream. Plus, I didn't have the emotional strength to write a chronological memoir about sex work and survivorship. Poetry offered me a language of beauty and dynamism to write out my more vulnerable ideas and experiences. I've always felt comfort in reading and writing poetry. Poetry is the closest thing I have to a spirituality. It's difficult to explain; I don't feel isolated when I'm writing poetry. Rather, I'm connecting to something larger—a wealth of other readers and writers and thinkers. I needed this larger connection to write my story. The non-fiction essays and memoir stories came later, after I had developed my voice through poetry.
You write about being a sex worker – does your frankness and subject matter ever give readers the idea that they're entitled to ask invasive questions? How do you deal with this? What are some guidelines for appropriate question subject matter that you wish audience members would heed at your readings?
I believe that sex work is still such a taboo and stigmatized topic to discuss that I welcome all questions. I acknowledge that asking controversial or frank questions takes courage, so I try to be grateful the people who take the risk to ask. However, there are questions I can't answer due to lack of information, and there are other questions I re-direct so I can answer within my comfort zone. It took practice to determine what my personal comfort zone is, and only answer questions that I deem dignified, respectful questions.
In general, when asking artists questions—especially artists whose work deals with identities that are personal and political—it's ideal to check in with ourselves before we speak. "Is my question about this artist's work, or is it about my own personal reaction?" Many of the uncomfortable questions I receive are not questions about my work at all, but are knee-jerk responses. For example, a few male readers have asked me if I hate men.
Wow, really? I didn't see anything in your book that could lead to that question even a little.
My work is not man-hating. That question reveals more about their own internal process than my work.
There was a particular paragraph in How Poetry Saved My Life that I found especially moving, and I want to ask a few questions about it:
"One pain situates itself so close to another pain, I think. That's a line of a poem. I should write that down. Maybe this is the precise moment when poetry becomes my primary way to cope. Something lifts inside my body – that buoyancy that comes when I observe my life as art. Shame follows close behind. Not shame of being a working girl and a woman and a rape survivor, but shame over emotionally distancing myself from Tia-Lee and Selina. I must force myself to keep a steady hand on Selina's back, to stay by her side."
First, if you could write a practical handbook for people using poetry as a coping mechanism, what would you include in that handbook? What about writers using memoir as a coping mechanism? What kind of advice would you give to budding writers who need to see their life as art right now? Is there a way to keep from drowning in the material?
There are handfuls of writers who are working on such a handbook. Maybe not literally a handbook, but a "writing as healing" models can be found with a little online research. Even doing a wikapedia search "writing therapy" will yield results—the reference section at the bottom has academic papers on the emotional benefits of expressive writing. Some queer authors that work with a writing as healing models of teaching are D'Lo, Robert Quintana Hopkins and Leah Lakshmi Piepzna-Samarashina.
If I was writing such a handbook, my first guideline would be: Poetry is your safe place. You do not judge your safe place or any work written within it. Honour your safe place.
My second guideline would for writers to not isolate themselves. Sure, writing can be very solitary, but meeting with other writers, supporting one another, DIY workshopping, attending readings, etc. is a vital part of being a writer.
In your essay "Lying Is The Work," you write the following: "Normally, when I speak about sex work, I conclude my narrative with a subtle or not-so-subtle call to action. I'll make recommendations about which sex workers' support organizations to donate money to."
Could you talk to us about which organizations are doing the best work and who needs help and resources?
I really admire the Red Umbrella Project in New York City, St. James Infirmary in San Francisco, Maggie's in Toronto and PACE in Vancouver. The reason why I mention these four organizations is because current or former sex workers are given priority in their leadership, staff and or board positions. In other words, they work with a peer-to-peer empowerment model, with experiential people leading their mandates and operations.
When looking for sex worker support/advocacy organizations to support in any city, I suggest asking the organization if they have experiecial sex workers in leadership positions. I also might ask they receive research funding—I tend to avoid research projects as they are often invasive and do not provide sustainable support to sex workers.
Finally, I admire organizations that include creative writing or media "voice" training as part of their programs. For sex workers who chose to use their voices—be it writing memoir or speaking to the media—it is so critical to have support.
The dearth of queer writers telling queer stories is astounding. As a queer writer, what is the best way to support pieces by other queer writers? How can we help writers from our community "make it?" How can we let publishers know we want these stories? 
Go to queer readings, for starters, and if possible buy books at the reading and have the authors sign them. I love live readings. Online media will never replace the pleasure of seeing a live reading. If there aren't many opportunities to see live readings in your city or town, form a queer book club and read to one another. How sexy is that—a group of queer folks drinking tea and reading passages of the latest queer memoir to one another?!
Social media can play a role too, of course. Sites like GoodReads.com and blog and online magazine reviews really help get the word out. (Thanks, Autostraddle!)
Support organizations that offer awards or resources for queer writers. Volunteer for the Lambda Literary Foundation in New York City, for example. Support indie bookstores that carry queer books.
I understand you teach a speculative fiction class – can you talk to us a little bit about teaching? How has speculative fiction informed your poetry?
That's a great question! I think poetry has influenced my speculative fiction writing.
Ah, so I have it backwards?
Poetry has taught me to let imagery and well-selected language reign, and not to lead the reader by the hand through expository or didactic writing. Because speculative fiction deals with other realities (magic, the future, other worlds, etc.) it is easy to fall into the trap of explaining everything about these other realities to the reader. Poetry has taught me to trust in the readers' ability to explore the deeper meanings of writing for themselves. Poetry has also taught me that not every narrative has to be resolved in a tidy way. I suggest all writers, speculative fiction writers or otherwise, study poetry. Poetry can teach a lot about craft.
Tell us a little bit about the event you and Sassafras Lowrey are doing at Bluestockings on April 28th? What can attendees hope to take away from the experience?
It is a reading—and I'm thrilled to be reading at Bluestockings for the first time. Reading with Sassafras Lowrey will also be another first for me.  Hir work has several interesting overlaps with my own. Hir writing around homeless queer youth and sort of underground survival strategies, in particular, speak to me. We also both have brazen voices when it comes to sex and desire. It's safe to say our audience can expect a mix of the erotic and the vulnerable. And of course, while we both tell personal stories, we are also writers who try to invite our audiences to participate in some way. I love when other storytellers in the audience bring questions or share their own strategies of how to write or speak up about their own experiences. Us "loudmouths" must stick together.
Now that you've published one piece of fiction and, of course, How Poetry Saved My Life, what's next? Do you have another project in the works you'd like to talk a bit about?
This summer, after launching How Poetry Saved My Life, I plan on buckling down and writing. I have just started a new novel set in my hometown, Crystal Beach, Ontario. Crystal Beach was an amusement park town for 100 years, but the park closed in 1989 due to economic reasons, and much of the town's "life" seemed to shut down too. The novel will be a queer love story and a ghost story, amongst other things. I'm very excited to be writing speculative fiction again.
---
You can keep up with Amber Dawn on her website and buy How Poetry Saved My Life or check out Sub Rosa in paperback or on your Kindle.