Carly and I attended the 24th Annual GLAAD Awards Red Carpet in Los Angeles this past weekend and were so excited to be there representing Autostraddle, which has been nominated for its own GLAAD award for "Outstanding Blog." We talked to attendees and honorees alike, most notably, bad-ass queer Beth Ditto.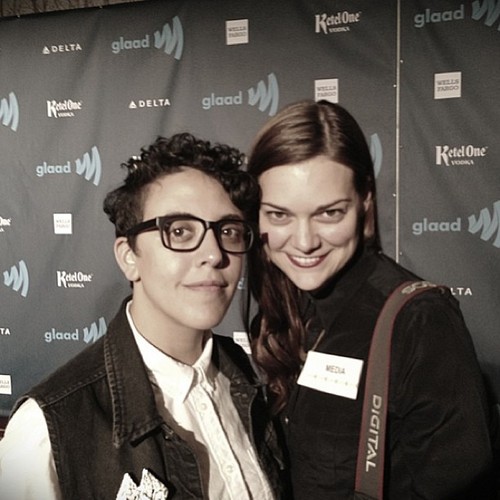 Check out some of our red carpet photos and interviews, and then the rest of the team will brief you on the show itself, in which lots of people won awards such as Bill Clinton, who received the inaugural Advocate for Change Award from his daughter Chelsea Clinton.
Fortune Feimster
Carly: What was your fashion inspiration when getting dressed tonight?
Fortune: Um, lesbian. I was like, how can I look like a big ol' lesbian? I just picked up my cardigan and tie and I was done. I was doing an interview and they asked us 'who we were wearing?' I was like, uh, the Gap. I don't want to brag or anything, but that's who I'm wearing.
Carly: Great tees. Great tees, guys, they're very comfortable. Why do you think it's so important that organizations like GLAAD exist?
Fortune: It's important for me personally, because I wouldn't be on television otherwise, you know. I feel like they've really paved the way to make it okay for people who are gay to be out in the media and they make it acceptable for other people to appreciate it who aren't exposed to gay people. And you know, our show is very gay-friendly and we have gay people on staff, so teaming up and supporting this sort of organization is a good fit, because we both have a similar cause. Equality. All that good stuff.
Naya Rivera
Maria Menounos
 Hal Sparks
Ted Danson & Mary Steenburgen
Alex Newell
Peter Paige
Andrew Rannells
Remember back in 2004 when Andrew Rannells wasn't a Huge Deal yet, like he is now because of The New Normal and Girls, and he was playing Dana Fairbanks' beard and tennis partner? Oh, the memories. Oops, not true, actually — different guy.
Teri Polo and Sherri Saum
Chef K & Brittany
Much like our design director, Chef K (who you hopefully recognize from The Taste, but might also recognize from being Miss June 2012 Francine's girlfriend on The Real L Word) only dates Autostraddle Calendar Girls. Here she is with Brittany Weiner, Miss July 2013:
Cori & Kacy
There is always a place in our heart for these two. Always.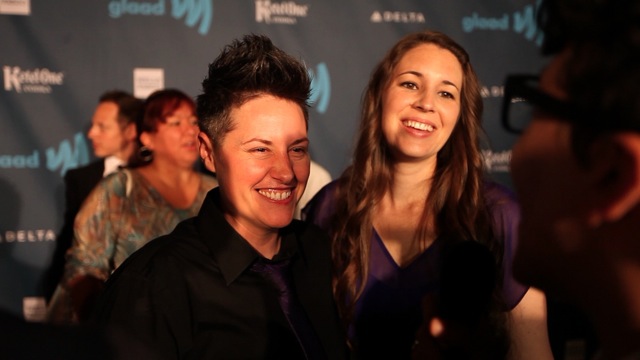 Kacy Boccumini: We're here for Jen Tyrrell. The Boy Scout den mother. The lesbian den mother. That's who we're here to support. Also, The Real L World, but tangential to, you know, equality.
Carly: We're equality over reality television right now.
Kacy: Completely!
Cori Boccumini: High five.
Kacy: High five. Every day of the week.
Carly: So, what else is going on right now with you guys? What's going on?
Cori: Just normal, boring stuff.
Kacy: You know, Jonesy's still hanging out, still a cat. Still not pregnant, you know. Same old stuff. And we're always crying. Always. Crying.
Cori: And we do talk about sperm.
Kacy: A lot.
Cori: Still.
Kacy: All the time.
Cori: We do it all day.
Kacy: Just 'cuz.
Carly: It's a good thing to talk about. If you're not talking about it, who's going to be?
Kacy: Nikki and Jill?
Beth Ditto
Check out our interview with Beth Ditto!
Beth Ditto Knows What's Up – LA GLAAD Awards 4/20/13 from autostraddle on Vimeo.

Carly: What are you listening to right now, like what new albums are rocking your world?
Beth Ditto: My girlfriend and I — well, she's obsessed — but we've been listening to the new Lil Wayne, a lot of Kendrick Lamar, Alabama Shakes. What else? Oh, the new Knife record.
Carly: Oh my god. Oh… my god.
Beth: Come on! I just love that, it's like… feminist electro? Radical electro? It's fucking brave. I got chills thinking about it.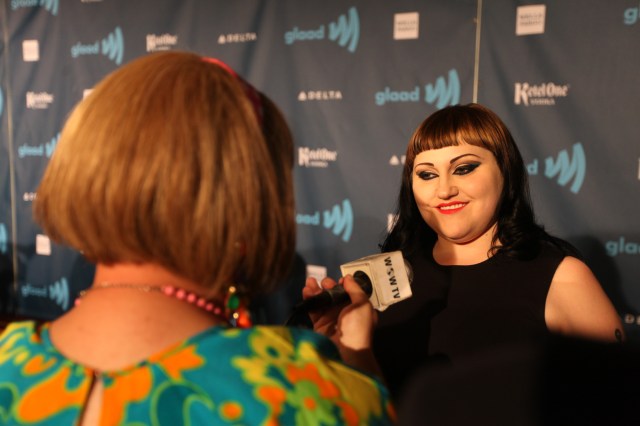 Jane Espenson
Wilson Cruz
Unfortunately, some of the big names at the GLAAD Awards this year didn't make it to the carpet (or to our end of the carpet), but attending the awards were attractive and interesting humans like Bill Clinton and Betty White…
…Leonardo DiCaprio and Charlize Theron…
…Kristen Dunst…
…Sara Ramirez…
….Jennifer Lawrence and Darren Criss (obviously they're best friends now, right?)…
…Jenny Boylan (author of She's Not There: A Life in Two Genders)…
…and Drew Barrymore, who hosted the show!
---
NEXT: Videos from the show!
Pages: 1 2See entire article on one page