Last month, intrepid photographer Robin was included in a media research trip to the Florida Keys courtesy of LGBTQ Free to Be in the Keys and on behalf of the Florida Keys and Key West; now she's including you on her journey through the magic of photography. Read with a key lime pie in hand for the full experience from home.
Key Largo
After a van ride from the airport in Miami, we arrived in Key Largo where our trip officially began. Shortly into our trip I would realize one of my fellow travelers was Dan from The Real World Season 5 Miami! And if you remember that, congratulations, you're as old as I am and you deserve a vacation. Maybe to Key Largo! It's here in Key Largo at Mrs Mac's Kitchen that I tried alligator for the first time (it tastes like chicken) and was introduced to casual but quirky feel of this quaint collection of surfside towns.
If you're looking for a resort that you literally don't have to leave on your vacation, Playa Largo Resort and Spa is the place for you. There are multiple restaurants, bars, sports equipment rentals, a dock with boats, a giant pool and a beach with comfy lounge chairs and hammocks hanging under tall palm trees all within the resort's extensive property. When we arrived we all had a drink at the front desk and checked into big, beautiful rooms that overlooked the pool and in the distance, the ocean.
Sol at Playa Largo Resort and Spa
I dined here on my first night after a very long flight and drive. Sol is a standalone beachside seafood restaurant on the property of Playa Largo; it's a really lovely spot on the second floor where you still dress casually, sit back and enjoy the views. The fish was delicious and fresh. I would recommend arriving right before sunset.
I cannot recommend this tour enough. A friendly crew who happily let us blast Lady Gaga took us on an extensive tour of one of the best snorkeling spots in the US. We went all the way to Molasses Reef, where we snorkeled around watching schools of fish darting in and out of swaying anemones. It was a mesmerizing and peaceful activity and only mildly terrifying when the barracuda swam by with their very pointy underbites. Pro tip: if you get seasick on a stationary boat bouncing up and down on waves like MOST of our group, down some dramamine before you hit the water! Or… strangely… eat an apple. Our crew had them on hand.

Conch House is a sweet, colorful spot with an outdoor patio and coy ponds. They're famous for conch fritters, conch bisque and a selection of other affordable seafood. I didn't get to try them, but the Key Lime Macadamia Pancakes also sounded incredible. Conch House had the second best key lime pie we had in The Keys, despite topping its pie with whipped cream as opposed to meringue.
Islamorada
Islamorada feels like a quiet sister of Keys while still embodying the general friendly openness this area is known for. We visited not one, but TWO breweries sandwiched between art galleries and beachy cottages. Islamorada is known for sport fishing and a host of other water activities and sports; and if you enjoy tossing dead fish at live fish, you can stop by Robbie's Marina and feed the terrifyingly large tarpons.
Amara Cay is a sweet, no-frills resort that's simple but elegant, right on the water in Islamorada. The pool and pool bar were a nice relaxing spot right next to a beach with lounge chairs that overlooked the ocean and hammocks hanging between palm trees. Everyone at Amara Cay was incredibly friendly and welcoming and the staff gifted us extremely overwhelming plates of cheese and fruit when we checked in. The best part was hanging out at the bar by the pool in the evening watching the sunset.
Florida Brewing Company is a cozy brewery and bar with an outdoor garden where you can sit back in a brightly-colored adirondack chair and leisurely sip a beer like you're in your own backyard. The brewery and bar are nestled in a neighborhood filled with tiny pastel-painted art galleries. If you can, do a tasting there and try some beer from their very extensive selection.
This activity is mostly geared toward wine moms, but like… aren't we all a little bit wine mom? Painting the Keys was an activity they offer in the garden of the Florida Brewing company. There is something very calming about sitting down and putting paint on canvas to make a shitty re-creation of palm trees against a sunset, but that could have also been the effect of the beer. Below is the journey of my painting. Please don't judge me, I was just doing what I was told.
Originally a distillery and now also a brewery, Islamorada Distilling offers a selection of rums, gin and beer that were delicious and refreshing. Try their most popular beer Coconut Key Lime Ale which was originally made by hand toasting coconut. If you prefer a sweet cocktail, try the Key Lime Pie Martini! On our way back home, the Key West airport was selling Islamorada Beer and we couldn't resist.

This was by far the best meal on the trip. The food was incredible. The very youthful chef brought us the most beautifully presented plates of inventive and thoughtful food I've had in awhile. The fish was so fresh and there were gold flakes on the sushi. GOLD. This is the kind of meal I want to eat every day.
Key West
The official motto of Key West, the queerest of The Keys, is One Human Family and you can tell walking the friendly rainbow crosswalked streets that it is a place that has for a long time been dedicated to acceptance and loving your neighbor. Key West was even the first town to elect a gay mayor back in 1983! On an evening stroll in Key West you will run into drag queens giving out flyers to shows and cabaret-style karaoke bars. And while some of these shows are geared towards the many straight cis folks pouring off cruise ships onto the islands, there still is a general queer vibe in the town. There are all male clothing optional guest houses, a gay bar named Maryellen's where they have vibrator races, and the Key West Business Guild where you can pop in and talk to Frtizie about the many gay-friendly businesses to support around town.
Alexander's is a perfect balance of a boutique hotel and a traditional B&B. It felt like at any time you could pop in for their homemade buffet breakfast or roll up to happy hour at the pool while still being able to have privacy and autonomy over your experience. If you're like me and you prefer to be caffeinated before small talking with strangers, you can grab a muffin and a to-go cup and politely wave on your way out! They have great bikes you can rent, a gorgeous pool and jacuzzi, a clothing-optional sundeck and comfortable, clean, and chic rooms and shared spaces.
This place is magical. If you've never met a button quail, you need to drop everything you are doing and go meet one. Maybe also take photos and crawl around on the ground a bit saying things like "I love you so much, my little button," until the people at the Butterfly Conservatory ask you if you're ok and your friends think maybe you dropped a contact lens. Walk through as many times as you want and watch the thousands of butterflies, flamingos, and other magical creatures move around you and if you're lucky, land on you as you try very hard to play it cool.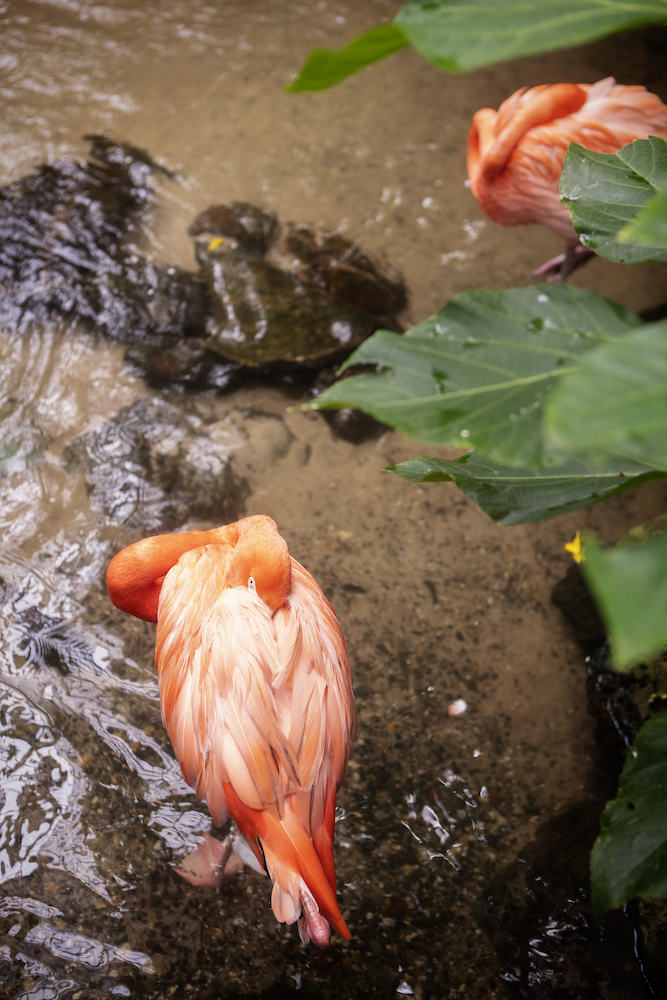 Blu Q Charters was originally an all-male clothing-optional sailing company, but recently they have opened their very gay Sunset tours to other folks and I for one am grateful because it meant we could all go out on the water with some gays and some wine and take in the sights from a catamaran.
This was a highlight for many of us! Our guide took us to some really amazing spots including an incredible Cuban breakfast at El Siboney, fantastic drinks at The Speakeasy Inn & Rum Bar and delicious fried conch fritters at Mangoes while learning about the history of the island as we walked.

This two hour tour takes you around Key West from the choppy waters of the Pacific Ocean into the calm turquoise Gulf of Mexico. The journey was incredibly beautiful and exhilarating as we were flying across the water at 60-70 miles per hour to try and keep up with the guide in front. They did station someone towards the back of the group for those who wanted to take their time and leisurely take in the sights.
Key Lime Pies I Tried and Liked
Before I list them, I need you to know what I feel is important in a key lime pie. This does not reflect the feelings of my fellow travelers, these restaurants, or any actual key lime pie connoisseurs.
Good key lime pie has to be pale yellow. If you give me a green key lime pie, I will throw it in your face and no one wants that (except me, because I've always wanted to throw a pie in someone's face)
It must be the right balance of sweet and tart
The pie has to have a graham cracker crust and that crust must be taste and appear homemade
Meringue. None of this whipped cream nonsense, don't be lazy!
The pie must have the proper texture, which means it cannot be too soupy or too thick. It should fall in that happy medium texture between cheesecake and a thick pudding.
8. Mrs. Mac's Kitchen (Key Largo)
7. LaTeDa (Key West)
6. Key Lime Shop (Key West)
5. Harpoon Harry's (Key West)
4. Cheeca Lodge (Islamorada)
3. Bagatelle (Key West)
2. Key Largo Conch House (Key Largo)
1. Blue Heaven (Key West)
Out of all ten key lime pie slices I consumed on this trip, this was my absolute favorite. Look how beautiful these little babies are. They are at least 60% meringue, which apparently is hard to make because most of the key lime pies we tried on the island came with a side of whipped cream, which… what a waste. 11/10 would eat Key Lime pie here every day.