LADY GAGA:
Lady Gaga went on Larry King last night and said a lot of things. She also just so happened to be wearing a sort of "menswear" inspired outfit, which did not go unnoticed by our gender-radar eyes. We love how she's totally humbled by Ellen DeGeneres, and seemingly annoyed by Larry King, who's interview style is somewhere between "interrogation by Drunk Uncle" and "visit to the principal's office."
Here she talks to Larry about Lupus. She has been tested for Lupus but at this time is okay:
+
Here she talks about her feelings on Don't Ask Don't Tell and the overall fuckedupedness of the government:
+
Gawker also would like to share this Compendium of Unnecessary Lady Gaga Eccentricities. You can balance this out with the list of the Top Ten Reasons The Most Cake loves Lady Gaga.
SATC2:
We've been waiting for the Racialicious review of Sex and the City 2, and they have delivered! Latoya Peterson, the post's author, takes issue with the minority characters being relegated to the background, with the treatment of gay men and with the lack of cultural sensitivity. She also looks at rom coms like SATC2 as bonding activities:
Women aren't watching Sex and the City for its political message – it's really about two other things:  Gender Bonding, and RomCom fantasy worlds. Sex and the City is a phenomenon because of what it prompts women to do.  It isn't so much about the characters, but the fact that millions of women have modified their behavior in accordance with the images shown on screen.  The idea of four friends dishing on life and love over cocktails didn't begin with Sex and the City, but the cosmopolitan and the tartini owe their bar standing to the foursome.  Interestingly, it prompts many women into doing things like organizing entire parties around the release of the movie – it is a convenient excuse for a night off, and the women I was with (most with children or heading that way) were looking forward to getting dressed up and going out with friends as much as (if not more so) the actual movie.  And even those of us who are ambivalent about the series find ourselves heading off to the same gatherings because you haven't seen your friends in a while and you don't have a better idea.
(@racialicious)
JEANETTE WINTERSON:
Jeanette Winterson, the lesbian author responsible for Written on the Body and Oranges are Not the Only Fruit, speaks on identity, secrecy, David Laws and why she hates being labeled as a 'lesbian author'. (@guardian UK)
GREAT LEZBRITAN:
Drama Gives "First" Lesbian Fresh Life: "The first day I had to kiss someone, it was [actress] Susan Lynch and she just went for it and set the precedent. Kissing somebody is kissing somebody, at the end of the day." (@bbc)

MARIE CLAIRE:
Marie Claire France goes curvy in their June issue. Hot! (@highsnobette)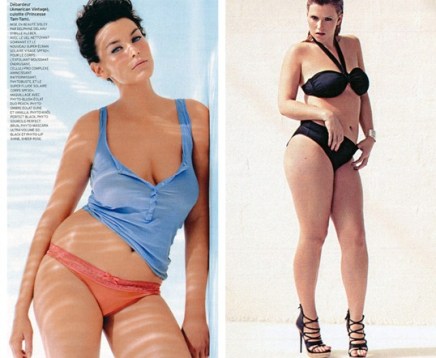 CHARLOTTE CHURCH:
Charlotte Church kissed a girl and lost her husband?: "That night it was Charlotte back to her wild best, just how she was when she and Gavin first met. She was lolling around all over the place." (@oneindia)
TILA TEQUILA:
Just when you thought Tila Tequila couldn't possibly stimulate your gag reflex any more, she comes out with a new single, entitled "I Fucked the DJ". Omg, there are no words for the level of terrible. (@queerty)
KRISTEN STEWART:
Kristen Stewart addresses nature vs. nurture: "My family are amazing. I had, like, the perfect upbringing. It sucks for people like Lindsay [Lohan], but it's not her fault that she's so off the rails – and she's smart, very smart." (@people)
GLEE:
GLEE will be adding a Christian who disapproves of Kurt's homosexuality, just in case you were thinking that whole show was too good to be true. Oh, it's for diversity. (@tvguide)