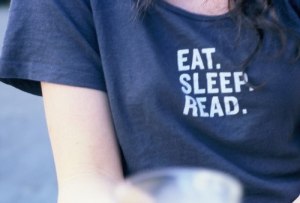 HELLO and welcome to the 20th installment of Things I Read That I Love, wherein I share with you some of the longer-form journalism/essays I've read recently so that you can read them too and we can all know more about Wild Things and teenage hockey message board jailbait!
This "column" is less feminist/queer focused than the rest of the site because when something is feminist/queer focused, I put it on the rest of the site. Here is where the other things are.
However, I've decided to start including author names here to sort of "check myself" and make sure I don't only publish shit by dudes, in light of this. I'm not going to pick something or not pick something based on the gender of the writer (as this is the only column on this site where that's not a consideration), but I just wanna be more conscious of it.
The title of this feature is inspired by the title of Emily Gould's tumblr, Things I Ate That I Love.
The Loading Dock Manifesto (April 2011), by John Hyduk for Esquire: "This is my stage: Cinder-block walls and a concrete floor under a corrugated roof maybe forty feet overhead. Wooden pallets of product are stacked nearly to the ceiling — six-packs, twelve-packs, twenty-four-packs, thirty-twos. Two-liter bottles rest in trays of eight, twenty-ounce bottles wait in plastic shells. There is juice squeezed from every fruit you can imagine and a few I think someone's made up. A sea of soda."
The Ultimate Guide to Writing Better Than You Usually Do (April 2012), by Colin Nissan for McSweeny's Internet Tendency – "A writer's brain is full of little gifts, like a piñata at a birthday party. It's also full of demons, like a piñata at a birthday party in a mental hospital."
Suzanne Collins' War Stories For Teenagers (April 2011), by Susan Dominis for The New York Times – A rare interview with Suzanne Collins from last year about how she brought her whole life to bear upon the pages of The Hunger Games. If you've not yet read books two or three, this article contains MAJOR SPOILERS.
I Was Teenage Hockey Message Board Jailbait (January 2011), by Katie Baker for Deadspin: "I lapped up the attention and adored the indulgence. I felt so understood. I was a top student in high school, a tri-varsity athlete with plenty of friends, but I'd always been faintly off-kilter, a little bizarre. My friends were mildly weirded-out by my obsession with sports… but they really couldn't quite wrap their minds around my strange online past. "So, you went in chat rooms?" they'd ask, their expressions polite but their voices edged with alarm. "You mean, like, AOL?"
Art for Everybody (October 2011), by Susan Orlean for The New Yorker – About the rise and success of Thomas Kinkade, who had those weird art galleries in the mall and has now passed away.
Envy (June 2003), by Kathryn Chetkovich for The Guardian UK- I remember reading this article when I still lived in New York, I read it on a cell phone while waiting for a haircut. Brandy Howard had sent me the link. I think you'll find it interesting. ("She is an unknown struggling writer. Her boyfriend is Jonathan Franzen.")
A Daughter's Revenge (April 2012), by Robert Kolker for New York Magazine –  "Brigitte Harris cut off her father's penis, accidentally killing him in the process, because, she says, he sexually abused her for years. In 2009, she was convicted of second-degree manslaughter, and sentenced to five to fifteen years. This week she'll have her first parole hearing."
Call of the Wild (March 2010), by Elizabeth Gumport for This Recording – This is about Wild Things, the movie I saw the same day I lost my virginity.
The Quaid Conspiracy (January 2011), by Nancy Jo Sales for Vanity Fair – This is interesting to me because an old roommate of mine had been cast in the Broadway musical Lone Star Love starring Randy Quaid, and said roommate had shipped out west to Seattle for two months of rehearsals and previews, and then he returned to New York with news that the show would not, actually, go on. It was gonna be my roommate's first Broadway show, so it was such a gigantic letdown. He explained how the show getting cancelled all came back to Randy Quaid and his wife being crazy, and I thought, holy shit, that's totally crazy! Apparently, shit only got worse from there.
My So-Called Ex-Gay Life (April 2012), by Gabriel Arana for The American Prospect – This story does a good job of tackling all the levels on which gay reparation therapy functions — his personal story, the medical community's story, the political story, and the recovery/acceptance story. Great read.
By the Book: David Sedaris (April 2012), The New York Times – This is David Sedaris answering questions.