I've been going to concerts and gigs since I was a kid- mainly because my mother felt it was important I was "cultured" and believed exposing me to live music was a brilliant way of nurturing my imagination and creativity. Because of this, I was lucky enough to never be one of those girls at school whose parents made sure all concerts were chaperoned by a parent who would stand in the moshpit with ear plugs and their arms folded, whacking away any elbow that came within a 4km radius of our angelic little heads.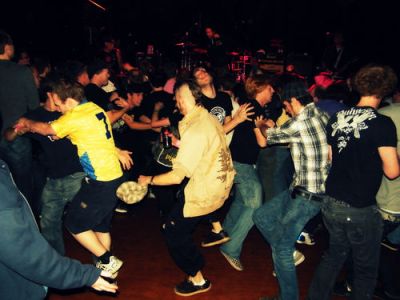 As long as I was dropped off and picked up at least 100m from the gates of the venue, I was all good to go. Some of my earliest memories of concerts include Australian manufactured 'Popstars' group Bardot, who I got to meet after the show- except I was such a lanky teenager, I had to duck down in front of Sophie Monk and Belinda Chapple so that they could be seen in the photo, Kylie Minogue, whose extravaganza I witnessed through squinted eyes because I was too embarrassed to whip out my glasses- they didn't match my faux leather mini-skirt and one shouldered fuchsia tank top, and Destiny's Child, who were so dazzling I started hysterically screaming and crying during their opening number because I was just so excited and overwhelmed with it all.
Other highlights have included Christina Aguilera (when she was still her hot, slutty and pants-less alter ego, X-Tina) and Simple Plan, where I took my wrist cuffs, NOFX t-shirt and teenage angst and stood in line for hours before getting slammed up at the front of the moshpit (if you could call it that) and fainting. I ended up needing to be yanked to safety by a burly security guard and doused by plastic cups of water- all before the No Pads, No Helmets…Just Balls boys had even hit the stage.
More recently however, it has come to my attention that by documenting the gigs that I have attended over the last 10 years, the list could also read as a guide to my sexuality and the realisation that I am insanely attracted to women, especially ones with guitars. I have seen the following perform on one sticky stage or another in Sydney:
Tegan & Sara: Enough said.
Washington: Megan Washington is somebody I would like to take home to my mother. She twiddles about on stage in pretty dresses like a small fairy I found near my backyard pond and I just want to put her in my pocket and stroke her hair.
Yeah Yeah Yeahs: Karen O is a Goddess unlike no other. There are no words for her.
Crystal Castles: Alice Glass is so screamy and sexy, dripping in smudged mascara and leather, she makes you want to get so fucked up on drugs you forget your own name.
Little Birdy: "After Dark" was a song my ex and I would put on whenever the other wanted a little somethin' somethin'. I once bought us tickets to a gig of hers and then as an added surprise, rolled up in a skirt without underwear. 'After Dark' was not required that night.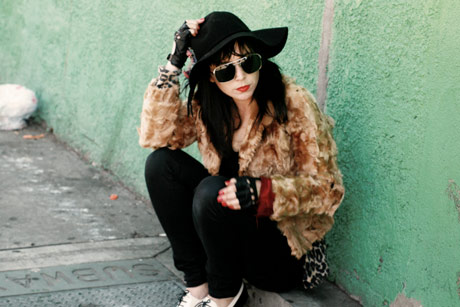 Florence & The Machine: I saw her perform at Splendour in the Grass last year and a few of my friends and I ended up being locked out of the front of the auditorium. There was no other option but to risk being thrown out of the entire festival by jumping not one, but two sets of fences. We ended up being chased by security, grabbing the tips of our hoodies but lost them in the crowd. It was worth it. She had that crowd eating out of the palms of her hands- she was the cult leader and we were her evangelists.
The Grates: Patience is like a newer, younger, less experienced Karen O. When she is thrashing about on stage, you cannot help but have a smile as big as the : D emoticon slapped across that ugly mug of yours.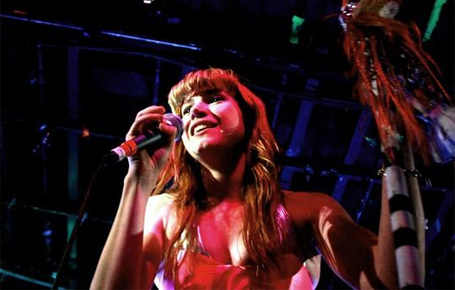 An Horse: Despite there being some technical difficulties on the night of the show, there were enough lesbians in the crowd to make it feel as if you'd thrown your own house party, invited all of your closest friends and had somehow convinced An Horse to do a private show just for you.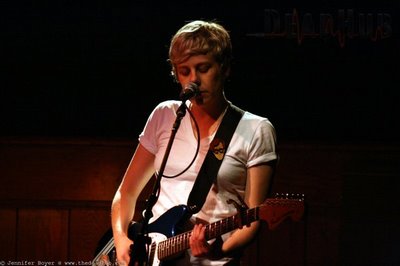 Sarah Blasko: See 'Washington'.
The Jezabels: My friends and I went from having Hayley, the lead singer, serve us beers at our local pub to drooling over her on stage. No one can pull off those high-wasted shiny American Apparel pants like Hayley.
Metric: Somebody once said that if I were to ever take my amazing (read: non-existent) vocal talents on the road, I'd look and act a little something like Emily Haines on stage. This is equally flattering and confusing. Flattering because she's a mega babe and confusing because she's a mega babe who I'd like to slip one to. Explain that one to me, Freud!
Warpaint: A band that contains that many attractive girls deserves to be mentioned. Also, Shannyn Sossamon was once a part of the group and that's a reason in itself to mention the band. You can fuck me with an orchid all you want Shannyn and I won't even be disappointed.
Regina Spektor: See 'Washington'.
Katy Perry: Love or hate what she's doing for the lesbian and gay community, my point is, she has a great rack.
And most recently, Kimbra: Those soft pillowy lips. Those bouncy curls. You'd croon me to sleep when I was too drunk to close my eyes wouldn't you Kimbra? Wouldn't you?
Did I mention that I saw Kylie, the Queen of the Gays, perform as a child? What chance did I have!
So how about you? Tell us about the concerts that made you realise.
---
Special Note: Autostraddle's "First Person" personal essays do not necessarily reflect the ideals of Autostraddle or its editors, nor do any First Person writers intend to speak on behalf of anyone other than themselves. First Person writers are simply speaking honestly from their own hearts.