feature image via Born This Way
The "origin" of homosexuality is a topic someone somewhere always seems to be debating. Is it hormones? A "gay gene?" Environment in the womb? Early exposure to the X Files? With the exception of some outliers and scary conservatives who either believe or imply that we can be 'fixed,' it seems fairly well accepted that however we came to be this way, it wasn't our choice. Well, Lindsay Miller is tired of talking about it. She's tired of the campaign to amass evidence that we really were born this way in an effort to oppose haters and bigots. She doesn't think she was.
"I would like to state for the record that I was not born this way. I have dated both men and women in the past, and when I've been with men, I never had to lie back and think of Megan Fox. I still notice attractive men on the street and on television. If I were terrified of the stigma associated with homosexuality, it would have been easy enough to date men exclusively and stay in the closet my whole life.
Obviously, no one sits down and makes a rational decision about who to fall in love with, but I get frustrated with the veiled condescension of straight people who believe that queers "can't help it," and thus should be treated with tolerance and pity. To say "I was born this way" is to apologize for the person I am and for whom I love. It's like saying I would be different if I could. I wouldn't."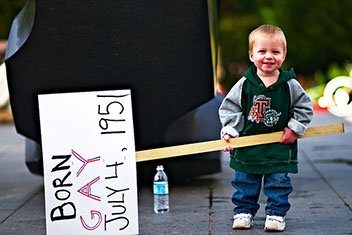 Well! The assertion that queers who believe they were born with same-sex attraction are being apologetic by doing so is perhaps a little broad. But overall, Miller's points are as follows: being gay is actually great in a lot of ways, and it's better to focus on them than hold up the homophobia and injustices we deal with to prove that being gay must be innate, because no one would want to deal with this.
It's an interesting point — it's hard to argue with the declaration that "Whether or not I deserve the same rights as straight people has nothing to do with whether I chose to be the way I am today." And it's true — there are amazing, wonderful things about being gay. We have an incredible community that's often more supportive and caring than our biological families; we have a brave and bloody activist history to be fiercely proud of; our short fingernails make bowling easier. But none of that is what Miller is talking about — and I find the point she does make a little harder to agree with.
If there's one thing to be said about lesbian relationships, it's this: You always start from equal footing… Neither of us was raised with male privilege. Neither of us was raised to believe, on some subconscious level, that the way we perceive the world is the default setting, and everyone else is deviant. 
If you're talking about doing housework and childcare — which, for the most part, it seems like Miller is — then that might be true? Maybe? (Although anyone who has ever even lived with roommates of the same sex might argue that it doesn't magically make the division of housework equitable.) But her underlying premise — that lesbian relationships "always start from equal footing" — seems pretty precarious. It's great for Miller and her partner that "neither of [them] was raised to believe, on some subconscious level, that the way [they] perceive the world is the default setting, and everyone else is deviant." Because that would mean that they are devoid of any kind of privilege whatsoever! At the risk of generalizing in the opposite direction: very few people, if any, "start from equal footing." It's true that two people can be of the same sex or gender, but that's not at all the same thing. It's great for Miller that she's experienced her relationship as being free from the difficulty that major social difference and the difference in privilege that comes with it can bring. For people who are dating someone of a different race, size, sexual orientation, ethnicity, religion, class, education level, or income, that's not necessarily something they can claim. It's true that if they're in a same-sex relationship they can share clothes and tampons and are less likely to earn 25% more at a similar job but not acknowledge the wage gap. But that's a little bit of a different claim — Miller's idea that we somehow get out of dealing with privilege and its baggage at all by being gay (or "choosing" to be so) seems a little overly ambitious.
And while Miller has a point, in that the "of course I didn't choose to be gay, why would I want to face this much homophobia?" argument can have the unfortunate consequence of making being gay feel like a mark of Cain, her casual dismissal of it seems like another refusal to acknowledge privilege. It's, again, wonderful for Miller that being gay hasn't actually been holding her back. But for many people, the reality is bad enough that there isn't really an option to de-emphasize this side of the story. If you've ever been made homeless and disowned by your parents, lost a job that you needed to survive, been threatened with or lived through violence and danger, survived suicide attempts or have friends who didn't, or have almost killed yourself trying to change a part of you that you believe your faith requires you to but ultimately failing — well, if you've lived through any of those things, then "If I could choose, would I choose this?" becomes a pretty central question. It would be nice if we didn't have to ask it. But until those things stop happening, can we afford not to?
It's not that being gay isn't great in a lot of ways. It's getting better every day, as we win more legal rights and more social acceptance and visibility. And it's possible, maybe even desirable, that the heated debate over how we came to be this way can be dialed down a little, that we can stop talking about the reason we're gay as a way to defend our existence. It's also possible, though, that the way to do this isn't to play a game of one-upping with "normal," straight relationships — to emphasize that we'd choose this "lifestyle" over theirs any day. To me, it seems like it's not that we start off on equal footing and 'they' don't; it's that no one starts off equal at all. Sometimes we feel like we don't even have our footing. We have that in common, gay and straight.  But we work hard, and we come together anyways, from very different places, because that's what love is, regardless of the genders of the people involved. And isn't that actually why we choose the people and the lives that we do?