This week, love-of-our-collective-geeky-lives Gillian Anderson opened up about her past relationships with women. In honor of this fact, we are bringing sexy back with these pivotal gayifying Scully moments. Because I guess our love wasn't one-sided after all…
From the interview with Out:
"I was in a relationship with a girl for a long time when I was in high school, and then I was in a relationship with a punk rock drug addict who…"

Wait, a lesbian relationship? "Yeah, yeah, well it's… You know, I'm old enough that I can talk about that," she says, before resuming her list: "And then I was in a relationship with somebody who was way, way older than me. Everything that that kind of anarchistic attitude brings—the inappropriate behavior it leads to—was how I chose to be in the world at that time, which was, you know, not what people did."

Much of this has been written before — how she dyed her hair purple, how she glued the school gates shut on graduation night, the drugs and alcohol — but her lesbian romance is something new. Understandably, she is wary of making a big deal of it, precisely because it is a big deal for so many people. "If I had thought I was 100% gay, would it have been a different experience for me?" she wonders. "Would it have been a bigger deal if shame had been attached to it and all those things that become huge life-altering issues for youngsters in that situation? It's possible that my attitude around it came, on some level, from knowing that I still liked boys."

Anderson says she has had relationships with other women, but they have been the exception, not the rule.
Back in 1994, I was but a tiny proto-geek minding my own business when the X-Files flickered onto my radar. There I was, swimming in my oversized tie-dyed T-shirt with my awkward too short bangs when my first episode  ("Darkness Falls," I remember it well) swept me up in its weird embrace. This is how that single chunk of not-at-all explicitly queer TV set me on a course for gayhood that no amount of subsequent un-homo conditioning could possibly reverse.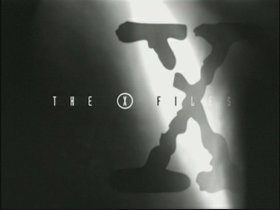 It makes sense: the series followed the scifisexy adventures of Agent Scully, a certain smokin' hot redhead with a badge. And as a young, impressionable girl, your first fine lookin' gun-toting woman can change you in ways irrevocable. I'd suspect Scully (or perhaps actress Gillian Anderson?) captured the hearts of blossoming gay ladies the world over.
Oh yeah, and her sidekick's cool, too. What's his name again?
So, if the X-Files did in fact make me gay (it did), I chalk it all up to Agent Scully, the no-nonsense FBI sexbomb who I followed like a puppy through nine sometimes brilliant, occasionally faltering, but always, always homosexy seasons. (We'll just have to forgive her for the early '90s hair, for it knew not what it did.) As Scully doggedly searched for the truth at Mulder's side, I unknowingly sought my own truth. And that truth was that I wanted to get in her pants.
1. "Beyond the Sea"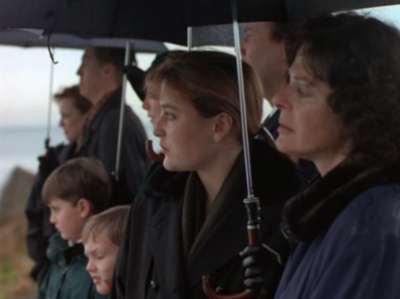 I'm a sucker for a sad girl. And what's sadder than grief? Not a whole lot. In this ep, Scully mourns her father, and she just looks so goddamn sad, I want to big spoon her into oblivion. Sans pants. Also sans awk '90s high-waisted underwear that she's probably sporting under those FBI digs.
2. "Memento Mori"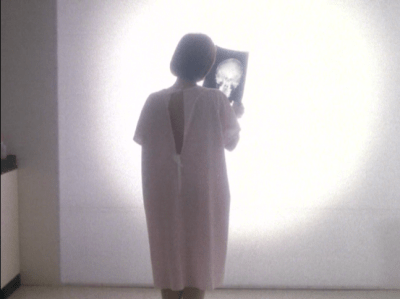 Surprise, sad again! This time Scully is understandably tortured because she just got diagnosed with cancer. Say it ain't so! There are a fair amount of overwrought Scully monologues to sink your teeth into in this episode, some of which are delivered whilst she's wearing a backless gown. Oh, if only it were frontless!
3. "Squeeze"
This is a classic. And by that I mean classic gayifying X-Files moment. This ep follows up on a Season One creeper, Tooms, who can stretch himself into small spaces and some shit. Naturally this is the PERFECT skill for watching women disrobe as they prepare to bathe. We see Scully enter the bathroom, turn on the water to run herself a bath, ready to proverbially let her hair down and wash off the day…and then goddamn Tooms ruins it for everyone. Someone get that guy out of the ventilation ducts and ship him off to Area 51. Creepy sonofabitch.
4. Fight the Future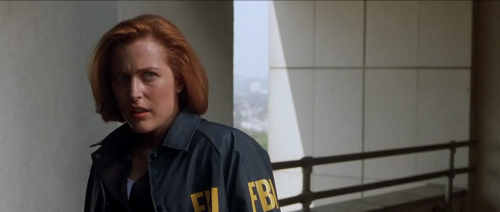 The first X-Files feature length film may not be an episode in the strictest sense, but it sure had a hand in making me the queer I am today. Fight the Future hit theaters in 1998, just in time for Scully's hair to evolve from a frumpy mid-90s flipped-under-like-whoa bob to something more befitting of her sexbomb status. And her high-waisted pants had long since hit the highway. And uh, yeah…I really liked the movie too. No really — it was kind of awesome…weird alien cocoons look so much cooler with a film's production budget. Also, anything set in Antarctica naturally scares the shit out of me. I blame H.P. Lovecraft, but doesn't everyone?
5. "Never Again"
This is a bizarre episode, but it showcases a vast number of Gillian Anderson's potential O-Faces. She meets a dude at a bar (!), gets a tattoo (!!), and later, naturally, finds herself in a Dangerous Situation. We rarely see Scully in social situations (with booze!), and rarer still is the opportunity to see her defy her role as the straight-laced foil to Mulder's obsessive tin-foil hat wearing conspiracy theorist. Bonus: Scully's one-night stand (!!!) in this episode sports a tattoo of a pin-up girl that starts talking to him and urging him to kill. Which is profoundly dumb, but the sassy tat is voiced by JODIE FOSTER, premiere real life gay lady. Not only that, but since Scully sleeps with the dude with the tattoo hallucinations, in accordance with the law of transitive relations, I'm pretty sure that means that Gillian Anderson also sexed Jodie Foster, as this formula clearly illustrates:
If Tattoo Dude's Consciousness (TD) = Voice of Insane Jodie Foster (JF) and Hot Scully (HS) sleeps with TD, then HS at the very least also mindfucked JF. And since Gillian Anderson = Hot Scully, I guess someone should tell Us Weekly that she's gay now, huh?
And if you didn't believe me about the O-Faces? See Exhibit A through O. You should really have believed me.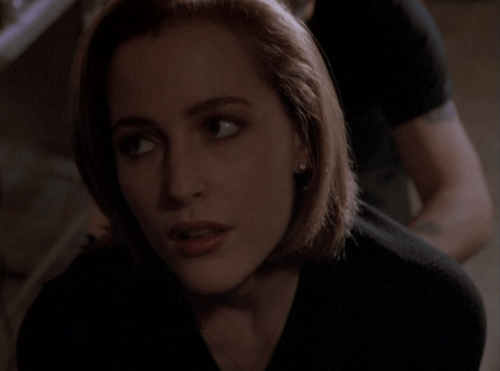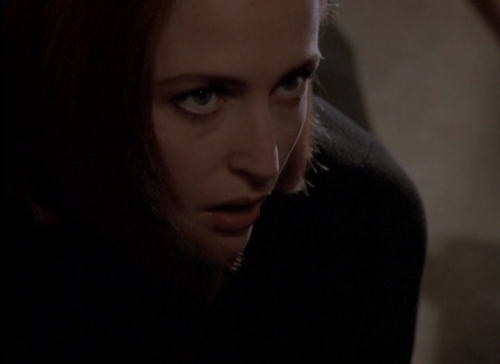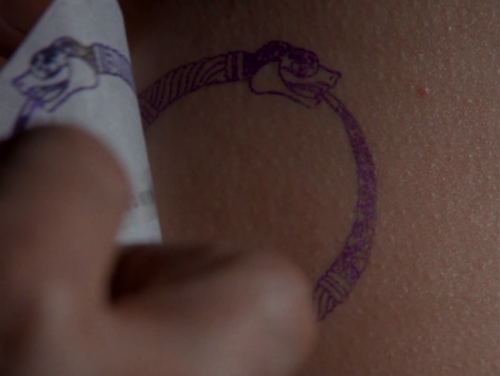 Wait for it…