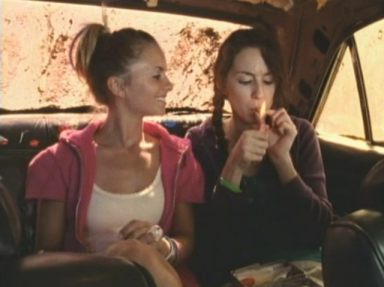 Did you know that before she became Spencer Hastings, Troian Bellisario was just another actress in Los Angeles taking roles in USC student films, like this 14-minute short about two teenage girlfriends who um, go to school and smoke weed in the junkyard? I didn't either!  Then I stumbled upon Girl's View, a collection of (mediocre) lesbian short films and was oh-so-surprised to see Spencer's face on the cover!
Bellisario, who plays 16-year-old Spencer Hastings in Pretty Little Liars, is 28 in real life and comes from a Hollywood family and grew up in Los Angeles. Thus she began acting as a kid, doing stuff like an episode of Quantum Leap written by her Dad. As a very small child, she was besties with Mary-Kate and Ashley Olson and now calls Shane Coffey, who plays Holden on Pretty Little Liars, her best friend. She was an undergraduate at University of Southern California when she returned to the "screen" in 2006 as "Jani" in Unspoken, directed by Fie-Fie Wang. According to imdb, the movie's topic is as follows: "two high-school, lesbian girlfriends deal with the intrusion of two teenage boys, jealousy, betrayal and drugs."
However, the synopsis doesn't mention that Gabby, Jani's girlfriend, has a shit-ton of glitter on her face and should dial it down a notch. Fun fact: The woman who plays Spencer's Mom in the movie, Deborah Pratt, is actually Troian's Mom in real life!
I find it excruciatingly painful to watch most lesbian films, let alone a lesbian-themed short film that I've never heard of, because most lesbian films are terrible. Really, they are. (These don't suck though, and neither do these.) But I was so intrigued by the "Spencer Hastings with a girlfriend" situation that I made it through the entire thing without stabbing my eyes out! I'm not saying it's good, or anything, but you know — well. See for yourself: