In August we bestowed upon you Ten Queer Girl Movies That Don't Suck. Predictably we garnered a healthy dose of appreciation and enjoyment as well as a sharp injection of aggressively/excessively punctuated dictums of disbelief that your favorite lesbian film did not make the list, or, alternatively, that we had included a film you deemed unworthy. Well Autostraddlers, when you use 5+ exclamation points in a sentence, we can't help but pay attention!
No but really, we all like different things, and this list reflects our continued efforts to share some of our — and your — favorite things with you. With a few exceptions, this list reflects most of the films mentioned by two or more commenters that we felt qualified to talk about. This isn't the Lesbian Oscars or The Bible, which we all must live under at least here in America where 53% of the population thinks Jesus Christ is President, when in fact that is not true, he left the White House when Obama was elected.
What are those exceptions? Well; Chasing Amy and Kissing Jessica Stein. I know, I know, it was a big moment for you & your gayness, and we love both of those films, they're awesome fun movies. But we want our list to focus on movies that aren't about women who literally do realize bisexual is just a phase (Kissing Jessica Stein) or that are written, directed and centered around straight white men who want lesbians to give penis a chance (Chasing Amy). Sorry! Also Riese has a special comment at the end about why we refuse to include Lost & Delirious.
Your time has come. We have returned to separate the wheat from the shaft, to extract your suffering lesbionic cinematic soul from the depths of terrible.
Just FYI, our first round picks included Fucking Amal, Boys Don't Cry, But I'm a Cheerleader, Gia, D.E.B.S., All Over Me, Saving Face, Bound, High Art and If These Walls Could Talk 2.

Top Ten More Queer Girl Movies That Don't Suck
A movie needs to major things to work: well written characters, and actors who bring those characters to life, and I Can't Think Straight has both AND a vivid and multifaceted cultural backdrop.
I Can't Think Straight follows the turbulent relationship between independent thrice-engaged Jordanian Tala (Lisa Ray) and shy Leyla (Sheetal Sheth). Whereas Tala keeps getting engaged and calling off her weddings a the last minute, Leyla vacilates between wanting to pleas her family and harboring secret desires to become a writer and bang chicks.
The two first meet through Leyla's current boyfriend, a friend of Tala's. Sparks fly. Leyla's Muslim and Tala isn't into religion (but lives in the Middle East where it's omnipresent) so they end up doing that thing in movies where they argue at each other and throw sultry glances across the room signaling their unknown attraction.
What snowballs into a friendship quickly turns sexy when the two women (on a trip together) end up sleeping together. But (as these things always are) it's complicated; Tala is engaged and getting married in two weeks.
Do these crazy kids get together? I'll just say there's no depressing ending. Just great acting, quick edits, tons of funny moments and compelling political conversation that never verges on tedious.
This is truly a great lesbian film. It did not suck. It did not suck at all. (-Intern X)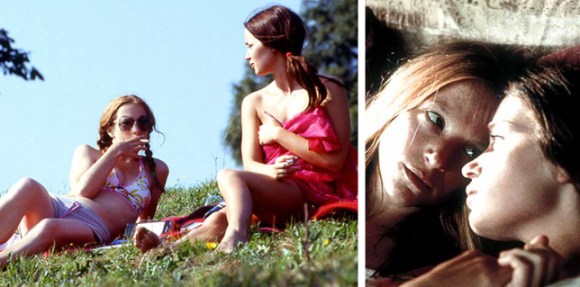 My Summer of Love's poor little rich girl Tamsin [Emily Blunt] spends her boarding school suspension becoming really good friends with bored, working class Mona [Natalie Press]. Their version of friendship includes kissing in rivers, lots of drinking and smoking and acting fancy, a nice little love and death pact, and motor scooters.
The hills are apparently a big deal over in England because there is lots of hill-wandering involved in this love. At one point, these very hills are graced by Tamin/Emily Blunt totally lying there with her breasts out like it's no big deal. It's a big deal.
Like all bad girl stories, this one ends with a bucket full of lies, but it's all the spinning out of control that makes this movie feel a little bit magic and a little bit real. (-Intern Hot Laura)

Unveiled (Fremde Haut/German) is a beautiful film. An Iranian woman, Fariba, is caught having an affair with a married woman. Double no-no for Iran. So she flees to Germany to avoid persecution. Unfortunately she uses forged papers and lies about why she is seeking asylum, so the German authorities threaten to send her back. The only way she can stay is by taking on the identity of a male refugee, living in some sort of hostel, and taking an illegal job in a sauerkraut factory to make money for a fake passport with her actual identity.
It's not as complicated as it sounds. Until Fariba, passing as Siamak, meets a girl. Obvs. Girls always complicate things, yeah? Unveiled is a very moving film with one of the most intense and emotional love scenes I've ever seen, and a hopeful, bittersweet ending. The subtitles are definitely worth it. (-Intern Elizabeth)


Don't write it off because of its silly title – Itty Bitty Titty Committee is a badass lesbian film. Melonie Diaz is especially endearing as Anna, a directionless young lez who finds herself by joining a radical feminist group, called c(l)it. (At least no one can complain "I've seen that plot before!") If you're a die-hard riot grrrl fan, you'll definitely appreciate the film's soundtrack, one its strongest assets.
While the story gets just a tad unbelievable when the group gets into explosives (with some pretty shoddy special FX), it's hard not to have fun as the adorable gays celebrate to the tune of Team Dresch's "Hand Grenade". Oh, they also have sex – with nudity! – to "The Inch" by Peaches. And for your shallow side, the group features a wide array of homosexiness. The film deserves a medal alone for featuring hot butches and bois, who are so woefully underrepresented in film. IBTC may come off over-the-top and esoteric to some, but with its upbeat, empowering attitude, it's a breath of fresh air in lesbian cinema. (-Intern Lola)


What could possibly be more tragic than a film about forbidden lesbian love? Oh, that's right, a film about forbidden lesbian love between a Jewish woman and the wife of a Nazi officer…set in Berlin during World War II. Part love story, part historical drama, and all beautifully filmed, heartbreakingly conveyed storytelling, Aimee and Jaguar is based on a book of the same name that follows the actual lives of devoted mother Lilly Wust and Jewish resistance fighter Felice Schragenheim. The two take on the pseudonyms Aimee and Jaguar to conceal their identities in the series of letters exchanged during their romance.
Putting girl love into the context of one of the most troubling times of our history, Aimee and Jaguar accomplishes what not enough lesbian flicks manage to do: tell a story with layers and layers and layers of depth filmed through a gorgeous, gritty lens. It's not just about love, it's about what we give up for love and the extremes that bring us there. It's what lives in our histories conveyed through a dark encounter. Director Max Farberbock remembers what it is that keeps our community together: stories and experiences. Aimee and Jaguar is an exceptional narrative that reminds us that we've all been through something and that being right or being a hero is complicated. (-Katrina Danger Casino)


NEXT: Loving Annabelle, Tipping the Velvet, Imagine Me & You, Desert Hearts, Incredibly True Adventures of Two Girls in Love, and Lost & Delirious!
Pages: 1 2See entire article on one page