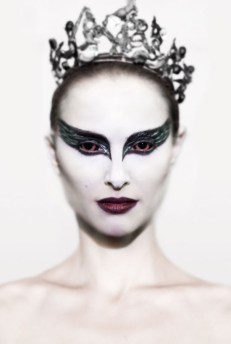 It's hard to be anyone these days. Hard to be an artist, hard to be a woman, hard to be an emotionally underdeveloped ballerina in a New York City company cracking under the pressure of a million outside forces all while attempting to resist the overwhelming sexual allure of her frenemy in spandex. Characterized as a "psychosexual thriller" (and ain't that the story of your life), Black Swan is director Darren Aronofsky's highly-anticipated exploration of sexuality, psychoses, and the dire sacrifices that some of us make for art.
In a dark, gritty, realistic style that borders on too-close-for-comfort, Aronofsky illustrates the re-imagining of a ballet classic, a story within a story recontextualized in a contemporary world. Black Swan re-creates Tchaikovksy's Swan Lake, taking the peril of the protagonist, Nina (disarmingly executed by Natalie Portman) and mirroring it against the fable of a princess cursed to live as a swan by day, returning to her human form only at night. Princess Odette transforms into the White Swan, an innocent and fair creature who falls in love with her friendly neighborhood prince when he finds her in the woods one night. And just when it seems that true love is poised to break the spell, a sudden obstacle intervenes – and it's not the homosexual agenda. Odette's prince is seduced by the Black Swan, her dark double driven by sensuality and cunning. Hopeless and heartbroken, the White Swan throws herself off a cliff, and in death, finds release.
But Black Swan is not a story about love lost. It is instead a story of inner conflict, a mondernized tale of ambition, lust, and pressure, pitting creative and destructive forces against each other in a disturbingly well-executed, mind-bending descent into madness. Aronofsky juxtaposes Portman's Nina, a qualified but naïve ballerina with Mila Kunis's Lily, a less precise but effortlessly passionate dancer who threatens to steal Nina's long-earned spotlight.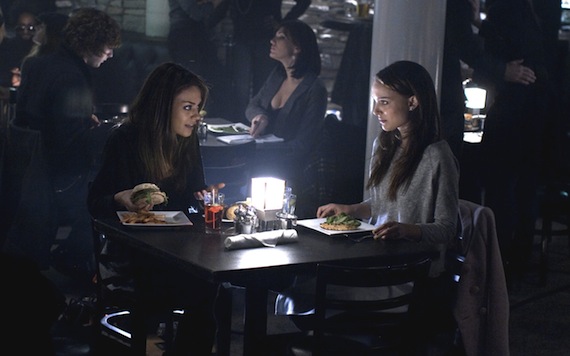 The product of a creepily overbearing mother (Barbara Hershey), Nina is a twenty-something young woman frozen in perpetual adolescence, stuffed animals lining the walls of her saccharine pink room and a wind-up ballerina music box lulling her to sleep each night. Cast in the lead role of Swan Lake, Nina embodies the White Swan perfectly but is unable to grasp the seductive technique that defines her counterpart, the Black Swan. Unsurprisingly, this is where Lily enters, effortlessly dancing her way into Nina's territory…as well as company director Thomas Leroy's pants.
Conveyed almost unsettlingly well by Vincent Cassel, Thomas is the force driving his ballerinas' performances, motivating them through manipulation of sexuality. And while understanding one's own sexuality is an integral part of development, especially in a field that puts such great emphasis on the nature and condition of bodies, the problem is that Thomas is a predator, taking advantage of his power position and using the women's sexuality to satisfy his own. What is perhaps most unsettling is the truth in what Thomas says. In order to succeed, Nina must become more in touch with herself (not just like that) and discover a certain darkness and truth within herself that requires a mature command over her own identity.
Instead of being given the opportunity to grow into herself, Nina is stifled by a number of factors that hinder her development and her independence. Suffocated by a mother compensating for her own lost dreams, Nina views ballet less as a performative art driven by passion and more as a channel through which she can obsessively strive toward perfection. Pushing her body to the point of breaking, Nina is able to justify a variety of unsavory habits – including self-injury and bulimia – to achieve what she and those around her regard to be her very best.
What's most impressive (and most horrifying) about it all: you believe her. Perhaps you don't see dark ghosts of yourself reflected in giant floor-to-ceiling mirrors or hallucinate black feathers growing out of your skin, but the pressure to achieve perfection through physical beauty – no matter how harmful or painstaking the cost – is entirely too relatable. Yes, Nina's madness is exaggerated, but her obsessions are common. As an audience, we watch Nina spin out of control, fostering destructive habits and forming dangerous relations. But at the same time there are parts of us that identify and even root for her, relating to her as a damaged individual attempting to assert her delayed independence.
Portman, who has already proven her credibility as an actress several times over, gives her best performance to date, reaching into a deeper, darker place than ever before, convincingly conveying profound conflict while remaining realistic and accessible. Kunis, mostly known for her less serious roles in That 70's Show, Family Guy, and Forgetting Sarah Marshall, steps her game up with an ease that demonstrates her diverse talents as she falls in brilliantly alongside her already-acclaimed co-stars. The impeccable casting adds an elevated element of reality to a film that already hits so close to home.
Aronofsky masterfully documents an individual's descent into madness, calling into question whether Nina's deterioration is insanity at all or a skewed interpretation of coming into one's own all too late. He blurs the line between the pursuit of art and the pursuit of perfection, reflecting in the storyline and in the greater concept of the movie itself the sacrifices we make for artistic genius. The fears that he instills in us are most profound because they do not apply exclusively to fictional ballerinas, they are fears that result from the pressures of everyday life. He exposes us to the harsh truth that glory is fleeting and to the haunting paranoia that one can be replaced. We wonder if Nina is succumbing to an outside madness or if she is growing into a madness that already exists, not just in her but in each of us. Perhaps she is insane, or perhaps she is the inevitable product of an insane world. Is she insane all on her own, or is she the inevitable product of an insane world?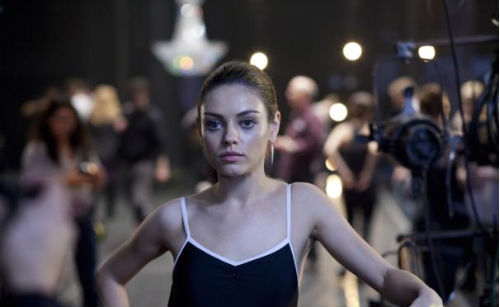 And as for the love scene: yeah it's there, but it's not the point. Portman has already made public statements expressing discomfort over the unfair emphasis placed upon that particular aspect of the film, and these concerns are warranted. Are Portman and Kunis two exceedingly fine ladies that we'd love to see get down? Of course. But the scene is more than just an ecstasy-fueled lesbian love sesh, it's an exploration of the protagonist's suppressed psyche serving up curveballs later down the line.
Black Swan, despite garnering overwhelmingly positive reviews, has also attracted criticism for its lack of subtlety and its occasional submission to clichés, but underneath this lies the fact that cliché is often based in truth, and that the truth is often disturbing.