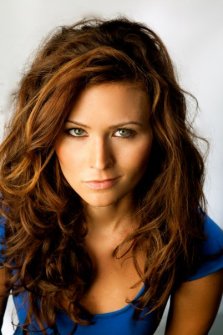 Connect Savannah, which is probably the most important newspaper in Georgia if not the entire world, has a stellar interview with my favorite intergallactic popstar Haviland Stillwell, who you may or may not know and if you fall into the "may not know" category then what the fuck. We made like 35 vlogs for you. Just kidding. They weren't for you. Can I start again?
Okay. PHEW. Well. You should know Haviland Stillwell. Why? Because she is hot and homogay, that's why. Also because she's a stellar actress and singer, which is good for me, because I can't lie to my best friends and you can't tell your best friend that her voice sucks. Haviland has mad skills and I think is famous in certain rooms in Los Angeles, like mine if I lived there.
You might know Haviland from like, Les Miserables or Eastwick or The Client List or Now and Then or something. Or perhaps you've heard her album How I Role, which includes a play on words right there in the title. She's not just a pretty face. She also has pretty hands and a pretty good attitude.
You should read this interview because Haviland gets a chance to talk about — in my opinion — her best performance of all time, which was as The Little Red Hen in The Little Red Hen. She was only in first grade but already knew how to portray a convincing little red hen.
Oh also she is doing a concert in Savannah GEORGIA on Thursday, 7–10 p.m. December 23rd. If you go to it (tickets aren't cheap but CHILDREN YOU MUST SUPPORT THE ARTS OR DIE) and tell Haviland that you love Autostraddle, Haviland will sign your ass with permanent marker.