Veep's First Daughter, Catherine Meyer, has been lurking in the background all season long — literally. Selina's long-suffering only child is crafting a documentary, and every time the camera pans out or around, there she is: standing in the corner shooting video of her mom's cabinet meetings, Oval Office interactions, narcissistic meltdowns, and swearing symphonies. Selina always seems to forget that Catherine exists, and then shoos her away when she realizes they're standing right beside each other. She didn't even remember to call Catherine into the hospital room before she pulled her grandma's life support earlier this season!
So it's no surprise that during last week's "C**tgate," Catherine announced that she'd fallen in love with someone else who lives in the shadows. What is surprising is that the someone is a White House staffer, and woman. But not just any woman: Catherine has fallen in love with Marjorie (played by Clea DuVall), Selina's personal Secret Service detail who was chosen for the job because everyone thinks she looks like the president. It's so deliciously bizarre and awkward; it's so very Veep.
Like every episode she appears in, Catherine spends the majority of "C**tgate" desperately trying to get her mom's attention for five minutes to tell her something important, but Selina can't be bothered. What's different this time is that Catherine won't back down, and finally forces Selina to stop and listen to her.
Catherine: Mom, there's something I really need to find a way to tell you.
Selina: Catherine, I am in the middle of a shitstorm.
Catherine: Please. I've been trying to talk to you for three days, and I need to tell you something very important.
Selina: What is it, Catherine? What is it that is so pressing?
Catherine: I've met someone. And I know this is awkward because you work with them, but we're in love.
Selina: Who?
Catherine: Me and Marjorie.
Selina: Who?
Marjorie: [stepping out from behind her] Me, ma'am.
Selina: What?
When Marjorie walks over and takes Catherine's hand, the First Daughter smiles for the first time in five seasons.
Veep has never really been about whether or not Selina Meyer is a good president or a good person (she's neither, really), but about how people perceive her. This season, specifically, the focus has shifted to the way centuries of entrenched and systemic sexism affect the way her staff, Congress, and voters talk about and interact with her. It's never about what's good for the country; it's always about what's good for Selina. So it's exceptional that Catherine's coming out is met with befuddlement but not with panic. Selina is forced to worry as much about what people think of her haircut as she does about what people will think of her foreign policy, but Catherine's lesbianism* is a non-issue for her.
Mike: I'm getting a lot of questions about Catherine and, you know, her condition?
Selina: She's a lesbian, Mike; she's not a werewolf.
Selina really just wants to know which popular pop culture narrative Catherine and Marjorie want to use.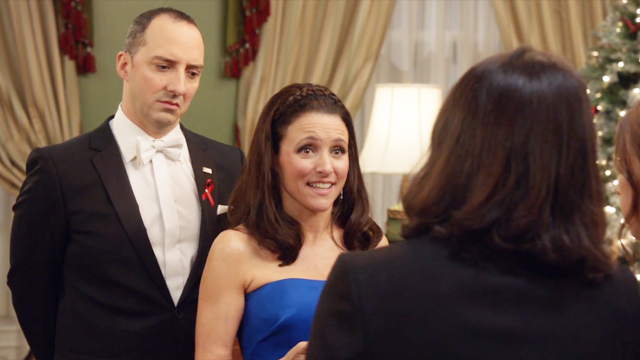 Selina: I have a question. How do you gals want to play the whole gay thing?
Catherine: I'm sorry, I don't—
Selina: Mike has been getting a bunch of questions and interview requests, etc. etc. And I don't know how you want to handle it. Do you want to play it like Ellen, or do you want to do it more like Jodie Foster, play it like a mystery, or…?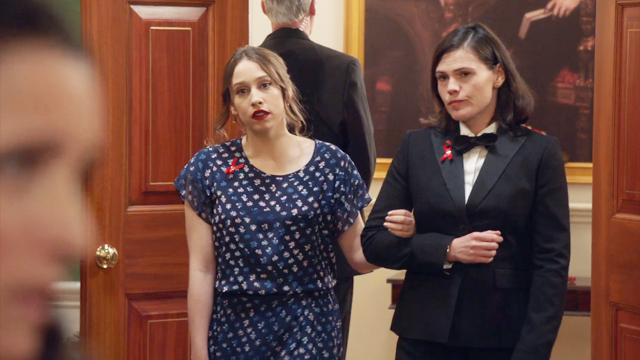 Marjorie says they don't want to politicize their relationship, and Selina is fine with that — until she needs to politicize their relationship. At a black tie ball where she's trying to whip up Congressional support for the upcoming presidential vote, she runs into an LGBT advocate who won't leave her alone, so she forces Catherine and Marjorie into a photo and conversation with her so she can get back to playing black ops cutthroat politics.
My favorite part about this storyline is that it doesn't seem to be going away. In a preview for next week's episode, it looks like Selina is on some kind of vacation with Catherine and Marjorie.
Catherine: Marjorie's a raw food vegan and she's turned me into one.
Selina: So that's two things she's turned you into!
And in an interview with The Hollywood Reporter, Sarah Sutherland said we'll continue to see the relationship play out:
You will. To what end and what capacity I probably can't say! But I will say that it's definitely a more fully formed relationship that has staying power than Catherine's past relationships, which were more fleeting and often died on the vine. Marjorie really loves Catherine and I think that she's giving her things that Catherine didn't get otherwise.
Maybe the best part of this whole relationship is that Marjorie is a trained Secret Service agent. Surely that increases her and Catherine's chances of survival.
(*When I watched  "C**tgate," I told the senior editors that Catherine had come out as bisexual because she's had relationships with men in the past, including being engaged to a guy she broke up with at her mother's request, but in this week's "Congressional Ball," Selina refers to Catherine as a lesbian, so that's the label I'll use until the show says otherwise. I, too, wish more queer women would ID as and say the word "bisexual" out loud on TV, but I'm only the messenger.)