"'Better Than Chocolate' was the GOLD STANDARD." – Heather Hogan, dream woman
One lesbian movie to rule them all. Somehow this 1999 lesbian classic managed to slip under my radar all these years, so Heather's statement seemed like a dare to me! But then I saw the movie's cover which was two naked women in embrace, and read the synopsis which was, "Two attractive young lesbians, Maggie and Kim, meet in Vancouver, develop a passionate romance, and move in together," and at once I bowed and said aloud, "Your Majesty."

This opening title? 1999? Vancouver? A passionate romance that leads to cohabitation? What I learned in watching this is that "develop" was a generous descriptor of the progression of events in this film, that according to this movie zero people of color exist in Canada, and also that I am so, so glad this was not my first introduction into the queer scene.
Follow my descent into this crazy thing we call love.
---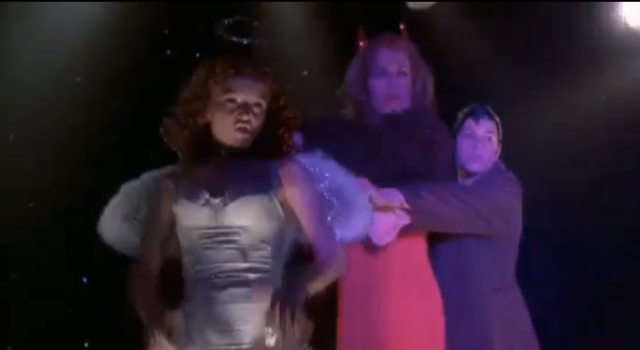 Alright, we're starting with some funky music at drag show. This is relatable because when I first started dating women I also found myself at a lot of drag shows, where almost every single drag king was called Justin, like Justin Case. I never understood why more names weren't utilized, like Ben — Ben Smooth — or Mark — Mark Miwurds.
Here's where we first meet Maggie, who's performing on stage at The Cat's Ass wearing a halo. Could this be foreshadowing? And, yes, the gay bar is called The Cat's Ass because the writer of this movie, Anne Wheeler, was apparently challenged to come up with the world's grossest name for a bar and she was like, "No problem."
Maggie exits the stage and it looks like she's leaving the party early. On her way out she's stopped on the street by two skinheads. Oh, are we starting this movie out with a hate crime? A van pulls up and beeps so the skinheads decide to leave. This seems a bit passive for Neo Nazis but I'll take it! Then – in the weirdest setup for a meet cute of all time – Kim exits the van and asks Maggie, "Are you okay?"
Maggie says she's fine, thanks, and Kim's like "cool cool" as she walks back to her van with her hands in her cargo shorts. I wonder where Maggie's heading after her night at the gay bar, except no I don't, because of course she's going to the gay bookstore, Ten Percent Books.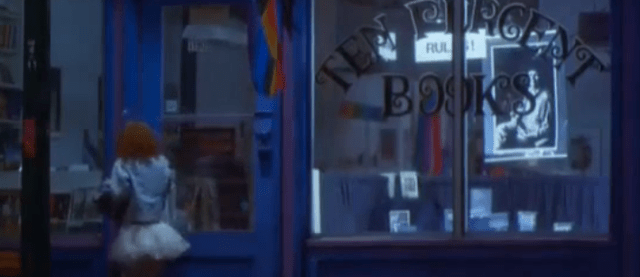 Do you get it. Right when she opens the door the music changes from club to a genre that my ex liked to call "lesbian scrapbooking music." That very abrupt musical transition made me laugh out loud and it makes me sad that queer book stores are becoming a thing of the past and that I won't get to experience that magic moment as I walk into a place called something like Buy Curious Books again.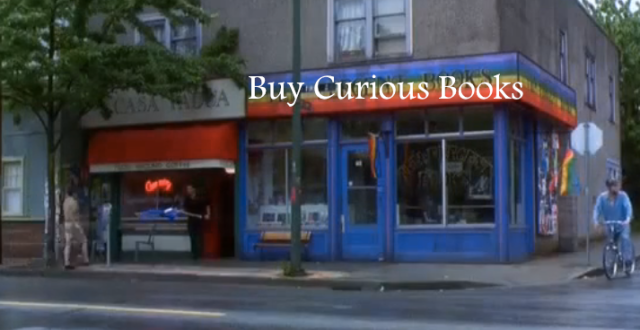 Now we're in a sex toy store, the third wonder of the lesbian world after lesbian bar and lesbian bookstore. We've only got lesbian coffee shop and lesbian art studio left to go! Keep in mind we're not even three minutes into this movie, so we'll get there, I'm sure. Oh, no, this is not a sex toy store, there is just an ENTIRE WALL OF DILDOS in the book store. This is where Maggie sleeps.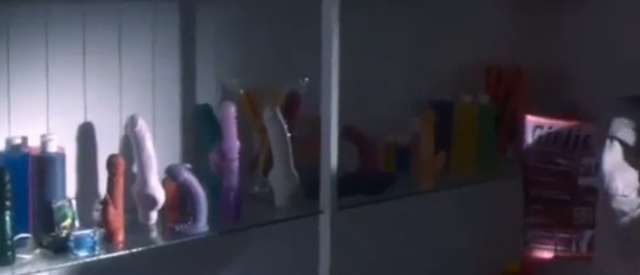 My favorite 90's Mom from The Good Son, The Santa Clause, and Air Force One is also Maggie's mom, Lila, and is calling! She's divorcing from her husband and Maggie says something like, "Finally," which feels hurtful. Lila doesn't know Maggie's sleeping in a gay bookstore or that Maggie's gay, but she does know that Maggie's dropped out of school. When her mom brings up the school thing she does that Upset Mom Register that sits in the back of the throat and sounds like a cry is doing its best to try and muffle a scream but then they both just come out at the same time.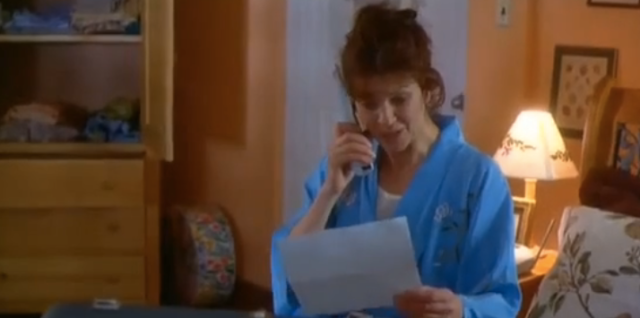 Maggie tries to pacify the situation by saying she found a great place in an interesting part of town, definitely not on a couch in the back of a bookstore where she stares at a wall of dicks. Maggie's mom is like, "Oh, good, because I'm moving out of the house and your brother and I need a place to crash," and then before Maggie can interject her mom goes, "See you soon!" and hangs up even though she has no address or any information. In a taxi like, "Where are we headed today?" "Maggie's apartment!"
Hip lesbian bookstore owner, Frances, emerges from the shadows to tell Maggie she better figure out a place to live because she's not staying here! The conflict in this movie arrived so fast!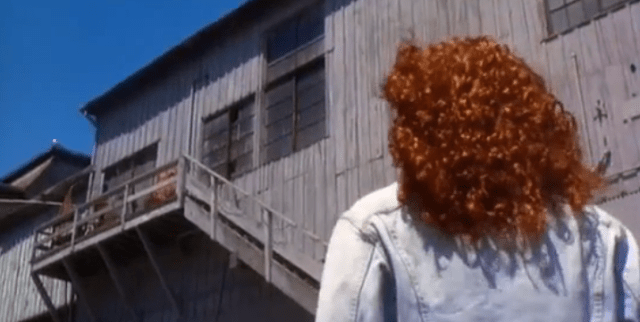 Maggie finds an apartment sublet in what looks like an old sawmill, because god forbid a lesbian in a movie live in a townhouse. The woman she's subletting from is giving her sex toys a good ol' polishin' as they talk logistics. It's for the month and the month only, and no surprises!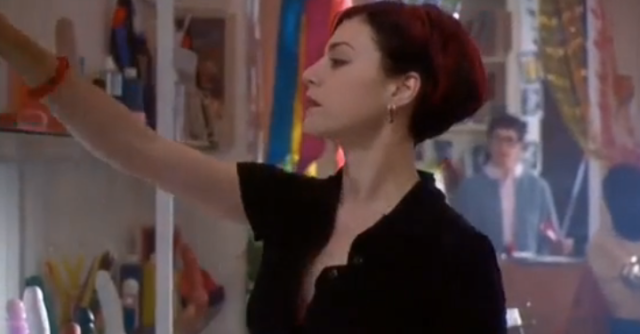 We're back at the book store and ayyy who's this woman dusting the dildos? From the sound of it she's VERY into sex. Oh, it's Carla, the bisexual. Right, because bisexuals are sex-crazed. This movie gets it! And here we go, Ani DiFranco in the background. Five minutes into the movie and honestly I don't know if I could come up with a more stereotypical lesbian movie if I tried. Doesn't mean I won't try!
The bongos and strum of Ani's acoustic guitar usher in this sweeping scene: Maggie's walking outside and spots Kim doing a portrait of a guy outside her artsy van.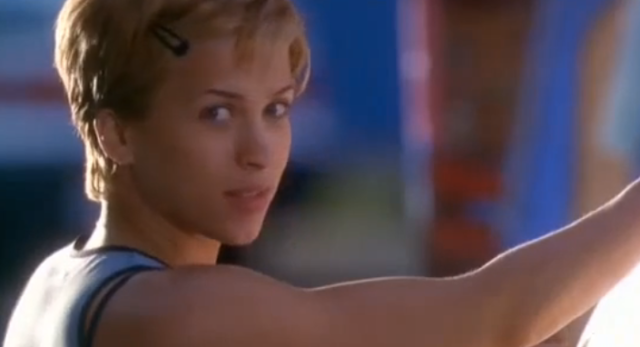 The guy who's getting his portrait done, Tony, waves Maggie over. He's the owner of the coffee shop next to Ten Percent Books and he seems like a terrible person. Tony confirms my suspicions seconds later when he instead of paying Kim for his portrait he just takes it and is like, "You can have a free coffee at my coffee shop."
He walks away and Kim gestures to Maggie like, "This freaking guy," and asks Maggie to sit for a portrait. Maggie explains she doesn't have any money, but, oh, I'm sure y'all can figure something out, am I right ladies?!?! Kim gets right down to business and unleashes Assertive Top Lesbian: "You have beautiful eyes." As she's drawing, Kim explains that she lives in her van, and because all of her belongings are in there she's essentially driving around a U-Haul.
Next up is the coffee shop! There Maggie unfurls the portrait Kim's just finished and it looks like if a child was asked to draw a "scary lady".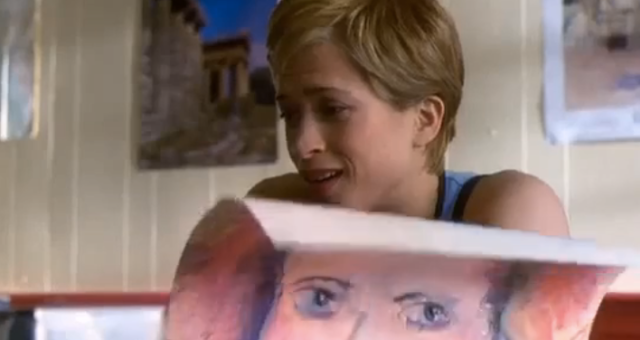 Maggie's face and my brain are screaming, "You have to give up drawing immediately," but what comes out of Maggie's mouth is, "You're good." Who among us haven't done this. And I'm sorry, but why does Maggie always look like she's just walked into the wrong meeting?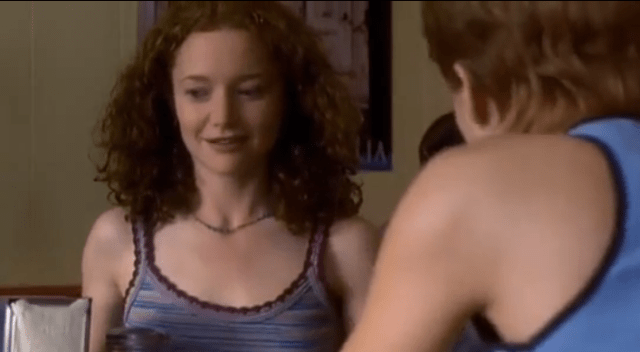 So in this movie it's been a total of two minutes that Maggie and Kim have known each other and they're already discussing how they are going to handle Maggie's family coming into town. Like we have officially fast-forwarded eight months into dating. Hahaha, then there's this close up of Maggie's face and Kim's hand creeps into the frame attempting to stroke Maggie's hair but just misses. There, there, sweet girl.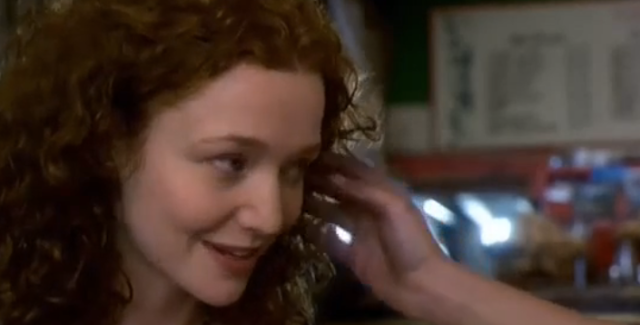 As they go to kiss they get kicked out of the coffee shop by Tony because he explains that it's a family coffee shop. Instead of flipping a table or two they're pretty much like, "Alright, see you later, friend!"
We're moving fast here so of course immediately after they leave the coffee shop Kim asks Maggie to join her in her van for sex. Think about if this really was the first lesbian movie I saw and how that might have shaped how I thought things went when you first meet someone you're interested in. "Hi, what's your name?" "It's Erin, and my sex van is right outside."
Maggie accepts Kim's offer and once they're inside it's time for some mindful hugging.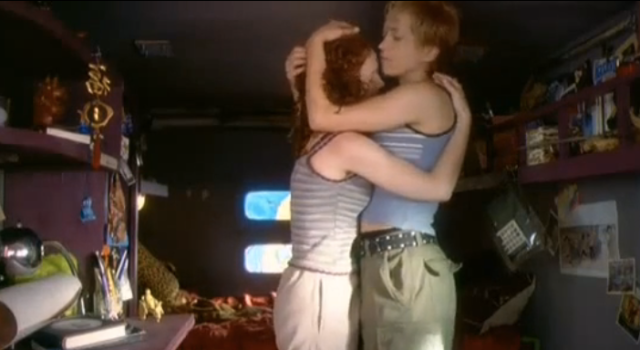 Then Kim proceeds to lay Maggie down eeeever so gently. We're talking a good 20 seconds to get her all the way down. I'm trying to imagine this scene happening to me. Someone invites me into their van after five minutes of knowing them, and then once I'm inside they start to hug me for a really long time, and then after that's done they recline my body onto a bed at the speed of a rope-operated dumbwaiter.
Their weird but spot-on lesbian foreplay gets interrupted by the tow truck that's hauling them away to the pound!

This film can't decide if it wants to be wacky or intense and I really need it to pick one. "I'm not just one thing." – This Movie, also probably upcoming dialogue from a bisexual character in this movie.
After getting towed they head over to Maggie's new place. They're sort of poking around the subletter's stuff and Kim finds five sex toys all within arms reach. Whoever Anne's basing this character off of needs to CALM DOWN. Kim puts all of the toys on display in the window and Maggie's like, "My mom's coming silly!" and that makes sense but then immediately after that they strip naked so they can paint on each other's bodies and roll around on a tarp.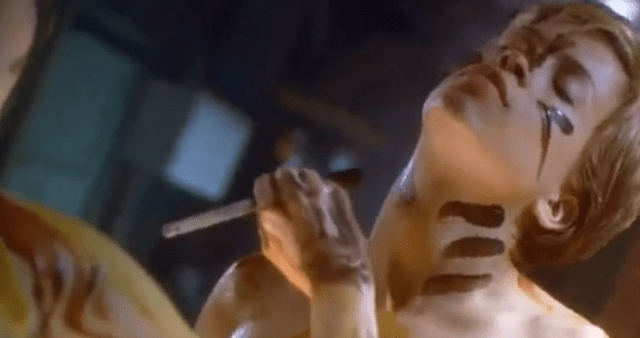 Both hands, they are using both hands, they are writing graffiti on their bodies, they are drawing the story of how hard they tried. The song that's playing has lines like "Please hold me" and "You touch my heart" but it's also peppered with a woman moaning, and again it's like, pick one. Either be scrapbook music or be sex music, don't be both!

Shower time! As they make out Kim is coming a bit from the side and has one hand on the side of Maggie's face, sort of like she's showcasing her head, and I'm starting to think that Kim doesn't totally understand human bodies. Mid-make out there's a knock at the door – it's Maggie's mom and brother!

Maggie and Kim freak and pretend they're temporary roommates, something I'm sure will be made permanent by nightfall.
Okay, it's later that night and – finally – they're having sex. Naturally, they're on the floor surrounded by a bunch of tapestries and candles. Maggie keeps reminding Kim to "shhh" but then lets out these high pitched sighs that turn into mini screams, which is now the second time she's presented a reasonable objective only to immediately abandon it.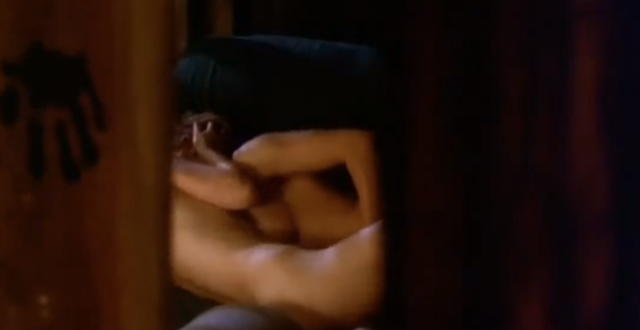 I wonder how many times this particular scene has been rewound by the collective queers of the world. That is a number I would love to know. The noise wakes up her brother in the other room and he's off to investigate. There's no need to do too much searching because they've left the door WIDE OPEN. Well, Maggie's brother seems very excited to see his sister have sex, which is something.

Now we're back at the bookstore and there's a story line that I genuinely could not care less about but keeps being brought up so: the bookstore has been notified that books they've ordered for their inventory are being help up at customs for being "offensive material" even though they're just books about safe gay sex. There. ARE YOU HAPPY, ANNE WHEELER, THE WRITER AND DIRECTOR OF THIS MOVIE? Why is this being given so much air time when we need a good 30 minutes from you to explain to us where these two women are mentally that within an hour of knowing each other their sense of self and boundaries have completely dissolved? But please, continue on about the books.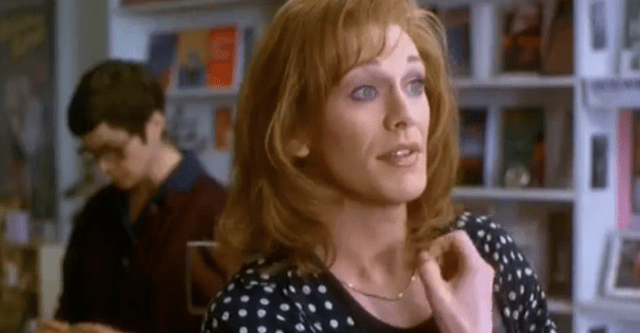 The good news is there's a trans woman, Judy, that's introduced but the bad news is that Judy is played by a cis man. Judy has a thing for Frances and I'm counting on Frances – who always has a joint in her hand – to knock it off with the weirdness towards Judy. I have to say, though, Judy's story line is being considered in a way that I did not expect and is also being handled with some finesse.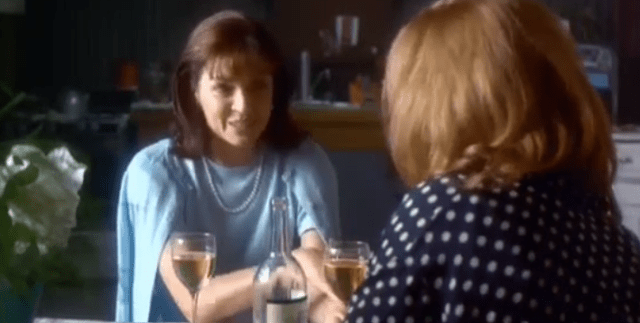 Judy stops by Maggie's place to drop off a housewarming gift and meets Lila. They have a glass of wine together and exchange a lovely conversation about their fears about essentially not being enough. In the end, though, they decide, you know what? Cheers to strong women. This is already my favorite pair.
Later at Maggie's place everyone's hanging out and after asking Kim if she has a boyfriend, Lila asks the real question we've all been wondering: "What is that god awful music?"
Hey, it's a Cat's Ass kind of night!

Carla's brought Maggie's brother (who it's been made clear is 17 and not of consenting age), Judy's celebrating after buying an apartment with the help of Lila (who swindled her way into a job as a realtor) and is set to perform, and Maggie and Kim are busy having sex in the bathroom.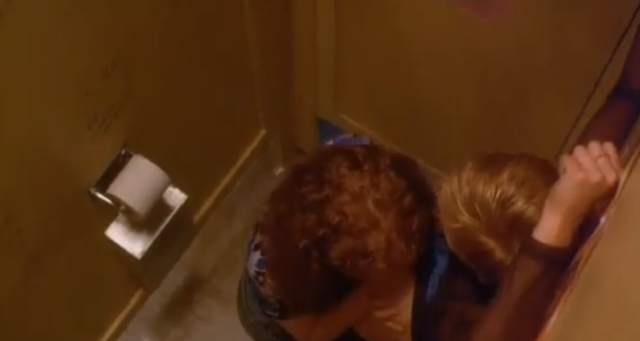 Everyone in the bathroom is whooping and hollering even though they're all in line to use the only stall available. Let me just say if there were two people having sex in a bathroom's only stall for a long time while a line I was in formed out the door, I would not be whooping and hollering.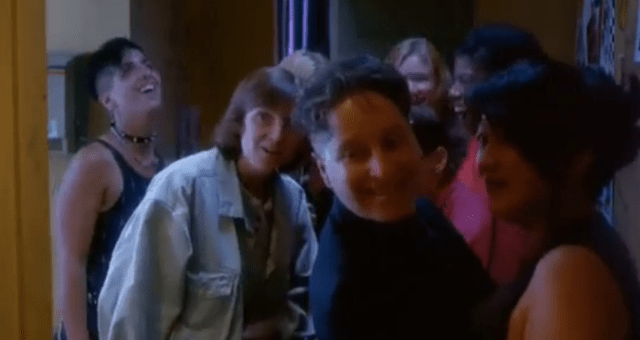 With the adrenaline of a great performance under Judy's belt and a little encouragement from the conversation she'd had with Lila earlier that day, Judy decides to tell Frances she's in love with her. And it seems to be well received! Judy goes to the bathroom to freshen up when all of a sudden this other woman walks up behind her while grimacing and does this TERRIFYING puckering noise with her mouth.
It's the same sound an old lady made at my girlfriend and me outside the Vatican in Rome when she saw us holding hands and I 100% had a curse put on me that day. Then like she's a villain from Scooby Doo the bigot says, "Aren't you in the wrong place, sir?" and then throws water in Judy's face. Judy simply says, "Are you happy now?" and wow I do not like this scene!!!!!!
We're back on the dance floor. Maggie and Kim are slow dancing with their foreheads touching like they're trying to tap into the other's third eye.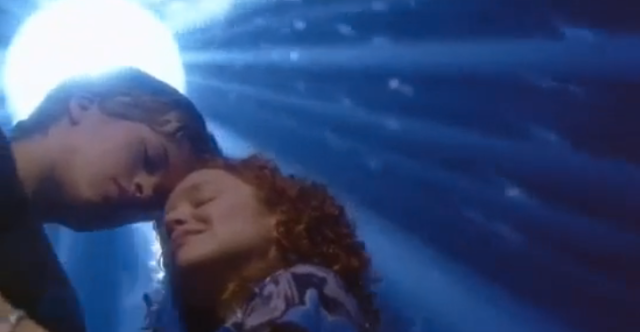 Kim crinkles out a single rose still in the plastic wrap from her back pocket and whispers, "Let's go," and I'm assuming she means back to the bathroom. Kim did mean back to the bathroom, and when they get inside Judy is being attacked by that horrible woman. Maggie and Kim apprehend the attacker and force her to apologize to Judy, but the fact that this scene is cushioned between a scene of a tantric make out and a scene of Maggie's mom back at the apartment finding another box of sex toys make this scene feel flippant.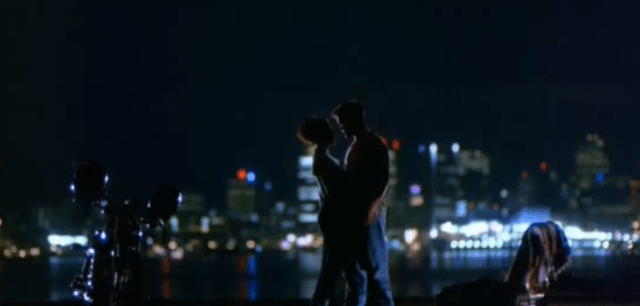 Now Bisexual Carla is bringing Maggie's younger brother to an empty lot overlooking Vancouver's skyline to have sex with him. Ayiyi. He asks if she really likes boys and she says, "Soft centers, hard centers, I like all the chocolates in the box." Carla Gump.

Without any discussion of the traumatic experience that's just happened to Judy, she back at Frances's place. They both look very nervous and after a quick kiss it falls apart. Judy leaves and everything's terrible.

Back at Maggie's apartment Lila is using the box of toys she found and whoa is she having a ball! Now This Is What She Calls Music: Volume Boioioiong!
The next morning Maggie's mom is walking on air. Frankly I'm surprised she's walking at all! Her mellow is harshed, though, when she walks in on Maggie and Kim cuddling in their underwear on the couch.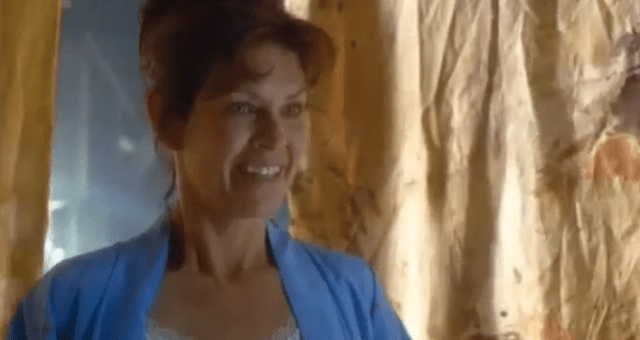 Oh! Oh, yes, right, I see. But also, she has some questions about the box she found. Maggie tells her it's all a misunderstanding, they're not hers, and her mom's like, "Well, I used all of them???" and then they all find themselves on the couch discussing how much Lila enjoyed the sex toys.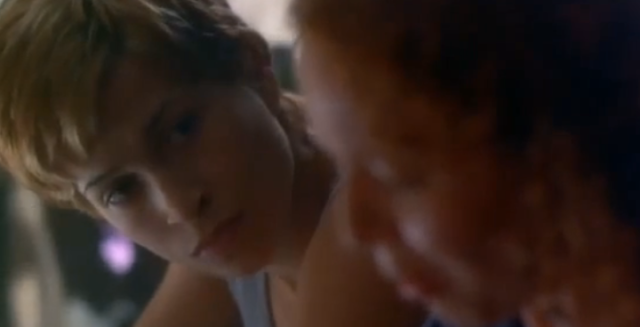 Lila questions whether or not Maggie's actually in love with Kim, and when Maggie doesn't answer right away, Kim's out of there. Maggie tries to run after her but Kim's not having any of it. "I can't believe we've only known each other for three whole days and you can't even say you're in love with me!!!" Then Maggie sprints in the opposite direction to nowhere in particular.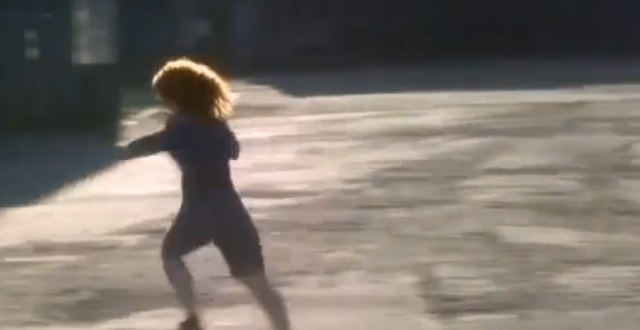 Kim's going to San Francisco, but before she does she meets up with Judy. They're both upset knowing that the people they have feelings for can't fully let go of whatever fear they're holding onto. Kim says Judy is "one in a million" and it's a shame more of the movie isn't like this.

Oh, thank god, I was so worried about the book store crisis. Now the customs people are coming for Frances's movies! I'm going to bankrupt myself by opening my own Ten Percent Books so I can never talk about books or movies ever and just play racquetball in there.

Lila's hanging out at Judy's new place and there's a package that comes for "Jeremy." Judy explains that she's "Jeremy" and Lila has a melt down. She goes to the fridge and downs an entire glass of Chardonnay which is just gross. Oh, yes, you just went through and used an entire box of used sex toys that you thought were YOUR DAUGHTER'S and Judy's the weird one here.
The letter that arrives for Judy is from her parents and it explains that we won't be interacting anymore, but please do enjoy the condo we bought you. Lila seems upset for Judy when she hears that and it seems she realizes how awful she's just been downstairs. Judy's upset, but also, she's FULL OF RAGE. She starts taking the opened paint cans she has lying around and starts thrashing them against the wall.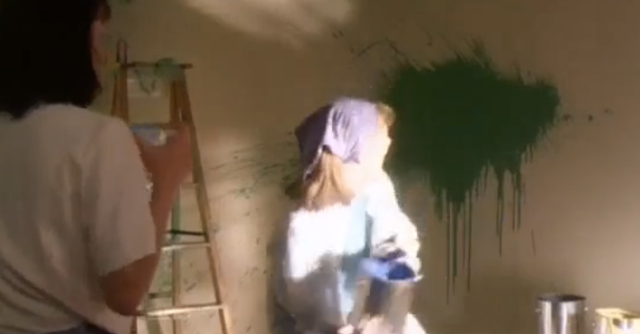 Lila joins in and they reconnect on a human level. Then they get drunk, decide they're "goddesses," and scream, "MAKEOVER!!!!" I want a movie with just these two.
Okay, now we have reached the scene that I bet everyone has in mind when they groan at the mention of this movie. We are back at Ten Percent Books where Maggie – fueled by oppression and love lost – stands naked in the window with a sign over her chest that says "OBSCENE LESBIAN" and a sign over her pelvis that says "PERVERT." I mean, this is textbook.
And there we go, scrapbook music. Another quick cut/music transition into a scene where skinheads start to circle Maggie's window display like sharks.
Judy and Maggie's mom are stumbling around Vancouver hammered trying to find Frances and they happen upon the bookstore where they see the skinheads trying to get inside. Lila gives her best attempt at a slap session and fails miserably. Judy takes a punch to the face before giving one of her own. The four skinheads that easily outweigh them in size and blind hatred take that one punch as a sign that they should leave. Again, not the the skinheads I'm used to reading about!
How do I describe the next three minutes of the movie without it seeming like a MacGruber skit? Well, Judy and Maggie's mom make their way inside the store to make sure Maggie's alright, and then Judy goes next door to the coffee shop where Tony is fixing a gas pipe. Just as he's explaining that the hose doesn't fit, the skinheads drive up and launch flamethrowers through the windows. Yes, this is happening. One flamethrower nears Tony and because of the exposed gas BOTH STORES BLOW UP.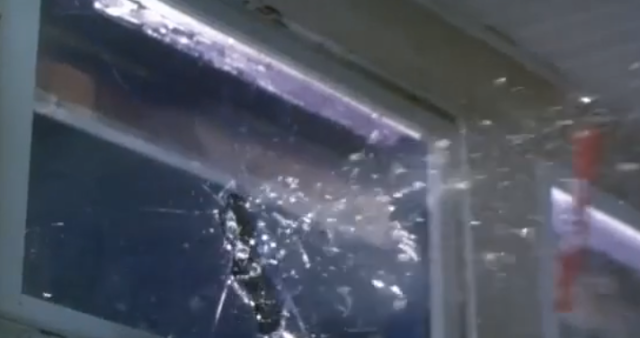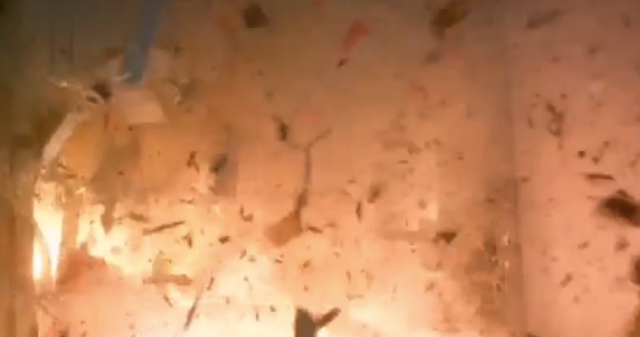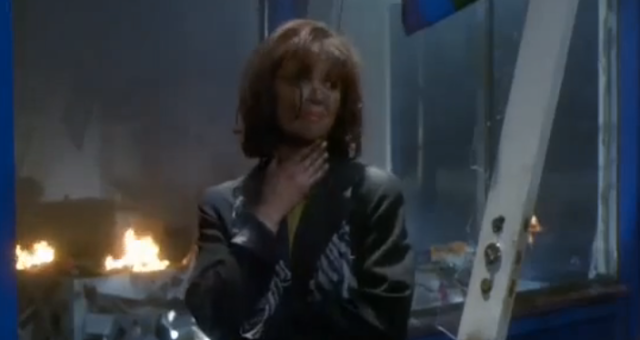 This is so much. Oh my god, I just came here for a romantic comedy! "It's explosive." – A more accurate movie blurb.
Amazingly, no one is hurt. Judy runs outside for help and here comes Frances to declare her love for Judy. I would be so scared to meet the writer Anne Wheeler because based on every relationship in this movie I'm pretty sure if you just introduce yourself to Anne she'd be like, "It's so nice to meet you and also be in love with you."
Would you believe it, Kim's come back, too. There's a burning building in the background, Maggie is bloody and naked, and sirens are approaching, and rather than frantically scream "MAGGIE WTF IS GOING ON?!?!" Kim slowly saunters up without ever losing eye contact or saying a word and then sensually kisses a terrified Maggie. Who is she.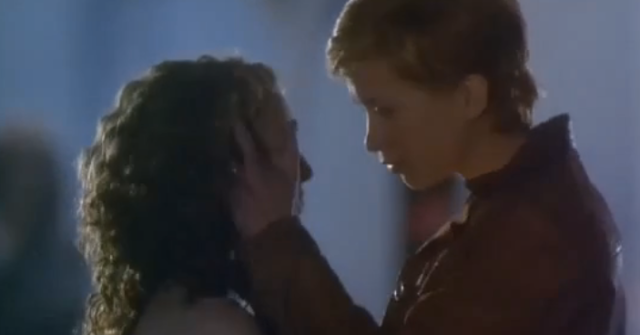 The credits roll and wrap up everyone's story lines. Lila performs for the first time at The Cat's Ass. Carla and Maggie's brother live together. Frances and Judy get married. Kim and Maggie go on tour as performers (of what?) and Maggie writes her first book, "Better Than Chocolate." The last line of the movie is said by Maggie's brother who is watching his mom perform onstage and he goes, "Yeah, shake it, Mama, whew, ugh!" and I need him and/or Carla to go to jail.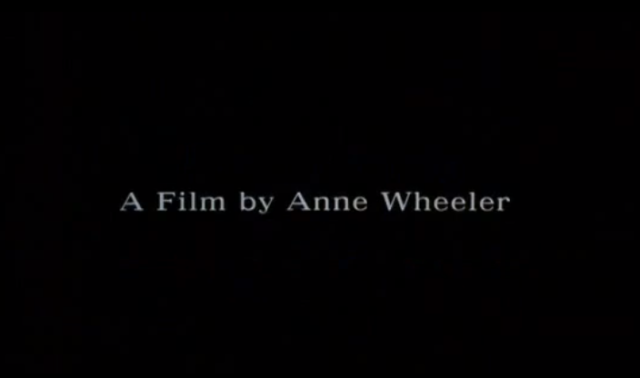 I feel like I've been through so much. I feel damaged, like this movie has taken a part of my soul. And not only does this movie refuse to apologize for it, I think it's going to use my soul's energy in order to make it even more ridiculous for the next person who watches it. It's like The Ring, but instead of bad things happening to the next viewer, the movie just gets worse. I'm sure it started out as a normal movie about two women who meet and spend an appropriate amount of time together before finding love in this crazy world, and now 17 years and thousands of views later it's essentially Lesbian Die Hard.
Go forth in peace, my kittens, and don't be like me – break this chain of power.