If you thought that high school teens killing themselves because bullying w/r/t their sexual orientation had pushed them to their limits was the absolute worst thing, you would probably be right. But second place might go to homophobic bullying and outing by SCHOOL OFFICIALS, especially those trusted and beloved by the student in question. Enter Kilgore School District, and softball coaches Newell and Fletcher.
There's a lot of unknown details, but what is known is this: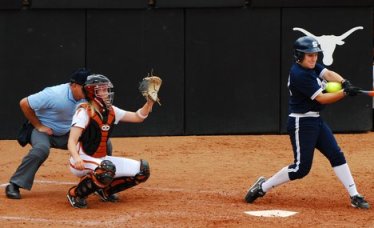 On March 2 of last year, according to the lawsuit, S.W. showed up at the softball field for a team meeting, and after it was over, Newell and another coach told the girls to go home. S.W. was told to stay… The lawsuit says Rhonda Fletcher, the other coach named as a defendant… asked S.W. if she was gay, accused her of having a sexual relationship with another girl. She also claimed that S.W. was spreading gossip about this other girl being "Coach Newell's girlfriend…" Fletcher and Newell then threatened S.W. that they were going to tell her mother that she was gay and having a sexual relationship with another girl. They warned S.W. that she could not play in the softball game that night until they told her mother this information. Finally, they allowed S.W. to leave the locker room.
Thankfully, S.W.'s mother has pursued action against the school rather than disowning her daughter or sending her to a dangerous Love In Action style reprogamming camp, both of which were COMPLETELY POSSIBLE outcomes of this situation. It also doesn't seem like she threatened or harassed S.W.'s girlfriend, which is pretty lucky considering that the coaches also offered up her CONTACT INFORMATION.
Instead, the mother spoke with the school district about what had happened, filing complaints with the principal, superintendent and board of trustees.  And when Kilgore  superintendent Jody Clements maintained that "We're confident we handled it the right way," she got in contact with the Texas Civil Rights Project.
Many of the details of the story aren't being released, which is completely appropriate, as the injured party is a high school student. A lot of the details we do have don't seem to make sense – for instance, the contact information of S.W.'s girlfriend was offered straight out of Coach Newell's personal cell phone, and S.W. and her mother believe that the motivation for her outing was that Newell was somehow also romantically involved with the girl in question. If true, that abuse of the coach-student power dynamic would be yet another layer of extreme inappropriateness; but there's no way to tell yet if that's the case.
What is true is that S.W. was eventually kicked off the softball team, and her grades have since plummeted. Also true is that this is inexcusably and reprehensibly wrong on every level. Or, as the lawsuit says,  "the coaches have "no legitimate state interest in the disclosure of students' sexual orientation to parents. Doing so is a severe and traumatic violation of students' privacy…"
If there's one minor silver lining to Gay Bullying Crisis 2010, it's that it has led to an increased push for schools to be held accountable for the safety of their students. Tyler Clementi's parents are suing Rutgers University for the fact that although Clementi alerted an RA to the fact that his roommate was spying on and recording him, nothing was done to help him. Hopefully, the knowledge that parents are empowered to try to keep their kids safe in school will motivate some schools to do the same – or at least, in the case of Kilgore, not have their own staff actively endanger and threaten the students themselves. Here's to hoping.