You could say the first two lesbian movie classics I've watched in this series haven't gone well. First, there was Better Than Chocolate, lesbian Die Hard, and then there was Go Fish, the gay version of a fever dream. I was convinced that movies were no longer an experience that could provide enjoyment and were instead tasks you must get through without complaint in order to atone for past sins.
Imagine my surprise then when halfway through I Can't Think Straight, the 2008 film about a Jordanian woman from a Christian Palestinian background and an Indian Muslim woman who meet in London and fall in love, I turned to my viewing companion, my face straining into itself, and as if I was asking for permission said, "I like it?" Admittedly, the name of the movie and the theatrical release poster of what looks like two traveled jewel thieves on their way to their next heist don't do the film any favors to endear itself to an audience prepped for eye-rolling, but those marketing decisions don't reflect the rest of this film. Yes, writer Shamim Sarif has managed a believable and engaging romantic comedy that doesn't end in someone jumping off or setting fire to a building, and I think that deserves something special. DM me, Shamim.
---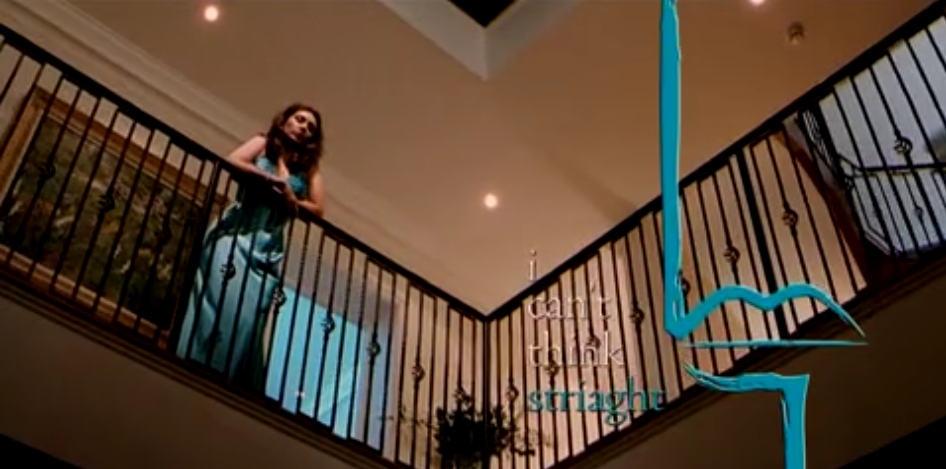 Alright, we're starting off with some shots of the hustle and bustle of Amman, Jordan and we land on what appears to be an incredibly rich person's home. There we meet Tala, a smoking hot woman with the world's tiniest cell phone.
She's taking a call from her fiancé who is setting the scene: the engagement party is in 20 minutes! He sounds excited and also rich in the way that only a ring the size of a well-fed beetle can convey. Someone who must be very pleased with this match is Tala's mom, a woman who requires no less than three house helpers to get dressed for a party. Coincidentally, Tala's mom is also a smoking hot woman who is holding a tiny item the first time we meet her, but instead of the world's tiniest cellphone it's the world's tiniest coffee cup.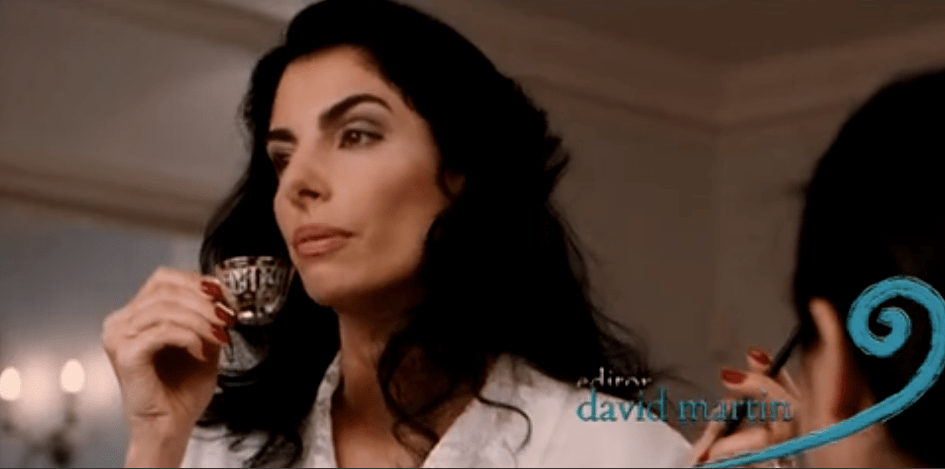 Maybe the tiny accessories here are meant to employ that gag where people with big hands hold tiny things, but in this case instead of highlighting a size difference it's to enhance their beauty. It's an interesting theory! One I'll continue to cite despite zero investigation or follow up.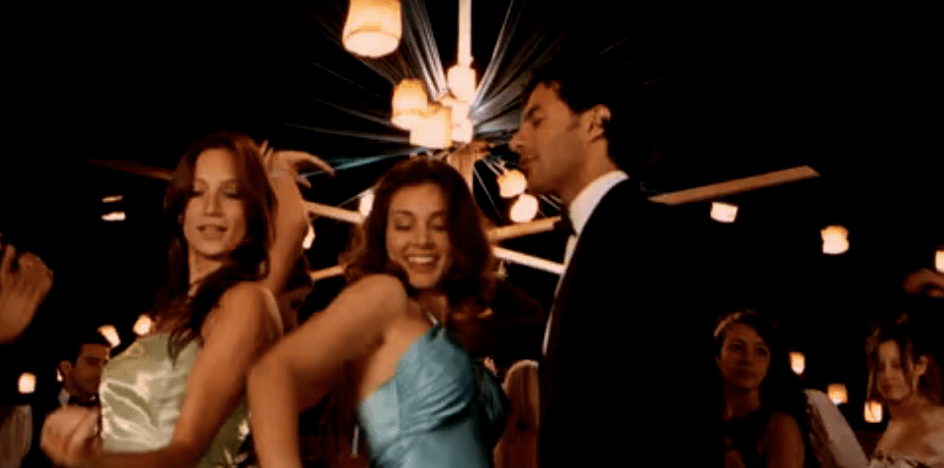 Later we descend on Tala's engagement party in full swing while everyone's shaking it on the dance floor. There are whisperings about Tala having a reputation for being a bit of a runaway pre-bride, but surely her newest fiancé Hani will stick. There are a lot of other conversations happening at this party but the general sense I'm getting is that: Life's great when you're rich and beautiful.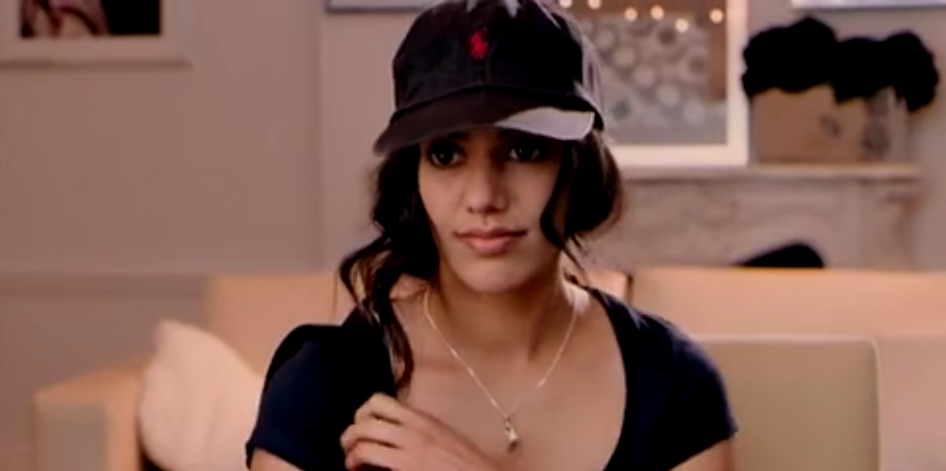 Cut to London where we meet Leyla, another attractive woman! She's wearing jeans and a ball cap, which I'm reading as code. Leyla's a writer and has shown up at her father's work to print out a story she's written. He makes her come upstairs and chat about how she will one day take over his life insurance business. Conflict of interest!
Leyla explains that she has a date with someone name Ali, and when Leyla's father says that he's "a good boy" Leyla does that half-smile, look down and sigh that is the universal suggestion that someone kill her, please. Leyla's father is concerned her going out on a Friday night will mean people will think she's not a good Muslim, but he's just joking. Love you, babygirl.
Later on, Leyla and Ali are off on their date, but first they're stopping to visit Ali's friend. Fun start to a date! "Tala's great, trust me, you'll love her," Ali says, and Leyla, if I may, I'm going to have to agree! Right away they meet Tala's mom, who I'm assuming for the entire movie is going to be smoking out of a cigarette extension like Cruella de Vil. Tala comes downstairs to introduce herself by double kissing Leyla's cheeks, because she explains that's how they do it in Jordan (*sets event reminder to move*), and this is Leyla's face after: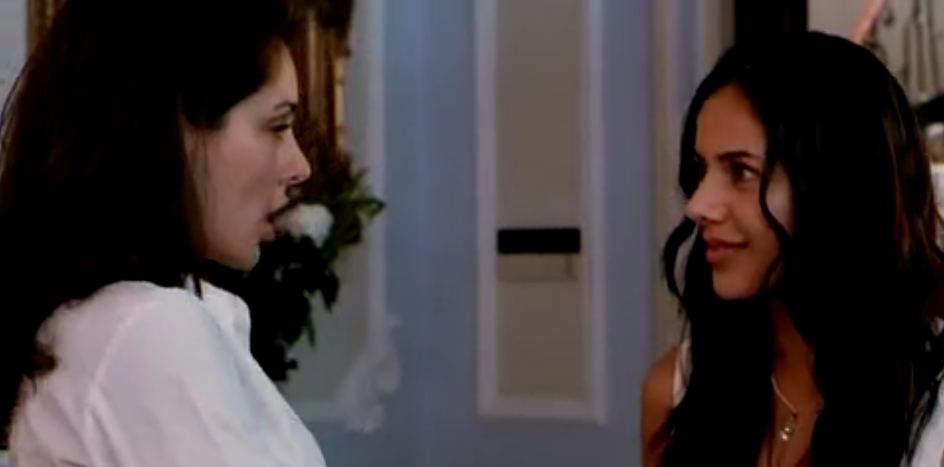 They get into the subject of Tala's upcoming marriage and Leyla asks if it will take place in a mosque. Tala explains not all Arabs are Muslim, and that it will be in a church. Then Tala asks Leyla outright, "Are you a Muslim?" and it's like whoaaaa, where are we, an American airport? Then they get into the conflict in the Middle East, which seems like as chill a start to a date as any. Because Tala's not religious she starts grilling Leyla about why she's a Muslim, and I admire that Tala's approach to foreplay is making a person as uncomfortable as possible.
The next time we see Leyla and Ali they're on their way to play tennis with Tala and another one of Ali's friends. Ali can't seem to hit that sweet spot of a date that involves a one-on-one scenario, but hey, Leyla and Tala get to see each other again! Leyla remembers Tala's double kiss greeting and Tala seems at once pleased and impressed, like a king who's been entertained with a well-executed joust. They decide to start a match of their own while the boys catch up. When Leyla's first serve goes into the net, Tala's like, "They have some great coaches here," and it's like Tala, you rascal.
While they play, they look at each other like we all look at our new friends.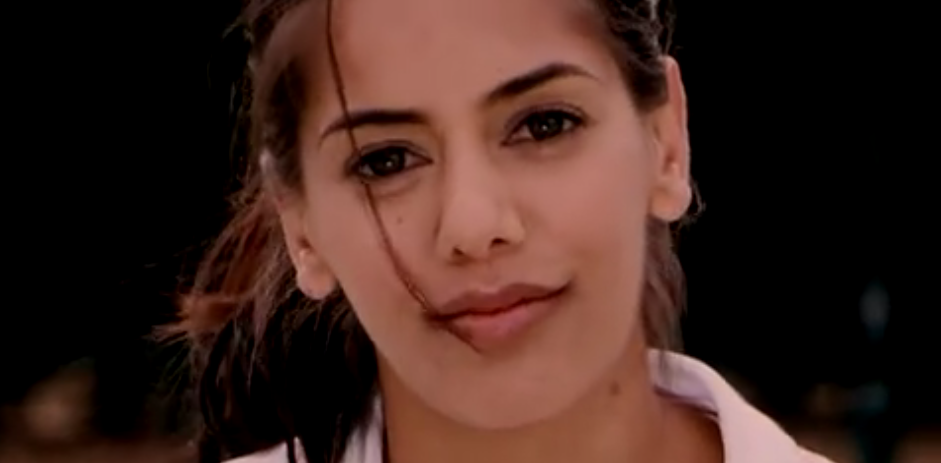 Then they start to volley back and forth and the camera is cutting from POV to POV like they're both landing incredible shots, but in reality how they're holding their rackets when they make contact with the ball would cause the ball to be launched into the atmosphere. "That was amazing," Leyla says about the foreplay, I mean volley, as they meet and shake hands at the net, and that's it, I guess 45 seconds in and they're done playing tennis now. Sometimes you just have to leave it all out there on the court, you know?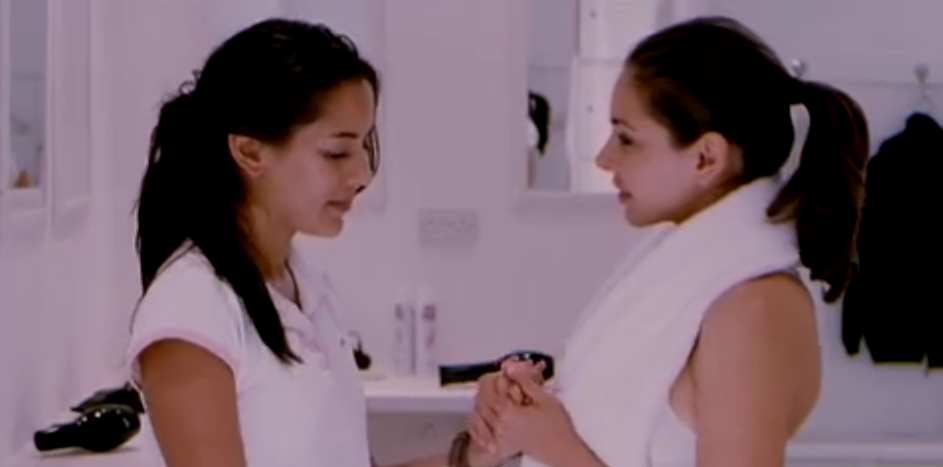 In the changing room Leyla gets in a good callback about how divine intervention helped her comeback on the court, but then is like, JK, I know you weren't being offensive in asking about my religious beliefs earlier, and actually you made me think about whether my relationship to my religion is based in real belief or just conditioning. Look, an appropriate conversation relative to the progression of events! One you might have with someone you've just met and connect with and with whom you are hesitant to reveal too much about yourself just yet but still want to have them know you and know they've made a big enough impact on you that you've considered them outside of your interactions!
Tala sees Leyla's analytical nature in full swing and goes into chill mode. "You know, you should really relax more," Tala says as she takes Leyla's hand into both of hers, and it's like, yes, I know the best way for me to relax is when a model holds my hand while gazing into my eyes and says, "Relax."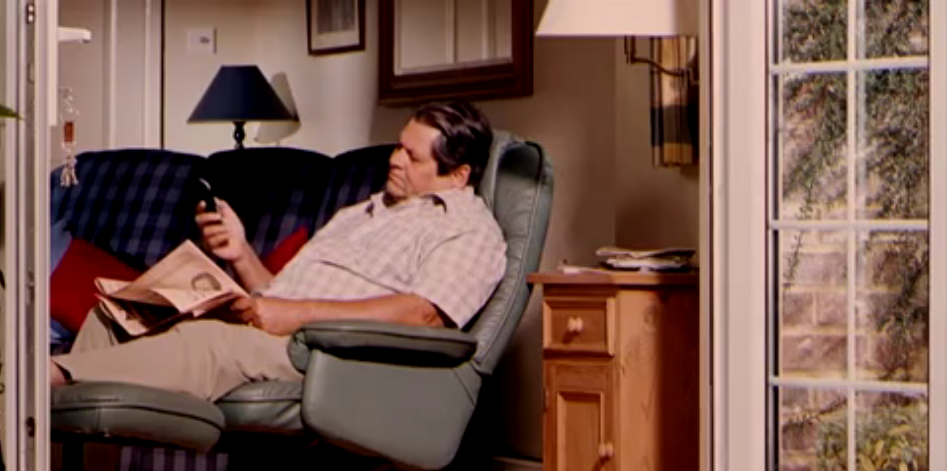 The next day Leyla's mom encourages Leyla to go to lunch with Ali – because it seems the moms in this movie cannot give it a rest – and instead Leyla goes to watch Tala's polo match. While Leyla's watching the match her dad calls and is like, "Hey girl, where are you?" and Leyla's like, "Hey, just definitely hanging with Ali, the boy I like," and he's like, "Hmm, that's funny, because Ali just called the house looking for you." Owned. He says he won't tell Leyla's mom. When he hangs up he looks at the phone with peace in his eyes like, "My daughter's a big ol' gay." Dads know.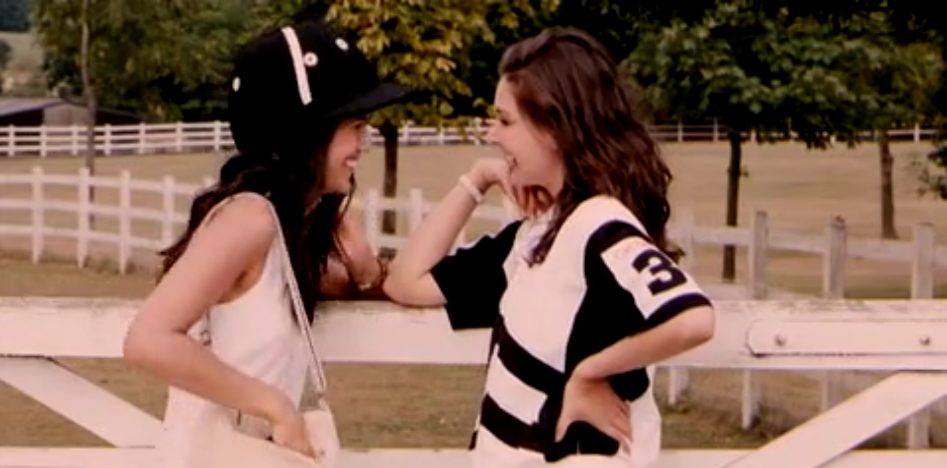 After the polo match it's just Tala and Leyla again, hangin' by a fence, something I'm noticing they do a lot of when they're not on a walk together. What about calling this movie Some Walks to Remember?
As they round the stables, Tala goes next level flirt, just casually and unnecessarily dipping her fingertips into a pond with lilypads while asking questions like "What inspires you?" 
Leyla explains that she likes to write, and when Tala says that she'd like to read Leyla's work to get past "that quiet exterior," Leyla does what I think we'd all do in this scenario: walks away without giving a yes or no to the matter so as to pretend it didn't just happen.
But of course you always end up showing that person you like that thing they mentioned wanting to see, which is exactly what Leyla does the next time they meet at the park. There on some steps, Leyla right next her, Tala reads "Before Snow Falls." This is like that nightmare when someone wants to show you a youtube video and instead of linking it in a message so you can watch it alone later they hold their phone in your direction so you can watch it together and they can clock your reactions in real time, but much, much worse. And despite sounding like a fake movie within a movie, Tala loves the story. Or doesn't, but is smart enough to say, "You have an amazing talent."
Afterwards they do their usual walk and talk. The topic this time is Tala's four engagements that she's broken off, and I wonder what this issue has been! I'm sure through enough one-on-one deliberation these two can figure it out.
Back at Leyla's house her mom keeps pushing the Ali thing and it's like, stop trying to make Ali happen. It's never going to happen. Leyla storms upstairs and her sister follows. Her sister wants to know what's going on with Ali and then glances around Leyla's room, spotting some key items.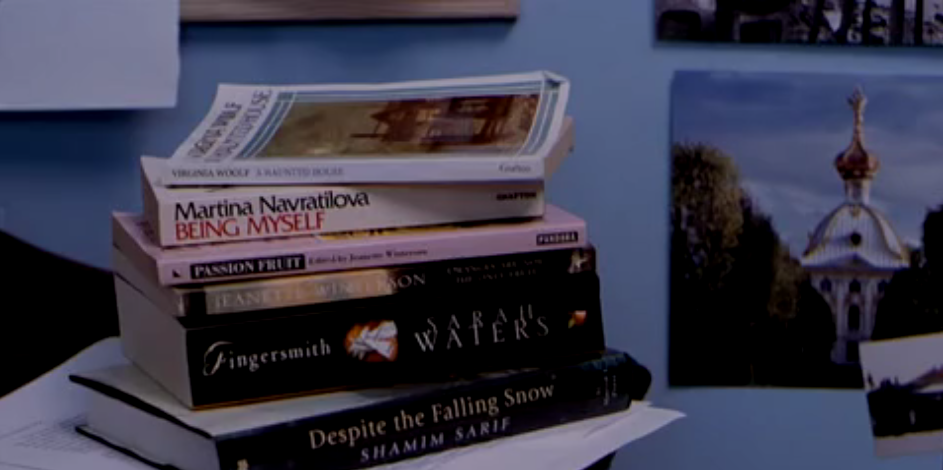 Right. Right! Got it. No, it's fine, I was going to ask you a question but I got it.
For Tala and Leyla's next date that they're not calling a date, they go a trip to Oxford together and meet up with Tala's sister for a picnic in the park. Tala's sister seems as clued in as Leyla's sister about what's going on between Tala and Leyla without even needing to ask, but that doesn't mean that when Tala and Leyla start feeding each other in front of her she's not like, "…WTF?"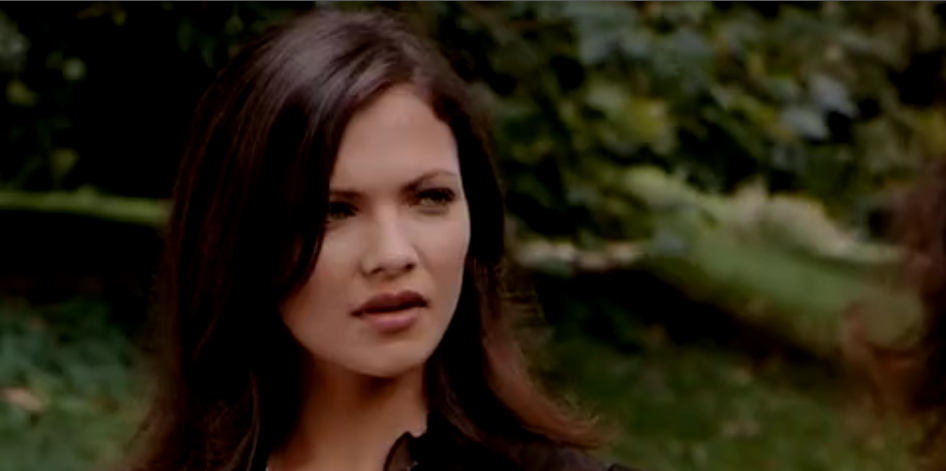 After the picnic Tala and Leyla go on another walk together that, yes, ends with them standing next to each other at a fence. There they talk about the men in their life and how great they are, but with the subtext of "I'm trying very hard right now to be positive about this." Here's the thing: these conversations they're having? They feel and sound like conversations real people have when they first meet someone they like but are trying to play it cool, and looking back they might feel super contrived and transparent and a little corny, but they are, and so this fits.
Tala and Leyla decide to stay in a hotel while they're visiting Oxford. First order of business for Leyla is to read in bed, and first order of business for Tala is to dance sensually in a silk robe just feet away from Leyla reading in bed. Tala wants Leyla to come dance, but Leyla is shy and says she doesn't have rhythm. Tala says she'll teach her, winky face, and when Leyla agrees, Tala goes with a tactile approach.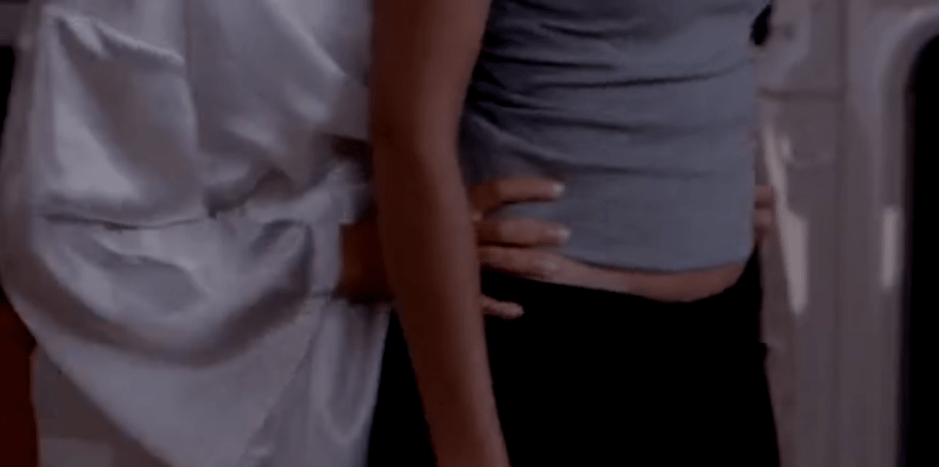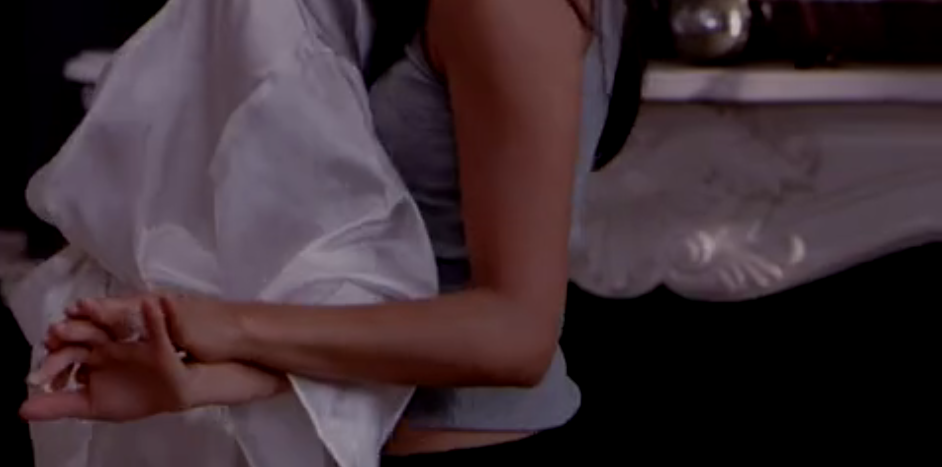 Ah yes, the art of dance. I, too, love to learn. Leyla seems like an excellent student! You know it's over when someone smells the other person's hair, which Leyla does seconds after taking the lead.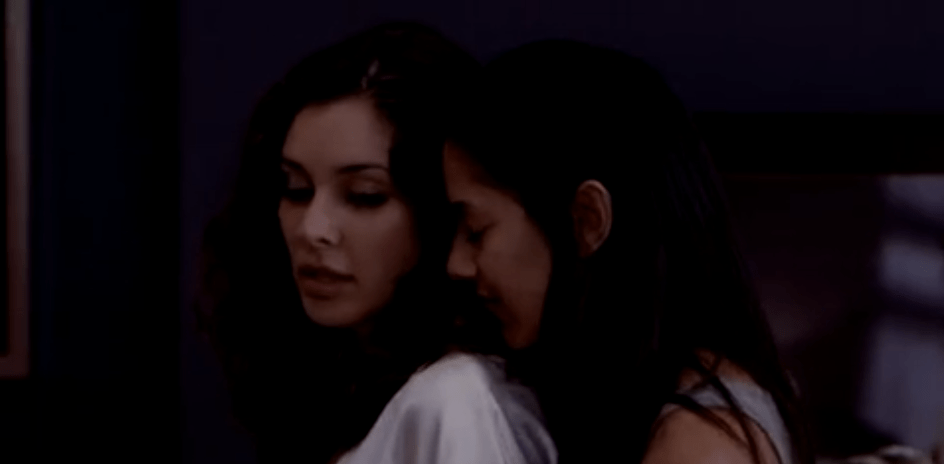 K.O. Shut it down, everybody. It's been fun! Hit the lights, somebody grab the extra cups.
The next morning Leyla wants to know if Tala's ever done this before. Tala says when she was 18 years old she fell in love with a girl, but nothing ever came of it. Tale as old as time. They talk about how possible it would be for them to be together, and after discussing Tala's fiancé and the perceived cultural intolerance of where she's from the forecast looks: not good!
Tala's mom has gotten a tip from Tala's sister that Tala has been spending an awful lot of time with Leyla, and so Tala's mom arranges for a surprise visit from Hani for when Tala and Leyla return from Oxford! Tight! Thanks, mom! Tala's mom says about the engaged couple, "They're so in love it brings tears to my eyes," and Leyla's face is like, "Same."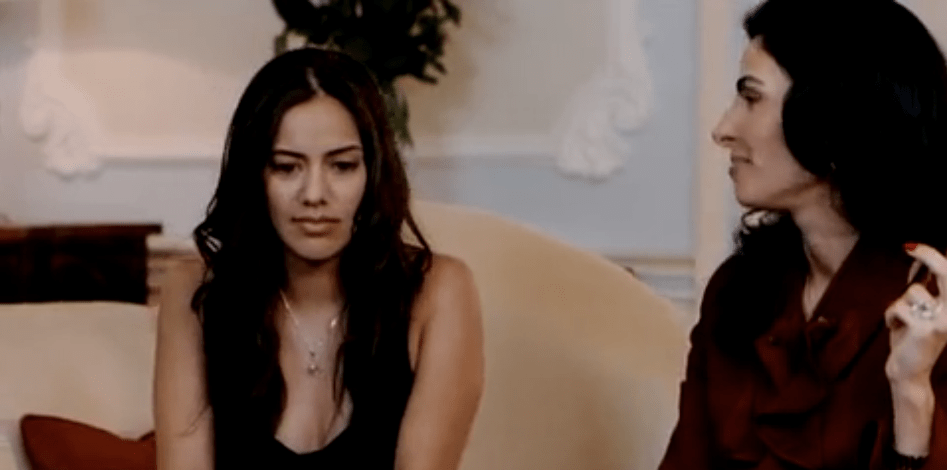 Shockingly, the meal that Tala's mom forces Leyla to stay for doesn't go well! Right after Hani brings out the wedding invitations for everyone to pass around and admire, Leyla excuses herself to use the restroom. Tala follows her and they settle on the wide open foyer of all places to talk about what they're going to do "in secret." Leyla's convinced she and Tala belong together, and even though there's a part of Tala that knows that, too, she decides she can't let her family down again. The wedding's still on.
Maybe as an attempt to ease the pain about Tala and Leyla not being together, it's at this point in the film that Riese and I start listing the things we like about Leyla and Tala's physical appearance. "They both have nice lips," Riese says. "Yeah, and good hair and skin," I say. This goes on for the entirety of the "everybody get ready for Tala and Hani's wedding" montage.
We're back at Leyla's house in London, and the way Leyla's standing in front of her mom in the kitchen with this mix of impatience and grappling like a kid who's been told to wait outside on the patio while their bathing suit dries lets you know she's ready to roll out the I'm Gay brigade. Her mom's not thrilled! Leyla counters by saying, "You said you wanted me to be happy," to which her mom replies, "I lied." Woof!
The conversation escalates and hits its peak when Leyla's mom's screams, "YOU WILL BURN IN HELL!" which is right around the time Leyla's dad gets home. To deescalate he pulls Dad 101 – offering to buy his daughter a flat while ignoring the conversation at hand.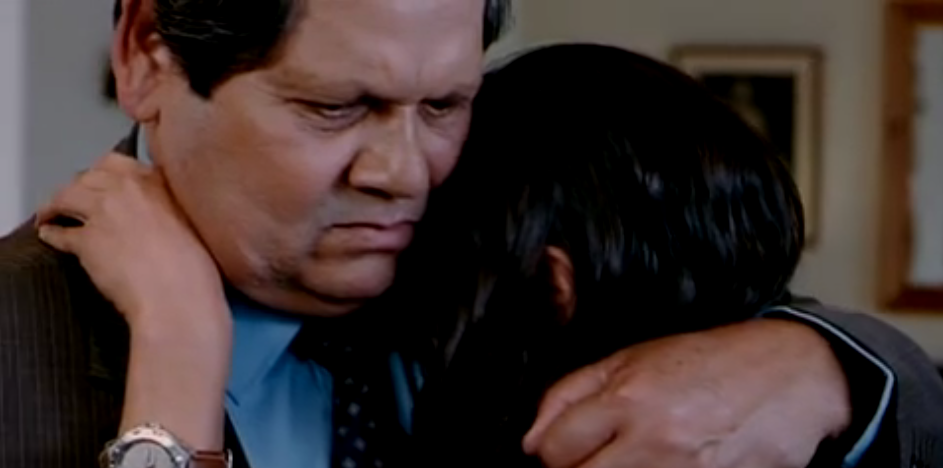 Back in Jordan, Tala has a similar run in with her dad. She tells him that she's calling off the wedding – and all of its accompanying parties, again – and he simply says, "Fathers just want their daughters to be happy." Something that's interesting about this movie is that in it dads are the best and moms are the worst, which feels… off. Shamim, wyd?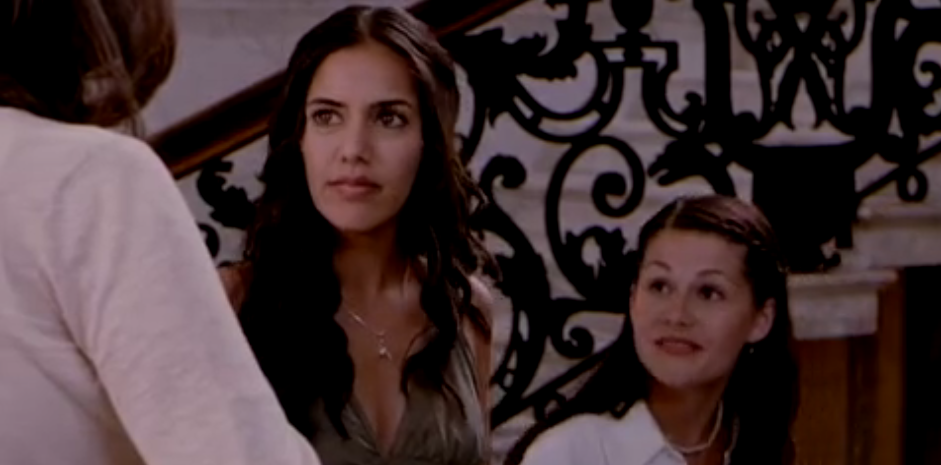 Tala's back in London and hears from Ali that he's been dumped by a freshly-out Leyla. Tala tries calling Leyla to win her back, and when that doesn't work, Tala tries physically intervening while Leyla's out on a date. That doesn't go well either, and Tala's left standing in the dust like this: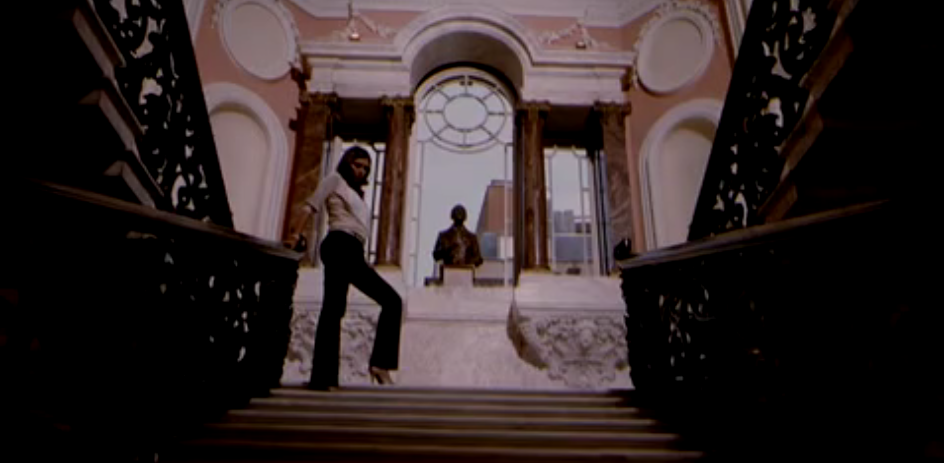 This, by the way, is how I will stand from now on whenever I'm slighted. Speaking of stances, let's take a look at Tala's throughout the film, as I do feel they're noteworthy: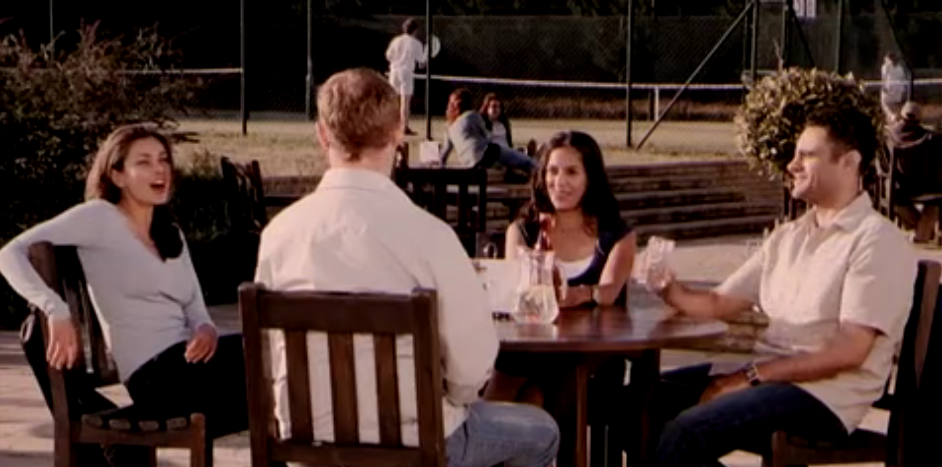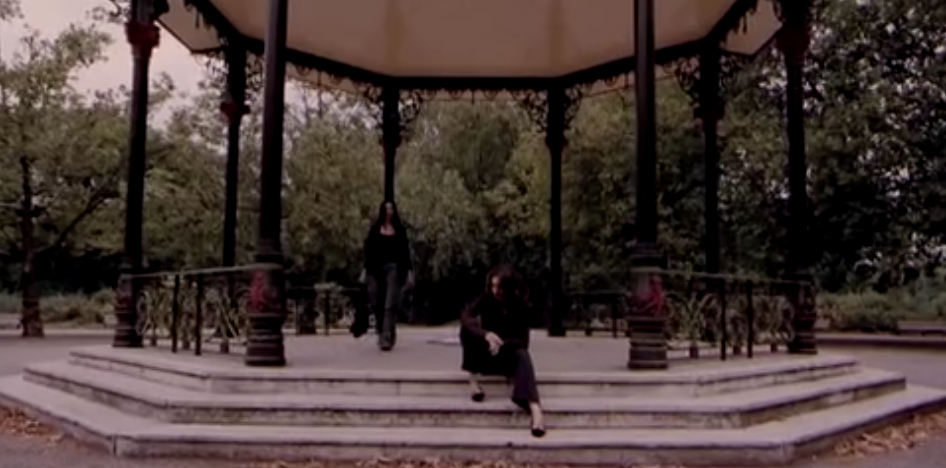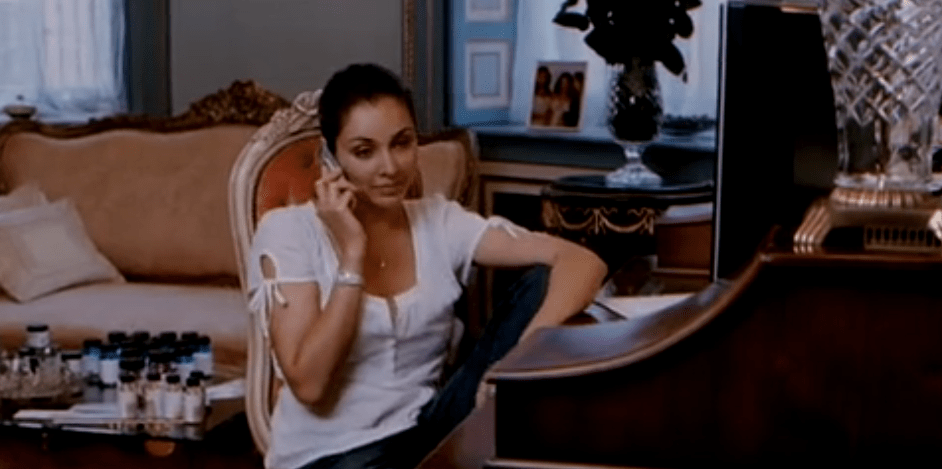 Anyway, Leyla's sister has had enough of Leyla and Tala not being together when she knows they belong together, and so she sets them up at dinner one night like she's LARPing Carmen San Diego: London.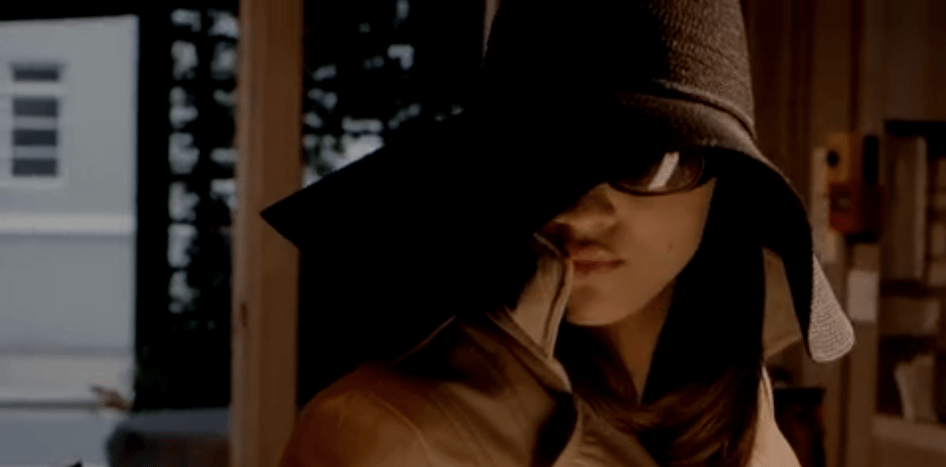 Even though Tala and Leyla look happy to see each other and have a nice conversation, nothing's resolved over dinner and that feels correct. What's Leyla supposed to do? Drop her new girlfriend because Tala's back and angling? No, she shouldn't, and that's not how life works. Tala can wait like the rest of us, and in the meantime she can square away coming out to her parents.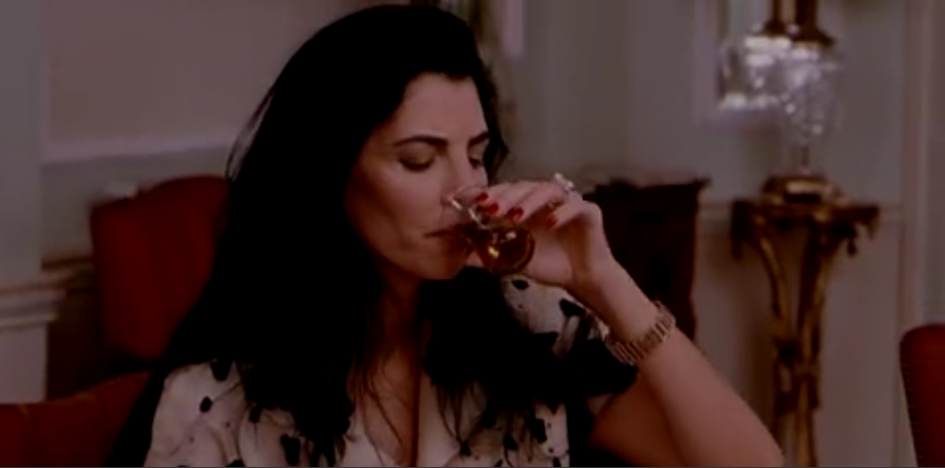 After Tala's mom responds to Tala's news by saying, "Haven't you shamed us enough already?" the maid brings the mom a shot like, "There, there my sweet homophobe," and then goes to dance in the hallway, either out of celebration for Tala's happiness, or Tala's mom despair, or a combination of both.
Hey, guess who wrote a book while all this was happening? It's Leyla! We're at her book reading and signing for Ice Falling, which is either the prequel or sequel to Before Snow Falls, and of course Tala had to come. When Tala hands over her copy for Leyla to sign she asks for an inscription that could be made out to the LADY WHO JUST CAME OUT TO HER FREAKING PARENTS. What does Leyla write instead?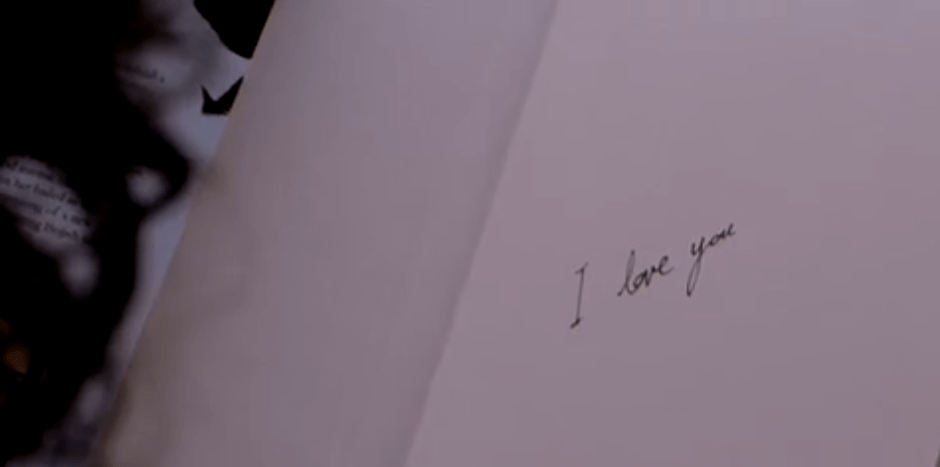 After the book signing they go on a walk together and spend as little amount of time catching up as humanly possible. "Oh, you came out to your conservative parents? Me too. Monumental, life-changing stuff. We'll probably be unpacking it for a while. Anyway, hotel?" "Hotel!"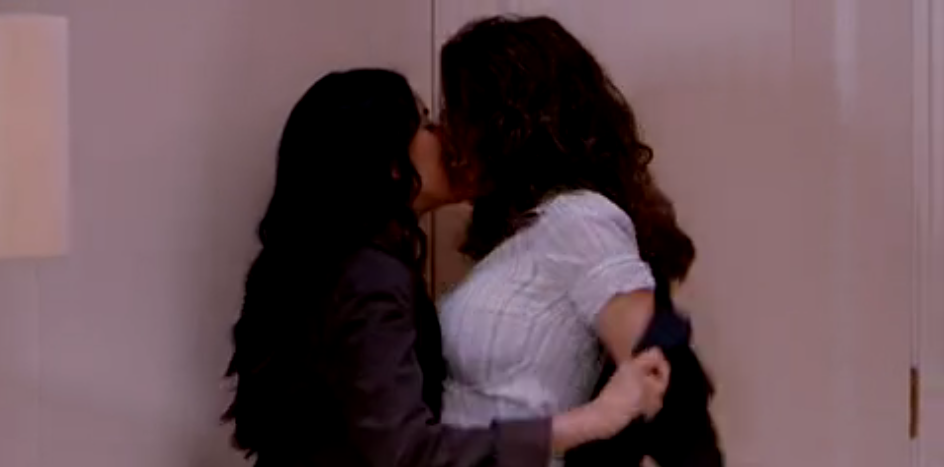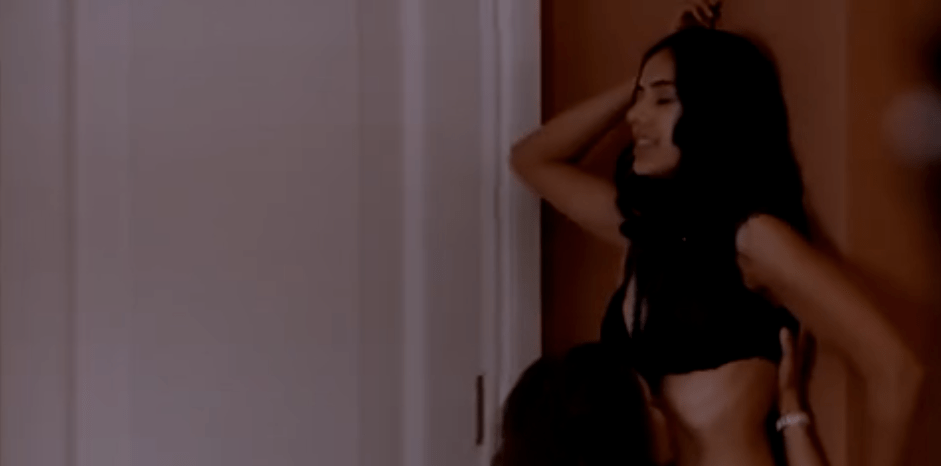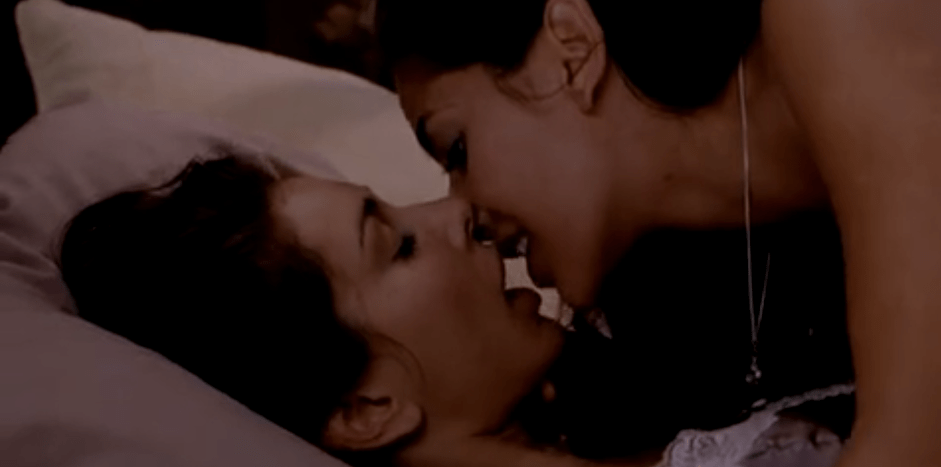 The next morning they sit in the park and Tala says what absolutely no one watching this movie is thinking: "Sorry we had to go to a hotel last night." Then as they watch the children around them play Tala says, "You're going to need a bigger place, because I told my parents we're going to have children one day." And guess what? That's about as casual as these things happen sometimes.
Now, does the movie end with an old woman confusing lesbian with Lebanese? Yes, it does. And was there a weird commitment to the various stages of precipitation in Leyla's writing? Sure. But I'll tell you what. This movie never falls into an "I love you but I'm not gay" narrative, it has an appropriate gauge on a timeline of events, it allows conflict to breathe rather than be resolved by a phone call, a meeting in public, a dinner, it exists outside of self-referential conversation about the gay community, everyone's of age/there's no questionable power dynamics, no one dies, there are no explosions, and my god if that isn't something. Shamim, come get this edible arrangement!