A smart and funny woman named Brittani Nichols once tweeted, "I used to wake up and check instagram in bed but now I wake up and check CNN and it's good that I'm already lying down," and when she tweeted that, I thought to myself, "Oh me too." Although to be specific, I actually check my Apple News app, not CNN, but my Apple News app runs a lot of CNN stories. I sort of hate the Apple News App because it won't run stories from Autostraddle, but I also sort of love the Apple News App because it gets me ALARMED as quickly as possible, before I've even had my Nespresso!
I've been remembering how I watched The Daily Show and eventually The Colbert Report with stunning regularity during the George W. Bush presidency. There were a lot of surveys that came out about how the youths were getting all their news from The Daily Show, and whenever I'd see one of them I'd think to myself, "Oh, me too." Because it was too bleak to get any other way, you know? We needed the information but we also needed to laugh. Because laughter is the best medicine, it's even better than Xanax! (And it's even better WITH Xanax).
My only solace in these bleak times is enveloping myself in the warm embrace of dark humor. Here are some highlights of that particular coping strategy — a definitive collection of some of the best memes and parodies and satires to emerge from the hellmouth beneath our tender feet. Tell us what jokes and videos and memes and hashtags have gotten you through these dark days in the comments!
---
come back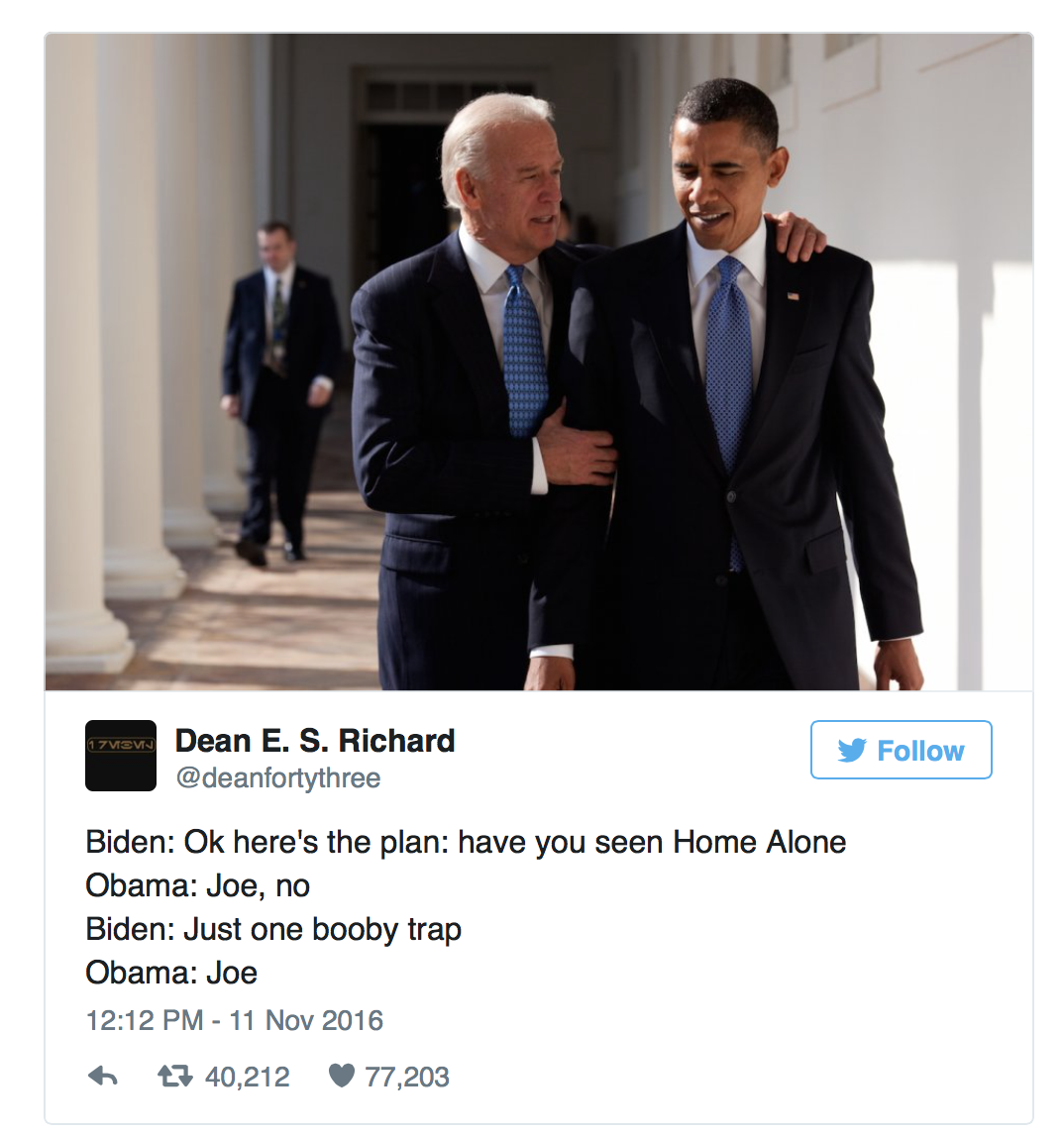 ---
December 18, 2016: Hillary Actually
remember when we had hope
---
January 4th: Bernie Sanders Brings Tweets to the Senate meme
The Inspiration: Bernie Sanders put a tweet on a poster board before every CVS ran out of poster board because of the protests.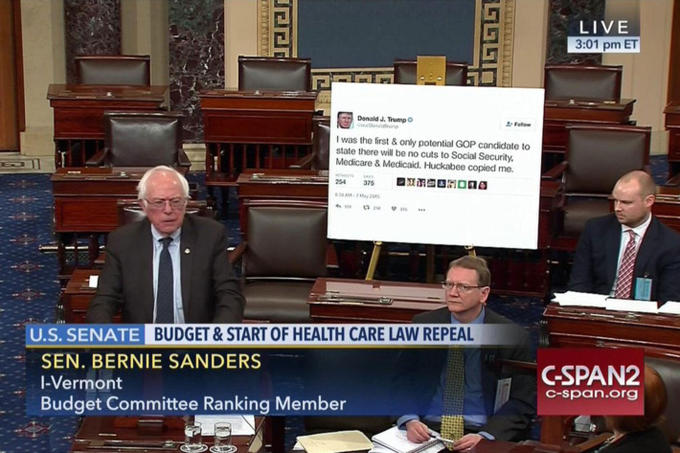 The Result: MEME! Also, Gizmodo did a photoshop contest.
---
Inspiration: At the short-fingered vulgarian's first press conference as President-Elect, he pointed right at CNN and declared that they are Fake News.
The Result: You are fake news

---
January 21st: Kate McKinnon Does Conway / Roxie
---
The Inspiration: Kellyanne Conway referred to the Trump Administration's account of inaguration crowd size as not a falsehood but an "alternative fact" because Kellyanne Conway is the fourth horseman of the Apocalypse if the Apocalypse included dressage.
The Result:  #alternativefacts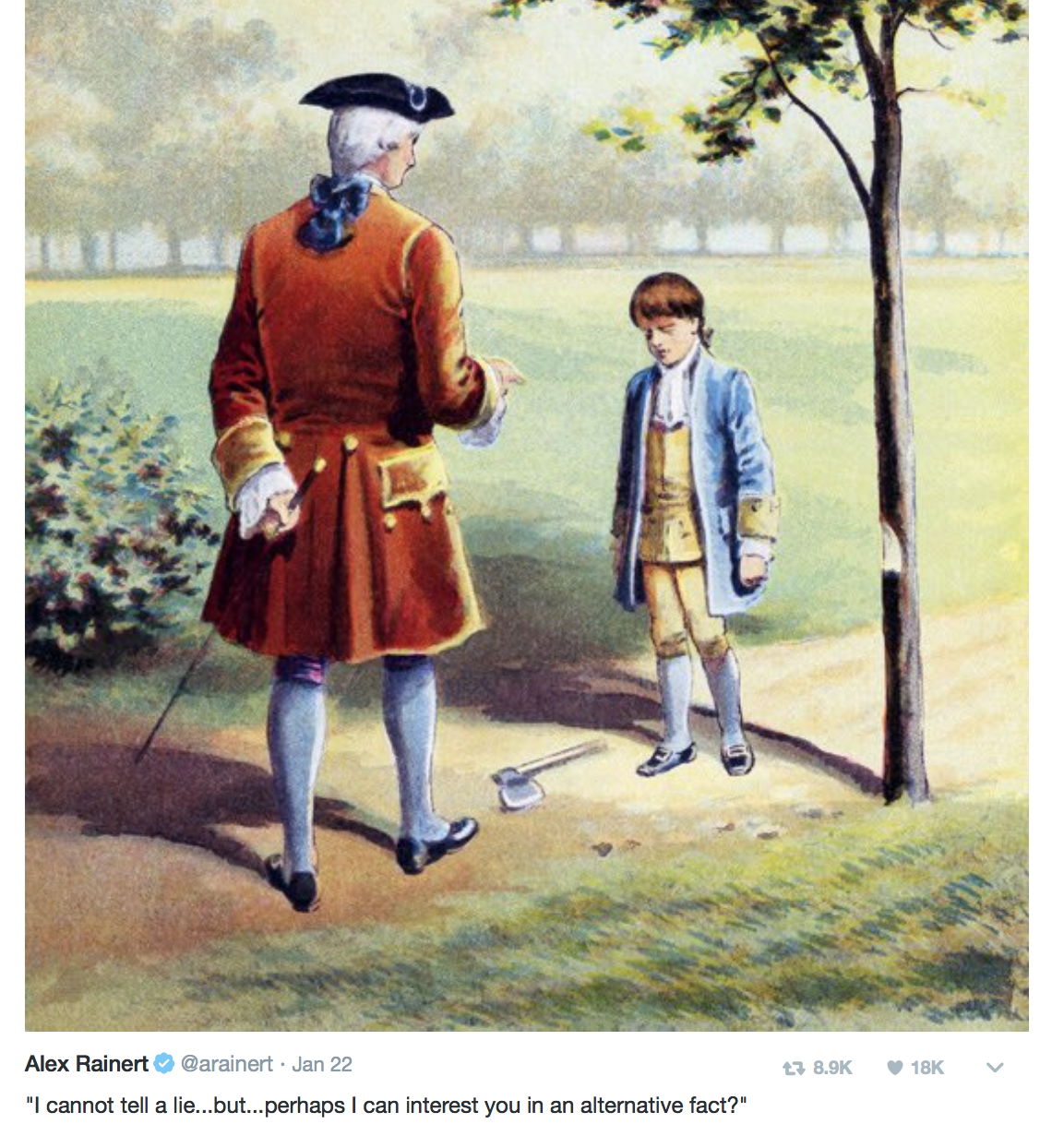 ---
January 23rd: America First, The Netherlands Second
Donald Trump said that from now on it is going to be "America First." So a bunch of other countries put in their bids for "second," starting with The Netherlands.
---
January 25th: Vicente Fox Quesada reminds Trump that Mexico Will Not Pay for that #Fuckingwall
The entire twitter feed of the former president of Mexico is a treasure. This man has been trolling Trump since early 2016 and I CANNOT GET ENOUGH OF IT.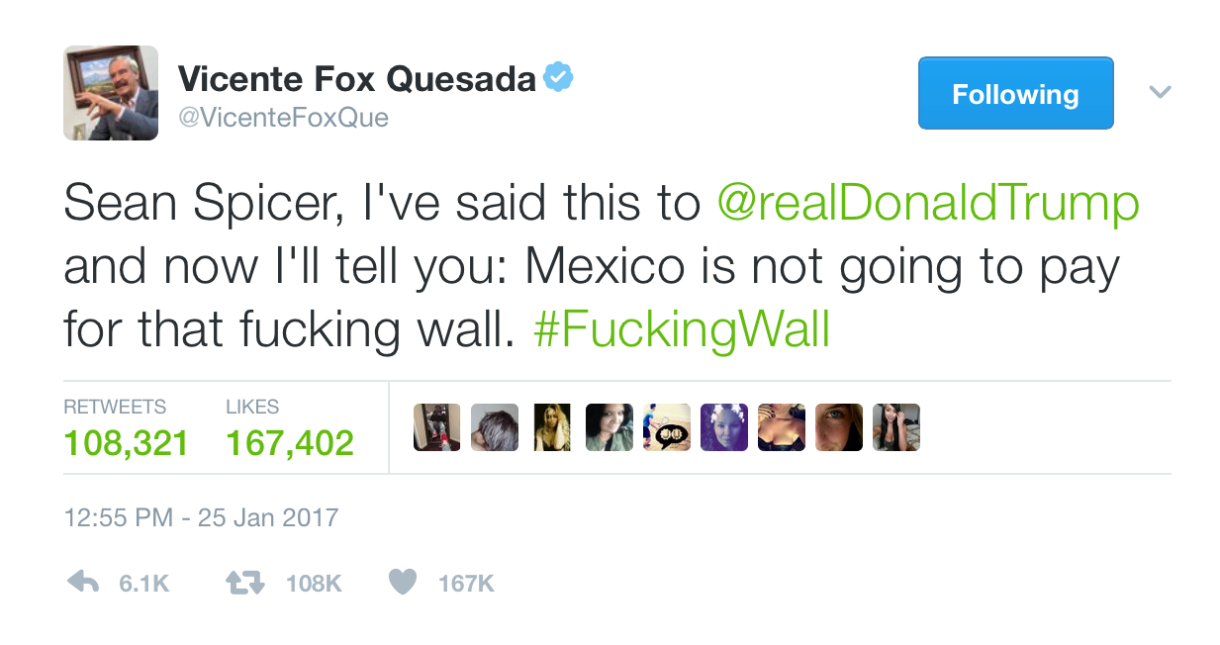 ---
January 27th: The Daily Show: Welcome to Trump's Reality
---
I love how Trump displays his Executive Orders like he thinks he just did really good on his art project but gluing a bunch of macaroni to a piece of construction paper was not the assignment.
— Trump Draws (@TrumpDraws) January 31, 2017
---
The Inspiration: A 2011 tweet from Trump Hotels asking visitors to share their favorite travel memories took on a new life after Trump's Muslim Travel Ban.
The Result: Half of new answers to this old question were biting and serious and important — stories about successful immigration, and escaping war-torn countries for the US — and the other half were FUNNY JOKES.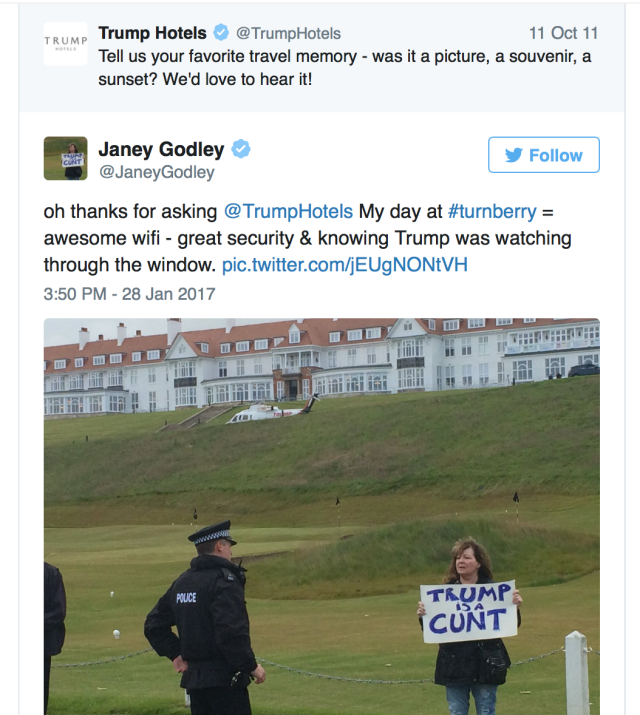 ---
The Inspiration: Donald Trump's idiotic statement on Black History Month, which read like a parody of itself, especially this part:
The Result: This joke will last forever and ever, just like the life of Frederick Douglass.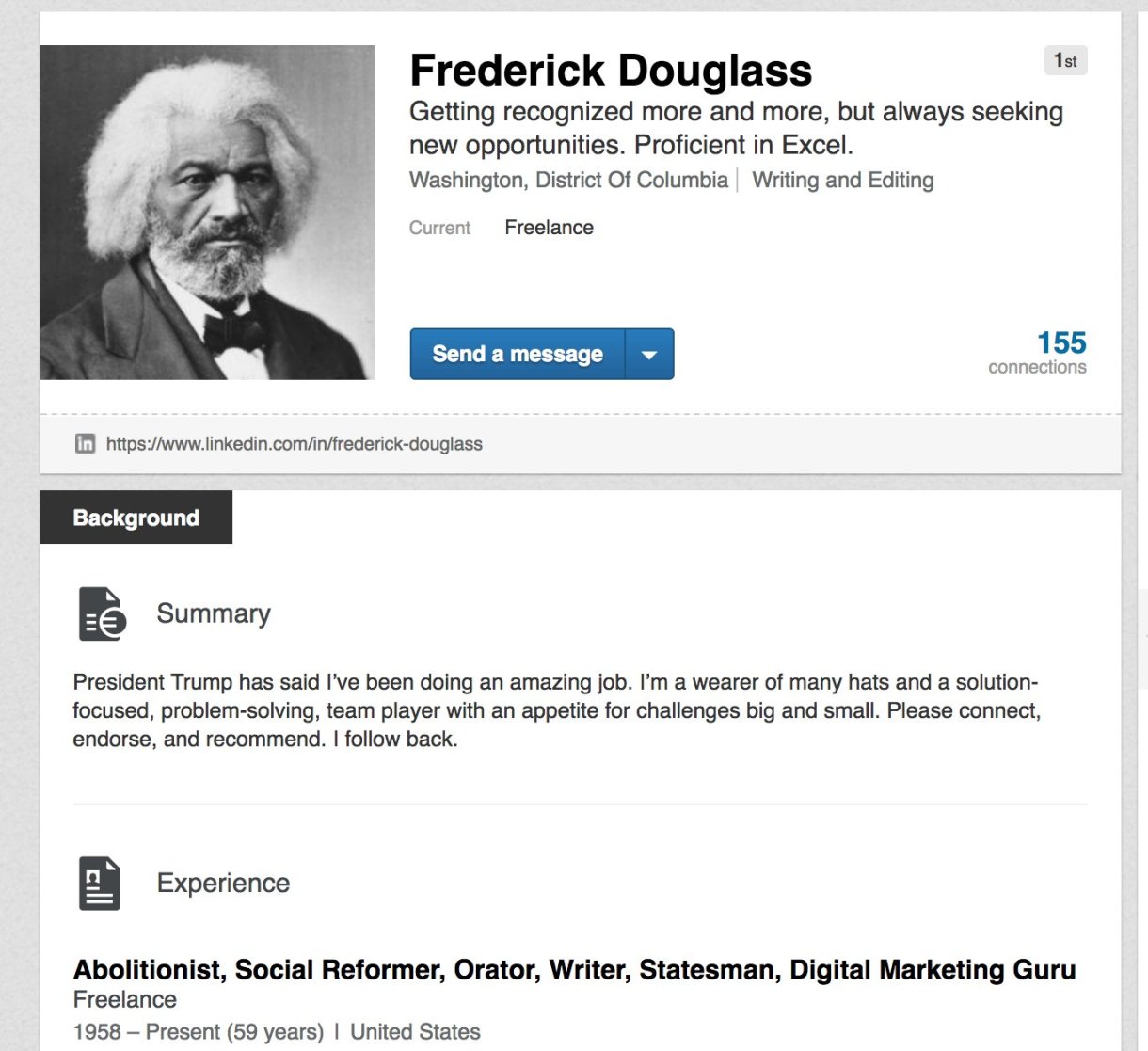 ---
The Inspiration: Mike Pence, a disquieting man I'm 95% sure is Jason DiLaurentis in a fancy mask, did his country and his people a great service by reminding them to celebrate Black History Month by thanking a white man, Abraham Lincoln, for ending slavery.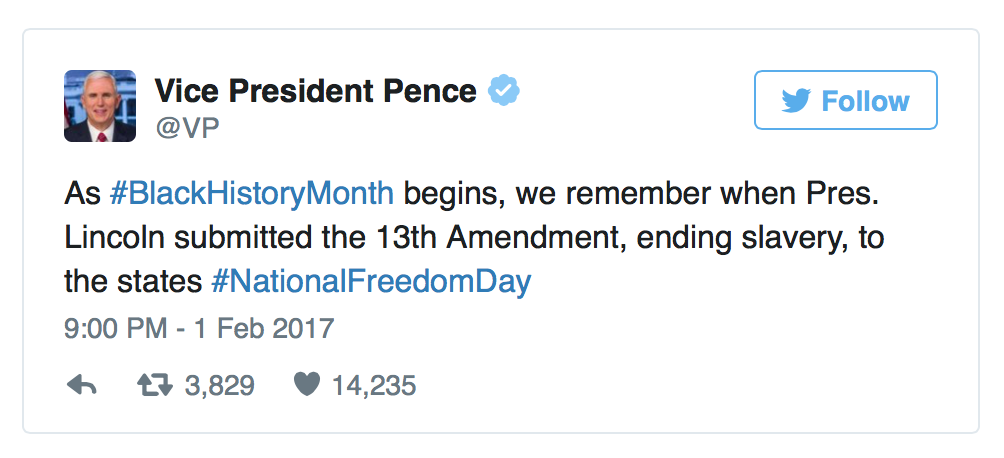 The Result: #penceblackhistory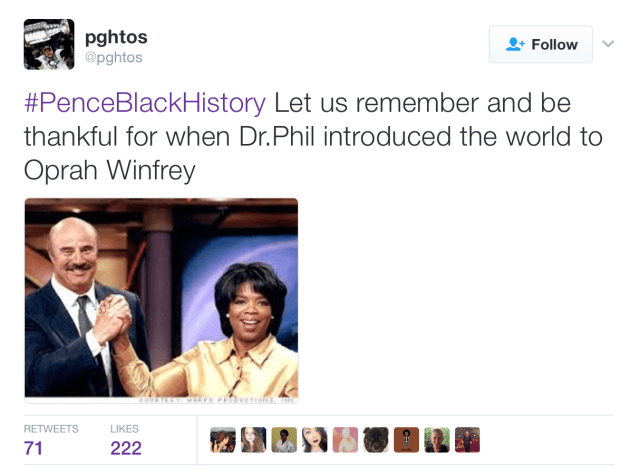 ---
Feb. 2nd: Bowling Green Massacre
The Inspiration: Noted spokeswoman Kellyanne Conway invented a fake massacre to garner support for Trump's stupid travel ban.


The Result: New Yorkers held a Vigil for Kellyanne Conway's imaginary terrorist attack, some started a fundraising campaign to support the victims, others just went to twitter with the #BowlingGreenMassacre and #JeSuisBowlingGreen.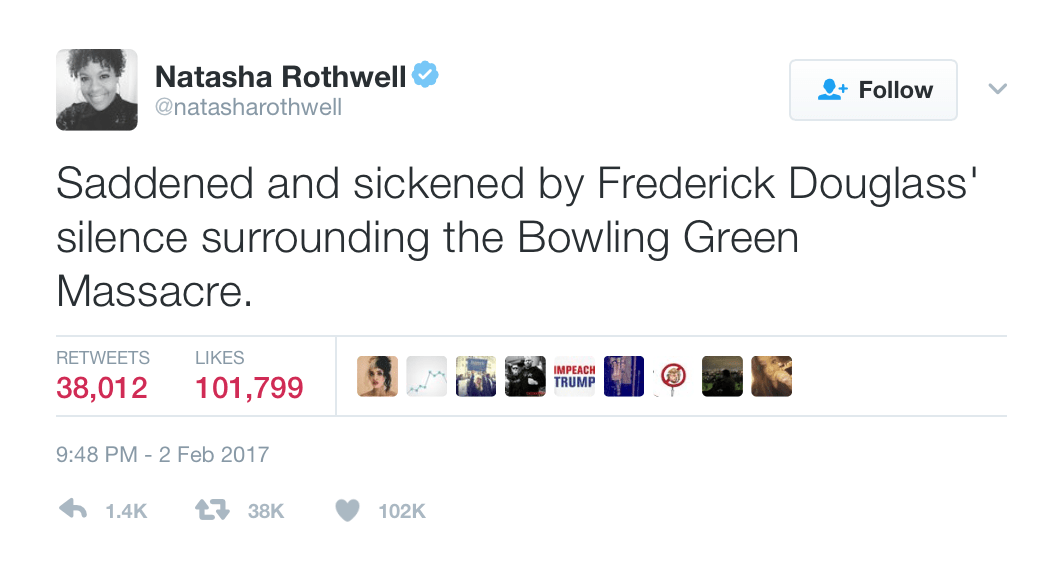 ---
The Inspiration: A report from Axios that went behind the scenes of Donald Trump's White House, providing us with fashion insight:

The Result: Because "dressing like a woman" only requires "being a woman" and "putting on clothes," Twitter had a real field day with this one.

---
The Inspiration: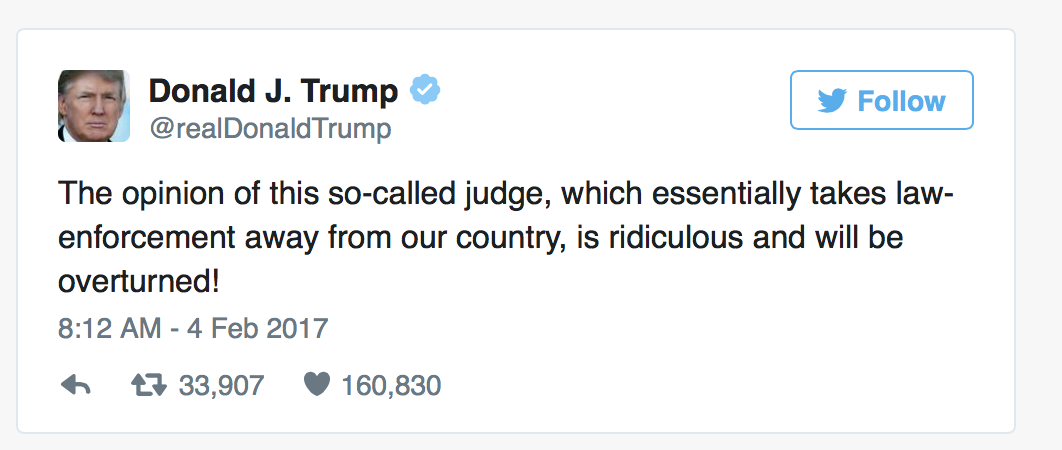 The Result: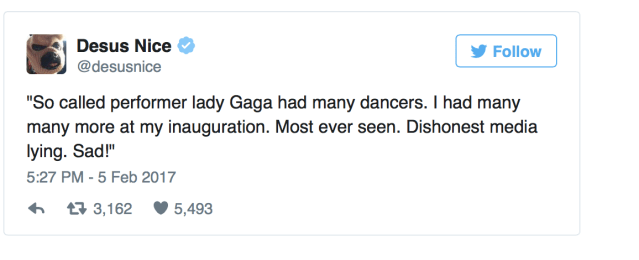 ---
Feb 4th: Melissa McCarthy as Sean Spicer on SNL
I will never feel joy like this again
---
The Inspiration: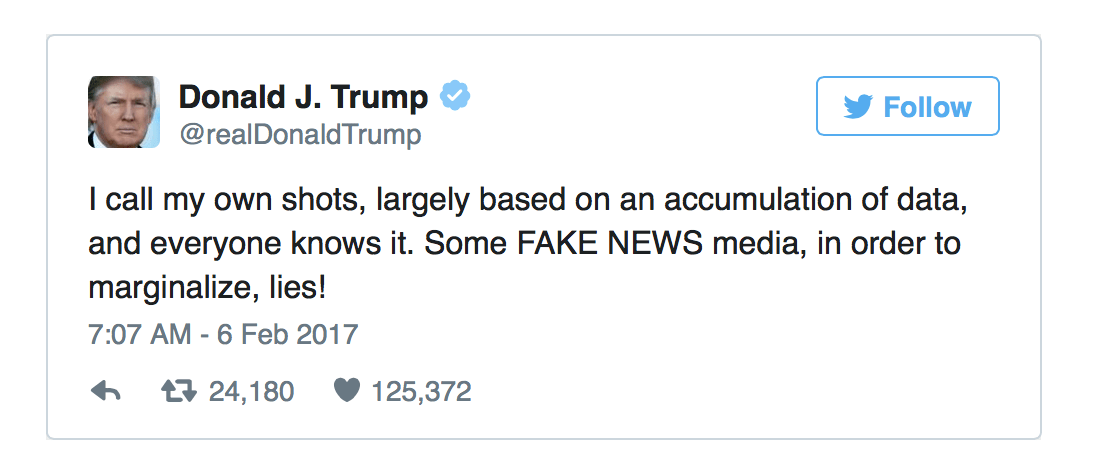 The Result:
---
The Inspiration:
Donald J. Trump's grown-up, presidential, totally mature and sensical reaction to the 9th Circuit Court of Appeals refusing to grant a stay on the order halting his travel ban.

The Result: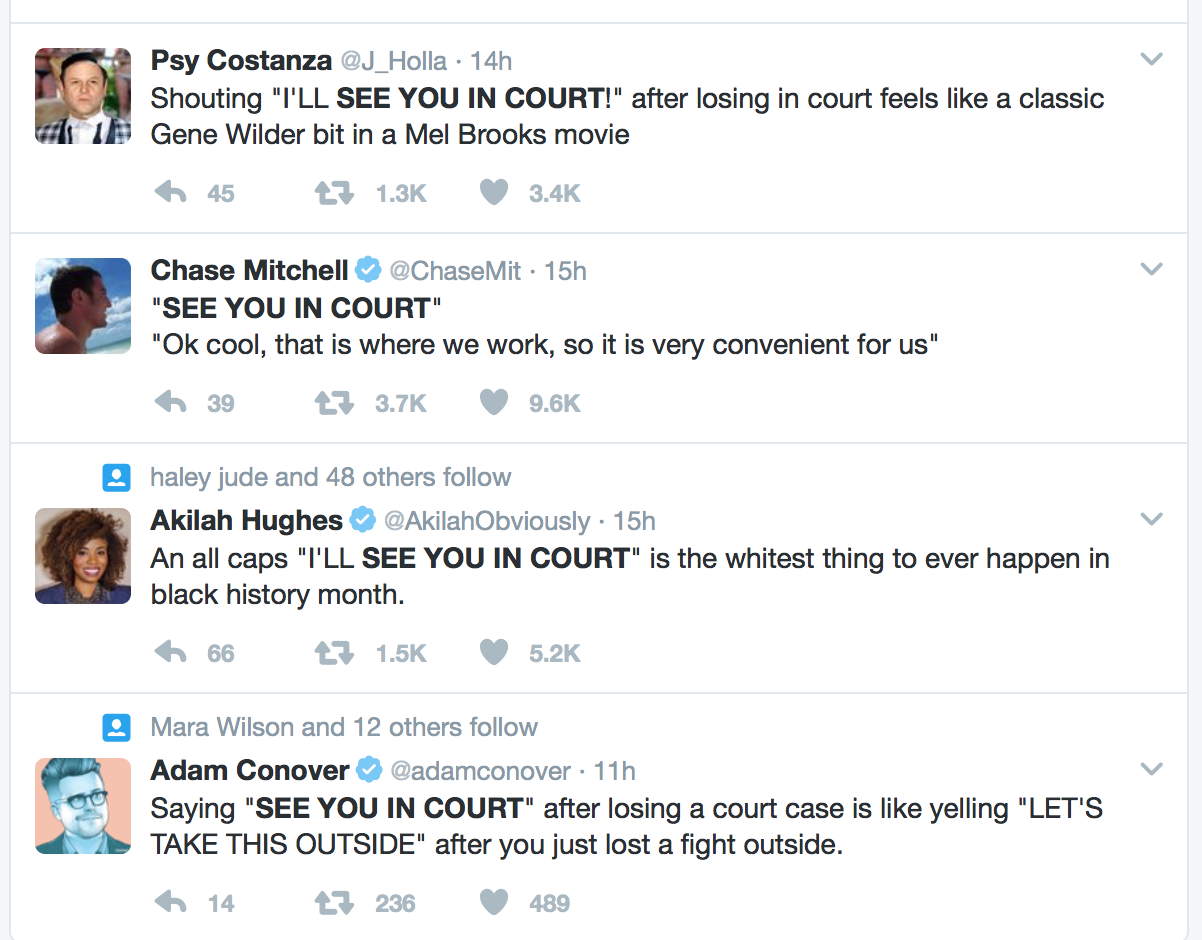 ---
The Inspiration:
The Result: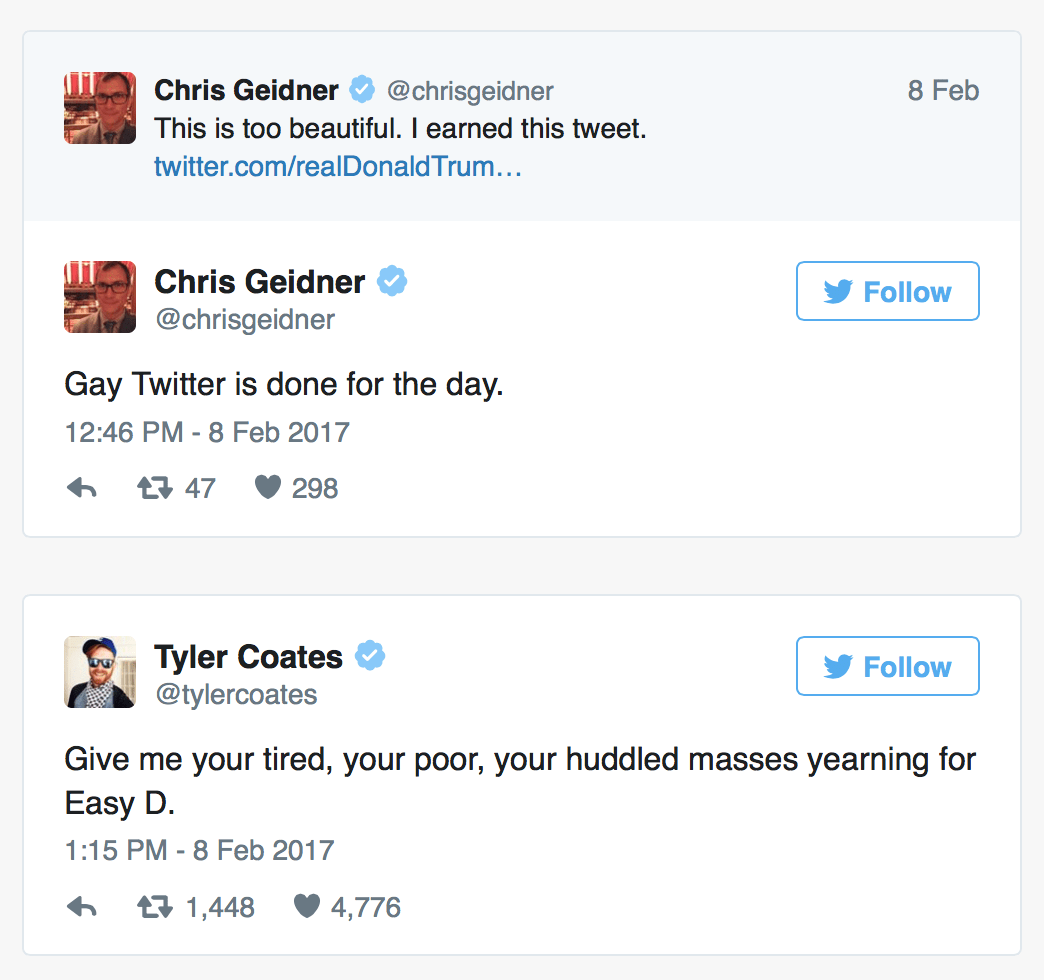 ---
The Inspiration: I love Sally Kohn deeply with my whole heart and want you to know that she is enjoying this meme as much as we are.
The Result: 
---
Feb 15th: Portraits in Courage – Paul Ryan on Full Frontal With Samantha Bee
---
February 16th: Fine-Tuned Machine
Today's press conference legitimately killed me. I am a ghost now. But here's some jokes about Trump's bonkers assertion that his administration is running like a "fine-tuned machine":
"This administration is running like a fine tuned machine" pic.twitter.com/cuuF0LLLSG

— Robyn Urback (@RobynUrback) February 16, 2017
---
Look, I'm in love with Ashley Feinberg, a blogger for the world-renowned Gizmodo Media empire. I think she's amazing, I wish she was gay and married to me, everything is fine, we're all doing great.  You probably follow a lot of people on twitter who are funny but are any of them as funny or as knowledgable about Trump's entire twitter history as Ashley Feinberg? Probably not. Are any of them looking for pics of Ted Cruz playing sports? Nope. Just Ashley.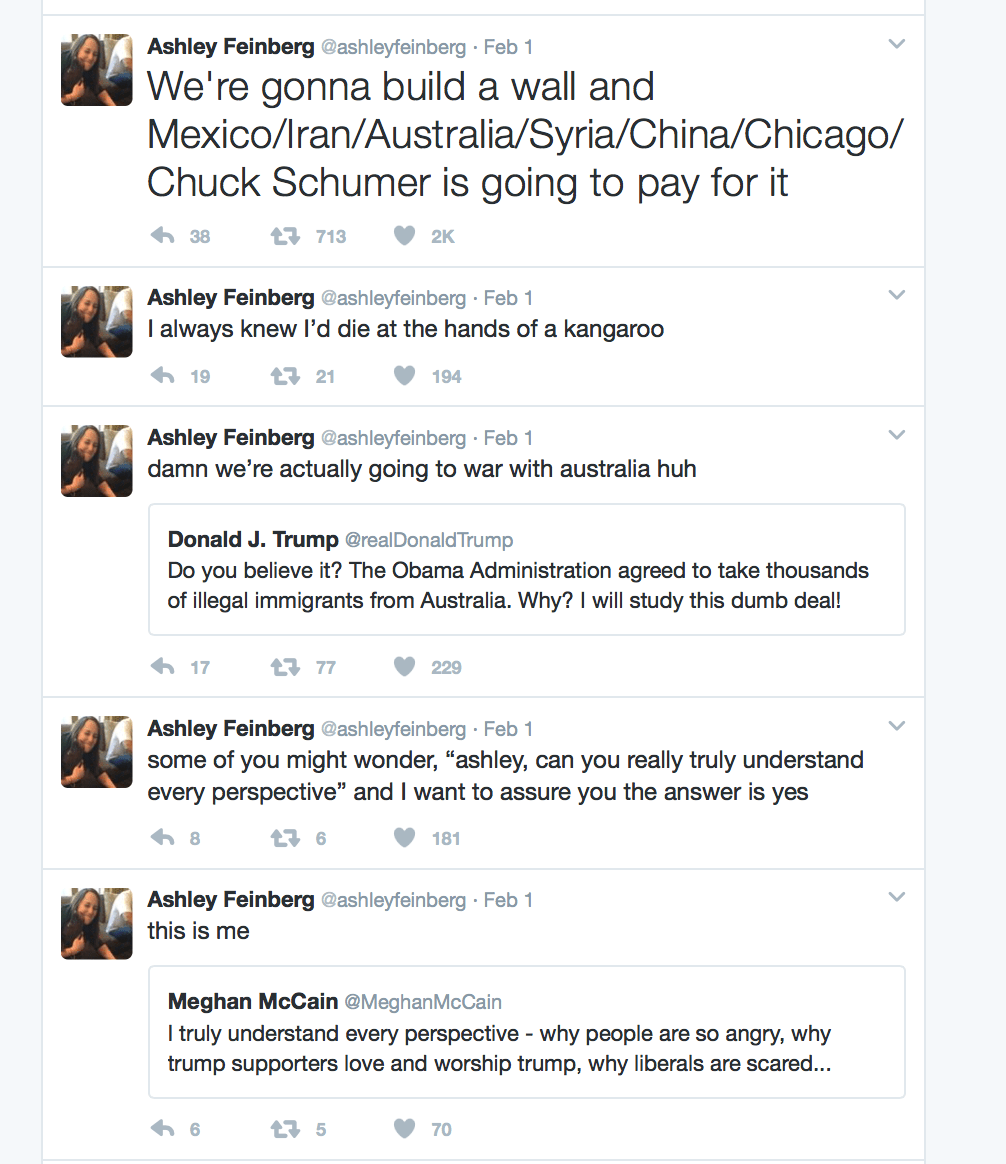 My soulmate: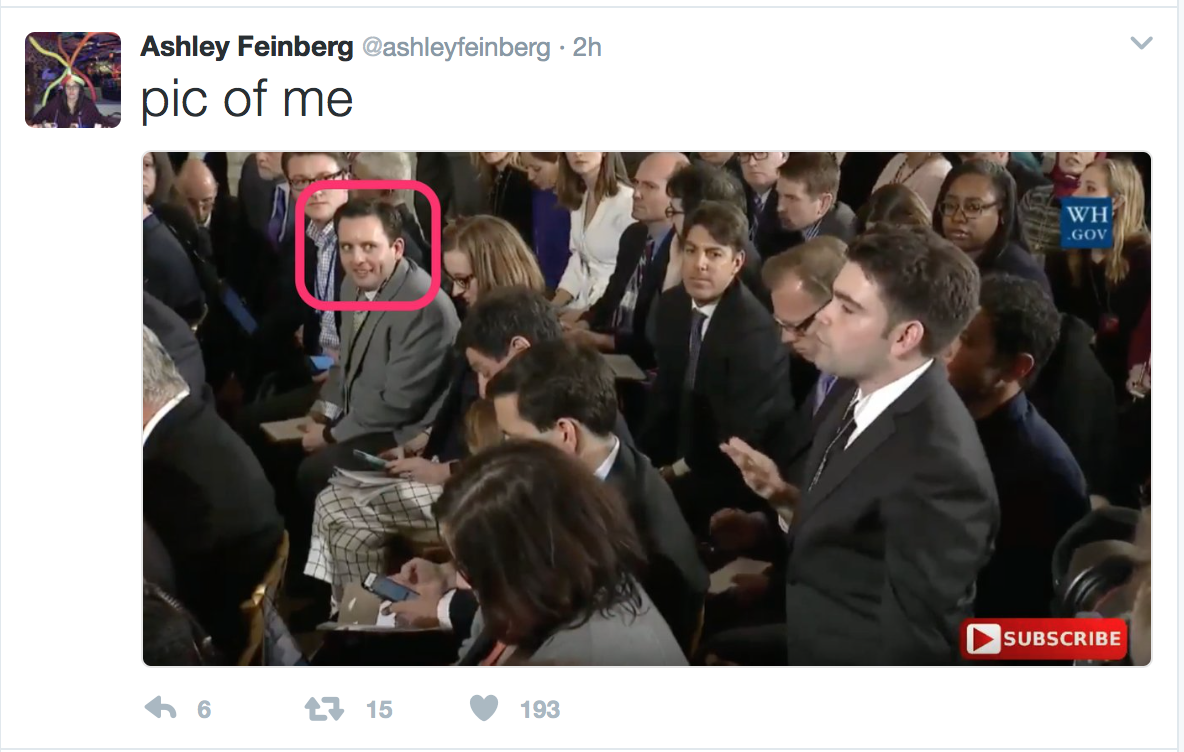 ---
So what has made you laugh since November 9th, 2016? Tell me all about it.