Recently, I was doing some research (scrolling on TikTok in bed at 7 a.m.) and happened across some lesbian information previously unknown to me, a lesbian. Apparently, there is a Pride flag called the Moon Lesbian Flag, meant as a contrast to the Sun Lesbian Flag, which is different entirely from the standard Lesbian Pride Flag I was familiar with. Have a look:
Exhibit A: The only Lesbian Pride Flag I knew of up until this week.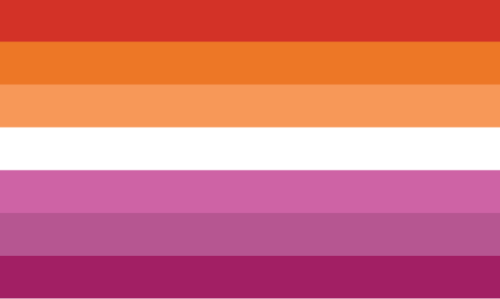 Exhibit B: Moon Lesbian Flag
Exhibit C: Sun Lesbian Flag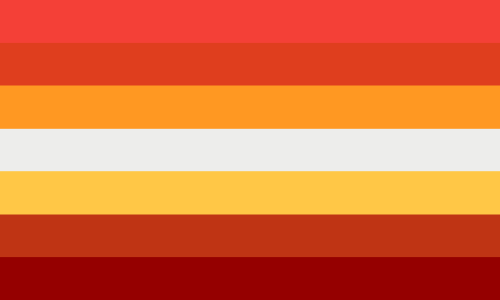 I simply had to do an investigaytion into these celestial lesbian flag offerings. The results? Pretty inconclusive and incoherent. You see, a lot of these riffs on various Pride flags are just done for fun. People have put their own spins on a slew of lesbian flags. I even found a TikTok that displays a "Mean Lesbian Flag" and a "Nice Lesbian Flag." If anyone would like to design a Mommi Lesbian Flag and a Daddy Lesbian Flag, I'm listening!
As far as the Moon Lesbian Flag goes, there's a bounty of explanations for why it exists. Some say it's for closeted lesbians, others claim it for femme lesbians, others assign it to lesbians who possess lunar energy. The bulk of explanations I found — largely on the unimpeachable platforms of Tumblr and TikTok, where a lot of these flag riffs originate — say the Moon Lesbian Flag and Sun Lesbian Flag exist merely as aesthetic alternatives to the Lesbian Pride Flag.
While there are a lot of discrepancies as to the meaning behind the Moon Lesbian Flag, one barely related but also important thing I learned on my journey into Lesbian Flag Discourse is that we've moved beyond the Lipstick Lesbian Flag due to its original designer making butchphobic, transphobic, and racist remarks on a now-deleted blog.
I originally entered this investigaytion seeking a direct answer to my inquiry, wound up going down a rabbit hole of colorful stripes, and ended up learning a lot about the sort of chaotic and lovely semiotics of Pride flags. Sure, there is a specific history to the lesbian flag and other Pride flags (and to queer symbols in general), but I'm newly obsessed with how this history has been — in my opinion — not necessarily co-opted on social media but expanded on into infinitum. A galaxy of flags has been born, and its vastness is both somewhat humorous and fascinating.
On TikTok, Tumblr, and Pinterest, there's basically an endless meaning-making machine churning out new Pride flags all the time. Individual users can come up with new color combinations and assign whatever meanings they wish. There are flags that celebrate neurodivergent lesbians, nonbinary lesbians, and yeah lesbians who prefer the moon versus the sun. People chime in in the comments, often, to express kinship with these new flags. Skeptics lament their utility. What's the point of so many flags? It feels worth noting that these aren't even literal flags but rather flattened digital simulacra of flags — just blocks of color in a rectangular shape. They are, by design, mostly just decoration, so of course they're endlessly mutable.
Does there need to be a point?
It got me thinking a lot about the rainbow flag itself and how it's so easily co-opted and stripped of its meaning when in the hands of heteronormative institutions. Here in Orlando, businesses sport signs with the Pride flag on them that, if you look a little closer, express enthusiastic support for cops. Rainbow flags do not automatically indicate that a space is safe for all. At the same time, efforts to ban Pride flags are frightening. Here's the Pride flag double bind: I don't want to lose the flag, but I also don't want to invest too much in its meaning.
So yeah, maybe one answer is to just inject anarchy into flag meaning-making. Straight people certainly can't get their hands on these flags; I don't think they'd really understand them at all. Because there isn't much to understand! It's just freak flag fun. So now, the Moon Lesbian Flag isn't necessarily doing much. But doesn't its nonsensicality make it, ironically, symbolize freedom in a pure form? I did not mean to get this deep in this investigaytion, but here we are.