You're sitting in your day parlor, sipping a cup of tea and needlepointing a screen with your female relatives. Then, a maid enters the parlor and informs you that you have a visitor waiting for you in the drawing room. You excuse yourself and enter the drawing room where you find Elizabeth Bennett, holding a bouquet of violets that she picked just for you.
Hi, everyone! Welcome to my fantasy. For years I've daydreamed about what gift Elizabeth Bennett might bring me to express her true intentions (which ranged from a beautifully-written letter sealed in wax to a corgi puppy in basket), but now I know she would bring me violets. Violets are beautiful and adorable flowers in general, but they're also one of the more famous symbols of female homosexuality, possibly dating back to a poem in which Sappho describes herself and her lover wearing garlands of violets:
If you forget me, think
of our gifts to Aphrodite
and all the loveliness that we shared
all the violet tiaras
braided rosebuds, dill and
crocus twined around your young neck
In the early 20th century, women used to give each other violets as a way of telling each other, "Hey, I LIKE like you," in times when it wasn't easy or accepted to say so in a more overt manner. And, though the historic origins of the violet as a symbol of women liking women may have faded, the color purple is still often associated with homosexuality, particularly in the naming of the Lavender Menace and in the use of the term "lavender lads" to describe gay men during the "Lavender Scare" in the 1950s in the U.S.
Sadly, as we all know, it's only recently that open displays of homosexuality have begun to be accepted by society, and obviously there are still many places in the world where they are still met with disapproval, violence, and/or legal and social persecution. But! The good thing is that even in unfriendly societies, us homos have always managed to find our way to each other (call it the silver lining in the lavender cloud, if you will). We've done so in a variety of ways, though visual symbols are often among the most recognizable. Some of these symbols may be familiar to you, but even if they aren't, perhaps they'll give you an idea of how to decorate your messenger bag or expand your tattoo sleeve.
+
The Greek Symbol "Lambda"

Lambda was selected as a symbol by the Gay Activists Alliance of New York in the 1950s and was declared the international symbol for gay and lesbian rights by the International Gay Rights Congress in 1974. It's unclear how exactly lambda was adopted by the LGBT community or what it actually means but some popular theories include: the charged energy of the gay and lesbian rights movement (since lambda symbolizes "energy" in chemistry and physics), the Roman interpretation meaning "the light of knowledge shining into the darkness of ignorance," or "the notion of being on different wavelengths when it comes to sex and sexuality." There's also this idea kicking around that lambda appeared on the shields of Spartan and/or Theban warriors in ancient Greece. The Thebes version is more popular because, as legend has it, the city-state organized the Theban Army from groups of idealized lovers, which made them exceptionally fierce and dedicated soldiers–though eventually the army was completely decimated by King Philip II, the father of Alexander the Great. Lending credence to this theory is the fact that the 1962 version of "300" depicted soldiers with lambdas on their shields. I never saw the 2006 version so someone else will have to confirm or deny the perpetuity of lambda in that whole situation.
+
The Rainbow Flag(s)
In the 1970s, San Francisco artist Gilbert Baker recognized the need for a gay symbol that could be used during the Pride Parade each year. Baker drew inspiration for the first version of the iconic rainbow flag from a variety of sources and came up with a flag with eight color stripes, each representing a different aspect of gay and lesbian life: hot pink for sexuality, red for life, orange for healing, yellow for the sun, green for nature, blue for art, indigo for harmony, and violet for spirit. Baker and 30 volunteers hand-dyed and stitched the original flag, but had to remove the pink stripe for mass production due to a lack of commercially-available pink dye. When Harvey Milk was assassinated later that year, the 1979 Pride Parade Committee selected Baker's flag as the symbol for the gay community to unite in honor of Milk's memory.
In the 1979 San Francisco Pride Parade, the color indigo was also removed so the colors could be evenly-distributed along the parade route, leaving us with the flag we know today, with stripes of red, orange, yellow, green, blue and purple. Today, there are many, many varieties of the rainbow flag–you can stick a lambda on it, a colored triangle, a star of David, whatever you want! People seem particularly fond of the rainbow flag/rainbows in general because they are all-encompassing: a rainbow flag endorses gay rights without making a statement about the person displaying it. And this, to me, is the most rockin' thing about rainbow flags. If you chose not to, you don't have to say anything about yourself, your sexytime partners, your experiences, thoughts or feelings–you're just rocking a rainbow, and under the rainbow we're all family. Rainbow flags and stickers are often used to denote gay-friendly businesses, gay-friendly health facilities and really, who doesn't want to paint their face in rainbow colors and go to a parade filled with like-minded rainbow-philes? No one, that's who. It doesn't matter whether you're a member of the LGBT community or simply a supporter of gay rights, rainbows mean love for everyone and are therefore wonderful.
+
Black Triangles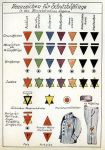 One of the oldest symbols associated with the LGBT community is the triangle, which originated as one of the symbols used in Hitler's Nazi concentration camps as a way to label prisoners: male homosexual prisoners were made to wear a pink triangle, while women imprisoned for "arbeitsscheu" ("antisocial behavior", including feminism, lesbianism and prostitution) were made to wear black triangles. Though there isn't definitive evidence to prove that the black triangles were worn by lesbians in the same way that pink triangles were worn by gay male prisoners, over time the black triangle has evolved into one of the more prominent symbols of lesbianism, contemporaneously symbolizing defiance against repression and discrimination.
 +
Labrys
I know you all totally know what a labrys is already, but juuuust in case you don't: a labrys is a double-headed axe. The labrys was first associated with the Greek goddesses Artemis (goddess of the hunt) and Demeter (goddess of the harvest) and used in battle by Scythian Amazon warriors. The Amazons ruled with a dual-queen system and were known for being ferocious in battle. Though the labrys originally stood for independence/strength/chopping prowess, it has also been appropriated as a symbol of lesbianism.
Note from commenter Nancy: The labrys is actually even older than Artemis as goddess of the hunt, it goes all the way back to the Minoan civilization on crete around the 15th century BCE, although we are not really sure what it meant then because it is sooo long ago! And while there were definitely women warriors in Scythia and nearby regions, it's super speculative that they had the whole two-queen system and everything…that comes out of some quasi-history written by guys like Herodotus.
+
Double Venus
The double Venus symbol takes the scientific symbol for "female" (or "Venus") and doubles it–two females = girl and girl; Bette and Tina; Ellen and Portia, etc.
+
Bisexuality Symbols

In 1998, the official Bisexuality Flag was designed by Michael Page to represent the bisexual community. The magenta stripe represents same-sex attraction and the blue stripe at the bottom represents opposite-sex attraction, while the smaller deep lavender (lavender!) stripe in the middle represents attraction to both genders. Overlapping pink and blue triangle are also used to symbolize bisexuality.
+
Transgender Symbols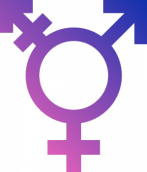 In 2000, Monica Helms designed the first Transgender Pride flag, which debuted at the Phoenix Pride Parade in Arizona. Helms planned the flag to represent the spectrum of trans* experience. "The light blue is the traditional color for baby boys, pink is for girls, and the white in the middle is for those who are transitioning, those who feel they have a neutral gender or no gender, and those who are intersex. The pattern is such that no matter which way you fly it, it will always be correct. This symbolizes us trying to find correctness in our own lives." Another popular symbol used to identify members of the the transgender community comes from the same roots as the double Venus: a circle with an arrow projecting from the top-right, as per the male symbol, and a cross projecting from the bottom, as per the female symbol, with an additional striked arrow (combining the female cross and male arrow) projecting from the top-left.
 +
The Other Stuff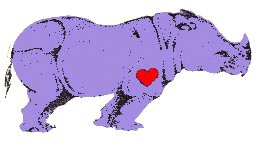 Purple Rhinoceros: In the 1970s gay activists in Boston chose the rhinoceros as their symbol because, like the gay rights movement, while the rhino is often misunderstood it is actually a docile and intelligent animal until it is attacked–at which point it's probably going to steamroll your car. And guess what? It's purple. Bam. Purple rhino.
Hare, Hyena and Weasel: These three animals were mentioned in an apocryphal text of the Bible, Barnabus, in which God warns against eating the flesh of the hare (associating it with anal sex), the hyena, which was at the time was believed to change gender once a year, and the weasel, which was associated with lesbian sex. Why? Who knows. Look how cute, though!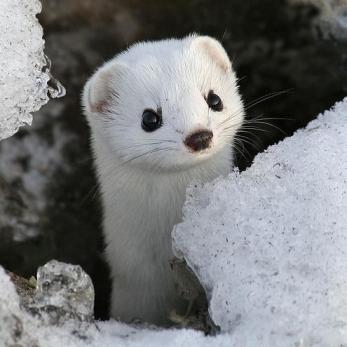 Thumb Rings: Popular culture seems to believe that if a woman wears a silver thumb ring, she's telling the world she's a big ole lesbian–though there seems to be some confusion over whether to wear it on the left or right thumb and what that signifies.
Purple String: In some places, wearing a piece of purple string or hemp around your wrist is a sign of liking other girls: wear it on your left wrist if you are single, right if you are in a relationship. But then sometimes girls from the UK say that this is reversed in Europe, adding to the dilemma of what to do when you go to London on vacay.
Sign Language for "Lesbian": On one forum I read, a girl said that she and her friends signal "lesbian" by the American Sign Language sign," which involves making your thumb and forefinger into an 'L' and sticking your chin between the two. I find this amusing and wonderful and will use it all the time.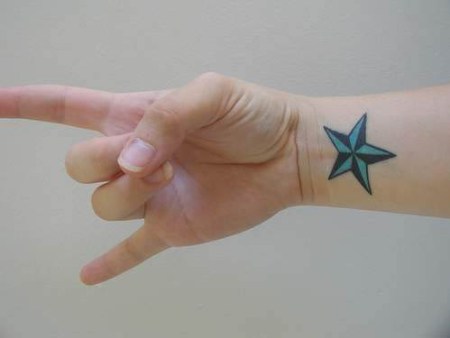 Nautical Star Tattoo: In the 1940s, many lesbians got a nautical star tattooed on their inner wrist to advertise their sexuality. But then so did sailors and punk rockers. Not that the groups are mutually exclusive by any means (if you are lesbian sailor punk rocker, I want to meet you). What does seem to be a defining feature of tattoos indicating lesbianism is that they were often on the inner wrist, so ladies could cover them up with a watch during the day and expose them at night when they were out.
Also, dolphins: In almost every online discussion I read, some sad-sounding girl would chime in to ask, "I thought dolphins were symbols of lesbianism. What about dolphins?" Um, PREACH. Lack of historic precedent be damned, I say if we want dolphins, we can have dolphins. DOLPHINS!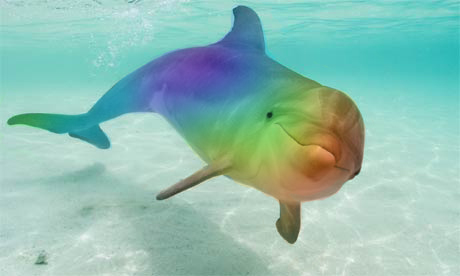 LGBT symbols are ever-evolving as time, culture and civil rights allow. While it's crucial to give a nod to the historic significance of using LGBT symbols during times and in places where one had to be covert, the use of symbols, raised some interesting questions that maybe you have thoughts about. How effective is an LGBT symbol if members of the community may not recognize what it means? At what point do "symbols" merge into the larger topic of gaydar?
It really depends on what you want, whether it be acknowledging the struggle of the past, your personal feelings about your own present, or pride in and of itself. In the end symbolism and the use of symbols is just that–it's the user of the symbol who gives it meaning and significance. Ultimately it's a pretty wonderful thing that in many places, we don't have to use symbols to say what we mean and feel. But I'm just sayin'–if I see a girl with an Autostraddle 'A' sticker on her laptop, I'm going over to say hi.