Pure Poetry Week(s):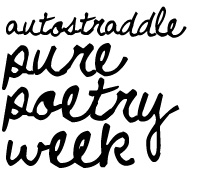 #1 – 2/23/2011 – Intro & Def Poetry Jam, by Riese
#2 – 2/23/2011 – Eileen Myles, by Carmen
#3 – 2/23/2011 – Anis Mojgani, by Crystal
#4 – 2/24/2011 – Andrea Gibson, by Carmen & Katrina/KC Danger
#5 – 2/25/2011 – Leonard Cohen, by Crystal
#6 – 2/25/2011 – Staceyann Chin, by Carmen
#7 – 2/25/2011 – e.e. cummings, by Intern Emily
#8 – 2/27/2011 – Louise Glück, by Lindsay

There is a very strong relationship in my mind between poetry and high school, because, like most self-professed literary nerds, I hated high school and having outlets for reading and writing poetry was one of the few things that made it better. We had one teacher in particular, a grown-up progressive hipster who introduced us to the likes of The Books and Clap Your Hands Say Yeah and wore a 'This Is What A Feminist Looks Like' t-shirt every year on the day of the first semester final and grew a beard every winter and introduced us to a glut of amazing contemporary poets. Stanley Kunitz, Nazim Hikmet, B.H. Fairchild, Ted Kooser, Campbell McGrath, I could go on forever.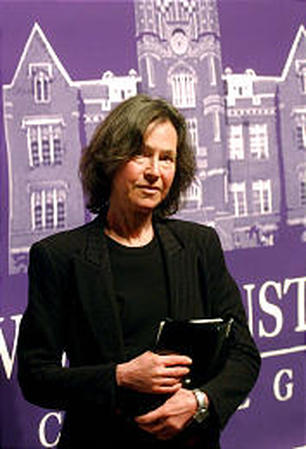 In the fall, we read 'Celestial Music' by Louise Glück. The voice was enchanting, the beauty of each line unmistakable, the feelings universal. It was the last line of the poem that was the most striking. 'The love of form is a love of endings.' As someone on the crux of leaving home and going off to college and still FEELING ALL THE FEELINGS  that most 17-year-old girls feel, this made a lot of sense.
Here's what you need to know about Louise Glück: she won a Pulitzer for literature in 1993 and pretty much every other award ever. She was appointed Poet Laureate of the United States in 2003, succeeding Billy Collins (with whose work I have a serious love-hate relationship, also aresult of high school English classes). She teaches at Boston University and Yale. Not that a poet really needs credentials like that, but boy, does she have them.
But what you really need to know about her is all in the way she writes. The simplicity, the fluidity, the lyricism and most of all, the sense of compassion you get from reading her work. A good place to start would be Meadowlands (1996), in which she delivers a jolt of new life to a story as old as recorded stories are: The Odyssey. Glück takes us through the bitter choreography of a dissolving marriage with grace and empathy, writing from the perspectives of the epic poem's principal cast: Odysseus, his beleaguered wife Penelope, their son Telemachus, and the temptress-goddess Circe, here given more dimension as a character than Homer ever did.
Here are some works to get you started.
'Circe's Power'
I never turned anyone into a pig.
Some people are pigs; I make them
Look like pigs.
I'm sick of your world
That lets the outside disguise the inside. Your men weren't bad men;
Undisciplined life
Did that to them. As pigs,
Under the care of
Me and my ladies, they
Sweetened right up.
Then I reversed the spell, showing you my goodness
As well as my power. I saw
We could be happy here,
As men and women are
When their needs are simple. In the same breath,
I foresaw your departure,
Your men with my help braving
The crying and pounding sea. You think
A few tears upset me? My friend,
Every sorceress is
A pragmatist at heart; nobody sees essence who can't
Face limitation. If I wanted only to hold you
I could hold you prisoner.
'Gratitude'
Do not think I am not grateful for your small
kindness to me.
I like small kindnesses.
In fact I actually prefer them to the more
substantial kindness, that is always eying you
like a large animal on a rug,
until your whole life reduces
to nothing but waking up morning after morning
cramped, and the bright sun shining on its tusks.
And, the poem that made me fall in love with her work, 'Celestial Music'
I have a friend who still believes in heaven.
Not a stupid person, yet with all she knows, she literally talks to God.
She thinks someone listens in heaven.
On earth she's unusually competent.
Brave too, able to face unpleasantness.
We found a caterpillar dying in the dirt, greedy ants crawling over it.
I'm always moved by disaster, always eager to oppose vitality
But timid also, quick to shut my eyes.
Whereas my friend was able to watch, to let events play out
According to nature. For my sake she intervened
Brushing a few ants off the torn thing, and set it down
Across the road.
My friend says I shut my eyes to God, that nothing else explains
My aversion to reality. She says I'm like the child who
Buries her head in the pillow
So as not to see, the child who tells herself
That light causes sadness-
My friend is like the mother. Patient, urging me
To wake up an adult like herself, a courageous person-
In my dreams, my friend reproaches me. We're walking
On the same road, except it's winter now;
She's telling me that when you love the world you hear celestial music:
Look up, she says. When I look up, nothing.
Only clouds, snow, a white business in the trees
Like brides leaping to a great height-
Then I'm afraid for her; I see her
Caught in a net deliberately cast over the earth-
In reality, we sit by the side of the road, watching the sun set;
From time to time, the silence pierced by a birdcall.
It's this moment we're trying to explain, the fact
That we're at ease with death, with solitude.
My friend draws a circle in the dirt; inside, the caterpillar doesn't move.
She's always trying to make something whole, something beautiful, an image
Capable of life apart from her.
We're very quiet. It's peaceful sitting here, not speaking, The composition
Fixed, the road turning suddenly dark, the air
Going cool, here and there the rocks shining and glittering-
It's this stillness we both love.
The love of form is a love of endings.