As you may or may not recall, last week, a press release purportedly from hacker-collective Anonymous threatened to take down the Westboro Baptist Church:
ANONYMOUS cannot abide this behavior any longer. The time for us to be idle spectators in your inhumane treatment of fellow Man has reached its apex, and we shall now be moved to action. Thus, we give you a warning: Cease & desist your protest campaign in the year 2011, return to your homes in Kansas, & close your public Web sites. Should you ignore this warning, you will meet with the vicious retaliatory arm of ANONYMOUS: We will target your public Websites, and the propaganda & detestable doctrine that you promote will be eradicated; the damage incurred will be irreversible, and neither your institution nor your congregation will ever be able to fully recover.
The Westboro Baptist Church, as I'm sure you're aware, were sent here by God to reveal the truth of the scriptures to America which more or less amounts to "God Hates Fags." Westboro responded to the purported threat with a ragey psychotic flier, as is their way:
But Anonymous denied involvement with the press release, claiming Westboro themselves did it for attention. Generally the media seems to be buying this theory, and although it seems highly unlikely that Anonymous was involved in the press release (more on that in a minute), I honestly don't think Fred Phelps reads past the first page of the newspaper. Yes, I realize that God created the internet for the Westboro Baptist Church to send its message but is Westboro really sophisticated enough to understand Anonymous or 4chan culture?
Consequently, it's hard to tell if Anonymous genuinely believes Westboro did it, genuinely believes someone else did it, or genuinely did it themselves. Anonymous, with its roots in troll society, is likely volleying this accusation not because they're certain it's true but because they like f*cking with people and accusing someone of doing something they didn't do is one of the best ways to f*ck with people EVER.
But then — godhatesfags.com did indeed go offline –and "Patriot hacker" The Jester  has taken credit for the denial of service attacks on Westboro's sites. Prior Jester targets include WikiLeaks and jihadist websites.
In a twitter update, The Jester announced: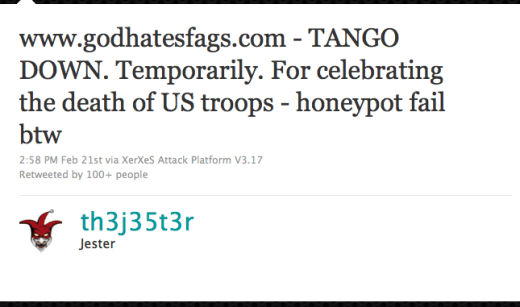 SO. Then, Radio talk show host David Pakman invited Shirley Phelps-Roper and Anonymous to duke it out on his show for a live web chat. Shirley's ranting and determination to start a "war" with Anonymous eventually annoyed A so much that he hacked the website while they were on air, which was, in a word, AMAZING:
+
This is what the downloads.westborobaptistchurch.com website says now: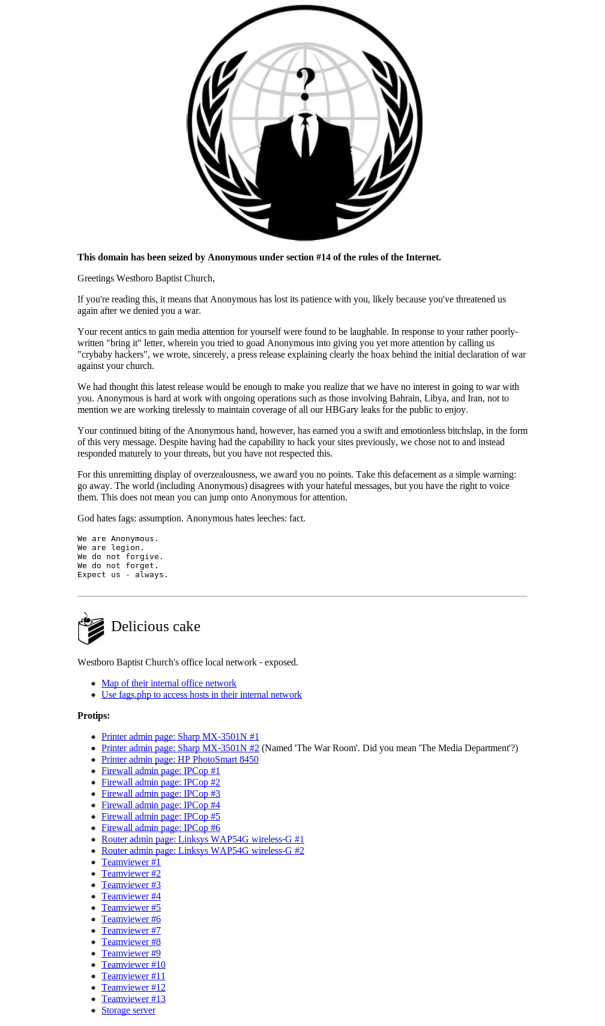 In the interview, the Anonymous rep says the press release doesn't sound like their kind of writing. This is true. Anonymous is not generally primarily concerned with anybody's "inhumane treatment." One of their recent projects, Send Justin Bieber to North Korea, attempted to rig a "Where Should Justin Go On His Tour?" vote to, you guessed it, send Justin Bieber to North Korea. They won, of course, and are currently attempting to thwart Justin Bieber's own refusal to go to North Korea. Anonymous does not aim for social justice. Anonymous aims for motherfuckery and lulz.
Even if you hadn't heard of Anonymous until this week, you may be familiar with their work — the LOLCat craze and rickrolling originated with Anonymous. They've successfully executed a series of "troll invasions" including bombarding the Epilepsy Foundation's online forums with flashing animation intended to induce seizure. Anonymous's Encyclopedia Dramatica wiki, which is described by Wired.com as where "the vast parallel universe of Anonymous in-jokes, catchphrases, and obsessions is lovingly annotated," features "flamingly racist and misogynist content… all of it calculated to offend, along with links to eye-gougingly horrific images of mutilation, sexual perversity, and, yes, kittens in blenders."
But this isn't the first time that good deeds and motherfuckery have accidentally aligned.
+
Anonymous vs. The Church of Scientology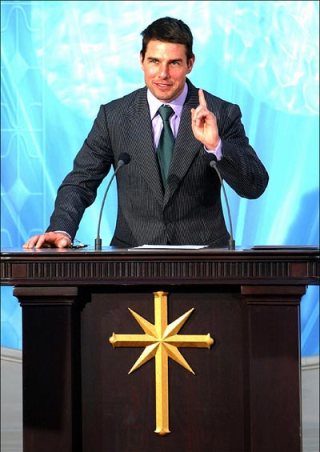 See: Project Chanology. When a nine-minute YouTube video of Tom Cruise talking crazy about Scientology surfaced on the internet, the Church of Scientology did what they always do — sent takedown notices to sites hosting the video, using copyright law to back up their control freakish tendencies.
Anonymous didn't like this and in January of 2008, Anonymous "realized it had nothing better to do than get their collective panties in a twist because there is a cult masquerading as a church" and launched Project Chanology — targeting the Church of Scientology. It's only fair, they pointed out, because Scientology notoriously uses sketchy and unethical methods to suppress any dissent against their church:
"Your campaigns of misinformation, your suppression of dissent, your litigious nature: All of these things have caught our eye. For the good of your followers, for the good of mankind—and for our own enjoyment—we shall proceed to expel you from the Internet and systematically dismantle the Church of Scientology in its present form."
WIRED.com details the evolution of Project Chanology in The Assclown Offensive:
Project Chanology has employed a variety of tactics, including pickets, pranks, and propaganda that ranges from the purely informative to the ferociously satirical. It has waxed and waned and waned some more, and yet, improbably, it has endured, evolving into a peculiarly instructive case study in the dynamics of online protest. Project Chanology may well be the first movement to realize the kind of ad hoc, loosely coupled social activism that many have hoped the ad hoc, loosely coupled architecture of the Internet would engender. But it's also the first one founded on the principles of the most obnoxious innovation that architecture ever produced: trolling.
How exactly did Anonymous become the Church of Scientology's most formidable foe? According to WIRED, "the answer may be that the church is incapable of following one simple bit of Internet wisdom: Don't Feed the Trolls. By taking Anonymous as seriously as it has, Scientology has nurtured the one thing Chanology depends on above all: the lulz."
Which brings us back to Westboro Baptist Church.
The Big Question: Why Are We Talking About This?
Some have argued that talking about anything they do is, essentially, feeding the trolls, and that we should stop covering their activities. Our reactions fuel the fire of trolls, whether that be flame wars or the flaming pits of hell.
But like any good parody, it could be argued that Westboro holds up a funhouse mirror to less radical hate groups and that in and of itself is a worthy reason to — when it does produce lulz — allow them to enter the spotlight. The "God Hates Fags" agenda honestly isn't too far from what more organized anti-gays have come up with — it's just more direct and less pallatable. You won't find NOM protesting the funerals of fallen soldiers, but just like Westboro they quote scripture. Anti-gay groups all over the country use HIV/AIDS as an "example" of why gays are evil and will make everyone sick and die.
You know how we get upset when we feel a gay-rights group is getting too "radical" or "making us look bad"? Well, all this attention on Westboro makes anti-gay groups look pretty bad too. And when it comes to recruiting a new generation of anti-gay activists — well, nothing makes you look quite as bad as not knowing how to use a computer.